NFL Draft 2012: What to Expect from Kendall Wright's Rookie Year
May 1, 2012

Sarah Glenn/Getty Images
After months of media hype, the draft is over and fans finally have new members of their team to welcome to town. Expectations for draft picks are high, but are they too high?
Over the course of the next few weeks, "What to Expect" will examine every draft pick from the AFC South in its historical context. Using past performance from similarly drafted players and by examining the way in which each team develops certain positions, I will create a realistic baseline by which to judge the performance of each pick.
Readers should be aware that rookies historically perform much, much worse than fan expectations. Also keep in mind that I am not saying the player will perform to these expectations, but rather anything better than the results should be considered a successful rookie year, and anything worse would be a disappointment.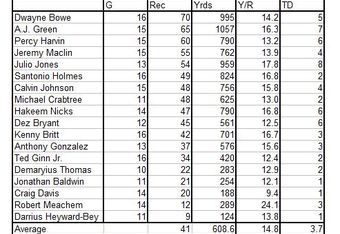 Before we examine the Titans' newest wideout, Kendall Wright, please refer back my earlier article on Justin Blackmon. In it, I set the rough baseline at 40 catches, 600 yards and five touchdowns. At the time, I had failed to include A.J. Green in the data. He pushes the numbers north slightly, but not significantly. Obviously, whatever projection is made for Blackmon will be similar for Wright.
For additional illumination, I've included all Titans rookie wideouts since 2001. As you can see from the chart, there hasn't been much success. The only true comp for Wright is Kenny Britt. Britt hit the projection for a "good" rookie season almost on the numbers, posting 42 catches, 701 yards and three scores.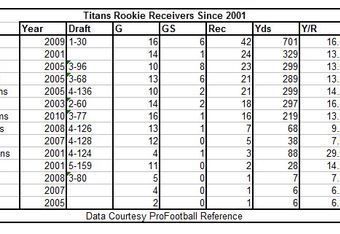 It will be difficult for Wright to match those numbers given the state of the Titans' offense. They already have outstanding pass-catchers in Britt and Nate Washington, not to mention Jared Cook at tight end. Wright will be at best a slot/third-down target, meaning his opportunities to produce will be limited.
The Titans also don't know for certain who the quarterback will be. If Jake Locker is the quarterback, the offense may take on more of a vertical feel than if Hasselbeck wins the job.
All these things considered, it would be wise for Titans fans to show patience. Wright's bulk productivity won't matter as much in year one as what he shows. Does he show good hands and routes on third downs? Does he show the ability to take a short slant to the house? Does he flash game-breaking speed?
Summary
The difference between production in year one for Blackmon and Wright is not so much a question of talent, but circumstance. Justin Blackmon must exceed the rookie baseline of 40/600/5. He's the primary target on the Jaguars. Wright is the third receiver and probably the fourth target on the Titans.
Given all the factors, a solid expectation for Wright would be 32 catches (two a game), 500 yards and a touchdown or two. That would make him a consistent presence in the offense, without having to be a focal point.