NFL Draft 2012: What to Expect from Justin Blackmon's Rookie Year
May 1, 2012

Al Bello/Getty Images
After months of media hype, the draft is over and fans finally have new members of their team to welcome to town. Expectations for draft picks are high, but are they too high?
Over the course of the next few weeks, "What to Expect" will examine every draft pick from the AFC South in its historical context. Using past performance from similarly drafted players and by examining the way in which each team develops certain positions, I will create a realistic baseline by which to judge the performance of each pick.
Readers should be aware that rookies historically perform much, much worse than fan expectations. Also keep in mind that I am not saying the player will perform to these expectations, but rather anything better than the results should be considered a successful rookie year, and anything worse would be a disappointment.
Next up in the series is Jaguars wide receiver Justin Blackmon. Blackmon is expected to help Blaine Gabbert and the Jaguars offense be more productive. What would a fair expectation for his rookie year production be?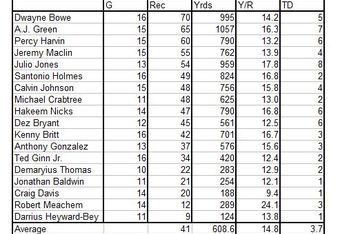 Since 2005, there have been 17 wideouts drafted in the first round. Their average production was around seven starts, 40 catches, 582 yards, a 14.7 yards-a-catch average and four touchdowns. Note that in the original data, I omitted A.J. Green. The chart has been updated to include him.
While that doesn't sound like much, it's important to remember that even those relatively modest totals would have led the Jaguars in virtually every category (Mike Thomas had 44 catches).
So if the Jaguars get even 'average first-round rookie production' from Blackmon, he'll be the best receiver on the team right away.
What if Blackmon is better than average?
The five best seasons on the list belong to Jones, Maclin, Harvin, Bowe and Holmes. They averaged 10 starts, 58 catches, 866 yards, 15 yards a catch and five touchdowns.
For his career, Blackmon has no ceiling. While there are plenty of first-round wideouts who bust, many of the league's elite receivers were taken early in the draft.
Summary
Blackmon is a highly drafted wideout, but he's going to a team with serious quarterback questions. It's probably not realistic to expect him to land in the upper range of rookie performance.
Anything north of 40 catches, 600 yards and five touchdowns should be considered an outstanding start to his career in year one. If he manages to do any better than that, Jaguars fans should be overwhelmingly pleased with the pick.