2012 NFL Draft: New England Patriots Will Probably Disappoint Fans, Trade Down
April 25, 2012

Jim Rogash/Getty Images
Viewers of the NFL draft have become accustomed to hearing these words: "The New England Patriots have traded their pick."
Many Patriots fans are hoping that this year will finally be the year that the Patriots trade up and draft an "impact player."
Recent history suggests, though, that those fans will be disappointed.
Patriots head coach Bill Belichick is noted for manipulating his draft board, and that pace has only accelerated in recent years.
Counting just the first two rounds of the 2009, 2010 and 2011 drafts, Belichick has made 10 deals on draft day alone. Despite all that churning—or perhaps because of it—the Patriots have managed to select 13 players in the first two rounds of the last three drafts.
The Patriots traded up to get Ron Brace in the 2009 draft, which hasn't really worked out for the team. Conversely, the Patriots traded down twice before grabbing Devin McCourty. With the proceeds of that trade, they landed a Pro Bowl-caliber tight end in Aaron Hernandez.
The key point, though, is that as far as building a roster goes, it doesn't really matter what percentage of your picks are successful. What matters is how many successful picks you have.
So why are the Patriots more likely to trade down than up this year?
A Big "Middle Class"
This year seems to be a fairly average draft class. There aren't many elite players, and even many of the "blue chip" players have a lot of question marks surrounding them (e.g., Dontari Poe's lack of production).
In many respects, it seems that there isn't a huge difference in talent between expected late first-rounders, such as Harrison Smith, and players expected to go in the third round, such as Markelle Martin.
Thus, in order to grab an "elite" player, the Patriots would have to make a significant trade up. Unless a team is desperate to trade down, being able to grab a player such as Melvin Ingram (who did visit the Patriots) would probably require both of their first-rounders, a move the Patriots have never made.
Reluctance to Draft Pass-Rushers
It's not clear why Bill Belichick seems so reluctant to draft pass-rushers, despite their importance to his defensive schemes. But nearly every Patriots fan knows the frustration of watching Bill Belichick seemingly ignore pass-rushers in draft after draft (especially 2009, when the likes of Clay Matthews and Connor Barwin were available).
Given that there are only two positions that the Patriots truly "must" address in this draft—pass-rusher and secondary—history suggests that Belichick will fill the secondary need early and then wait to draft a pass-rusher.
Depth at Other Positions of Need
The Patriots could also use some young blood at wide receiver and perhaps on the offensive line as well. Those two positions, at least, seem relatively deep, so the Patriots could easily afford to wait until later to draft players such as Tommy Streeter, instead of using a first-rounder on, say, Stephen Hill.
Security v. Desperation
Job security: Bill Belichick has it. Barring a monumental Colts-style collapse, Bill Belichick should be head coach of the New England Patriots until he's ready to retire.
Thus, he has the security of knowing that he doesn't "need" to make any particular move and can do simply what he feels is best for the team in the long run, rather than worrying, as some GMs need to do, about keeping his job. (A painful example of the latter is Miami Dolphins GM Jeff Ireland, who may lose his job after this season if the Dolphins don't improve their quarterback situation.)
Also, the Patriots' two first-rounders, No. 27 and No. 31, seem primed for teams looking to make a move for late first-round players such as TE Coby Fleener (as I wrote about earlier this month) or QB Brandon Weeden. If a team is willing to trade their first-round pick in 2013 and a second- or third-round pick in this year's draft, Belichick will almost certainly take that offer.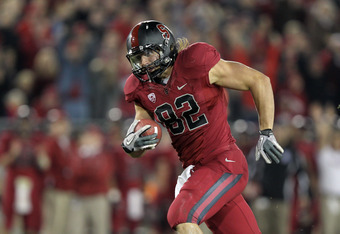 Ezra Shaw/Getty Images
Prediction
I do think the Patriots will find one player worth taking in the first round (probably a defensive back). After all, when Belichick has had two picks, he's always used the higher of the two.
That said, I just don't see him using both. In fact, here's how I'd break the probabilities down:
| | |
| --- | --- |
| Patriots trade up from 27 and 31 | 5-10 percent |
| Patriots stay put, use both picks | 15-20 percent |
| Patriots use one pick, trade down/into 2013 with other | 60-70 percent |
| Patriots trade out of first round entirely | 5-10 percent |
We'll see how my prediction turns out tomorrow night.