2012 NFL Draft: New England Patriots Could Decide Who Gets TE Coby Fleener
April 14, 2012

Craig Mitchelldyer/Getty Images
To borrow from an old expression, tight end "is the new black." 
The Patriots are at the cutting edge, getting unprecedented production from their sophomore duo of Rob Gronkowski and Aaron Hernandez: their combined 25 TDs are seven more than the previous best-scoring TE unit (the 2010 Patriots). Their versatility and ability to create matchup nightmares helped enable the Patriots' hurry-up offense.
The biggest problem with trying to replicate the Patriots' TE attack is the fact that there isn't a Gronks "R" Us mass-producing them. The best tight end in the 2012 draft class is Stanford's Coby Fleener, who is a bit of a hybrid of the Gronkowski and Hernandez variety, at 6'6" and 247: he's got Gronk's height and some of Hernandez's speed, though he lacks Hernandez's moves and Gronk's blocking ability.
While some mock drafts have had Fleener going in the teens or early twenties, Fleener has mostly been projected as a late first-round/early second-round pick. If so, where he ends up could be determined by the New England Patriots.
Here are the picks from No. 27 in the first round to No. 40:
Several of these teams might be interested in Fleener.
San Francisco (No. 30) is coached by Jim Harbaugh, Fleener's coach at Stanford. He might want to pair Fleener with Vernon Davis to create a Gronknandez-like combo. Similarly, Indianapolis (No. 34) is expected to draft Andrew Luck, and they might decide it might be in their best interests to give Luck a familar face to throw to. Who better than one of his primary targets?
Injuries might force the New York Giants (No. 32) to draft a new tight end, as they lost two to injuries during the Super Bowl.
On the other hand, poor offensive performance might prompt either St. Louis (No. 33 or 39) to trade up: their offense managed just 16 TDs last year—fewer than Gronk alone scored! Fleener could certainly help the Rams, just as he might help Jacksonville (No. 38).
One thing to remember about the draft, though, is that it is not an entirely rational process. All it takes for the Patriots to "win" here is to have one GM convinced that he won't get Fleener where he is, but can get him by making a modest trade-up for either No. 27 or No. 31. As long as Belichick still feels he can get one of the players he wants at his new landing spot, he'll take the trade.
Thus, the Patriots could easily decide whether Fleener goes to a Super Bowl contender or a rebuilding team—and pick up an extra mid-round pick in the process.
There is one other possibility, though.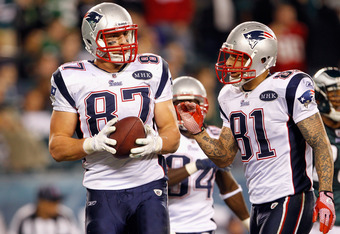 Rich Schultz/Getty Images
The Patriots might be interested in taking Fleener themselves, for two reasons.
First, the Patriots need a young intermediate/deep threat to keep opposing defenses from flooding the short yardage area. While Fleener is a TE, not a WR, he might have the speed necessary to fill that need. Yes, the Patriots have Daniel Fells, so it's not a pressing need, but Bill Belichick does love him some tight ends, and he may decide that having Fleener is worth it.
Second, the Patriots might take Fleener as "insurance," since they will have to deal with the looming free agency of Gronkowski and Hernandez. Both of them are on contracts that expire in 2013 and average less than $1.5 million a year. Their next deals, though, should pay both as the top 5 tight ends they are. The Patriots may decide that they won't be able to keep both; if so, then having Fleener aboard would cushion the blow, and allow them to potentially make a "profit" by trading one of their TEs while they still can.
Needless to say, this is a longshot: certainly the probability is no more than 10 percent, if that. The probability of Fleener going at No. 27 or No. 31 to some team, though, is probably closer to 50 percent.