2012 NFL Draft: Why the Minnesota Vikings Must Trade Away No. 3 Pick
April 26, 2012

Joe Robbins/Getty Images
Heading in to the 2012 NFL draft, the Minnesota Vikings are the team to talk about.
We know Andrew Luck is going to the Indianapolis Colts; we know that Robert Griffin III is going to the Washington Redskins. There will be no surprises there come draft day.
Which leaves us at the third pick in the NFL draft, and that's where the speculation begins.
Will they draft Matt Kalil? Will they go for Morris Claiborne? Or will they take Justin Blackmon?
They're all good questions, as is the one about trading their pick to another team.
And for me, that's their best solution—trade their pick to the Tampa Bay Buccaneers.
Yup. Tampa Bay.
Of course, there's a lot of assumptions that need to fall in to place for the following solution to be correct and to work—let's explore some of them now.
Assumption No. 1: The NFC North is going to be a really good division.
One of the biggest problems for the Minnesota Vikings with their pick is that they understand just how good the NFC North is going to be next year and just how good it's going to be for many years to come.
The Green Bay Packers are in the middle of building a dynasty in the NFC to rival that of the New England Patriots in the AFC, if they haven't done so already. Aaron Rodgers could very well break his own record next year, and with a receiving core that features the likes of Greg Jennings, Jordy Nelson and Jermichael Finley, the Packers are certainly one of the toughest teams in the league.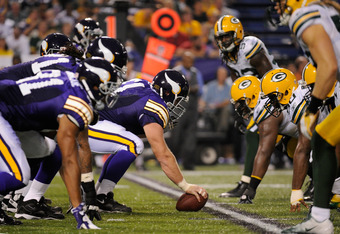 Hannah Foslien/Getty Images
Detroit proved to everyone last year that they are to be taken seriously as a legitimate playoff threat, with Matthew Stafford rightly winning the Comeback Player of the Year award. And considering they have this guy named Calvin Johnson lining up for them, the Lions are once again a tough team to beat.
Then there's Chicago—who despite injuries to Jay Cutler and Matt Forte last season, still finished with a decent record and with strong defensive numbers. Now consider the fact that both of those players are healthy and add in Pro Bowl wide receiver Brandon Marshall and running back Michael Bush, and the Bears are suddenly once again a very, very good team.
Thus it's pretty safe to assume that the NFC North is going to be a really good division in 2012 as well as many years to come after that.
Assumption No. 2: The No. 3 pick in the NFL draft can help counter that.
The Minnesota Vikings know the seriousness of their pick because they know the potential that it has to help them not only in divisional matches, but also in their overall playoff quest.
As mentioned above, it's widely assumed that with their pick the Vikings will select one of three players—Matt Kalil, Morris Claiborne or Justin Blackmon. All three have merit.
Kalil could bring a dominant presence back to an offensive line that struggled last year. He would benefit not only the play of Adrian Peterson, but also Christian Ponder, who showed at times throughout the year that when given the time, can make big-time quality throws.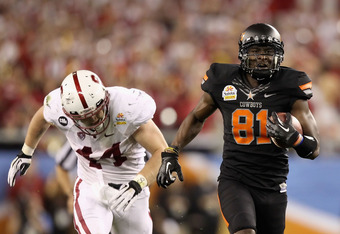 Christian Petersen/Getty Images
Claiborne could give the Vikings' defense great comfort, especially in the six matches that they'll play against Rodgers/Jennings, Stafford/Johnson and Cutler/Marshall. Not only that, Claiborne would provide some stability to a secondary that was blown away at times last year.
The argument for Blackmon is simple—he gives the Vikings a legitimate No. 1 receiver and helps spread out the defense. Adrian Peterson is running out of space on the football field with every passing week. Having a great receiving threat will not only help the running game, but also the other receivers in the team.
Essentially, the Vikings can do one of two things: They can either try to stop the NFC North or try to keep up with the NFC North. If they choose stop them, then Claiborne is the solution. If they choose to try and keep up, then they have to decide how they want to help Ponder—before he throws or after he throws.
Assumption No. 3: Trent Richardson is going to be really good.
Here's where it starts to get interesting. The common consensus is that you never take running backs too high in the NFL draft, but when you have a prospect like Trent Richardson sitting there, taking him in the Top Five isn't at all out of the question.
His 2011 numbers speak volumes about why teams are so excited about Richardson, who was an integral part of Alabama's BCS National Championship win over the top-ranked LSU Tigers.
Throughout the year, he chalked up 1,679 rushing yards at a phenomenal rate of 5.9 yards per carry and 21 touchdowns.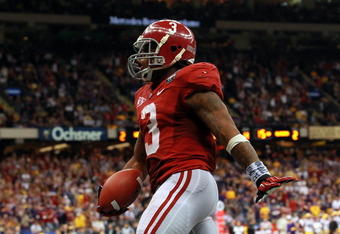 Ronald Martinez/Getty Images
When you mix all that in with his 338 receiving yards, you have a man who put up more than 2,000 all-purpose yards that yielded 24 touchdowns and a national title.
Trent Richardson will be a man in high demand and it's understandable as to why.
For teams like the Cleveland Browns and Tampa Bay Buccaneers, they are left with the tough decision as to what to do with the talented young running back.
Both teams need a receiver to help them get the ball down field. Both also need help in the secondary, particularly Tampa Bay, who will need someone to help Talib and Barber at corner.
Assumption No. 4: Tampa Bay and Cleveland both want Richardson.
Helping the secondary is going to be a crucial part of both these teams' draft mentality, and they will do so throughout the draft. However, helping the offense is going to be just as critical for both of these teams.
The Browns know the defensive strengths of their division and will see Richardson as a player who can get their offense going in tough, close games. The likes of Baltimore and Cincinnati will rarely hang 40 points on a team, but they'll also rarely give up the win in a close match. Having a strong running back like Richardson could help the Browns in their tough, close divisional matches.
The Bucs also know the offensive capabilities of their division and know the need to be able to try and keep up with the likes of Drew Brees, Matt Ryan and Cam Newton. One extra player at corner is not going to stop those three from having their way at times, no matter how good he may be. Thus keeping up with them offensively is going to be crucial for Tampa Bay.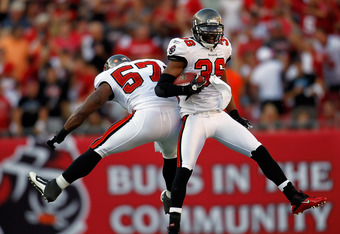 J. Meric/Getty Images
Trent Richardson, with this running strength, tough yards and receiving skills, could be a factor for both Cleveland and Tampa.
With picks four and five, respectively, they'll know that players like Blackmon, Floyd and Claiborne could be available. Yet Richardson's skills are almost too much to pass up; they'll know what they're getting with him, and they'll know the frequency that running backs like him come up in the draft.
Richardson is not only a safe option; he's arguably the best option for both of these teams, considering the strengths that both of them will face in their division six times a year.
Assumption No. 5: Minnesota holds the key to getting Richardson for Tampa Bay.
If the Bucs truly do want Richardson, they'll have to go through Minnesota to get him. Tampa will know that the Browns are unlikely to let him go considering the impact he could have in the AFC North, and that if they want him, they'll need to pick before the Browns.
Enter the Minnesota Vikings.
We all know Luck is going No. 1, and Griffin is going No. 2. So the No. 3 pick is the first legitimate chance any team has at trading their way up. For many teams, they'll see the Vikings' pick as almost like getting the real No. 1 pick in the NFL Draft.
For Tampa Bay, moving up to the Vikings spot and trading for their pick is the only real way to assure that they get Richardson. Cleveland may pass on him and take Blackmon, Floyd, Kalil or Claiborne depending on who's available, but Tampa won't be able to be sure that they won't take Richardson.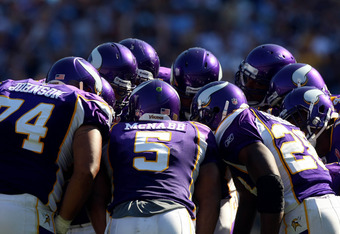 Donald Miralle/Getty Images
Move up to three and secure Richardson; don't leave it to chance with the Browns.
They'll secure a tough runner who can get yards against relatively weak run defenses in the NFC South. They'll secure a strong man with excellent hands who can give Josh Freeman another receiver underneath and a chance to improve on his horrendous numbers from last year.
Assumption No. 6: Minnesota still gets what it wanted all along, and more.
The real winner from the trade is not in fact the Bucs at all, but rather the Minnesota Vikings who can draft exactly who they wanted all along—Matt Kalil.
If Tampa moves to three, they'll choose Trent Richardson because that was the whole point of the trade. Cleveland will have their pick at No. 4, and will take either Justin Blackmon or Morris Claiborne. Either way, they won't touch Kalil, who will then be available to the Vikings at No. 5.
You've got to think that Minnesota could also make a play for Tampa's second-round pick to go with their own second-round pick at No. 35. In that situation, they could well be able to pick up Reuben Randle at wide receiver and Trumaine Johnson at corner—filling in both other pieces they could have had in Claiborne and Blackmon.
The Vikings get Kalil, who they wanted all along, and some extra pieces in the second round.
The Browns get Blackmon, who they probably were going to take all along.
The Bucs get Richardson, who they worked so hard to get.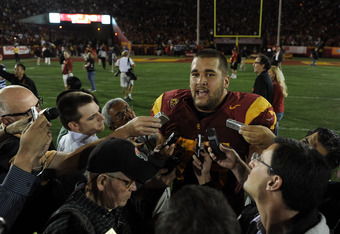 Harry How/Getty Images
It's a win-win-win for all three teams, but none more than the Minnesota Vikings.
They get the help in the offensive line that they so desperately wanted, they get the help at corner they need to try shut down their NFC North rivals and they get their young, quick wide receiver who can help spread out the field for Christian Ponder.
Final thought: it's all just a guess.
The likelihood of the following scenario happening come draft day is quite unlikely. That doesn't mean it won't come true though, and it certainly doesn't mean there's no merit in the argument.
I expect Minnesota to draft Kalil and a corner in the second round.
I expect Cleveland to draft Blackmon and a running back later in the first round.
I expect Tampa Bay to draft Richardson and be ecstatic with their selection.
And if that's all going to happen, why not try and play on some of the emotions and elements that are unsure and make something out of it?
As I said, the Vikings have what many will see as the No. 1 pick in the 2012 NFL Draft. They don't want to waste it by drafting a player that turns out to be Ryan Leaf. The stakes are high and the expectations of the player that they do eventually draft will be even higher, so they need to get it right.
If Minnesota can think outside the box and play on Tampa's uncertainty surrounding the Browns' selection, they can make one of the best draft day decisions they've ever made.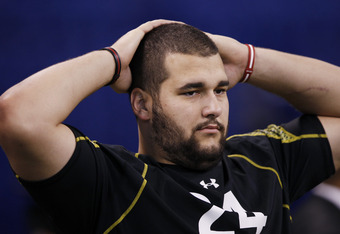 Joe Robbins/Getty Images
Or they might just take Matt Kalil and put the Cleveland Browns on the clock.
You never know, though, when it comes to the draft.
Anything can happen, and for the Vikings, it might just work.
Read more articles by Dan here — or  Follow @dantalintyre