Philadelphia Eagles: The 10 Worst Draft Picks of the Andy Reid Era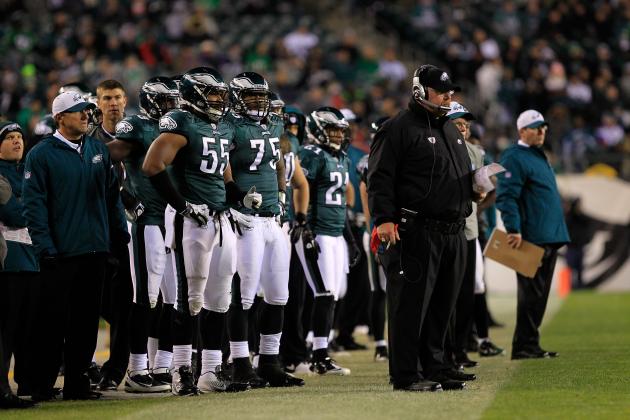 Chris Trotman/Getty Images

In 13 years running a football team, any head coach is bound to have some bad picks. After all, nearly half of all first-round picks turn out to be busts. Many more never develop into the player the team thought he would be when they selected him in the first round.
Andy Reid has had his fair share of poor draft picks, beginning with Freddie Mitchell in 2001—the UCLA wide receiver who was supposed to be Donovan McNabb's go-to guy.
What often makes picks worse is that the player who went soon afterwards and had Reid drafted a little better, maybe the Philadelphia Eagles would have won a Super Bowl during Reid's tenure.
Begin Slideshow

»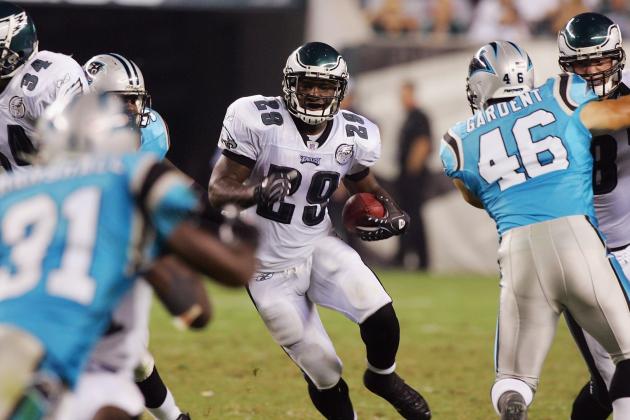 Jim McIsaac/Getty Images

Draft Status: 2007 (Third Round, 90th overall pick)
Tony Hunt was supposed to be the Philadelphia Eagles' Brandon Jacobs or Marion Barber, a big, bruising running back who could pick up the tough yards on 3rd-and-short.
Hunt never amounted to anything though, rushing for just 25 yards on 14 career carries.
He was a non-factor in the passing game, and he was gone by the end of his second season.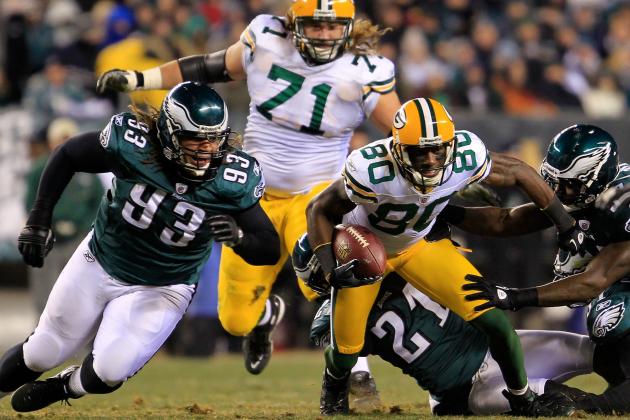 Chris Trotman/Getty Images

Draft Status: 2008 (Second Round, 49th overall pick)
Trevor Laws was supposed to add depth to the Philadelphia Eagles' defensive line, but he never became the player the Eagles thought he would be.
Laws just signed with the St. Louis Rams after four non-productive seasons with the Eagles.
He registered just 45 tackles and started just two games in his career—pretty disappointing numbers for a player who was the team's highest pick in the 2008 NFL draft.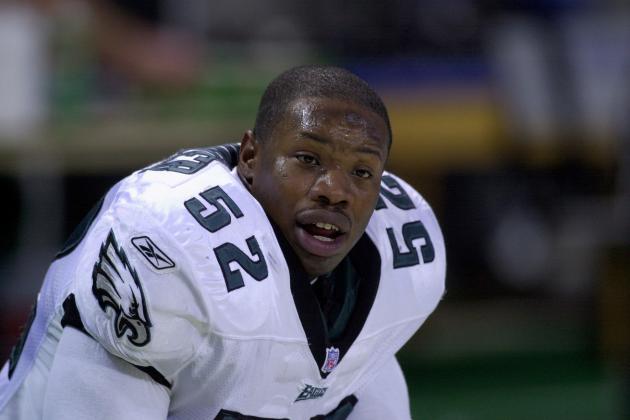 Jonathan Daniel/Getty Images

Draft Status: 1999 (Second Round, 35th overall pick)
Since Andy Reid has never drafted a linebacker with his first-round pick, Barry Gardner holds the distinction of being the highest-drafted linebacker in the Reid Era. He was selected with the 35th overall pick in the 1999 NFL draft.
Gardner lasted four seasons with the Philadelphia Eagles and seven in the league, but he was just a mediocre linebacker in a long line of mediocre linebackers on the Eagles.
Gardner started just one season for the Eagles and then bounced from the Cleveland Browns to the New York Jets before he was out of the league for good.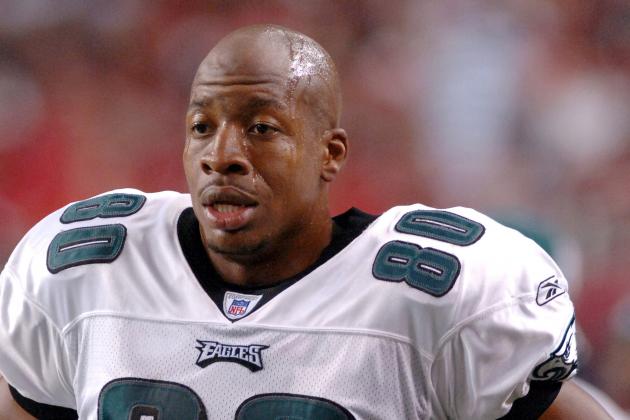 A. Messerschmidt/Getty Images

Draft Status: 2003 (Third Round, 95th overall pick)
Billy McMullen was a third-round pick of the Philadelphia Eagles, so it's not as if the team expected a five-time Pro Bowler out of him. But something more than 22 catches and one touchdown with the Eagles would have been nice.
McMullen played a season on the Minnesota Vikings in 2006, then saw his last action in the NFL with the Seattle Seahawks in 2008. He wrapped up his playing days with two career starts and three scores.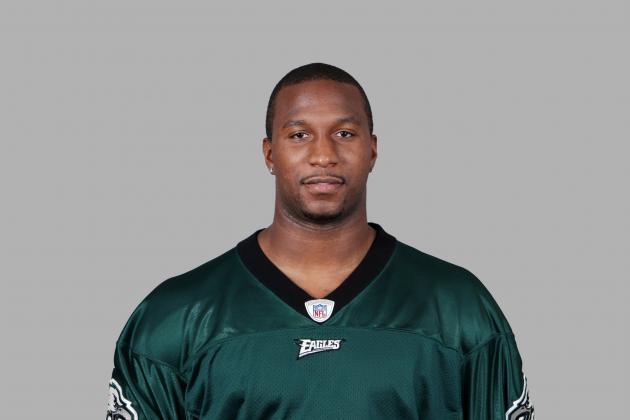 Getty Images/Getty Images

Draft Status: 2008 (Third round, 80th overall pick)
Andy Reid has never been good at drafting players in the third round, and Bryan Smith from the 2008 NFL draft is the epitome of that failure.
Smith was a linebacker out of Division I Double-A McNeese State, and he never played a single defensive snap with the Philadelphia Eagles.
Smith was waived during training camp in year two and latched on with the Jacksonville Jaguars and then briefly the St. Louis Rams, although he wrapped up his NFL career with just three tackles.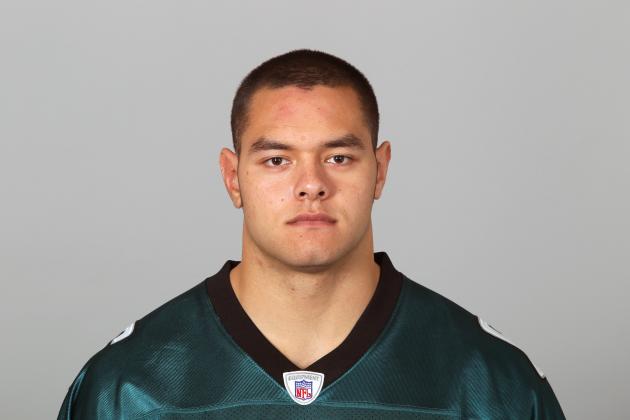 Handout/Getty Images

Draft Status: 2010 (Third Round, 86th overall pick)
Daniel Te'o-Nesheim was an absolute waste of a draft pick. He lasted one season with the Philadelphia Eagles, missing most of that rookie campaign with a shoulder injury.
He recorded just one sack and was mercifully released during the team's training camp cuts in August 2011.
Te'o-Nesheim signed with the Tampa Bay Buccaneers in the middle of 2011 but failed to make an impact there as well.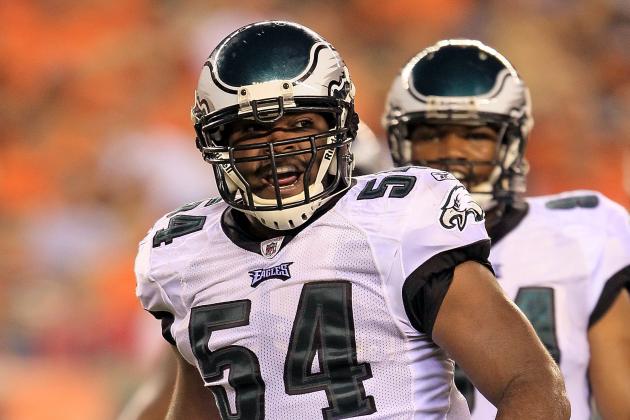 Andy Lyons/Getty Images

Draft Status: 2010 (First Round, 13th overall pick)
The jury is still out on Brandon Graham, and maybe, he'll turn his career around and become a star. But considering the New York Giants selected Jason Pierre-Paul two picks later, Philadelphia Eagles fans are not pleased with Graham, especially considering the team traded up to get Graham.
At this point, the Giants have been rewarded with 20.5 sacks and a Super Bowl ring from Pierre-Paul. Meanwhile, Graham tore his ACL late in his rookie season and then racked up no sacks in three games in his sophomore campaign.
I hope like crazy I can cross Graham off this list by the end of next year, but I don't see it happening.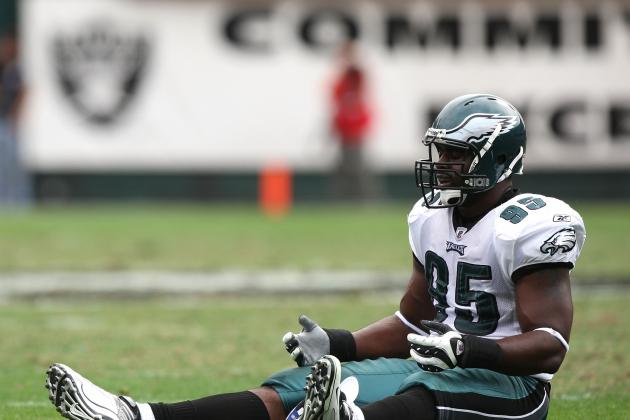 Jed Jacobsohn/Getty Images

Draft Status: 2007 (Second Round, 57th overall pick)
It's amazing to think that Victor Abiamiri was still on the Philadelphia Eagles even during their 2011 season.
He has compiled just four sacks in five years, and perhaps, the most amazing part is that Abiamiri has only suited up for 29 of a possible 80 games because of injuries.
Abiamiri hasn't actually played in an NFL game since the 2009 season, missing 2010 after undergoing microfracture knee surgery and 2011 with a torn Achilles tendon.
It's likely he doesn't find a team for the '12 season, considering he is a free agent now and won't be back in Philly.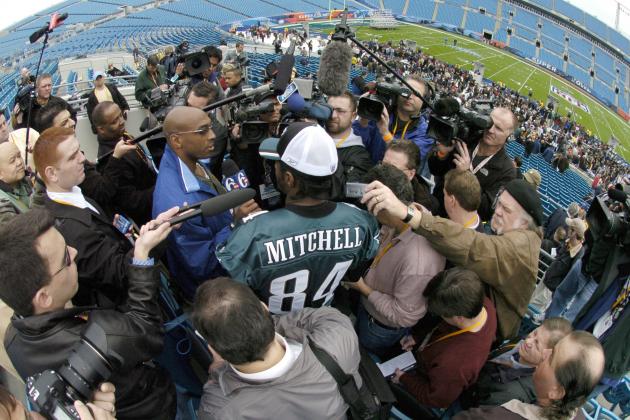 A. Messerschmidt/Getty Images

Draft Status: 2001 (First Round, 25th overall pick)
The Philadelphia Eagles selected Freddie Mitchell with the 25th overall pick in the 2001 NFL draft to boost up a wide receiver corps that included the forgettable Charles Johnson, Torrance Small and Na Brown.
Mitchell never lived up to his potential in four seasons with the Eagles, accounting for just 90 catches, 1,263 yards and five scores—numbers that should represent a good season for Mitchell.
He also talked his way out of Philly, catching fewer passes in the Super Bowl (one) than the guy who covered him (Rodney Harrison, two).
Considering the Eagles could have gotten Reggie Wayne just several picks later, Mitchell was a total bust.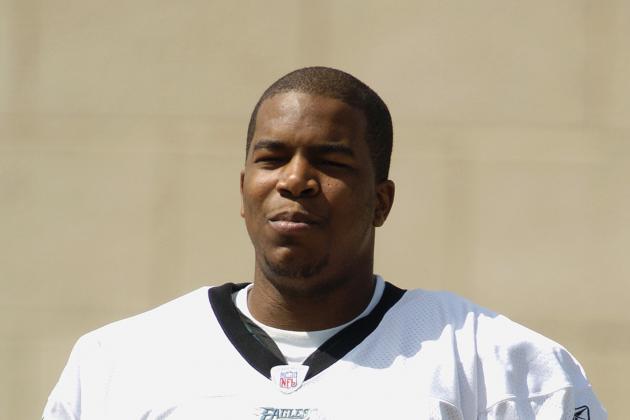 Greg Fiume/Getty Images

Draft Status: 2003 (First Round, 15th overall pick)
Jerome McDougle may be the biggest draft bust in the history of the Philadelphia Eagles.
The team traded up to get the University of Miami superstar, and McDougle was a colossal bust before he was mercifully released during the 2008 training camp.
McDougle picked up three sacks in his entire career with the Eagles, and one of those came with a pair of 15-yard penalties that ended up costing the team the game (the now-infamous 62-yard field goal game against the Tampa Bay Buccaneers in 2006).
McDougle missed substantial time due to injuries in his career, whether it was ankle, hip or knee injuries in 2003, an irregular heartbeat in 2004, a bullet wound in 2005 and a torn triceps in 2007.
In fact, it's likely McDougle even got hurt as I was writing this section on him.
He's one of just two first-round players selected between 2000 and 2009 to never start a game in the NFL (Jamal Reynolds of the Green Bay Packers was the other).