Fantasy Football 2012: Getting Defensive over the NFL Schedule
April 18, 2012

Al Bello/Getty Images
Defense wins championships. It can mean the difference between a Shiva and a Sacko.  Now in fantasy land that first part may not be 100 percent true.
I warn you: do not discount defense in your fantasy strategy. They get ranked just like every other position for a reason. They can mean the difference between a win and loss on a weekly basis.
Many owners will draft a defense and, like Ron Popeil, they will "Set it and forget it."
I believe that's a mistake. I recommend drafting a single defense.
Don't carry two defenses simply to cover for a bye week. That extra roster spot can and should be used for an additional offensive player. Follow this breakdown and plan to switch out your defense three, maybe four, times in order to take advantage of the best matchup groupings.
Some fantasy experts recommend streaming defenses, meaning switching out a defense weekly looking for the best matchup. Mine is a hybrid of the Stream Theory. I feel you can take advantage of a defense for longer than one week at a time without being married to it all season long.
I have combed through the 2012 NFL schedule. What follows is a breakdown of the best 4-6 game stretches for fantasy defenses, based on statistics from last season and projections for 2012.
The breakdown is as follows. I split the season into four quarters. (Convenient, right?) In each quarter I point out the teams with the best stretch of games.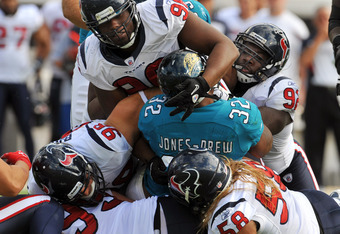 Al Messerschmidt/Getty Images
*Team name (weeks of the season they should be owned) followed by their opponents for those weeks.
Let's get to it!
FIRST QUARTER

Bears (1-5): Colts, @Packers, Ram, @Cowboys @Jaguars 
Opening at home against the rookie-led Colts is a dream for a defense that finished fifth against the run. The Colts will have to break Luck out early, and the Bears will be teeing off against the rookie from the first whistle.
The Rams and Sam Bradford could start slow after installing yet another new offense. Even with a full offseason I don't expect the Rams to come out of the gate strong. Relying on Steven Jackson plays into the Bears' strength. Jacksonville has Blaine Gabbert and… need I say more?
Road trips mixed in at Green Bay and Dallas are the tough ones in this stretch but a small price to pay for holding three opponents to under 10 points each.
Texans (1-5): Dolphins, @Jaguars, @Broncos, Titans, @Jets
The departure of Mario Williams is a concern; however, facing four subpar offenses in the first five games is good news for Wade Phillips and his second-ranked defense.
Miami may be starting a rookie quarterback, or they could stick with Matt Moore for the first few weeks. No matter who is under center, he is lacking weapons to work with.
I suspect by week five the Jets will be in turmoil. Denver is the only credible threat now that Peyton Manning is in town. The Titans could make things interesting. Matt Hasselbeck winning the starting quarterback job could make things easier for the Texans. Keep Houston in mind for your fantasy playoff run as well.  I'd happily start Houston for the first five games of the season.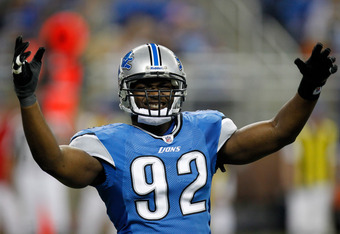 Gregory Shamus/Getty Images
Lions (1-4): Rams, @49ers, @Titans, Vikings
Detroit had a very good year defensively in 2011. They are returning nine or ten starters to a unit that ranked fifth in interceptions and third in fumbles recovered.
With an opening slate against three or potentially four mediocre offenses they have a solid chance of being the top fantasy defense through week four. Week 2 at the 49ers will test their defensive prowess. Following last season's "shaky" finish in San Francisco, I suspect the Lions will be roaring mad this time around.
Bengals (1-6): @Ravens, Browns @Redskins @Jaguars, Dolphins, @Browns
The Bengals quietly had a solid year defensively in 2011. They finished fourth in fumble recoveries and fifth in sacks. Aside from facing Baltimore to open the season, the Bengals have a cake schedule through week six. Facing Cleveland twice will give any owner a good shot at a winning record. This could be my first defense off the board. They have staying power through nearly half of the fantasy season.
SECOND QUARTER

Ravens (4-10): Browns, @Chiefs, Cowboys, @Texans, BYE, @Browns, Raiders
No doubt everyone will be eyeing the Ravens defense right out of the gate. So if you want them you'll have to draft them early and ride out a potentially rough three weeks against the Bengals, Eagles, and Patriots before getting to the yellow brick road.
The good news is that yellow brick road lasts through the meat of the fantasy season. The Ravens will get you to the playoff doorstep. Note the Ravens do have a BYE week mixed in there. I believe it's worth the price to stream a defense week 8 and hang onto the Ravens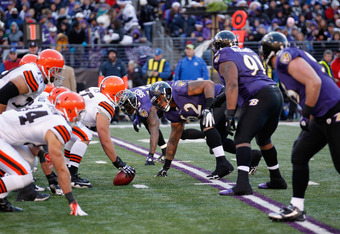 Rob Carr/Getty Images
Packers (5-9): @Colts, @Texans, @Rams, Jaguars, Cardinals      
The Packers were not known for stellar defense last season. However they did lead the league in one very important category, Interceptions (31). They will face four quarterbacks with question marks in weeks five through nine. A rookie, a third year player in a new offense, a second year player struggling without weapons and a veteran trying to shuck the "bust" label.
Teamed with a potent offense, the Packers defense will be able to sit back and cherry pick as teams are forced to play catch-up through the air. Charles Woodson and company bolster your fantasy roster for a crucial five week stretch.
Vikings (5-8):Titans, @Redskins, Cardinals, Buccaneers, @Seahawks     
Admittedly, this is a bit of a reach and will look much better if the Vikings draft LSU cornerback Morris Claiborne at third overall. Regardless, they have a chance to put up quality fantasy numbers against some teams that are in a rebuilding mode.
The Redskins, Cardinals, and Buccaneers are all turnover-prone. All three ranked in the top five in giveaways in 2011. The Bucs finished first, followed by the Redskins third and Cardinals fourth. Not the category any team wants to lead.
The Vikings notched a league best 50 sacks in 2011 and recovered a league leading 15 fumbles. All of these teams will be looking to run the ball to protect their young quarterbacks. A strategy that plays right into the Vikings' hands…literally.
THIRD QUARTER 
49ers (8-14): @Cardinals, BYE, Rams, Bears, @Saints, @Rams, Dolphins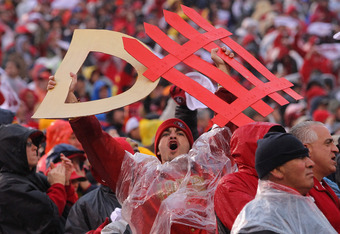 Doug Pensinger/Getty Images
A top defense in 2011, their schedule looks good near the end of the season, when it matters most for fantasy owners. The 49ers are a great trade target when the owner that drafts them in the ninth round is out of the playoff hunt. Go grab them in week eight or at worst on their bye week.
This young defense faces the Rams twice, hosts the Bears on Monday Night Football, and then the Dolphins travel cross country for the final regular game of most fantasy seasons. All this adds up to a big payday owners savvy enough to snag this defense. Opponents beware!
Seahawks (9-13): Vikings, Jets, @Dolphins, @Bears, Cardinals
The Seahawks in 2011 looked amazing some games and abysmal in others. With another year to solidify this young defense, the Seahawks are a good bet to help fantasy owners solidify a playoff spot. Christian Ponder is going to have his hands full at CenturyLink Field.
The travel to Miami could be tougher than the competition. Chicago will test the road mettle of this team. Then it's back home to face the Cardinals, who by week 13 should be gearing up for a high draft pick. There are some holes here, but Fantasy owners could do worse over this 5-game stretch.
FOURTH QUARTER

Bills (11-16): Dolphins, @Colts, Jaguars, Rams, Seahawks, @Dolphins
The addition of Mario Williams will give the Bills the pass-rush they were desperately lacking in 2011. They finished sixth in interceptions and seventh in fumbles recovered, but finished 27th  in the league in sacks. If their pass rush improves, this is my top fantasy defense to ride into the playoffs. Four of their final five opponents will be vying for top draft picks come season end.
Texans (11-16): Jaguars, @Lions, @Titans, @Patriots, Colts, Vikings
Although Texans are only one of two teams I mention twice, I would let someone else suffer through the middle of the season with this unit. Get them back on your roster for weeks 15 and 16 for sure. It would not hurt to have them sooner but if you can avoid the Lions and Patriots matchups on the road, you'll be that much better come playoff time.
Broncos (12-16): @Chiefs, Buccaneers, @Raiders, @Ravens, Browns
The biggest boost to this defense will be Peyton Manning on the other side of the ball. Defensive end Elvis Dumervil and linebacker Von Miller are going to have a great time punishing opposing quarterbacks forced in to airing the ball out to play catch-up.
With Champ Bailey still able to lock down half the field, teams will be forced into mistakes. The Chiefs, Buccaneers and Browns are prime matchups. Hosting the Browns for fantasy championship week is a dream come true for any owner.
Bears (12-16): Vikings, Seahawks, @Vikings, Packers, @Cardinals
Aside from the Packers in week 15, the Bears have one of the best looking schedules for the last fourth of the season. Facing Christian Ponder and Vikings twice in 3 weeks leading up to the fantasy playoffs, capping off the season against the Cardinals could be a recipe for fantasy success.
It is never too early to start planning your fantasy draft. Get the jump on the rest of your league and start organizing your draft board. I have broken down some of the prime stretches of games for many fantasy football's best defenses. Refer back to this information to know when switch out your defense throughout the season.
You can follow The ProFFiler on twitter @theproffiler. Or visit me at TheproFFiler.com. Listen to The ProFFiler radio show.