One Man's Not-so-Educated Guess at the San Francisco 49ers' Draft
April 14, 2012

Donald Miralle/Getty Images
What will 49ers general manager Trent Baalke and coach Jim Harbaugh do during the draft? Well, they'll swear a bunch probably. And drink a lot of water. Maybe jog on side-by-side treadmills.
I'll tell you what they won't do—talk to yours truly. Also, there's a 98 percent chance they won't draft any of these guys. But here, I've gone on the record, so have at it, you jackals.
1st Round, 30th Pick: G Amini Silatolu, Midwestern State
A small-school guard with a weird name in the first round? That sounds dumb. Yeah, probably, but the 49ers need a right guard unless they're serious about sticking Alex Boone there (when really it's Anthony Davis who should be moving over, with Boone sliding to right tackle).
If you subscribe to the theory that no matter how deep your team is, a first round pick should be someone you can start from day one unless he's a quarterback, then guard is pretty much the only choice the 49ers have, right? Silatolu (6-4, 311) isn't quite the monster that Iupati is, but he did play left tackle at his school, so you know he's got decent feet.
And under this coaching staff, the 49ers aren't necessarily looking for behemoths on the line anyway. Adam Snyder played at 295 pounds last year, and if they can get a stronger, more athletic version of him, I think they'd be happy with that.
Whether Silatolu is worth drafting at the 30th slot is the question, and perhaps the team can trade down a few spots and still wind up with him (a scenario I explore more in Round 2 , below).
If not Silatolu, other guard possibilities are a pair of Badgers, either Kevin Zeitler or Peter Konz, who's actually the top center prospect. But either he can slide to guard or Jonathan Goodwin can. Thirty would be too high for Konz though. Either way, forget about David DeCastro or Cordy Glenn—they'll both be gone in the top 20 picks.
"What about a receiver?" you're asking. Yes, Georgia Tech's Stephen Hill is the guy that a lot of mocks out there have going to the 49ers. Yes, he would make sense. However, I think he wowed so many people at the combine that somebody will gamble on him in the low-to-mid-20s, perhaps Cleveland at 22 or Houston at 26.
Everyone knows about the wondrous Calvin Johnson, and Denver's Demaryius Thomas broke out last playoffs, so that Georgia Tech lineage is pretty strong when it comes to big receivers.
Really, I wouldn't be surprised if Hill was the third receiver drafted, behind Notre Dame's Michael Floyd but ahead of Baylor's Kendall Wright. Either way, I think both will be gone by the 30th pick.
If the 49ers are dead set on a receiver, either they have to trade up or debate the merits of LSU's Rueben Randle. Like Hill, he's tall, fast and needs work on his routes. He's just less-hyped, but he was actually the more consistent player in college.
The sleeper candidate is of course Stanford TE Coby Fleener. Obviously, Harbaugh is familiar with him, and the arguments in his favor are that A) he could help the 49ers replicate what the Patriots have down with the Rob Gronkowski-Aaron Hernandez tight end tandem; B) he could cure their third-down/red zone woes; and C) Delanie Walker, who's never put a whole season together, is entering his walk year anyway.
All these points are valid. Here's the thing though: Other teams are paying attention to what's happened with the tight end position across the league, too. Fleener's pretty much the only freak in this year's tight end class. I just can't see him lasting to the 30th pick. I think teams like Pittsburgh or Denver would be all over him in the mid-20s. Heck, I think the tight end-deprived New York Giants would move heaven and Earth to trade up ahead of the 49ers so they could get him, too.
Is Fleener worth the 49ers trading up a bunch for? I don't see it.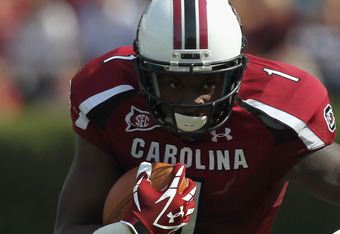 Streeter Lecka/Getty Images
2nd Round, 51st Pick (Projected Trade): WR Alshon Jeffery, South Carolina
Russ Lande, a longtime draft expert who works at The Sporting News, is quite fond of Jeffery, comparing his style and skills to Randy Moss, a long-strider who specializes in winning jump-balls along the sidelines and catching passes with people draped all over him.
Also, like Moss, Jeffery's ability and willingness to play hard on every snap and to stay out of trouble off the field are both in question.
Lande is of the belief a guy like Harbaugh can get the best out of him. Jeffery put to rest the rumors that he was overweight by getting weighed and measured at the combine, but he didn't participate in any of the drills, which was just as well since Hill was just about the only receiver who impressed at Indy. He looked good at his pro day, though.
Strengths: Ideal size (6-3, 220-pounds), strong enough to get off the line, great hand-eye coordination and balance. Weaknesses: Straight line speed, route-running, immaturity.
So really, he's like a combination of Moss and Braylon Edwards, with some of the best and worst traits of each. Still, he had 179 career receptions for 2,894 yards (16.2 per catch) and 22 touchdowns playing with a bunch of crummy QBs at South Carolina and against the best defenses in the country, so that's not too shabby. 
The 49ers, who draft 61st, probably are going to have to trade up to get him. I've got them moving to 51st, trading a 2013 third rounder and Anthony Dixon to Philly. The Eagles need a short-yardage back, and the 49ers have a surplus there. Andy Reid likes to horde draft picks like they're Twinkies in his snack drawer, so I can see a trade like this making sense for both sides.
Another possibility if they want to hang on to that 2013 3rd-rounder, the 49ers could trade down from 30 to somewhere in the 35-38 range and still get their guy there and then use that ammunition to trade back up to the 49-52 area to snatch Jeffery.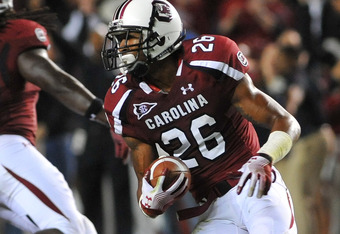 Al Messerschmidt/Getty Images
Anyway, if they don't want Jeffery or can't get him, Randle could also be the guy to trade up for. Or they can go with Mohamed Sanu of Rutgers. Cal's Marvin Jones, Appalachian State's Brian Quick and Arizona's Juron Criner should all be available in Round 3. If they got their receiver in the first round, then maybe they get their guard here in Iowa State's Kelechi Osemele.
3rd Round, 92nd Pick: S Antonio Allen, South Carolina
Unless you're wild about Mark LeGree or delusional about Colin Jones, the 49ers at the moment do not have a backup free safety behind Dashon Goldson. The same Dashon Goldson who won't be in any hurry to sign his name to the franchise tender the team tagged him to.
Call me crazy, but I think they might want to look to getting a guy they can groom to be his replacement. This is a pretty piss-poor safety class by all accounts, so better to get one early while you can.
Allen (6-2, 210), is by no means a fool-proof prospect. The positives: Good blitzer, hard-hitter, pretty good hands for a safety. The negatives: Stiff hips, questionable coverage instincts.
You know who this reminds me of? Goldson. In fact, their scouting reports coming out of college were pretty similar. Goldson was drafted in the fourth round in 2007. Reggie Smith was a third round pick in 2008.
You're not going to find Ed Reed or Ronnie Lott in the third round, folks, but there are players with athletic talent here, and if they have the drive to improve and are coachable, they can develop into quality starters down the line.
Baalke likes SEC guys, and he gambled and won last year picking a Gamecock DB in Chris Culliver. Why not go down that road again?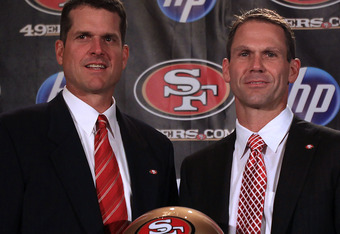 Ezra Shaw/Getty Images
Other mid-round guys to consider are Boise State's George Iloka, Oklahoma State's Markelle Martin, Wisconsin's Aaron Henry and South Carolina State's Christian Thompson.
If they do wait to get one later on, some sleepers are Illinois' Tavon Wilson, Arkansas State's Kelcie McCray, Vanderbilt's Sean Richardson, Auburn's Neiko Thorpe and Mississippi's Damien Jackson.
I'm not including LSU's Brandon Taylor because the 49ers already drafted his brother Curtis a few years ago and that didn't work out.
One additional note here: The signing of Brandon Jacobs pretty much put to bed the idea that the 49ers will look for Frank Gore's long-term successor in this draft, but if somehow Utah State's Robert Turbin (an Oakland native) is still on the board here, the 49ers have to seriously consider him. Turbin is a pounder with ideal size—5-10, 222 pounds—but he's got quick feet and is plenty explosive too, perfect for Harbaugh's power running scheme.
Other backs that fit them are Boise State's Doug Martin, Miami's Lamar Miller and Washington's Chris Polk, but they all figure to be gone in round two, so it's Turbin or nobody as far as backs go.
4th Round, 125th Pick: DT Trevor Guyton, California
The 49ers like their backup defensive linemen to be versatile enough to play on the nose or at end. They're not looking for 340-pound behemoths or 265-pound edge rushers here, but rather guys in the 280-295-pound range. I think Guyton, ideally, would be a slightly-better version of Ricky Jean Francois, but probably a lot worse quote.
I see a few mocks have the 49ers addressing this position in the first round since both Justin Smith and Isaac Sopoaga are getting a bit long in the tooth, with Penn State's Devon Still and UConn's Kendall Reyes as the two names most oft-mentioned. 
But to me no position in the league has as much of a "dog" likelihood as defensive lineman. So many of these guys have no motor or technique at all. If you see outstanding top-15 talent (Fletcher Cox, Michael Brockers, Dontari Poe) you bite the bullet and draft one, but otherwise you stay away from these guys until the fourth or fifth-round, I think.
Remember the last time the Niners drafted a defensive lineman late in the first round? How'd that go?
Anyway, in addition to Guyton, other mid-round prospects are Boise State's Billy Winn and Tyrone Crawford, Tennessee's Malik Jackson (another SEC guy) and Penn State's Jack Crawford, while Arkansas' Jake Bequette, Cal's Ernest Owusu and Michigan's Ryan Van Bergen are sleepers.
Mid-to-late nose tackle prospects include BYU's Hebron Fangupo, North Carolina's Tydreke Powell and Regina's Akiem Hicks.
5th Round, 165th Pick: OLB Travis Lewis, Oklahoma
While Lewis projects as more of a 4-3 player, it's important to note that guys like NaVorro Bowman and Larry Grant did too, once upon a time.
Why I think Lewis would appeal to the 49ers is his versatility—he can play inside or outside, which is important when you can dress only so many guys—and that his specialty is pass coverage, which no 'backer on the 49ers outside of Bowman (and yes, I'm counting P-Willie) can claim.
In guys like Aldon Smith, Ahmad Brooks, Grant and Willis, the 49ers have plenty of linebackers who can rush the passer or blitz. Lewis would give them somebody they can use in nickel packages to open up whole sections of defensive coordinator Vic Fangio's playbook that went unused last year.
In 2011, all the coverage responsibilities went to Bowman and Willis. With a guy like Lewis, not only could Fangio give one of those other two a blow on third down, but he'd have more freedom to blitz them up to gut, which may surprise opponents.
Other mid-to-late-round possibilities are Troy's Jonathan Massaquoi and Pitt's Brandon Lindsey, if you're talking about guys who played linebacker in college.
On the other hand, if the 49ers are looking to convert more defensive ends to outside linebacker (a la Aldon Smith), there's Miami's Olivier Vernon, Clemson's Kourtnei Brown, Cal's Julian Miller and Wisconsin's Louis Nzegwu. Oh, and also Jacquies Smith, because why not another Missouri Tiger surnamed Smith, when the first two worked out so well? 
6th Round, 199th Pick: CB Micah Pellerin, Hampton.
Baalke likes tall corners with size (over 5-10 and 185 pounds) and has drafted a pair of them from small schools in the seventh round in each of the past two drafts.
There are a ton of those guys in that mold available from the mid-rounds on, including Arizona State's Omar Bolden, Iowa State's Leonard Johnson, Coastal Carolina's Josh Norman, Alabama's DeQuan Menzie and Furman's Ryan Steed. Possible late round targets are Cal Poly's Asa Jackson, Florida State's Mike Harris, Albion's Chris Greenwood, Boston College's Donnie Fletcher, West Virginia's Keith Tandy, Clemson's Coty Sensabaugh and Hampton's Micah Pellerin.
I'm going with Pellerin, who is 6-0 and 194 pounds. He was named First-Team All-MEAC last season and led the conference with 15 pass breakups, and he had four interceptions as well.
7th Round, 237th Pick, C Garth Gerhart, Arizona State
Anybody you take this low is gonna be a flier, so why not select a kid where you know his family, you know the kind of character they instill in their kids?  And you take somebody in Toby's kid brother who you know will give you every ounce of his ability, even if that doesn't amount to a whole lot.
Gerhart would be someone who could compete with Chase Beeler for the backup center job, and I wouldn't be surprised if he was signed as a free agent if he doesn't get drafted at all.
Other late-round center prospects to keep an eye on are Baylor's Philip Blake and Michigan's David Molk.