Matt Hasselbeck and More Starters Who Won't Last the 2012 NFL Season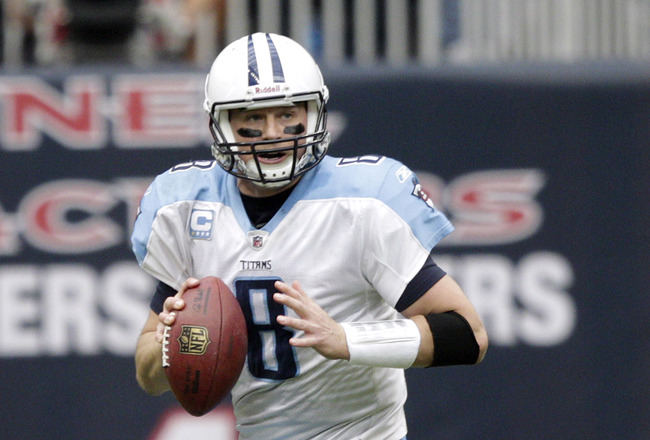 Bob Levey/Getty Images
Many factors will contribute to the benching of Matt Hasselbeck and other starters across the NFL in 2012.
Free agency, the 2012 NFL draft, aging, poor performance and fan pressure are some of these factors that will lead to players losing their starting spot.
It happens every year. Every team in the NFL attempts to look ahead and play the next rising star.
Teams that start slow or are in rebuilding more tend to employ this strategy more often.
Teams that have young quarterbacks feel pressure from fans and media to take a look at the future of the team.
Who will be those players in 2012?
Matt Hasselbeck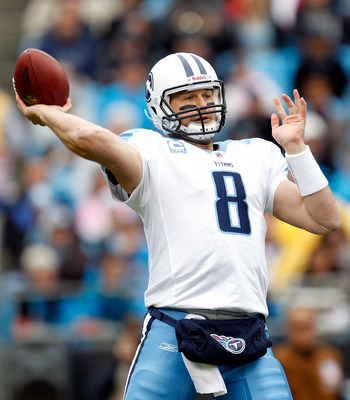 Streeter Lecka/Getty Images
Matt Hasselbeck did what the Tennessee Titans expected from him when they signed him. He played solid (3,571 yards and 18 touchdowns) and provided a veteran presence in helping the Titans to a 9-7 record.
However, the Titans used their No. 8 overall pick in the 2011 NFL draft on Jake Locker. Locker got his feet wet in 2011 and showed potential.
In Locker's last three games, he compiled 530 passing yards, four touchdowns and zero interceptions. Locker also had 56 yards rushing and a rushing touchdown. His mobility is a distinct advantage he holds over the older Hasselbeck.
The Titans are a playoff contender but not a legit Super Bowl contender, which is why Locker will be given his shot at some point in the 2012 season. Locker is the future of the organization, and the Titans need to get him as much experience as possible to develop Locker as a franchise quarterback.
Hasselbeck knows this and won't be a disruption when he gets benched. That doesn't mean the veteran quarterback won't compete this offseason.
However, the Titans will move forward with Locker in 2012.
Deion Branch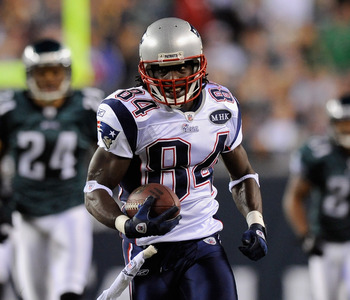 Patrick McDermott/Getty Images
Deion Branch knows where he's supposed to go and is a reliable target for Tom Brady and the New England Patriots.
Branch had a respectable year in recording 51 catches for 702 yards and five touchdowns. However, Branch is 32 years old and is not an explosive, downfield threat the Patriots have lacked since the departure of Randy Moss.
The Patriots made the addition of Brandon Lloyd in hopes of bolstering their receiving corps. That means Branch is going to see less playing time as the season progresses.
It takes time for receivers to get acquainted with Brady and Bill Belichick's system, but Lloyd possesses more talent than Branch and will eventually take playing time away from him.
The Patriots will be in many four- and five-receiver sets, but those will include the dynamic tight end duo of Rob Gronkowski and Aaron Hernandez.
By midseason, look for Lloyd to emerge as the deep target for Brady and Branch's playing time to decrease.
Corey Williams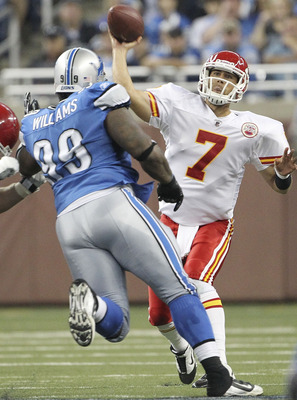 Leon Halip/Getty Images
Corey Williams has started all but one game in the last two years for the Detroit Lions at defensive tackle.
Williams' only recorded two sacks in 2011 and gets on the field by stuffing the run. However, the Lions struggled in stopping the run in 2011 and finished 23rd in the NFL at 128.1 yards a game.
Williams is not the sole reason for the poor run defense but is clearly a factor.
The Lions recently used their firs-round choice in the 2011 NFL draft on Nick Fairley, a defensive tackle from Auburn. Fairly struggled staying healthy in 2011 but finally saw some action toward the end of his rookie season.
However, he faces questions about his work ethic and recently was arrested for possession of marijuana. Despite that, his pass-rushing talent is undeniable and he will help form a formidable duo on the defensive line with Ndamukong Suh.
Fairley needs to make a commitment to improving this offseason. If he does that, there is no doubt Fairley will be a huge factor for the Lions next season.
John Beck/Rex Grossman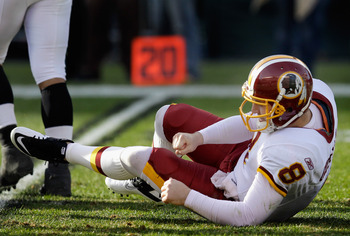 Rob Carr/Getty Images
The starting quarterback play for the Washington Redskins has been a disaster in recent memory, and it was no different in 2011 as both Rex Grossman and John Beck threw more interceptions than touchdowns.
The Redskins had little explosiveness on offense and finished the year at 5-11. Now the starting spot for either Grossman or Beck is on life support.
The Redskins made a splash this offseason in trading up to grab the No. 2 spot in the 2012 NFL draft. It is no secret Robert Griffin III will be the selection as long as the Indianapolis Colts take Andrew Luck with the first selection.
Griffin, who exploded on the scene following his Heisman season at Baylor, will give Washington a player to be excited about. He possesses a rare combination of arm strength, an accurate deep ball and blazing speed.
The hype surrounding Griffin is enormous, and he will be the man in Washington as soon as his name is called at the draft this year.
Pierre Thomas
Chris Graythen/Getty Images
The New Orleans Saints will also field a football team this season despite the circus that has surrounded that organization this offseason.
The Saints are loaded at running back with Pierre Thomas, Darren Sproles and Mark Ingram. Featured running backs are a thing of the past in the NFL, and the Saints utilize the running back-by-committee approach.
However, Mark Ingram is a prototypical NFL running back and should become the go-to guy for the Saints in 2012.
Ingram made significant strides in his rookie season before an injury sidelined him the final four weeks of the regular season and the playoffs. In Ingram's last two healthy games, he got 27 more carries than Thomas.
Sproles will always be a situational running back, which leaves Ingram to carry the load.
Ingram is another former first-round draft choice who will make the transition from role player to starter in 2012.
That means Thomas will be the running back to see less action.
Charlie Johnson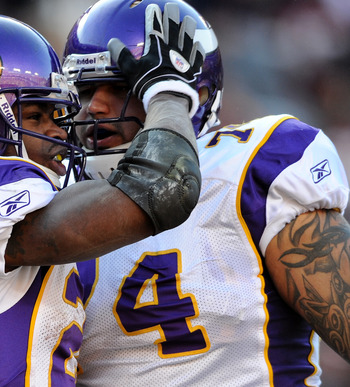 Patrick Smith/Getty Images
The Minnesota Vikings had an abysmal offensive line in 2011. The Vikings tied for fourth in the NFL in giving up the most sacks at 49 and finished last in the NFC North division.
The Vikings drafted quarterback Christian Ponder in the first round last year and need to protect whom they hope is a franchise quarterback.
Charlie Johnson is the man going to lose his starting spot. Johnson struggled in training camp to block teammate Jared Allen and that translated into the season.
Because the Vikings have to face elite pass-rushers Julius Peppers and Clay Matthews twice a year, it is imperative they shore up their offensive line and draft left tackle Matt Kalil of USC.
Drafting a left tackle to protect the quarterback has become more important than finding an elite running back in today's NFL. Kalil can be that guy for the Vikings and will immediately take over Johnson's left tackle position if the Vikings select him.
Mark Sanchez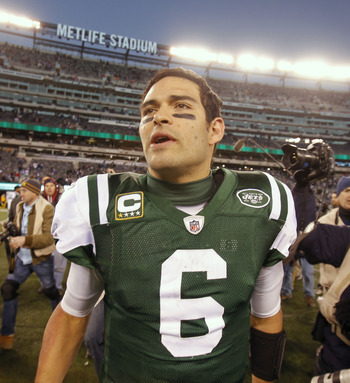 Rich Schultz/Getty Images
The New York Jets have all the makings to be a disaster this season.
The Jets did not give quarterback Mark Sanchez a vote of confidence when they went out and traded for quarterback Tim Tebow. Now, the focus the entire training camp is going to be on these two quarterbacks, and the amount of media attention will be insane.
Sanchez clearly has an enormous amount of pressure on him entering the 2012 season. Jet fans have been critical of Sanchez's performance and many believe he is the reason the Jets haven't won a Super Bowl the last few years.
Now, when Sanchez struggles, fans will immediately be calling for Tebow. Eventually, Rex Ryan will fold under the pressure of the fans and media and put Tebow in the game.
The Jets failed to make the playoffs in 2011, and the fans are going to be impatient this year more than ever. It's about instant results in New York. When Sanchez throws a costly pick, fans will call for Tebow and eventually Ryan will grant their wish.
Keep Reading