St Louis Rams Regular Season Preview: Why Bradford Should Blossom in 2012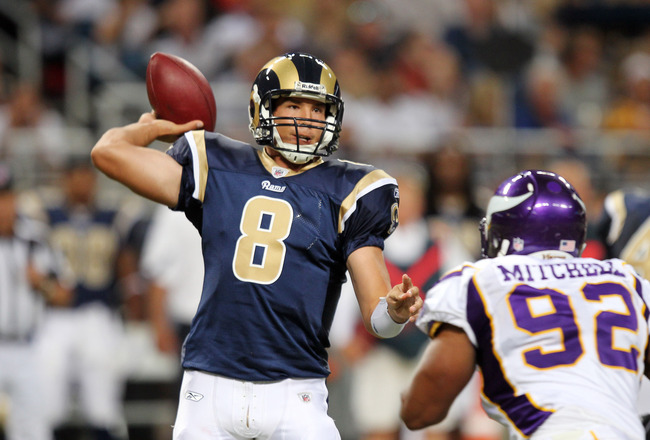 Sam Bradford

Perhaps the most vital key to a prospective St. Louis surge, and a revival and renaissance of the Rams, is none other than the St. Louis Rams' No. 1 overall pick of the 2010 NFL Draft, quarterback Sam Bradford.
The attention Bradford was given as the aforementioned No. 1 pick and in winning the 2010 NFL Offensive Rookie of the Year award was intense.
After a rookie year that also saw Bradford unexpectedly lead his team to within a whisker of the playoffs, the spotlights shined even brighter on Sam entering 2011, and the expectations upon him grew greater.
However, Bradford struggled last season and failed to lead the Rams to the promised land that several media outlets predicted prior to last season, coming off the surprising 7-9 campaign of the prior year.
Instead of becoming a sophomore sensation, Bradford unquestionably showcased a sophomore slump.
Rams fans have intensely debated whether the real Bradford was the impressive rookie who showed poise and accuracy, or the quarterback who looked lost last year and struggled to play with any type of consistency.
If Bradford bounces back in 2012, the Rams will know they can build around their 24-year-old quarterback and continue to add foundation roster pieces with their two first-round picks in 2013 and 2014—picks St. Louis received after ignoring the Cleveland Browns' inquires about attaining the former Sooner standout.
However, if Bradford falters for a second consecutive season, the Rams brass and Rams Nation will likely begin to intensely question the decision to trade the No. 2 pick and the rights to Heisman Trophy-winning quarterback Robert Griffin III, especially if he sets the world afire in his forthcoming rookie season.
Bradford's presence was reportedly a big draw for new St. Louis head coach Jeff Fisher. It appears that Rams General Manager Les Snead shares similar sentiments regarding the Oklahoma product, stating a belief that Bradford is a franchise quarterback.
The Rams front office not only spoke highly of Bradford, they proved their confidence in Sam via their above mentioned actions.
By rejecting the Browns' inquires about acquiring Cleveland Head Coach Pat Shurmur's former pupil (Shurmur was Bradford's offensive coordinator in 2010), and by trading the No. 2 pick in this year's draft, St. Louis showed a clear and strong commitment to their quarterback.
This season will be critical to the long-term future of Bradford in the Gateway City.
If he falls on his face, the Rams may begin to look at other options at quarterback with one of their two first-round picks in 2013 or 2014.
If Bradford blossoms though, as I expect, look for the Rams to continue to solidify Bradford's supporting cast with additional elite weaponry in future offseasons.
Why do I foresee Bradford booming rather than busting in 2012?
Take a look at the following slides for a plethora of reasons why Sam should shine in the coming campaign.
Upgraded Weaponry Is Anticipated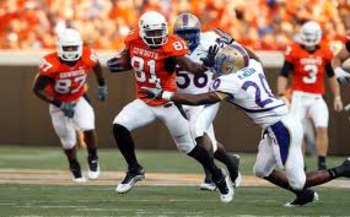 Justin Blackmon
Not only did Bradford struggle last season, but his wide receiver corps—which was regarded as sub-par to begin with—struggled with slippery hands right out of the gate.
In addition, Bradford lost his top target, Danny Amendola, in week No. 1 and eventually lost Danario Alexander, Michael Hoomanawanui and rookies Greg Salas and Austin Pettis for all or parts of the year.
Even those who stayed healthy often disappointed, as was the case with second-round rookie Lance Kendricks, who struggled in various ways for the better part of his first NFL season.
Looking to this year, Amendola is back and the Rams have added 2009 Pro Bowl wide receiver Steve Smith, who caught 107 passes in 2009.
If the 26-year-old Smith can bounce back to Pro Bowl form following his late 2010 microfracture surgery, he and Amendola could make a huge impact for Bradford and the offense.
The Rams also talked with free-agent wide receivers Jerome Simpson (26) and Jerricho Cotchery (29) last week.
If St. Louis adds one of the two, either could also contribute this year. Simpson is extremely athletic, as evidenced here, and hauled in 50 catches for 725 yards and four touchdowns last year.
After receiving just 15 days in jail and three years probation for drug charges, after visiting Rams Park, it would seem reasonable that St. Louis could offer him a contract at some point.
Cotchery knows new Rams offensive coordinator Brian Schottenheimer's offense well, after sharing several mutual years with the New York Jets, and could aid both with production and in helping other wideouts to grasp the offense a little quicker.
Even more help could, and most likely will, come by way of the 2012 NFL Draft.
Most expect that St. Louis will use at least one of its early-round picks on a wide receiver.
The Rams possess three of the first 39 picks, so the opportunity to grab one or more elite prospects at wideout (Justin Blackmon, Michael Floyd, Kendall Wright, Stephen Hill, Alshon Jeffery, Mohamed Sanu or Reuben Randle) is ample.
It looks conceivable that St. Louis may enter the coming season with at least three, and possibly four, new receivers on the opening day roster.
After fielding an atrocious offense in 2011 that averaged just 12.1 points per game, that would be considered a good thing by most observers.
The Rams have needed enhanced passing game weaponry since the conclusion of the Torry Holt-Isaac Bruce era, and it looks as if St. Louis will have added significant upgrades there by the culmination of the 2012 NFL Draft.
Return of Security Blanket Danny Amendola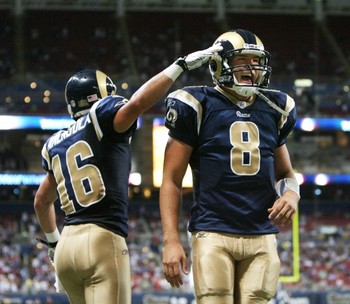 Amendola and Bradford
Many people have grossly underestimated the almost certain return of Danny Amendola, who was offered a second-round tender as a restricted free agent.
Unless a team unexpectedly gives up a second-round pick to sign the strong slot receiver, Amendola will be back catching passes beneath the Gateway Arch during the upcoming NFL slate.
His return will be much bigger than many expect, as Amendola is almost always at the right place at the right time, and offers comfort and consistency to his quarterback.
More than anything, he offers big-time production. Apparently unbeknownst to some, Amendola hauled in 85 receptions in 2010.
What other NFL team added a player who caught 85 passes in their last full season?
The answer: Nobody else, other than St. Louis, has done that to this point (assuming that Amendola is retained, which is a near certainty.)
Amendola's presence and versatility in the return game (if needed there) should be key. Specifically, his return should aid Bradford immensely, which will make him a better quarterback in 2012 than what we saw last year.
And that is certainly a good thing for St. Louis and the offense corporately.
For much more on why Amendola's return could be key for Sam and the Rams, look here.
Quarterback Coach Back in Place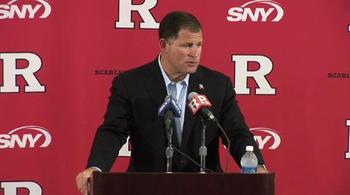 Frank Cignetti
Dick Curl seemed to have a magical touch in dealing with Bradford in 2010, and was credited with the rapid development of then-rookie Sam Bradford before retiring after that season.
Almost inexplicably, Steve Spagnuolo and the Rams did not hire a new quarterbacks coach in 2011.
It is hard to quantify the impact that decision may or may not have had, but most agree that having a QB coach on hand is very helpful in a plethora of ways, especially with a young quarterback at the helm, as is obviously the case with Bradford.
Mike Karney, the Rams fullback in 2009 and 2010, told me last week on STL Rams Central radio about the importance of having a quarterback coach in place when a team has a youthful starting QB:
Having a quarterback coach is critical... a younger quarterback has to have a QB coach for teaching on the sideline and certain drill work. It also gives an extra set of eyes out there.
The Rams have hired former Rutgers offensive coordinator Frank Cignetti as quarterbacks coach, and having him in place should help Bradford more than some might imagine.
Cignetti should help, not only in terms of teaching on the sideline, as Karney pointed out above, but also in regards to offering reassurances after a tough three-and-out or an interception, reminders in regard to mechanics, a pat on the back when needed or in sharing that tough love that can be necessary from time to time.
A Full Offseason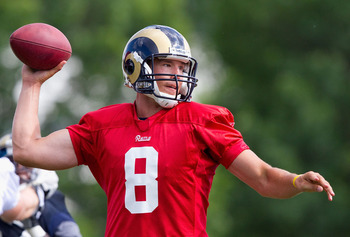 Sam Bradford
Bradford should be aided immensely by having a full offseason.
Unfortunately for Sam, he had a very short window to incorporate and successfully implement a second NFL offense in as many seasons as well as a second offensive coordinator.
Although Bradford will enter season three with a third offensive coordinator and a third offense, he will at least have the entirety of the offseason to get comfortable with it, as will his teammates.
Having the full slate of mini camps, organized team activities (OTA's) and the full allotment of minutes, hours and days available to pour over the new system with his coaches, Bradford should be able to better his poor performance of 2011 and get off to a much better start this year.
Getting off to a fast start is not as critical, perhaps, with a veteran QB like a Drew Brees or Tom Brady, as their confidence is probably deeper and more ingrained, however, a quick get-off out of the gate could be extremely meaningful to Bradford in the long-term aspirations of the 2012 campaign.
If Bradford starts well he and the young Rams offense should feel a little extra swagger and that should help translate into a better performance across the board this year, particularly from the signal caller position.
And a better Bradford obviously makes for a better season from the skill players, a more productive offense and thus a better season for the Rams.
New Offensive Coordinator May Be More Flexible Than the Last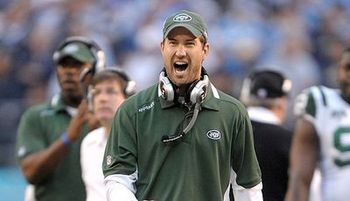 Brian Schottenheimer
Although many fans grew impatient with the general offensive approach of then offensive coordinator Pat Shurmur in 2010, he did run a system that consistently seemed to help Bradford produce very solid rookie numbers.
In 2011, some questioned if that was the case with offensive coordinator Josh McDaniels, who seemed to struggle with adapting to this new personnel and within the constraints of an abbreviated offseason.
That assessment could be unfair, potentially, but it was deemed appropriate by many. As the Rams offense struggled from week to week, the adjustments, or lack thereof, seemed evident.
In defense of McDaniels, however, he lost a multitude of pass-catchers and running backs for all or part of the season, including Steven Jackson, Cadillac Williams, Jerious Norwood, Danny Amendola, Greg Salas, Austin Pettis and Michael Hoomanawanui.
With an injury-depleted roster which lacked certain covetable qualities to begin with, there was probably only so much that could be done.
However, many fans and evaluators feel that a little more creativity and adaptability could have been shown in several cases.
With Schottenheimer in place, I expect him to be a bit more flexible with the leading of a strong and clearly in-control Jeff Fisher in place.
Although Schottenheimer has been criticized at times during his tenure as OC of the Jets, he has shown a willingness to adapt to the personnel around him and alter his scheme to better fit his personnel, whether that would be to emphasize either the run or pass game more or in making other more specific adjustments.
If Schottenheimer proves to indeed be more flexible than some feel his predecessor was, it should spell good news for Bradford and the Rams O in 2012.
Better Offensive Line Play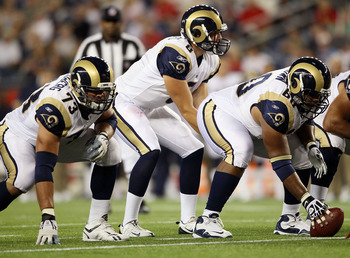 Jason Brown hiking to Bradford
There was two constant themes over the past several seasons regarding the St. Louis Rams offensive line: Steve Loney and inconsistent play up front.
Bernie Miklasz of the St. Louis Post-Dispatch asserted last year in this column that the Rams investment into their offensive line in recent years has been the most significant collective waste of money in the history of St. Louis sports.
That is, obviously, a bold statement. However, the offensive line was a bold disaster under the tutelage of since-departed offensive line coach Steve Loney.
Regardless of who was brought in via free agency (such as one-time highly touted players like Jason Brown and Jacob Bell, who were not retained this offseason), or the NFL Draft (such as 2009 No. 2 pick Jason Smith), the collective play of the St. Louis offensive line has been a severe disappointment.
The Rams have hired a new offensive line coach, Paul Boudreau of the Atlanta Falcons. The Falcons fielded one of the league's best O lines in 2010 under Boudreau.
In short, if all things had remained equal, and the same offensive lineman had returned this year, I would have expected better play from the offensive line in 2012 under Boudreau.
Loney had four seasons here but struggled to field a consistent line at any time during his tenure, as touched on in this piece from Turf Show Times.
For much, much more on why I feel this particular coaching change could impact the Rams significantly in a positive manner, please read this.
Of course, better offensive-line play can help a quarterback as much as enhanced weaponry. Hopefully for Bradford and St. Louis, the line play surrounding Sam will be much enhanced before the start of the season.
If so, the talented Bradford should be able to begin marching towards becoming the franchise QB that I, and others, feel that he can be.
Better Pocket Awareness and More Efficiency in Progressing Through Reads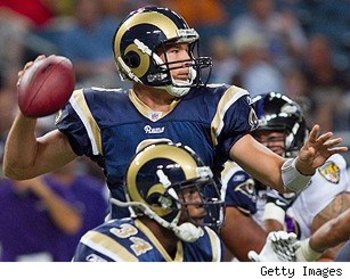 Sam Bradford
Although better offensive line play and all those things mentioned on each of the previous slides should help Sam in 2012, he must also step up certain aspects of his own game too.
Bradford does need to improve on his pocket awareness and in progressing through his reads, clearly.
On the other hand, even future Hall-of-Fame locks Tom Brady and Peyton Manning have sometimes looked rather human and mediocre when their offensive lines failed to protect them.
Better O-line play will make most quarterbacks look to be much more poised in the pocket, and will give them more time and comfort in patiently navigating through their pre-designed progressions.
That is not to say that Bradford does nothing to improve in those regards, as he does, but better play up front will aid him nonetheless.
Point blank, better pass protection can help Bradford (or any quarterback) improve in terms of reads and progressions.
Bradford often struggled and missed wide-open receivers last season as he failed to progress through his reads often enough, or failed to feel the pressure around him and to step up in the pocket, or to find a way of escape with his legs.
However, a porous O-line that allowed Bradford to consistently get beat up before landing him on the injured reserve, along with a receiving corps who consistently lacked separation as a whole, made it tougher to be patient in going through the entirety of his reads.
It is an area that Sam must improve upon, clearly, as he often would stare down his receivers to the point that some wondered if it was he, and not Manning, who had the serious neck injury.
It is via both a combination of Bradford getting better internally in the two aforementioned areas, and those around him helping him do so, that Sam will take great strides himself in improving his play in the coming campaign.
Better Running Game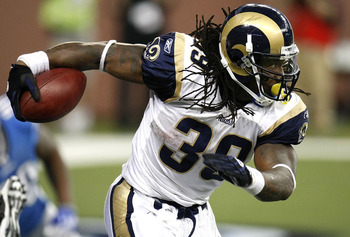 Steven Jackson
Everyone knows that Jeff Fisher loves to run the football.
I expect Fisher to lean heavily and consistently on Steven Jackson and a later-to-be-named backup/change-of-pace No. 2 back, to be nabbed through the upcoming draft.
Better O-line play in terms of run blocking for an expected high-commitment to the run game—one that should be very strong—will make the passing game easier for Bradford.
If the running game rises to the level expected, it should set up the play-action pass game quite nicely, and help receivers and tight ends attain easier separation more often.
Of course, that will help Bradford and the Rams receivers tremendously.
In turn, a better passing offense will make it tougher for teams to stack the box against Jackson and the run game, something that has routinely happened in recent years.
Better Health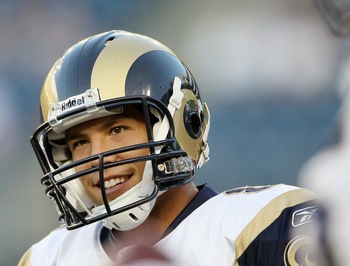 Sam Bradford
Bradford was banged up for almost the entirely of his 2011 campaign before a significant ankle injury effectively ended his season.
Bradford, though, is healthy now, according to a column from Jim Thomas of the St. Louis Post-Dispatch.
As is the case with any athlete in any sport, better health almost always equates to better play, or at least the opportunity to have the best chance to play to one's potential.
That said, a healthy Bradford, one who can move in the pocket freely or take off and run at full speed if necessary, should make for a better Bradford this fall.
All in all, I fill that these factors will provide for a mixture of elements that provide a foundation for a strong third season and a blossoming Bradford in 2012.
If the Rams can indeed add weapons who Sam can get comfortable with, in a similar manner that he did with Amendola in 2010, combined with all the other factors mentioned, I would expect Bradford to make believers of many of his doubters this season.
Shane Gray covers the St. Louis Rams year-round as a Featured Columnist for Bleacher Report. You are encouraged to check out the rest of his work here. Gray also owns and operates sltramscentral.com.
Keep Reading

St. Louis Rams: Like this team?