St. Louis Rams: A Specific Assistant Coaching Change May Make Major Impact
March 17, 2017
NFL Photos/Getty Images
Jacob Bell. 
Jason Brown.
Jason Smith.  
These three players have much more in common than having a first name beginning with the letter J.
More importantly, each were coached by Steve Loney, who served as the Rams' offensive line coach from 2008-2011. Loney was fired on January 2 along with head coach Steve Spagnuolo and the entire coaching staff, minus offensive coordinator Josh McDaniels, who remains for now.
Loney and his troops had been widely criticized for their inconsistent play over the last four seasons, and Loney in particular caught more and more heat as the offensive line disappointed annually.  
Loney coached each of the three aforementioned offensive linemen during their entire time in St. Louis. Each had high expectations upon arrival. However, all three have disappointed to some degree under Loney's tutelage. 
Jacob Bell signed a six-year, $36 million dollar deal with $13 million guaranteed out of Tennessee in 2008. Expectations were high for the then-27-year-old, who had played very good football at guard for the Titans.  
However, his play, like his weight, has been up and down in St. Louis. He has struggled with consistency and has been pushed into the backfield far too often during his run with the Rams, which has almost certainly come to a close.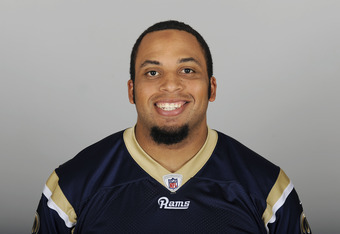 Handout/Getty Images
The following season, the Rams secured the services of another highly-touted offensive lineman, Jason Brown of Baltimore, with another big contract: five years and $37.5 million dollars. Brown was named to Sports Illustrated's All-Pro team with the Ravens after the 2008 season. 
However, he too has been unable to match the level of play he displayed prior to coming to St. Louis. In fact, he was benched midseason in favor of journeyman Tony Wragge, who had previously started a grand total of 15 games during his first seven seasons in the NFL, most recently with San Francisco. 
Brown has two years left on his contract, however, so he may return to St. Louis. If so, the Rams will certainly hope for a better performance in 2012. 
Perhaps the most disappointing of the trio is 2009 first-round selection Jason Smith.  
Regarded highly enough to be taken second overall out of Baylor, Smith now seems destined to ultimately end his career with more serious concussions (he has suffered two that have ended separate seasons) than Pro Bowl berths.
Smith does a nice job in the run game but struggles with consistency in pass-protection. Space has not been his friend as quicker pass-rushers have given him trouble off the edge.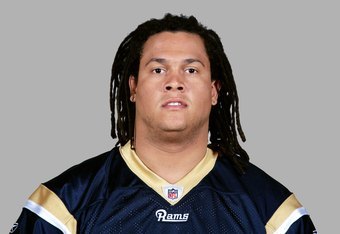 Getty Images/Getty Images
Some suggest that Smith and the Rams might benefit from a possible move to guard, where his struggles in space would be reduced.  
If St. Louis chooses Matt Kalil of USC with the No. 2 overall pick in the 2012 NFL Draft or adds a standout free agent tackle like Demetrius Bell of Buffalo, a move inside becomes a consideration.
It is conceivable, then, under those scenarios, that St. Louis slides Smith to guard during offseason work and training camp to see how he fares, but it is also possible that he could be cut or involved in an injury settlement.
Any scenario that involves Smith's return to the Rams is predicated on his ability to return from his second severe head injury, and that is not a given. 
What is a given is that the Rams' offensive line units have consistently played below expectation and underachieved under Loney's watch.  
If Loney was indeed a significant part of the problem, then his eventual replacement could be a big part of the solution.
Better, more consistent offensive line play would help lay a foundation for Sam Bradford's resurgence (along with additional weapons) and the emergence of a more potent offense in 2012.
If the new O-line coach can consistently give Bradford time and keep him clean, the passing game should improve and that should result in more points for the St. Louis offense.  
If this new coach can get the most out of whoever remains of this trio and the rest of his unit next season, this under-the-radar move of replacing Steve Loney may ultimately go down as one of the more vital, impactful and pivotal changes that took place during this highly active offseason in St. Louis, even if most never recognize it.  
After all, some of the most important factors that impact wins and losses don't show up on the stat sheets. They occur in the trenches where great play oftentimes goes unrecognized. 
Thus, getting the right man in place to direct those protecting Sam Bradford is of utmost importance. For Bradford to rebound and move towards becoming that elite, franchise quarterback St. Louis believed he would become when drafting him first overall in 2010, this is paramount.  
And, again, Bradford cannot do that without capable bodyguards in front of him who have been properly trained to perform their jobs with consistently and excellence.  
It all begins there.
Shane Gray covers the St. Louis Rams year round. To check out the rest of his work, go here.  You are also encouraged to follow him here on Twitter.