MLB Opening Day 2012: 5 Best Starting Pitching Performances from Thursday
April 6, 2012

Leon Halip/Getty Images
Pitching ruled the day, as the 2012 baseball season opened with its first full day of action. Conventional wisdom says that pitching tends to be ahead of hitting this early in the season, but lack of offense through most of Thursday's games was still surprising.
Poor Mike Rosenbaum was looking for one run—any run—as he led B/R's MLB live blog. He and the rest of us had to wait for quite a while until David Wright finally broke up all the zeroes across baseball by driving in Andres Torres with an RBI single.
After the seal was broken, we saw some offense finally emerge. Someone had to score to win these games. 
Perhaps dominant pitching shouldn't have been a surprise on Opening Day, as most teams put their best starters on the mound to begin the season. As you might have expected, some familiar names came through with their usually impressive performances.
Just how good was the starting pitching?
Johan Santana threw five scoreless innings in his first appearance since Sept. 2010. Yet he didn't make this list of the five best outings from Thursday.
Eating that Taco Bell the night before a start really does work. At least for Verlander.
Facing what's expected to be a potent Boston Red Sox lineup, the defending AL MVP and Cy Young Award winner picked up where he left off last season.
Verlander allowed only two hits over eight innings, striking out eight along the way. Jim Leyland took his ace out after 105 pitches.
Plenty of Detroit Tigers fans wish Verlander had stayed in, as Jose Valverde came in and blew the save. But a complete game in the first game of the season is too much to expect. Even for Verlander. 
Roy Halladay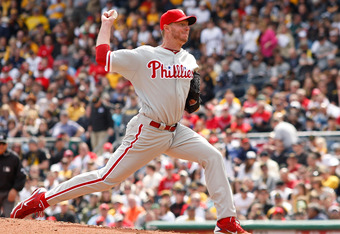 Jared Wickerham/Getty Images
Any worries about decreased velocity and lack of movement on off-speed pitches for Halladay were quickly quieted down.
Sure, he was facing a Pittsburgh Pirates batting order that had Neil Walker in the cleanup spot. But shutting out any major league lineup and holding it to two hits is impressive. Halladay also didn't walk a single Pirates batter.
Perhaps he could've gone the distance, having thrown 92 pitches. But the Philadelphia Phillies also had to give their new closer, Jonathan Papelbon, a spin. 
Johnny Cueto
Perhaps we shouldn't give Cueto too much credit for shutting out the Miami Marlins. After just two games, scoring runs looks to be a major struggle for Ozzie Guillen's team.
Nonetheless, Cueto tossed seven shutout innings, holding the Marlins to three hits.
He looked every bit like the No. 1 starter that the Cincinnati Reds expect him to be, which has to be a major sign of encouragement for a team picked by many to win the NL Central. 
Ryan Dempster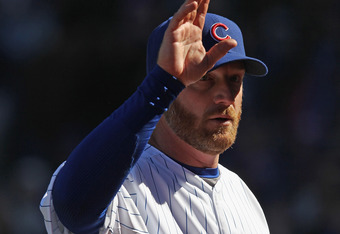 Jonathan Daniel/Getty Images
The hard-luck performance of the day goes to Dempster, who racked up 10 strikeouts against the Washington Nationals. 
Dempster allowed one run and two hits over 7.1 innings, locked in a pitching duel with Stephen Strasburg.
Kerry Wood and Carlos Marmol eventually gave up the game for the Chicago Cubs, which surely caused many to wonder if Dempster should've been kept in. But new manager Dale Sveum was asking his relievers to do what they're expected to do. 
But how many of Dempster's pitching peers got an autographed ball from Bill Murray? Maybe he won the day, just for that. 
Justin Masterson
Masterson joined Dempster in the 10-strikeout club for Opening Day, allowing one run and two hits over eight innings against the Toronto Blue Jays.
His performance was somewhat overshadowed by the Cleveland Indians going 16 innings with the Jays, and eventually losing. But it wasn't until Masterson left the game that the Blue Jays began to put some offense on the board. 
For the Indians to have a chance in the AL Central, they need Masterson to be their ace. He looked more than capable of shouldering that responsibility, shutting down a powerful AL East lineup.