Fantasy Football's Top 20 Tight Ends Right Now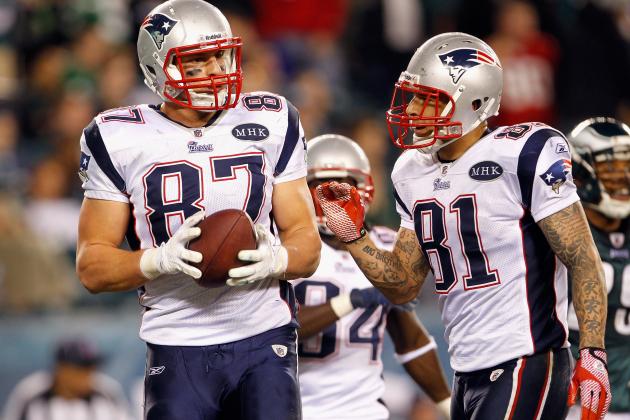 Rich Schultz/Getty Images
Patriots tight ends Rob Gronkowski (left) and Aaron Hernandez (25 combined TDs last year) are both top-five fixtures in springtime fantasy rankings.
The following slideshow is my current assessment of the top 20 tight ends in fantasy (standard-scoring leagues), a listing that doesn't include soon-to-be-unleashed rookie stars like Stanford's Coby Fleener or fully recognize the proficiency of veterans Scott Chandler, Heath Miller, Ben Watson, Visanthe Shiancoe and Tony Moeaki.
It also doesn't presume greatness for Jacob Tamme or Joel Dreessen in Denver's offense, even though the Broncos encountered a serious upgrade at quarterback during the offseason. But hey, there will be plenty of time to adjust these rankings accordingly before preseason play begins.

Enjoy the show!
Begin Slideshow

»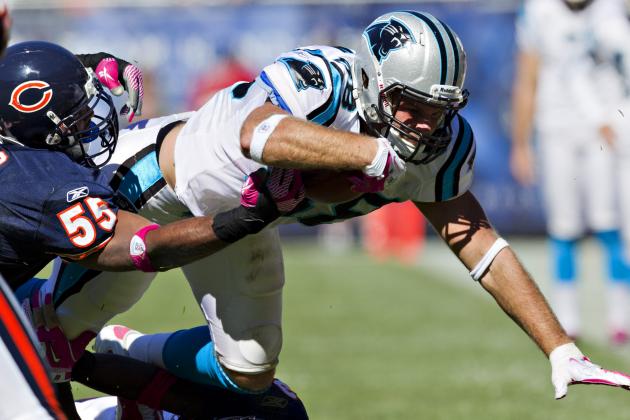 Wesley Hitt/Getty Images

The 2011 campaign was essentially a tale of two halves for Olsen.

For Weeks 3-11 (eight games), the Miami product drew seven or more targets six times (three double-digit efforts), while collecting 32 receptions and three touchdowns.
For Weeks 12-17, Olsen was limited to just eight catches for 113 yards and one TD, including two zero-catch duds in the final two games.

Bottom line: Olsen has demonstrated some flashes of fantasy goodness in his brief time with the Panthers, but he'll need a strong preseason to keep Chiefs tight end Tony Moeaki (torn ACL last year) or incoming rookie Coby Fleener (a prospective Rob Gronkowski clone) from claiming this spot by Labor Day.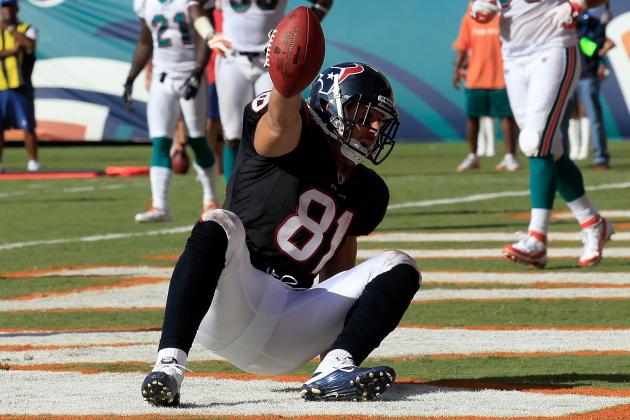 Sam Greenwood/Getty Images

In his final five regular season games last year, when Matt Schaub wasn't the Texans' starting QB, Owen Daniels averaged 5.2 catches, 5.9 targets, 40 yards and zero touchdowns.
In the 10 games with Schaub, Daniels averaged 3.7 catches, 5.5 targets, 47.8 yards and 0.30 TDs.

Daniels (per-season averages: 50 catches, 3.3 TDs) may be marginally better with Schaub in the lineup (compared to T.J. Yates), but he's still a middling talent whose single greatest attribute might be avoiding goose eggs from Sunday to Sunday.
That overall description is not one of a fantasy starter, though—it's the calling card of an eminently replaceable backup.

This ranking may be up for grabs during the preseason.
Jim McIsaac/Getty Images

Bennett, a four-year backup to Jason Witten in Dallas (2008-11), may have found the perfect landing spot with the Giants, a club long on big-name receivers and running backs but short on prospective starts at tight end.

With Travis Beckum and Jake Ballard recovering from late-season ACL surgeries, Bennett presumably has a clear shot at winning the job, racking up career-highs in catches, yards and touchdowns and developing a substantial rapport with QB Eli Manning, who attempted 38.6 passes per game from Weeks 6-17 last year.

Here's another reason to aggressively pursue the 6'7" Bennett after Round 12 in fantasy drafts—Manning has great touch on the jump-ball fade pass to the end zone, an occurrence that could help Bennett tally 7-9 TDs with the defending champs.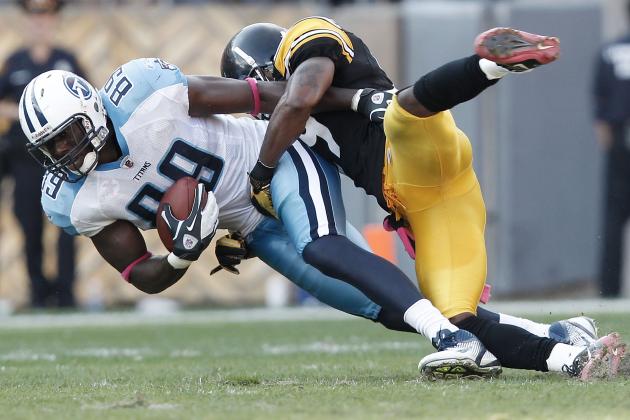 Jared Wickerham/Getty Images

Similar to Greg Olsen, the Titans' Cook had two December goose eggs on his 2011 resume.
But Cook's response to that short-term infamy prompted this countdown inclusion—21 catches for 335 yards and one touchdown in the final three weeks.

Does that burst of fantasy goodness portend greatness in his fourth NFL season? Too early to tell.
But it was good enough to suggest Cook will be more than a fantasy afterthought in 12-team leagues.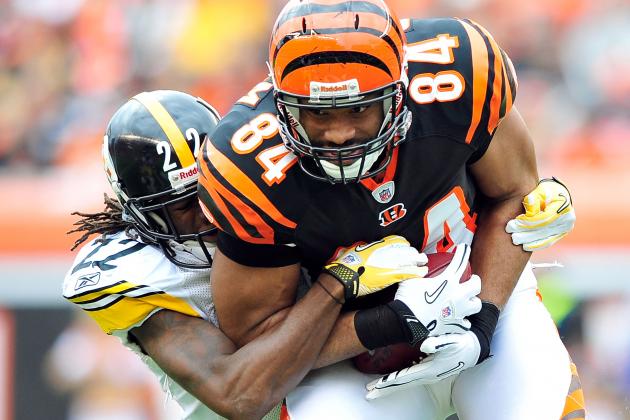 Grant Halverson/Getty Images

The fantasy optimist would say that, in just two NFL seasons, Gresham has become a reliable source for 4.5 catches, 7.5 targets, 55 yards and 0.4 TDs every week.
The fantasy pessimist, in turn, would say—roughly the same thing.

Yes, Gresham (56 catches, 596 yards, six TDs last year) made across-the-board improvements in his age-23 season, but the numbers were curiously similar to 2010.
Does that form of mild progress excite fantasy owners who crave upside with middle-round picks?

Is Gresham a TE1 in 12-team leagues? Does he have the capacity to post the occasional 10-catch, 12-target, 90-yard game against inferior pass defenses? Or is he simply the best of the backup lot?

Only time will tell.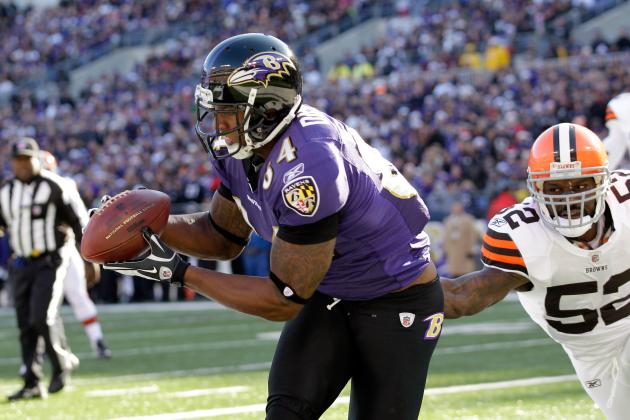 Rob Carr/Getty Images

One game typically doesn't define a player's future fantasy worth, but that may not apply to Dickson.
In Week 10 against the Seahawks last year, he pulled off a 10-catch, 79-yard, two-TD heist, eliciting two hard questions that still haven't been answered:


Were Dickson's 14 targets the result of a game plan that didn't intentionally feature tailback Ray Rice (13 total touches)—or did the Ravens' early deficit prompt the heavy workload?
Was Dickson extra motivated to perform well in Seattle, the closest NFL city to Eugene, Ore., home of the University of Oregon (his alma mater)?
From a statistical standpoint, Jermaine Gresham and Dickson are brothers in arms, but I'm siding with Dickson's upside—even if the Ravens won't visit Seattle again until 2015.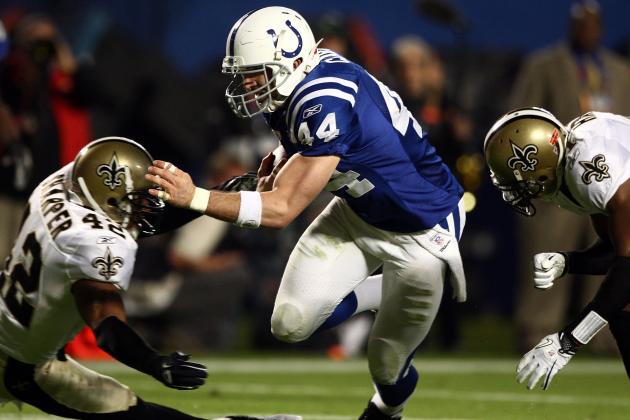 Donald Miralle/Getty Images

Until Clark signs with an NFL team, he'll remain with the lot of preferred-status backups.
There's no other way to grade a former All-Pro whose last two seasons have been ravaged by injury.

And with Jacob Tamme and Joel Dreessen now in Denver, it's hard to imagine Clark (100 catches, 1,106 yards, 10 TDs in 2009) reuniting with new Broncos QB Peyton Manning this season.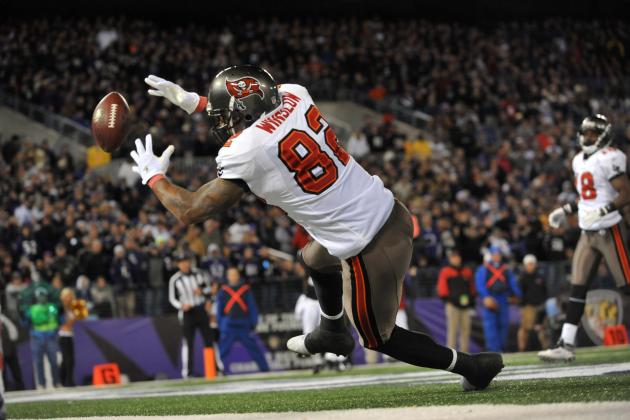 Larry French/Getty Images

From a receptions, yards and targets standpoint, Winslow profiles as a top-10 tight end.
But it's impossible to ignore his paltry two touchdowns from last year, a career nadir for the 28-year-old warrior.

Still, hope springs eternal for the Buccaneers, especially with Vincent Jackson, Carl Nicks and maybe Alabama rookie tailback Trent Richardson in the mix (Tampa Bay has the No. 5 pick in this month's draft).

The influx of offensive firepower may serve to diminish Winslow's red-zone opportunities, but I'll take the positive side of that consequence by predicting Winslow won't see double-coverage for one play all season.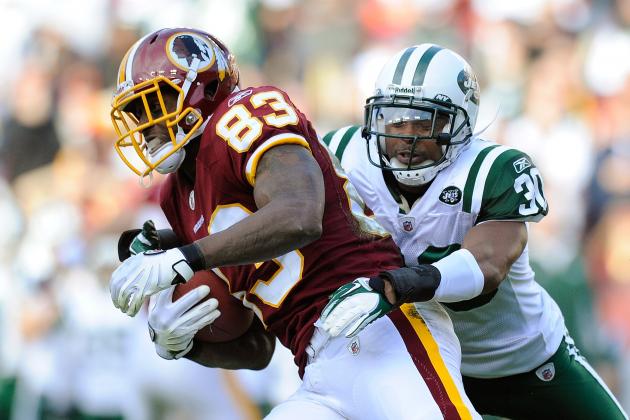 Patrick McDermott/Getty Images

In the compilation of raw data for this countdown, Davis originally had a No. 8 ranking, but that seemed absurdly high for a guy who missed more games from a drug suspension (four) than touchdowns scored for the year (three).

Hence, the market correction.

Off-the-field problems aside, Davis should be an explosive asset for the Redskins this season.
He may even garner the lion's share of targets attention from rookie QB Robert Griffin III, who will have options galore with Pierre Garcon, Leonard Hankerson, Santana Moss, Evan Royster, Chris Cooley and tailback Roy Helu in Washington.

Bottom line: Davis should have no problems hitting 70 catches, 900 yards and six touchdowns, if he keeps the shenanigans to a minimum.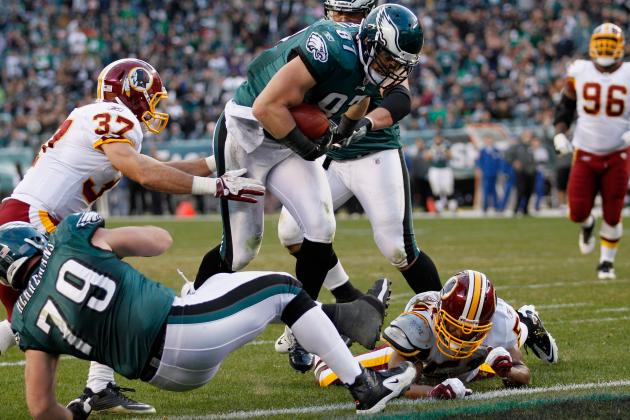 Rob Carr/Getty Images

For convenience's sake, we're going to ignore Celek's de facto disappearance from the Eagles offense for Weeks 1-5.
Instead, we'll focus on his top-10 production for Weeks 6-17—53 catches, 78 targets, 738 yards and five touchdowns.

With a reasonably healthy Michael Vick starting at least 13 games this year, Celek is a safe bet to match or eclipse his numbers from 2009 (76 catches, 971 yards, eight TDs); and if he should pull that off, this conservative ranking will look foolish by season's end.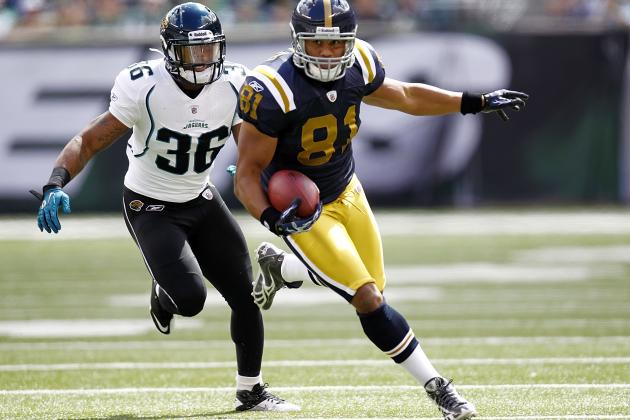 Jeff Zelevansky/Getty Images

Keller is one of the few members of this countdown to post 10-catch improvements in the last two seasons.
He's also an annual lock for 100-plus targets and five TDs.
All this begs the question: Why is he languishing at the 10th spot?

Call me cynical, but I have a feeling Keller will suffer from the Jets' (needless) acquisition of QB Tim Tebow, especially in the red zone.
With New York going out of its way to shoehorn Tebow into the offense, via the Wildcat look, it's hard to imagine Keller eclipsing five TDs or entering the realm of elite tight ends in 2012.

Targets: 59 catches, 779 yards and five TDs.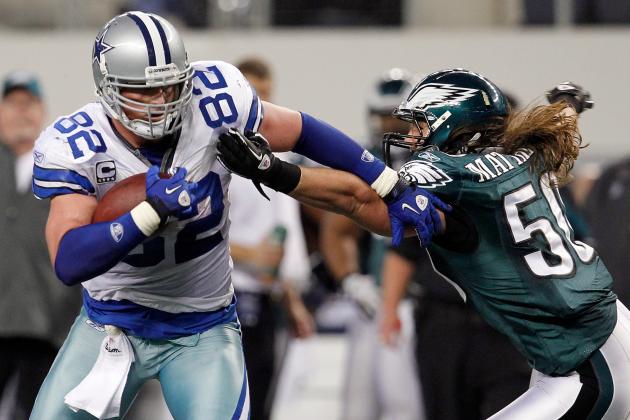 Tom Pennington/Getty Images

It's hard to qualify Witten as an elite tight end heading into his age-30 season.
That's the knee-jerk assessment from an across-the-board dip in numbers with Dallas (79 catches, 942 yards, 5 TDs) in a year when Tony Romo started all 16 games at quarterback.

Now for the good news.
For the first time since 2007, fantasy owners won't hold any preseason delusions of 95 catches and/or nine touchdowns for Witten.
Instead, they'll simply be happy with a modest uptick in production—perhaps 81 catches, 938 yards, seven TDs—and amazing value on draft day (Round 8).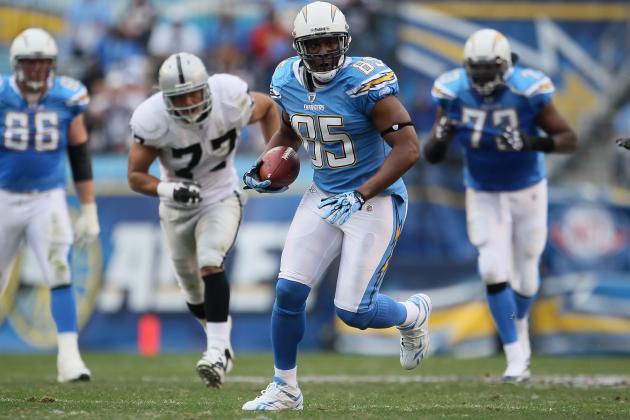 Jeff Gross/Getty Images

I realize the temptation to grab Rob Gronkowski or Jimmy Graham in Rounds 2 or 3 this summer will be great.
But why not wait for unassuming studs like Gates in Rounds 7-9?

If fantasy owners can accept that Gates (76 career TDs) may never complete another 16-game season or resemble a Hall of Famer in his prime again, they'll love his per-game production by year's end—roughly 60 yards and 0.5 TDs every Sunday.

Targets: 69 catches, 880 yards and eight TDs.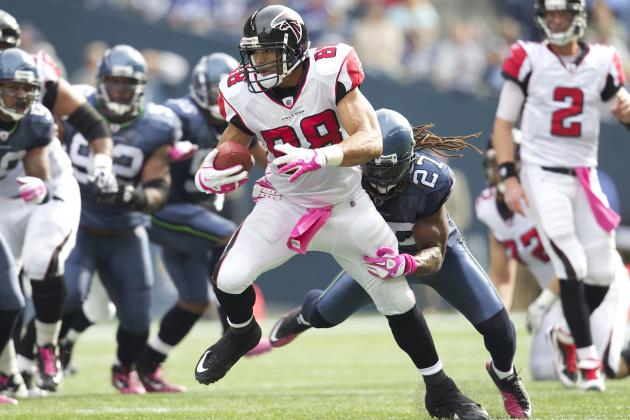 Stephen Brashear/Getty Images

I would love to see Gonzo cap a Hall of Fame career with another 80-catch, 900-yard, seven-TD campaign, but with the Falcons' deep fleet of playmakers and former O-coordinator Mike Mularkey's move to Jacksonville (Jaguars head coach), that may be an ambitious wish for 2012.

So, Gonzalez (1,149 career receptions/95 TDs) sits at No. 7 for this countdown, a minor insult to his consistent greatness.
But on the positive side, he garnered a better ranking than Jason Witten and Antonio Gates, former All-Pros who are not entering the final season of their illustrious careers.

Targets: 75 catches, 917 yards and six TDs.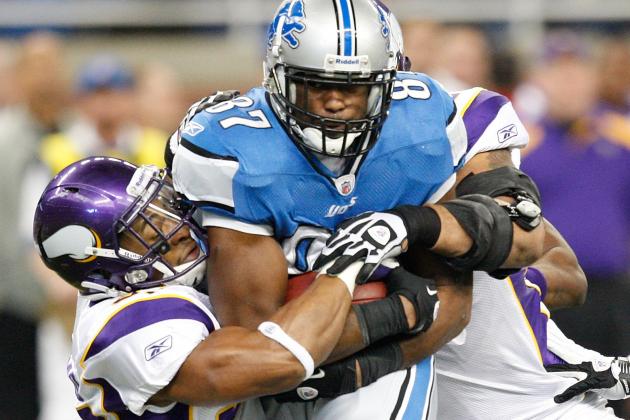 Leon Halip/Getty Images

There's really no secret to what makes Pettigrew tick—he loves getting red-zone touches and keeping NFL officials at arm's length (kidding).

For the sake of this countdown, though, we'll focus on Pettigrew's top-five production in targets and receptions last year, and his potential for taking a sizable leap in yardage and touchdowns this season.
He's the ideal Round 7 pick in 12-team drafts—Round 6 for PPRs. He's also Matthew Stafford's second-favorite weapon.

Targets: 85 catches, 836 yards and seven TDs.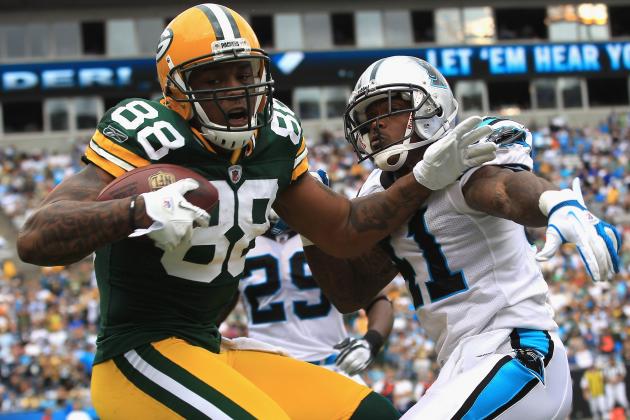 Streeter Lecka/Getty Images

Pettigrew and Gonzalez might warrant higher rankings in PPR leagues, but for standards, Finley (55 catches, 767 yards, eight TDs in 2011) is the safest bet to collect the most yards and touchdowns by season's end.
He is also the likeliest of the trio to notch two or three touchdowns on multiple Sundays.

That's the inherent joy of owning/watching Finley in fantasyland. Yes, he occasionally gets lost in the shuffle when Green Bay's other stars are unconsciously dissecting opposing defenses, but he still has the athleticism, hands and raw power to dominate the scene four or five times during the year.

Targets: 64 catches, 867 yards and nine TDs.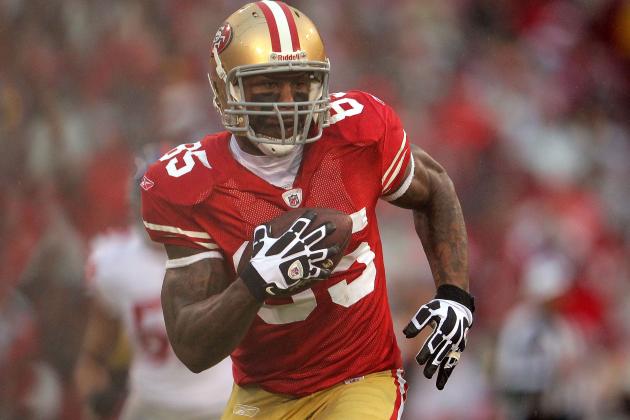 Doug Pensinger/Getty Images

Davis earned the No. 4 ranking on the strength of two monster playoff games last year (10 catches, 292 yards, four TDs), not necessarily the regular-season stats that preceded the explosion (67 catches, 792 yards, six TDs).

The status also comes with the assumption that receivers Michael Crabtree, Mario Manningham and Randy Moss won't drastically cut into Vernon's red-zone opportunities, a reasonable assertion with QB Alex Smith still running the San Francisco attack.

The 49ers finally have notable playmakers to match the greatness of their defense, but this is not a time for Davis to regress to 50 catches and four scores.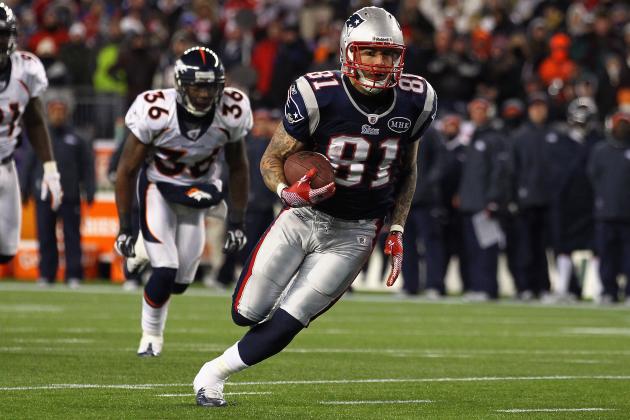 Al Bello/Getty Images

It seems out of whack to include two guys from the same team in a top-three listing of tight ends.
But who could possibly formulate an argument against Hernandez at this spot?

In just 14 games last year, Hernandez (79 catches, 910 yards, seven TDs) ranked among the top eight in receptions, yards, touchdowns and targets (113).
For seven weekends, he also carried his fantasy owners to victory.
Bottom line: Hernandez is the perfect cog in the Patriots' offensive attack, and his fantasy ceiling has yet to be determined.

Targets: 83 catches, 1,034 yards and nine TDs.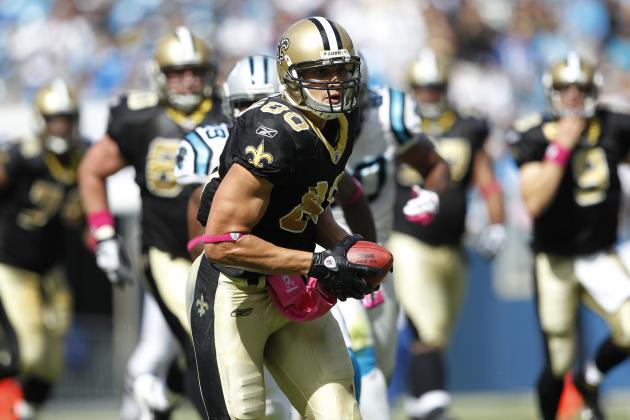 Joe Robbins/Getty Images

This ranking is based on the assumption that Saints QB Drew Brees will play a full 16-game slate this season, if healthy.
It also presumes that Graham (99 catches, 1,310 yards, 11 TDs) will lead all tight ends in catches and targets, incrementally bumping his pre-draft value in PPR leagues (Round 2).

Speaking of which, Graham registered at least seven targets in every game last season.
To put that into perspective, neither Wes Welker, Calvin Johnson, Roddy White nor Larry Fitzgerald accomplished that feat even once in the last four seasons (2008-11).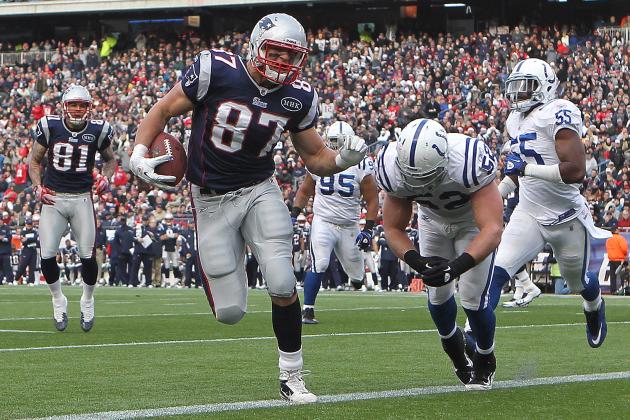 Jim Rogash/Getty Images

Of all the fantasy positions for 2012, Gronkowski (90 catches, 1,327 yards, 17 TDs last year) might have the most separation between himself and the No. 2 player.
In fact, if Gronk had played in only eight regular-season games (first half/second half—no matter), he'd still be an outside candidate for the top spot.

Is Gronkowski (27 TDs in two seasons) a Round 1 pick in standard-scoring leagues? That's debatable.
But he has certainly earned the right to be a Round 2 selection, essentially going one or two rounds higher than Antonio Gates in his draft heyday (2004-06).

The glowing praise notwithstanding, fantasy owners should have a little perspective on Gronk's value.
He probably won't catch 90 balls or rack up multiple touchdowns eight times. Anything just short of that, however, would still be worthy of the No. 1 ranking.