5 Players That Could Sneak Up on You in Fantasy Football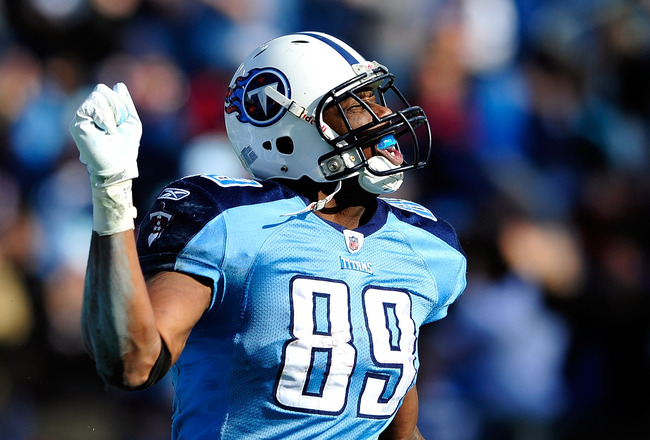 Can you identify this man?
Grant Halverson/Getty Images
It has been a busy NFL offseason dominated by coverage of Peyton Manning, Tim Tebow, the New Orleans Saints and the Andrew Luck/Robert Griffin III debate. With all these big stories, a lesser-known or forgotten player may sneak up on you as they are poised to make a big fantasy impact in 2012.
Players like Victor Cruz, Rob Gronkowski and DeMarco Murray surprised many fantasy owners last season. And in 2012, there is no doubt that a new crop of playmakers will emerge.
Whether because of an offseason change of teams or roles, here are five players that could sneak up on you in 2012.
Jared Cook, TE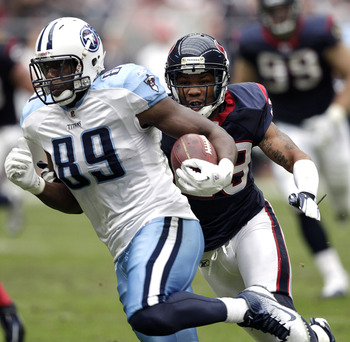 Bob Levey/Getty Images
At just 24 years old, Cook is quickly rising in the ranks of NFL TEs.
And while Cook already had a drastic statistical jump from his second to third season in the NFL (all with the Titans), 2012 could be the year he makes a name for himself nationally.
In 2010, Cook caught 29 balls for 361 yards with a TD.
In 2011, Cook caught 49 balls for 759 yards with three TDs.
Cook also played his best football late in the season for the Titans as he averaged seven catches and 112 yards per game in Weeks 15 through 17, a good indicator of where he will be headed in 2012.
Cook is just 24 years old, and his prime years could yield top-tier TE statistics. He will be a low-risk draft selection in most leagues as well, as he can be had in the last several rounds in standard 10-team formats.
Malcom Floyd, WR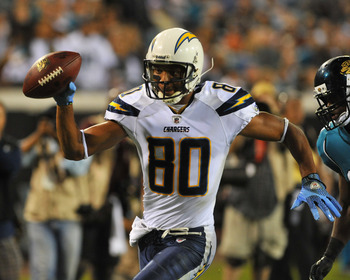 Al Messerschmidt/Getty Images
Floyd will be the leading returning receiver for the Chargers in 2012 with the departure of Vincent Jackson to the Tampa Bay Buccaneers. Floyd caught 43 balls for 856 yards and five TDs. He was the No. 32 fantasy wideout in 2011.
The Chargers did add to the receiving corps after the departure of Jackson, but they didn't (and probably couldn't) replace him. They added Eddie Royal from the Broncos and Robert Meachem from the Saints. Meachem will likely emerge as the starter opposite Floyd.
But Floyd should be the guy who takes over as the No. 1 receiver, especially early in the season. He played some of his best football late last season while QB Philip Rivers was rediscovering his form. Floyd averaged six receptions, 106 yards receiving and one TD a game in Weeks 15 through 17.
Reggie Wayne, WR
Joe Robbins/Getty Images
Wayne isn't exactly an under-the-radar player, but he did temporarily slip out of the spotlight with a down year during the Colts 2-14, 2011 season.
With the likely addition of Andrew Luck, Wayne could see a resurgence similar to Carolina's Steve Smith last year. Smith flourished with the addition of rookie QB Cam Newton.
Wayne fell to the league's No. 29 fantasy receiver after being No. 9 in 2010.
I wouldn't expect a return to the top 10, but getting back to 1,000 yards and six or seven TDs is possible. The Colts still won't be a good team, but Wayne will be an important piece in the rebuilding process.
While Wayne's age (33) might scare off some, he still had 960 receiving yards last season with Curtis Painter and Dan Orlovsky delivering the passes. A lot will depend on Luck (or the less likely scenario, RGIII), but Wayne should see an improvement from last year, which would be pretty sneaky for a receiver in the twilight of his career.
Christian Ponder, QB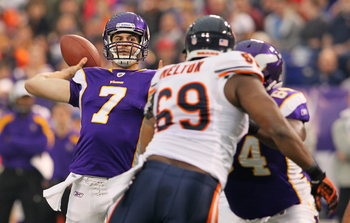 Adam Bettcher/Getty Images
Ponder was handed the reins to the Vikings offense in Week 6 and took his lumps as a rookie QB.
He showed promise in a few starts, but his good plays were often overshadowed by poor decision making that led to 13 INTs on just 291 pass attempts.
Ponder was selected with the 12th overall pick in 2011, so the Vikings have bet that Ponder can be a franchise QB.
If Minnesota does as the draft analysts have projected and pick up a left tackle like Matt Kalil of USC and a solid No. 2 WR, Ponder could become a legitimate QB2 in fantasy.
Adding to Harvin and Adrian Peterson as offensive weapons isn't the only key though. Ponder will have to improve his decision making in the pocket or savvy veteran DBs like Charles Woodson will continue to take advantage (Woodson picked off Ponder twice during the third quarter in Week 7).
Ponder also has some scrambling ability (7.8 YPC), which is a bonus for fantasy owners.
Mario Manningham, WR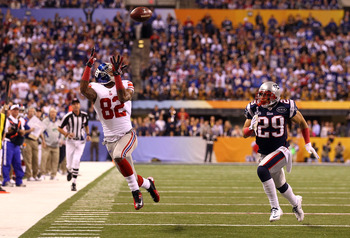 Al Bello/Getty Images
The 49ers are hoping that Manningham and Randy Moss can take some of the pressure off of 24-year-old Michael Crabtree. Crabtree has arguably been the 49ers' top outside option since he was drafted 10th overall in 2009. Crabtree has struggled to live up to expectations while dealing with injuries as well as different QBs, coaches and offenses.
Manningham, who is just 25 himself, has already had plenty of big-game experience with New York and will prove to be a legitimate outside threat opposite Crabtree.
Manningham was often overshadowed by Hakeem Nicks and Victor Cruz in 2011. Both Nicks and Cruz finished as top 12 fantasy WRs. But Manningham is poised for a breakout after a strong postseason performance, highlighted by the 38-yard, high-level-of-difficulty catch in the Super Bowl that started off the Giants' game-winning drive.
In 2010, Manningham had his best season, catching 60 balls for 944 yards and nine TDs. He was the No. 17 scoring fantasy WR that year. Topping those numbers with the 49ers in 2012 would not be out of the question, even with an offense and QB (Alex Smith) that attempt far fewer passes than the Giants and Eli Manning.
Keep Reading