2012 NFL Mock Draft: Looking at Matt Miller's Latest Pick for Dallas Cowboys
March 22, 2012

With free agency well underway and the biggest headlines having been written, focus on next month's NFL Draft has already shifted into microscopic proportions.
As the NFL regular season ends, the post-season begins for any and all fans and franchises that did not make the playoffs. This is when the first mock drafts begin appearing as at least we know what most of the draft order is. But then comes events like the Senior Bowl, NFL Scouting Combine and obviously free agency which begin to paint a picture of what the draft will look like, at least over the first two to three rounds.  
B/R Senior NFL Draft Lead Writer Matt Miller is among the best NFL writers I've been exposed to anywhere. His pulse for the league and all 32 of it's teams is impressive and thorough. Miller is also a mock draft junkie that even rehab probably couldn't help.
In recent days and weeks I have looked at numerous mock draft sites and scoured through plenty of other material and it all came down to Miller, at least this week.
Granted, cornerback has been the most widely speculated position of need for the Cowboys since the season ended, and I can see that in some circles this has yet to change despite the signing of cornerback Brandon Carr from Kansas City just days ago. In one of those "draft a corner" clubs was Miller - but only until this week. 
Ever wonder what the first astronomers and scientists felt like as they tried to offer the idea that Earth might not be flat after all?

This had to be just horrible, especially after it was a certainty still not acknowledged by the establishment. To point out the obvious to someone who just can't connect the dots is frustrating, but imagine when it could cost you your life!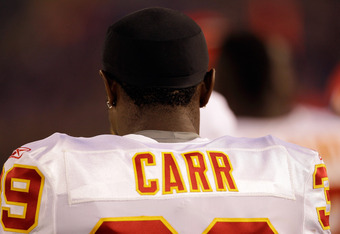 Rob Carr/Getty Images
Fortunately, things are much more simple and less dire – I think – in following something as simple as a football team.
Point is this: Miller went from the establishment opinion of Dallas drafting a corner in the first round all the way to some really in depth analysis of America's Team. In recent days Miller had mocked Stephon Gilmore, a gifted corner back out of South Carolina, to the Dallas Cowboys in the first round. Given Gilmore's reputation and ranking as a player, this is far from a sin and it could actually happen.
But before I could prepare my closing arguments against the selection of Gilmore or any other defensive back in the 2012 class, Miller shifted gears and also discovered the idea that the world is indeed round.
This week's mock draft from Miller is making a whole lot of sense, and I don't say this because he projects nose tackle Dontari Poe from the University of Memphis to Dallas as I have. I say this because Poe is likely available at the 14th selection and he also fills the biggest need as the best player available.
Not exactly rocket science here.
The days of Jay Ratliff playing nose guard have to stop. In fact, they needed to stop as early as 2008, preceded by the first offseason Dallas had to fill the void left by Jason Ferguson in 2007. Believing that a record of 13-3 in '07 was a precursor to championship contention, Dallas found themselves at home
for the playoffs following the '08 regular season and I don't mean hosting playoff games at Cowboys Stadium. I mean watching at home on a couch.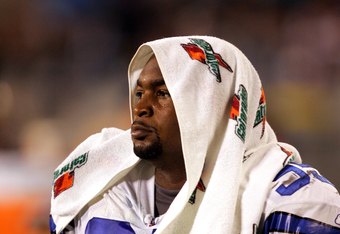 Streeter Lecka/Getty Images
Nothing since those misleading years has shown that a defensive line with Ratliff in the middle is the centerpiece of a championship defense. In fact, the defense seems to be sliding farther south the last couple of seasons, sometimes to historic levels of incompetence. I was never a big believer in former head coach Wade Phillips, but one could argue that this defense cost Phillips his job as it was accused of essentially quitting by the midway point of 2010.
Enough is enough.
The run defense is average at best and just gets gashed for too many yards on a game by game basis. This often includes a dramatically undersized nose tackle being blown right off the line by bigger, stronger interior offensive linemen. This means too many short yardage situations for opposing
offenses that keeps the Dallas defense behind the eight ball in getting its own offense back on the field.
Good starting field position for the Dallas offense? 
Forget it. You need three-and-outs and / or turnovers for that kind of gravy.
Yeah, DeMarcus Ware had 19.5 sacks last season but after him nobody even reached double digits.
Enter Poe – quickly please.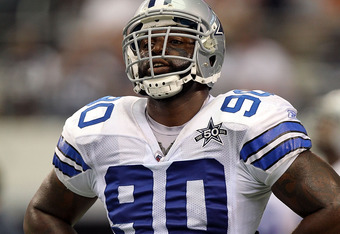 Ronald Martinez/Getty Images
Ratliff was drafted by the Cowboys as a 4-3 defensive end out of Auburn and played the position up until he moved to nose guard to begin the 2007 regular season after Ferguson went down for the year in the season opener.
But Ratliff certainly didn't need to stay there.
Poe allows Ratliff to move back to end, where he's a natural fit as Dallas' second best pass rusher, at least for now. Poe would not necessarily become a pass rush threat like Ware or Ratliff, but I'll bet that he surpasses Ratliff's total of just two sacks in 2011 as soon as his rookie year. 
More urgent than Poe's ability as a pass rusher is his run stuffing ability. Consider that Poe outweighs Ratliff by about 50 pounds, is much more powerful and is surprisingly quick for a man of his size. Poe commands a double team or else he's in your quarterback's lap, period.
Since former head coach Bill Parcells left Dallas following 2006, the Cowboys have never been confused as a physical team and their December record since switching to the 3-4 in 2005 clearly shows a unit that wears down against better competition late in the year.
Would you care about a new Ferrari that had a four cylinder engine? Well, you just might depending on what you expect out of the car. In other words, if it's an ornament to impress your neighbors then it might not matter how it runs. But you know, in this case, this car will not win any races even though
it sure looks like it can from across the street.
The Dallas defense needs a bigger, better engine on the defensive line and Poe is it.
Also, placing Poe at nose guard not only upgrades that position but also upgrades the defensive end position significantly. This is almost like getting two players in the first round and this would mean a whole new ballgame for this Dallas defense. 
I can see this as plain as day.
Matt Miller of B/R seems to see this too.
Now it's up to owner Jerry Jones to decide if America's Team is that Italian sports car with a tiny engine or a race car finally built under the hood to win its sixth Vince Lombardi Trophy.