2012 NFL Draft: Dallas Cowboys Should Select NT Dontari Poe in First Round
March 11, 2012

There are only a small number of humans on planet Earth that are capable of doing what a particular young prospect out of the University of Memphis can do. For that matter, there are only a limited number of humans that are even built like this particular defensive tackle.
Dontari Poe raised more than a few eyebrows as he ran the 40-yard dash in under five seconds at the NFL Scouting Combine last month. Granted, a lot of guys accomplished the same feat but none of them weighed in at just under 350 pounds!
Seriously?
How does a 347 pound man run 40 yards in anything less than 4.87 minutes, let alone seconds?
Yes, this is something to note carefully.
And if Poe's 40-yard dash time, for some reason, doesn't impress you then perhaps his strength will.
Bench pressing 225 pounds once is daunting enough, at least for the average person. But imagine a guy who can do it 44 times and then try to translate what that means when this kind of strength lines up over the football.
If you are too young to know who Larry Allen was, check out the video and get acquainted. Allen was known for most of the same qualities that Poe has received attention for—size, weight, speed, strength. Only difference between these two titans is the positions they play.
Allen once bench pressed over 700 pounds as a well-established Pro Bowl player. He was well known for literally injuring opposing defensive players and certainly not in a dirty way. Allen hit people so hard that they just didn't want to mess with him anymore. Opponents didn't trash talk Allen but rather hoped to appease him by offering themselves as stuffed toys for him to toss around a couple of times per game.
If you are old enough to have enjoyed watching Allen play, this is what I'm talking about.
I believe that Poe can and will represent the same kind of headache for opposing offenses. It's almost worth drafting Poe to simply ensure that you never have to play him.
The reason Poe's draft stock is skyrocketing is because of the rare skills and qualities he brings to the table. His combine numbers have some mock draft sites putting Poe as high as the ninth selection of the first round.
If you are the Dallas Cowboys heading into this draft, Poe should be the very top prospect on the board and for several reasons. If you factor in need with best player available there is no question at all.
Not since switching to the 3-4 alignment in 2005 have the Cowboys used a true nose guard, or at least nobody weighing more than about 305 pounds. The legacy of Jason Ferguson and Jay Ratliff at nose guard has never brought about anything more than late season defensive collapses. The two longest runs at Texas Stadium occurred on back to back carries near the end of the final game at the building in 2008.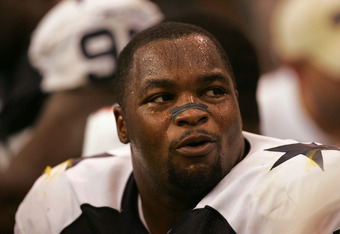 Ronald Martinez/Getty Images
And we're talking historically.
Recently this defense has been awful and you can't point to just one or two or seven players for that.
Football is a physical game and it's won with strength and power in the trenches. This has always been the case and it always will be—or at least up until they trade helmets and pads for shorts and flags.
There is never a reason to pass on power and strength in the trenches unless you just have a surplus and have to focus on other things.
Dallas has no surplus of anything, period.
Adding Poe to this defensive line would change so many things pertaining to this Dallas defense for coordinator Rex Ryan.
Poe fills the A Gap like few players can in the NFL and he also brings the ability to penetrate. Any number of guys could simply come in and be bigger than Ratliff at the nose but I can't think of even one that has the speed and power of Poe. Placing him over center is, by itself, an issue for the opposing offensive line.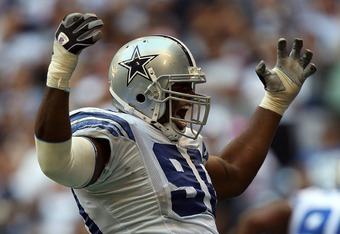 Ronald Martinez/Getty Images
Simply put, Poe commands a double team just because he's on the field. His size and strength will overpower any center and only the best, strongest guards will be able to help neutralize a body this powerful and heavy. Poe will command this attention because most offenses don't like defensive players pressuring their quarterback before he's done dropping back or causing fumbles on hand offs to running backs.
If Poe is not double teamed, things like that could happen frequently.
This choice also moves Ratliff, the Cowboys second best pass rusher, back to defensive end where he'll far surpass his 2011 total of just two sacks. Ratliff commands a double team as well and if you're following closely, the offensive line is starting to run out of guys.
Dare I mention the name DeMarcus Ware?
So, by drafting Poe the Cowboys also get another position upgrade and more depth to go with it. To me this is like adding two first round picks to a defensive line that really needs fundamental change.
This move also could launch recently franchised outside linebacker Anthony Spencer into a much more visible sack artist. Remember that Spencer did have six sacks last season. It's not a stretch to project Spencer getting at least a few more, as the Dallas defense should see more passing situations of seven yards or longer.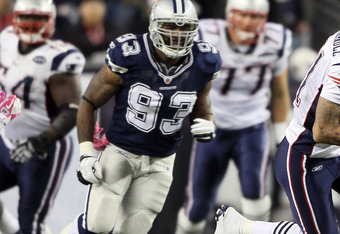 Elsa/Getty Images
Oh, Poe comes from a small school?
Right—Larry Allen was the first player ever drafted out of Sonoma State in California and he's heading for another small town called Canton, Ohio very soon.
Poe comes from a bigger school than Sanoma State, so his previous experience or level of competition should not be questioned. I have heard it said that Poe was only Second Team All-Conference USA last season and that he should have had better numbers given where he played at and so forth.
Garbage.
Poe is a nose guard, no matter what scheme he's playing in. He's likely not a three down player and I can assure you that Poe saw nothing but double and triple teams in college, especially over the last two seasons. I don't know this because I have watched every play Poe has been a part of but rather because of common sense.
In other words, no Conference USA offensive lineman is handling Poe one-on-one.
Nose guards are never going to generate stats like other players in the trenches will. But there is a reason—two or three guys can stop one player.
Good enough for me.
Dallas needs its defense to become more of a difference maker. That means more pressure on the quarterback, more tackles for losses, more forced fumbles and more turnovers.
Selecting in the 14th spot, the Cowboys need to bring in a player that can make the biggest difference possible, on either side of the ball, and hopefully in time for opening day.
A cornerback is not likely to do that.
An offensive lineman could.
But Dontari Poe will.