2012 NFL Draft
2012 NFL Mock Draft: Predicting the 1st Round After Today's Free-Agency Moves

Joe Robbins/Getty Images
March 20, 2012
1. Indianapolis Colts: Andrew Luck, QB, Stanford
A new week is here, but this pick isn't going to change. As if Luck to the Colts wasn't a done deal before, letting Peyton go to Denver just assures that the Colts' have their man now in Andrew Luck.
2. Washington Redskins: Robert Griffin III, QB, Baylor
The reason Washington gave up so much for this pick was so they could move up and grab Griffin. His speed and arm-strength combination is something that doesn't come around all that often.
3. Minnesota Vikings: Matt Kalil, OT, USC

With Steve Hutchinson gone now, the Vikings have the chance to grab a guy who is going to be a Pro Bowl left tackle for 10 years in the NFL.
4. Cleveland Browns: Trent Richardson, RB, Alabama
It is almost a foregone conclusion that Cleveland is going to go offense with this selection. After letting Peyton Hillis walk, it sure looks like Trent Richardson is going to be the pick here.
5. Tampa Bay Bucs: Morris Claiborne, CB, LSU
With Ronde Barber on the verge of calling it a career and Aqib Talib on the verge of ending up in jail, Claiborne sure makes a lot of sense for a Tampa Bay team that is on the verge of being a legitimate contender.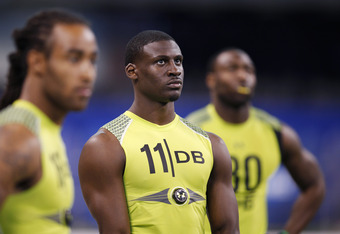 Joe Robbins/Getty Images
6. St. Louis Rams: Justin Blackmon, WR, Oklahoma State
The Rams traded that No. 2 pick because they knew that could get Justin Blackmon at this No. 6 spot. This gives Sam Bradford a true No. 1 receiver to work with.
7. Jacksonville Jaguars: Quinton Coples, DE, North Carolina
The Jaguars wanted Mario Williams, which just goes to show that they are ready to invest in a talented defensive end. Coples has the most upside of any defensive end in this draft, which makes him a solid pick right here.
8. Miami Dolphins: Ryan Tannehill, QB, Texas A&M
The Dolphins did sign David Garrard for a year, and the thought there has to be bringing in a veteran to teach a new guy. Although it may be way too early, that new guy will likely be Tannehill.
9. Carolina Panthers: Michael Floyd, WR, Notre Dame
With Steve Smith getting up there in age and no legitimate No. 2 receiver to pair with him, it sure makes a lot of sense that Carolina goes after a wide receiver here. Floyd was very impressive in the combine and worked his way up to the No. 2 receiver option in this year's draft class, behind Justin Blackmon.
10. Buffalo Bills: Riley Reiff, OT, Iowa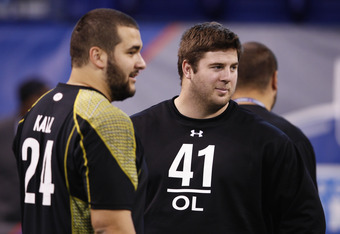 Joe Robbins/Getty Images
The Bills have been active this offseason, re-signing Stevie Johnson and adding standout DE Mario Williams. Now the move is to build up that offensive line and Reiff is the best offensive tackle available at this point. Sounds like a good match to me. 
11. Kansas City Chiefs: David DeCastro, G, Stanford
The Chiefs have spent plenty of draft picks on defensive linemen over the years and now it is time to improve that offensive line. Adding a once-in-a-decade offensive guard is a good way to start.
12. Seattle Seahawks: Luke Kuechly, LB, Boston College
If DeCastro if available here, I think Seattle would prefer him, but if not, this team really needs to focus on improving that linebacking corps. Kuechly could step in and be an immediate starter from day one.
13. Arizona Cardinals: Nick Perry, OLB/DE, USC
Two USC players in the top 15 picks? You best believe it. The Cardinals need to add another pass rusher to the mix and Perry is arguably the best one in this year's draft class.
14. Dallas Cowboys: Janoris Jenkins, CB, Northern Alabama
Jerry Jones took a chance on Adam "Pacman" Jones, why not take a player who has just as much baggage, with even greater potential. Jenkins is a standout corner and has too much upside for Dallas to pass up on here.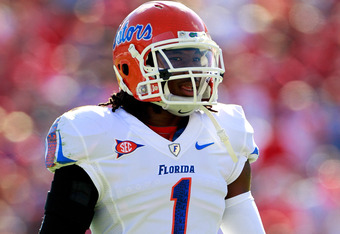 Sam Greenwood/Getty Images
15. Philadelphia Eagles: Dont'a Hightower, LB, Alabama
With how bad this defense was at times this season, it really doesn't make any sense to look anywhere else in the draft. And with how poor the play was at middle linebacker, Hightower should be a lock for this No. 15 selection.
16. New York Jets: Mark Barron, S, Alabama
Rex Ryan loves guys who are true "ball hawks" and that is exactly what Mark Barron is. With Jim Leonard having constant injury issues, this selection makes a lot of sense here.
17. Cincinnati Bengals: Michael Brockers, DT, LSU
The Bengals need to sure up the interior of that defensive line and being able to land Brockers here all the way at pick No. 17 would be a huge steal for this team.
18. San Diego Chargers: Jonathan Martin, OT, Stanford
The Chargers have to address some big gaping holes on their offensive line if Phillip Rivers is going to stay on his feet in 2012. How about grabbing the best available offensive tackle at this point, which is without question, Stanford's Jonathan Martin.
19. Chicago Bears: Cordy Glenn, G/T, Georgia
The Bears landed their man in offensive tackle Gabe Carimi last season, but he ended up the year on injured reserve. If they can get him back healthy, adding a versatile guy like Glenn who has the ability to play both guard and tackle would be big for this Bears team.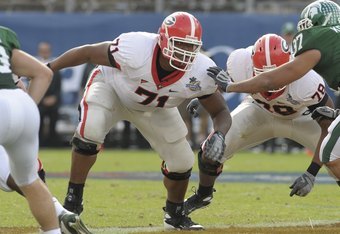 Al Messerschmidt/Getty Images
20. Tennessee Titans: Courtney Upshaw, DE/OLB, Alabama
The Titans are in a position where they need to draft the best player available, and right here, that could be Alabama's Courtney Upshaw. He is a fierce pass-rusher who dominated the best competition in college football last season, playing in the SEC.
21. Cincinnati Bengals: Dre Kirkpatrick, CB, Alabama
If Kirkpatrick is still available at this point, one would have to believe that the Bengals would jump at him here, despite his off-the-field questions. Kirkpatrick is a lock-down corner, which would give the Bengals two big playmakers on the defensive side of the ball in the first round.
22. Cleveland Browns: Dontari Poe, DT, Memphis
Poe is a guy who has seen his name all over the place in recent mock drafts. If he does happen to last up to this point, it would be hard for Cleveland to pass him up.
23. Detroit Lions: Mike Adams, OT, Ohio State
Detroit has been waiting for some time now to replace long-time OT Jeff Backus, and if Adams is available at this point, they will have that opportunity.
24. Pittsburgh Steelers: Stephon Gilmore, CB, South Carolina
The Steelers' secondary was a major issue in 2011, which became more than evident by the way their season came to an end. Adding Gilmore would give them a guy who can come in and battle for playing time right away.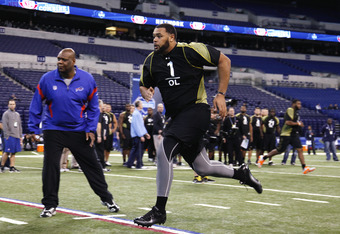 Joe Robbins/Getty Images
25. Denver Broncos: Fletcher Cox, DT, Mississippi State
The Broncos made the biggest splash in free agency this offseason, signing Peyton Manning to a mega-deal. Now this team has to add more firepower to that defense, and they can start with getting Cox with the No. 25 pick. 
26. Houston Texans: Kendall Wright, WR, Baylor
The Texans have been keeping their eyes open for a No. 2 wide receiver to compliment Andre Johnson. If Wright is still around at this point, he would make a perfect fit here.
27. New England Patriots: Melvin Ingram, DE, South Carolina
The Patriots might actually hold onto this pick if Ingram is still available at this point. In fact, adding Ingram could be the steal of the draft with this pick.
28. Green Bay Packers: Peter Konz, C, Wisconsin
The Green Bay Packers lose Scott Wells to free agency and then add Peter Konz, the top-rated center in the draft who played his college football at Wisconsin. Could this possibly be more fitting?
29. Baltimore Ravens Alshon Jeffery, WR, South Carolina
The Baltimore Ravens need to continue to build on the offensive side of the ball if they are going to get past the New England Patriots in the AFC. They have their speedster in Torey Smith, their possession receiver in Anquan Boldin and now they can add their tall, downfield threat in Alshon Jeffery with this pick.
30. San Francisco 49ers: Stephen Hill, WR, Georgia Tech
This is a bit of a gamble pick here, but Jim Harbaugh knows his team is solid on the defensive side of the ball—it's the offensive side where they need to improve. With Randy Moss and Michael Crabtree as the starters, Hill would make a nice No. 3 option in this improving passing game.
31. New England Patriots: Jerel Worthy, DT, Michigan State
Worthy is far too talented to get out of the first round, and if New England does hold onto this pick, this would make a whole lot of sense here. Worthy can help fill out a defensive line that would look pretty intimidating with Worthy and Vince Wilfork together.
32. New York Giants: David Wilson, RB, Virginia Tech
The Giants parted ways with Brandon Jacobs, which means they will be in the market for a back who can compliment Ahmad Bradshaw. David Wilson seems like the perfect fit.
Like the new article format? Send us feedback!