New York Jets 2012 Mock Draft: 7-Round Predictions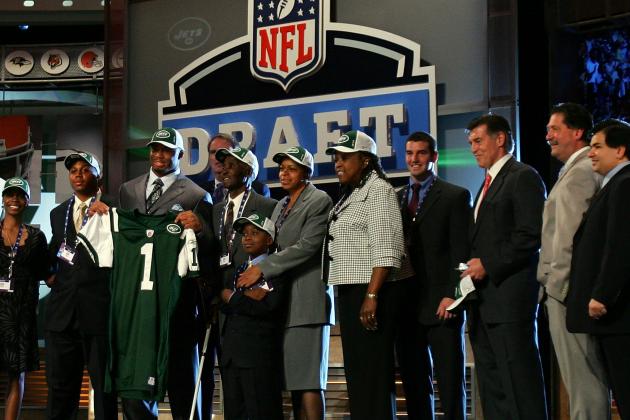 Jim McIsaac/Getty Images

Trying to predict the top 10 selections of the NFL draft is difficult.
Trying to predict who a team is going to take 150 picks later is darn near impossible.
However, with the NFL Combine a distant memory and a number of pro days completed, the general draft slot for NFL prospects is becoming clearer by the day.
Using a computer-generated seven-round mock draft from drafttek.com and a seven-round mock draft from draftsite.com as references, this slideshow will offer a full mock draft for each of the Jets' selections.
The Jets haven't made a huge impact in free agency, and besides a little trade for Tim Tebow, have made most of their moves on the defensive side of the ball.
Re-signing Sione Pouha was a good first step, and LaRon Landry could end up being a huge upgrade at safety if he stays healthy. Re-signing Bryan Thomas might help in the locker room, but his age and recent injury make him a big question mark.
If the Jets want to make significant upgrades from last year's team, they need to draft impact players at multiple positions and find some players deep in the draft who will contribute as well.
The first three picks will be key as the Jets need to find three impact players in the first three rounds. They do not have a fourth-round pick after the Tebow trade, and the drop-off of talent from round three to round five is significant.
Long story short, for the sake of Mike Tannenbaum's job, the Jets better not end up with another Vladimir Ducasse, Vernon Gholston or Kenrick Ellis in the first three rounds this year.
The good news is the Jets have seven picks and are expected to be awarded up to five more picks between rounds five through seven when the NFL announces compensation picks at the owners' meeting between March 26-28.
Tannenbaum better turn this quantity into quality.
Begin Slideshow

»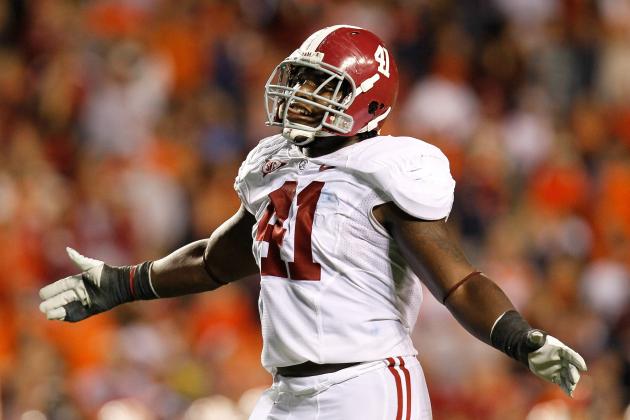 Kevin C. Cox/Getty Images

Although the Jets re-signed Bryan Thomas and expect Aaron Maybin back as well, they still need to improve their outside linebacker position significantly.
Mike Tannenbaum isn't afraid to take a gamble, but with so much riding on this pick, now is the time to be conservative.
Courtney Upshaw seems to be a safe pick who will be a solid all-around player. He was a team leader on a ferocious defense at Alabama and besides a dropped domestic dispute case in 2009, has been a high-character player as well.
Upshaw doesn't project to be a monster pass rusher, but he does have the ability to get to the quarterback in key situations.
From all scouting reports, Upshaw projects to be the type of player Thomas was in his prime with the potential for an even greater upside.
Alternate picks: Dave DeCastro (Stanford OG); Melvin Ingram (South Carolina DE)
Jump on him if he falls: Quinton Coples (North Carolina DE); Trent Richardson (Alabama RB)
Possible reach: Alshon Jeffery (South Carolina WR)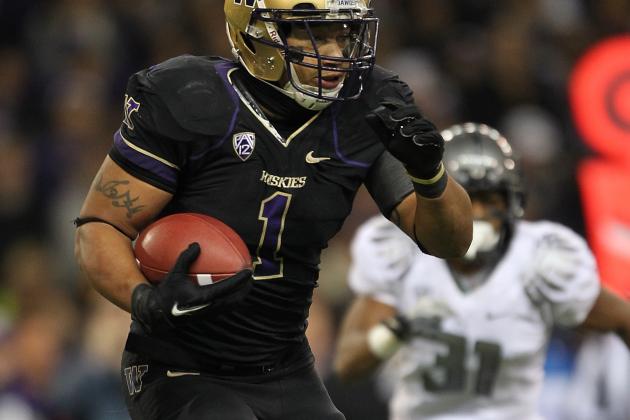 Otto Greule Jr/Getty Images

Simply put, the Jets cannot become an elite team with a running backs corps consisting of Shonn Greene, Joe McKnight and Bilal Powell.
Greene is more than an adequate running back when he has the support of a good offensive line, but in today's NFL, especially with a team that is planning to recommit to the run, the Jets need a full stable of effective runners.
Even with the addition of Tebow and his possible boost to the running game, they still need at least one more viable running back.
Chris Polk would be the perfect choice to provide that boost.
He is a strong runner who catches the ball out of the backfield and isn't afraid to throw a block. If the Jets land him, he should be able to fill the role LaDainian Tomlinson played the past two seasons but with more of a north-south running style.
Polk is ranked solidly as one of the top four running backs available and at 5'11", 215 pounds has the size needed to succeed in the NFL.
Alternate picks: LaMichael James (Oregon RB); Mohamed Sanu (Rutgers WR)
Jump on him if he falls: Dont'a Hightower (Alabama ILB); Lamar Miller (Miami RB)
Possible reach: Brian Quick (Appalachian State WR)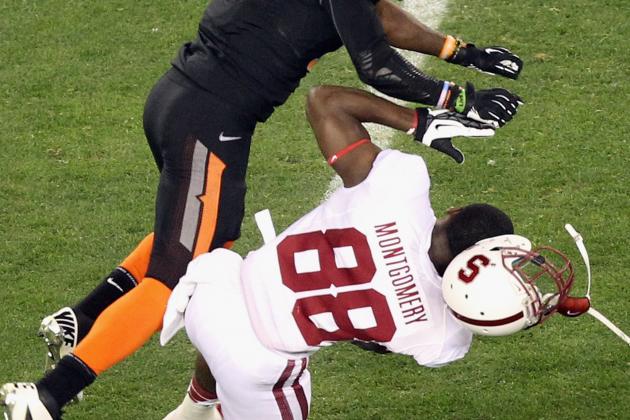 Christian Petersen/Getty Images

After trading their fourth-round pick in the Tebow deal, this selection becomes even more important.
With needs at multiple positions, it is essential for the Jets to find starters or major contributors at key positions in each of the first three rounds.
If the Jets draft an outside linebacker and running back with their first two picks, their third-round selection better be a safety or right tackle.
With LaRon Landry's injury history and Eric Smith coming off of knee surgery, my bet is they will shore up the safety position here, if not earlier.
If Oklahoma State's Markelle Martin is still on the board, the Jets should take about five seconds to announce the selection.
Martin has ideal size for an NFL safety (6'1", 200 pounds) and is known to be a tremendous athlete.
Martin is a strong tackler who is not afraid to lay the lumber and shouldn't be a total disaster on coverage.
All signs point to Martin becoming a solid NFL player who can enjoy a productive career in the league.
Some mock drafts have Martin projected as a low-second round pick, which would be a reach if the Jets selected him where they stand in the second round at 47th overall.
Martin sat out the combine because of a lingering knee injury, but that does not seem to have hurt his status too much. If he falls to the Jets in round three, it could turn out to be a steal.
If he starts to fall a little in round three and the Jets trade up a few spots to nab him, nobody should argue one bit.
Alternate picks: Harrison Smith (Notre Dame S); Nate Potter (Boise State OT)
Jump on him if he falls: Bobby Massie (Mississippi RT)
Possible reach: Antonio Allen (South Carolina SS)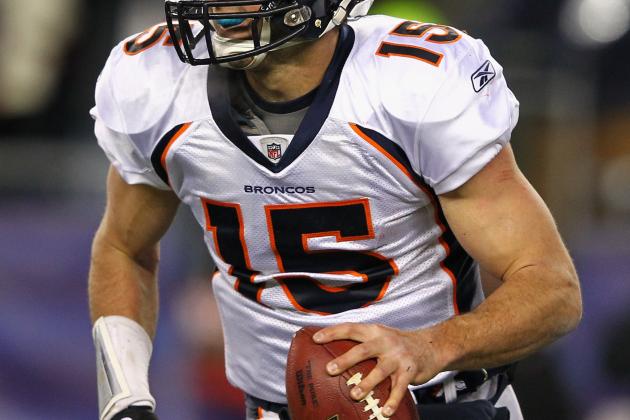 Al Bello/Getty Images

You may or may not have heard by now, but Tim Tebow is coming to New York.
The Jets sent their 2012 fourth-round pick and a sixth-round pick to Denver for Tebow and a seventh-round pick.
The move has set off a firestorm of opinions that spans the entire sports world as know-it-all personalities like Mike Francessa and Stephen A. Smith are proclaiming to be able to tell the future and know how this will all play out.
Last year the Jets fourth-round draft pick was Bilal Powell, so if they are going to waste picks like that, sending one to Denver for Tebow might end up being a steal.
The bottom line is that nobody knows how Tebow will perform in 2012. People are going to have their knee-jerk reactions to the trade, but nobody will know for sure until the games are played.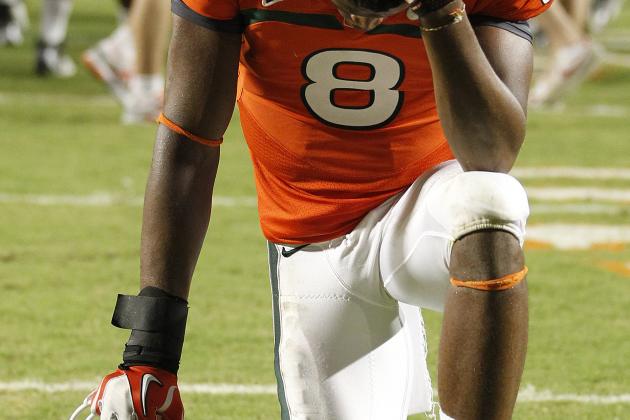 Joel Auerbach/Getty Images

After the departure of Plaxico Burress and no movement at the position in free agency, the Jets have a real hole at wide receiver.
If Michael Floyd drops to the Jets in round one or Alshon Jeffery falls in round two, that could solve the Jets problems pretty quickly.
However, if neither of those scenarios happen, the Jets could find themselves taking a chance in the later rounds on a project wide receiver.
If they do go that path, the best receiver to take on as a late-round project is Miami's Tommy Streeter.
Streeter started just one year for Miami but was productive with 46 receptions for 811 yards and eight touchdowns.
What has put Streeter at the top of the late-round sleeper pick list is his frame. At 6'5", 215, Streeter was the tallest wide receiver at the combine and clocked a 40-yard dash time of 4.4.
It seems with that size, speed and big-school production that Streeter should be rated higher than a possible fifth-round pick.
What is keeping Streeter down is that he is a raw talent who will need a lot of coaching to become a productive NFL receiver.
The main knock on Streeter is his lack of experience. While he ran a 4.4 at the combine, his game speed seems to be considerably slower. Also, Streeter's route running needs significant refinement.
However, if a team is able to harness the raw ability of Streeter, they really could cash in on a steal.
Alternate picks: Brandon Mosley (Auburn OT); Trenton Robinson (Michigan State S)
Jump on him if he falls: Matt McCants (UAB OT)
Possible reach: Rhett Ellison (USC TE)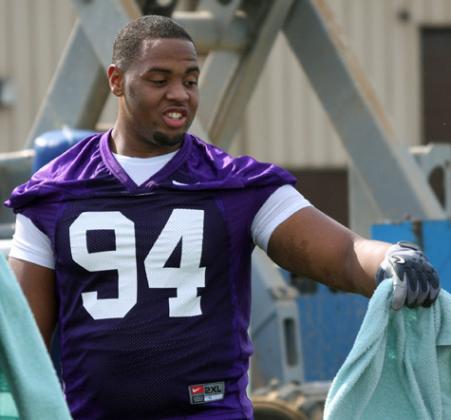 While most seventh-round picks will struggle just to make a roster, every so often there are some hidden gems buried late in the draft.
In recent years, Matt Flynn, Peyton Hillis, Julian Edelman, Ahmad Bradshaw, Stevie Johnson, Marques Colston and Cortland Finnegan were nabbed as late-round steals.
One interesting prospect who is projected as a seventh-rounder that could be worth taking a chance on is Akiem Hicks from the University of Regina in Canada.
Hicks is a native Californian who had committed to LSU, but went to Regina after possibly violating NCAA rules after his association with a booster came to light.
Hicks was one of three Canadians invited to the NFL combine, where he performed respectfully.
Hicks is a 6'5", 325 pound defensive tackle who totally dominated the competition in Canada, as would be expected.
Alternate picks: Marcel Jones (Nebraska OT); Nelson Rosario (UCLA WR)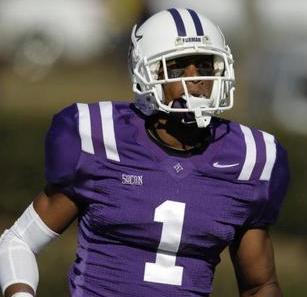 The Jets don't have any pressing need at cornerback, but you can bet Mike Westhoff will coerce Mike Tannenbaum to draft some special team reinforcements late in the draft.
Ryan Steed doesn't project to be a starting cornerback anytime soon, but could contribute on special teams while learning the ropes after making the jump to the NFL from Furman, a non BCS school.
Steed's stock increased with a strong showing in the Senior Bowl but then tumbled downward after a poor showing at the combine.
Steed could be one of those scrappy players whose game speed is faster than his practice speed, but drafting a 5'10" cornerback from Furman who runs a 4.68 40-yard dash isn't the highest priority of many teams.
While some projections have Steed slated to be picked as high as the fourth round, he wouldn't be worth taking a chance on for the Jets any earlier than round seven, where the Jets are expected to have multiple compensatory picks in addition to their own.
Alternate picks: Brian Anger (Cal P); Charles Brown (North Carolina CB)