Chicago Bears: Day 1 of Free Agency and a Mock Draft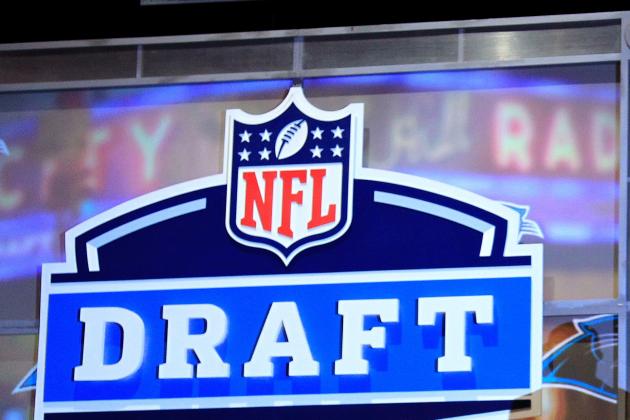 Chris Trotman/Getty Images

Day one of Free Agency saw new Bears GM Phil Emery firing on all cylinders. Addressing multiple areas of need, Emery was clearly motivated to prove he was the man for the job.
The name of the game seemed to be depth, and addressing issues the Bears had with it. With his moves, Emery has surely shaken up the Bears draft plans. Now comes the fun challenge of trying to figure out exactly how this will all work out.
However the draft unfolds for the Bears, it's hard to argue that they were better off one year ago than they are today.
Begin Slideshow

»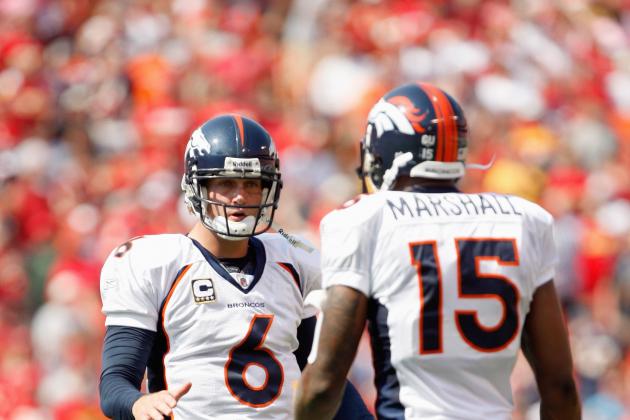 Jamie Squire/Getty Images

Emery started off his shaping of the 2012 Bears with a bang, trading a third-round draft pick in each of the next two drafts for Pro Bowler Brandon Marshall. The trade was a win from the start, as Miami had given up a pair of second-round picks to acquire Marshall from Denver back in 2010.
In Marshall, the Bears get a true No. 1 wide receiver with size and speed. Add in past chemistry and friendship with quarterback Jay Cutler, and the fit could not have been more perfect.
By bringing in Marshall, the Bears no longer need to hope that Notre Dame's Michael Floyd falls into their hands in the draft—though it's hard to imagine them being upset by that scenario one bit. Instead, they can focus on other areas of need.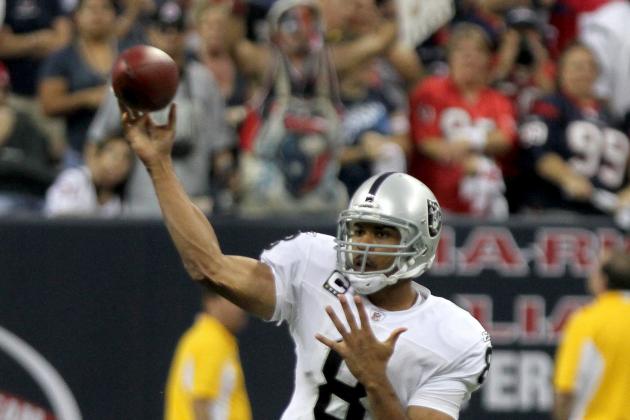 Thomas B. Shea/Getty Images

For the first time during the Jay Cutler era, the Bears have a legitimate backup quarterback. Jason Campbell, coming off a rocky season in Oakland, was brought in on a one-year contract to back up Jay Cutler.
After suffering through the likes of Todd Collins and Caleb Hanie—Josh McCown, to his credit, was serviceable in his two starts—the Bears showed that they would have a real plan should Cutler get hurt. Campbell's been a starter—though not a spectacular one.
All the same, Campbell provides a real option to come in should Cutler get injured, or even if there's a blowout. Armed with an offense that includes Matt Forte, Brandon Marshall and Johnny Knox, it's hard to imagine that Campbell will struggle too hard adjusting to life as a backup.
McCown, in a very classy move, praised the signing of Campbell.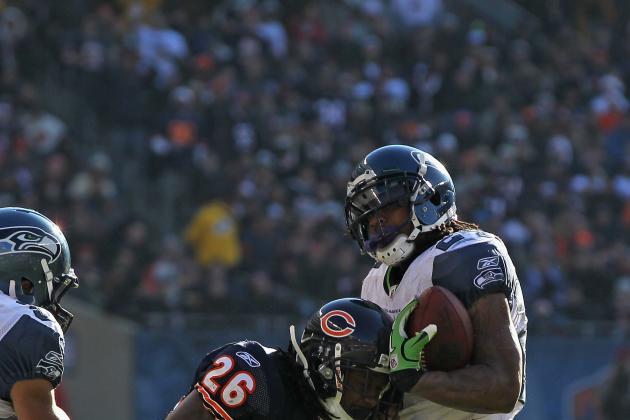 Jonathan Daniel/Getty Images

Lost amongst the hype over Marshall and Campbell were two other signings by the Bears on a very busy day.
First was the re-signing of cornerback Tim Jennings to a two-year contract. Jennings was the starting cornerback across from Charles "Peanut" Tillman for most of the season. Losing Jennings likely would have been a noticeable detriment to the 2012 Bears defense.
Also signing on Tuesday was linebacker Blake Costanzo. Also on a two-year deal, Costanzo will likely continue his work as a quality special teams contributor, and occasional backup.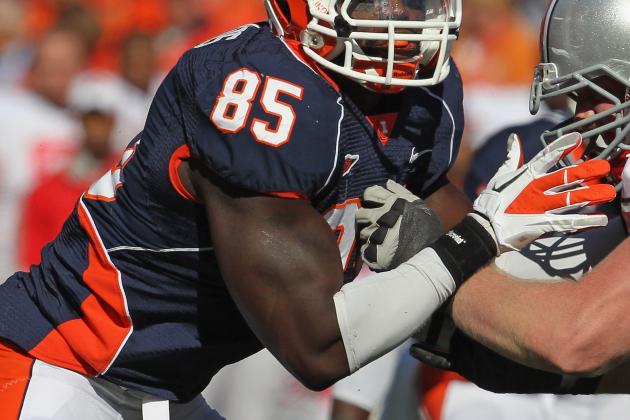 Jonathan Daniel/Getty Images

With rumored target Jeremy Mincey being re-signed by the Jaguars, the need for a quality compliment to Julius Peppers at defensive end becomes a top priority for the Bears in the draft.
The Bears won't have to look too far, taking Illinois defensive end Whitney Mercilus with their first-round pick. Though he can play a bit of outside linebacker, Mercilus holds far more value to the Bears as a defensive end.
Some classify Mercilus's ascension to becoming college football's best pass-rusher in 2011 as him being a one-year wonder, others as a late bloomer. Either tag will likely let him slip to the Bears.
Recording a nation-leading 16 sacks and nine forced fumbles to go along with 57 tackles and 22.5 tackles for a loss, the Bears will hope Mercilus's 2011 season was a sign of things to come. If it is, the thought of him next to Julius Peppers could be downright terrifying for opposing offenses.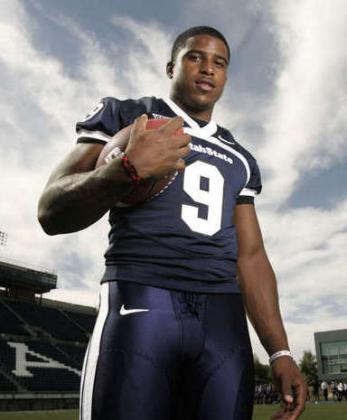 The one rap against Bobby Wagner is his height: he's only 6' 0". That general concern could be enough to push him to the Bears in the second round, where he would be a perfect fit.
Wagner can line up at any linebacker spot, and would probably be able to put Nick Roach on the bench from day one. From there, he'd play next to and learn from Brian Urlacher and Lance Briggs, one of whom he would eventually be tasked with replacing.
A fundamentally sound linebacker, Wagner's understanding of the game and patience would make him a highly valuable asset to the Bears defense. Even if he doesn't start, he'd likely be the first guy off the bench, should Briggs, Urlacher or Roach need a breather.
Adding Mercilus in the first round and Wagner in the second would place the Bears defense among the top five in the league for 2012.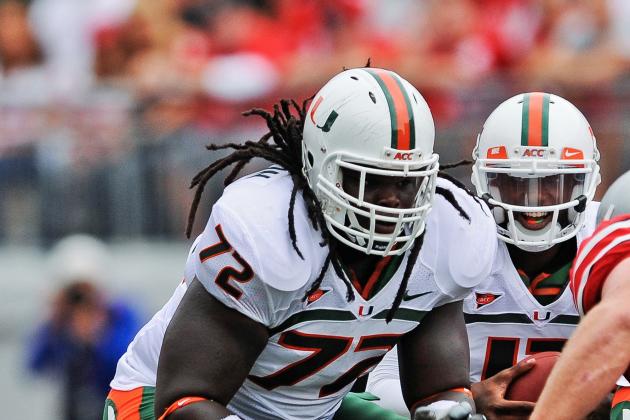 Jamie Sabau/Getty Images

One of the Bears' major flaws in 2010 and 2011 was a poor offensive line. Outside of Roberto Garza, no Bear really seemed to play consistently well on the O-line in 2011.
Enter Brandon Washington. Washington offers two years of starting experience at Miami, good size and great athleticism. While he may not be quite ready to start, Mike Tice will likely do wonders for Washington's game, helping him develop into a starter.
Washington's main asset is being able to help open lanes for a running back. Though Chicago has a rocket-armed quarterback with a good stable of wide receiver targets, Matt Forte is still the cornerstone of the Bears offense, and getting a good block or two for him can quickly lead to the Bears putting six points on the board.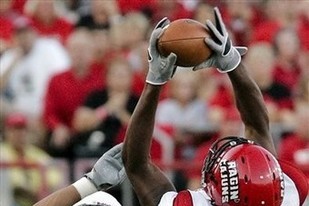 When the Bears traded former first rounder Greg Olsen to the Panthers for a third-round pick, the move was questionable at best. Former offensive coordinator Mike Martz refused to believe in a receiving tight end, and Olsen was sent out of town. While Kellen Davis and Matt Spaeth did surprisingly well in a receiving role in 2011, the Bears still lack a true tight end threat.
With Ladarius Green, the Bears will have that threat again. The 6' 6" Green is fearless, willing to run any route, possessing huge hands and has great speed. Whether it's a screen play over the middle or getting the ball in the end zone, Green would add a valuable dimension to the Bears offense.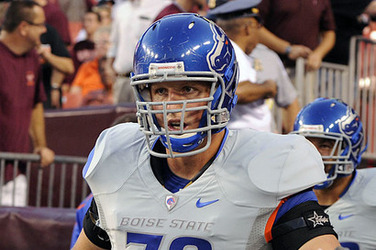 By the time you hit the fifth round, you simply hope for a player with some abilities to do certain things right. Nate Potter is arguably one of the best pass blocking prospects in this draft.
The downside to this, of course, is that his run blocking abilities are questionable. However, with Brandon Washington already in tow, Potter would be an excellent compliment to Washington. Both bring versatility, potentially able to start at every line position outside of center.
Potter also has a bachelor's in business, showing his IQ and ability to learn on the go. Add in the fact that once he got the staring left tackle role, he never missed a start, and Potter is surely worth a fifth-round flier.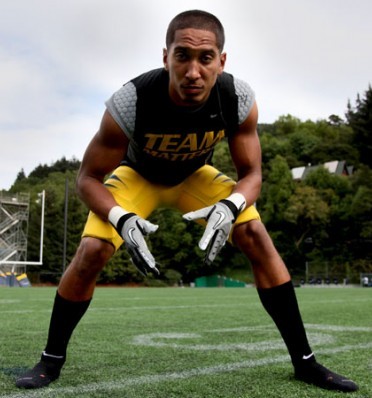 Cattouse's borderline abilities will be overshadowed by his raw athletic ability and quality frame.
Though he still has some mental and physical maturing to do, the potential is there to be something in Cattouse, and what else can you ask in the sixth round? He could come in and play on the Bears' vaunted special teams, and eventually work his way into the defensive rotation.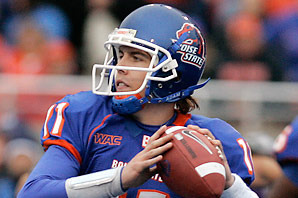 Despite a jaw-dropping collegiate resume, Kellen Moore doesn't have much else going for him outside of intangibles.
Sure, he went 50-3 at Boise State, but he lacks a good arm, good mechanics and general fundamentals. Instead, he seems to get by on poise and confidence.
While grabbing a quarterback in the draft seems like a bit of an odd decision—given the presence of Nathan Enderle, and re-signing Josh McCown not too out of the question—someone will give Moore a chance.
A lot of the things going against Moore were raps against Tim Tebow, and he got the Broncos to the playoffs once he unseated Kyle Orton for the starter's job. Moore would be a worthwhile gamble for the Bears with their final draft selection, as he might just turn into something usable in the NFL.