Steve Johnson Re-Signed: Buffalo Bills Must Go After Robert Griffin III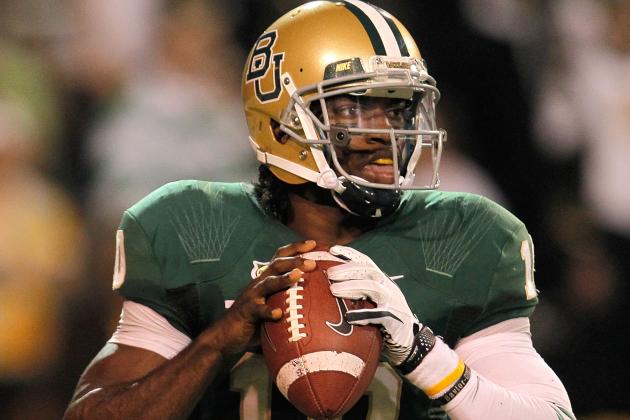 Sarah Glenn/Getty Images

The Bills recent move to re-sign mercurial receiver Steve Johnson sets the stage for an interesting dialogue as to what future big moves the team could make to have an impact in the AFC East.
Signing Johnson shows the Bills' commitment to success, while also reminding Bills fans of just how far their team still is from being a competitor. Based on the huge chunk of money it will now have to pay Johnson, it is clear the team will have to make some aggressive moves to really get going in the right direction.
The trend of signing key players back to the team for huge chunks of the salary cap will only lead to long-term mediocrity unless the team is built around a solid foundation. That solid foundation is a franchise quarterback.
GM Buddy Nix has been quite vocal during the Bills' off-season. He has made some noteworthy statements like how aggressive the team will be to find a difference-maker in free agency.
One has to wonder how this will be possible this year if the Bills continue to spend so much money just to re-sign the talent that was unable to get them over the hump last year.
Nix recently spoke to several sources in regard to trading up for Robert Griffin III, and his comments have been quite clear, "It is absolute. It's a no," Nix told the Bills' website. "You've got to give up the farm. We're not in that business."
Nix also told WGR 550 radio: "I've visited with [the Rams], but not about [trading up]. We talk to everybody, and we kick the tires on everybody, but if we were going to probably move either way, it'd be down, not up."
While these statements would seem to push back a notion of the Bills making a move for Griffin, they leave room for speculation. The Bills failed to show a commitment to Ryan Fitzpatrick as a the unquestioned starter for this coming season or make a bold statement as to him being such. Most GM's with an entrenched starter would knock down controversy by leaning on their guy.
The second thing they failed to do was deny that the Bills would take a call from the Rams, as it is likely the Rams will actively shop their pick. Most importantly, Nix's comments in no way state that the Bills lack a genuine interest in RG3—evidenced by a combine meeting with RG3.
Taking into account all these things spoken or unspoken by Nix has provided some hope for fans interested in the Bills making a move for a franchise quarterback, and here is a rational argument for why a move for Griffin is plausible.
Begin Slideshow

»
Usually in each draft year there is at most one true franchise quarterback available in the first round. Some years see as many as 3-5 (1983, 2004), some years have none (1996). This year the Bills have a rare chance to snag one, as last year's glut of teams that reached for young QBs (six teams in the first 36 picks) has set the stage for a buyers market for the services of RG3. His low cap number helps to mitigate the risk if he doesn't pan out, even despite the cost of the trade. This year's No. 2 pick is slotted to make around $21 million over four years, similar to Von Miller's contract.
Other teams in the mix for RG3 (Cleveland, Washington, Miami) have mitigating factors that could make Buffalo more appealing. Cleveland has been hesitant to offer both first-rounders for RG3 and is somewhat committed to Colt McCoy, while Washington is scared off because of the price and interested in free agents, and the Rams hold some animosity toward the Dolphins as new Rams coach Jeff Fisher bailed on them. It is also unlikely that the Rams trade the pick to a team outside of the top 10, especially a division foe like Seattle.
Based on the recent history of teams trading franchise quarterbacks, it is highly unlikely that the Rams will trade RG3's rights to a team in the NFC. Which is not surprising considering Sam Bradford already has to enter into shootouts with the likes of Aaron Rodgers, Drew Brees, Tony Romo, Eli Manning, Michael Vick, Cam Newton, Matt Ryan and Matt Stafford, who are already firmly entrenched in the NFC. Perhaps most pressing, however, is the Rams desire to trade the No. 2 overall pick before March 11th to capitalize on the market before free-agent signings take place. This move will likely push out teams that have a legitimate chance to attract a Matt Flynn, Peyton Manning or the series of starter quality QBs who will be available.
A move to take RG3 is prudent for several key reasons. The first and most pertinent to Bills fans is that no player on the offensive or defensive line stands out at the No. 10 pick enough to forgo moving up. Honestly, if you break down the merits of Melvin Ingram, Quinton Coples or Nick Perry and weigh them against one another, do you see them making the impact of Von Miller?
Sure, the Bills need a pass-rusher, but they might have to go get one in free agency. The offensive line on the Bills despite its criticism let up a league low 23 sacks and also was opening up holes for the leagues leading rusher, Fred Jackson, before he went down with a knee injury.Aside from that there is great depth in along the Offensive and Defensive lines throughout the draft. Buffalo fans are quite knowledgeable to the fact that the current trend of trying to bunch together a nucleus of players around no quarterback hurts the team, since the team just ends up running into a cap crisis before it can get all the pieces in place.
Smart teams build around a young quarterback with talent and drawing power, which helps teams get free agents to play with him. RG3 is the kind of player who could get players to come to Buffalo, especially this year. If the Bills make the move to get the No. 2 pick before free agency, it will be a very enticing attraction for free agents, like Mario Williams or the glut of receivers out there, to consider the Bills.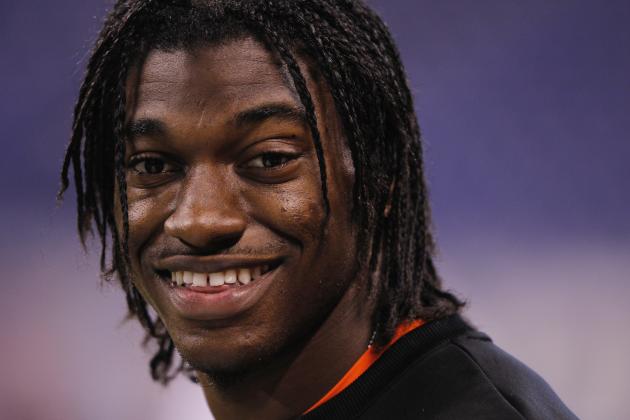 Joe Robbins/Getty Images

Robert Griffin is perhaps a prospect unlike any the NFL has ever seen. He's been labeled as Cam Newton Lite and Mike Vick with accuracy, but I believe when it is all said and done RG3 will define himself in his own right. He has risen to the top from one of the NCAA's worst college football programs, leading it to relevance and himself out of obscurity.
For a player who gets his attention for his athleticism, he has already shown the ability to overcome a serious knee injury and come back with more athleticism. The most important thing for Bills fans to recognize about RG3 is his ability to make mediocre talent around him seem better. In a nutshell, he's tough, resilient, talented and exciting.
Bills fans pining for the Bills to sit and hold out for Ryan Tannehill must also be wary of his sketchy scouting report and the fact that if they are looking to upgrade at quarterback the last thing they need is a younger Ryan Fitzpatrick.
NFL comparison to Fitzpatrick:
"Like Fitzpatrick, Tannehill will need time to develop into an NFL starter and will need exceptional talent around him at wide receiver. If his receivers cannot get open and sit down in zones, Tannehill is not the type of quarterback to throw his receivers open or push the ball vertically." -Matt Miller, Bleacher Report.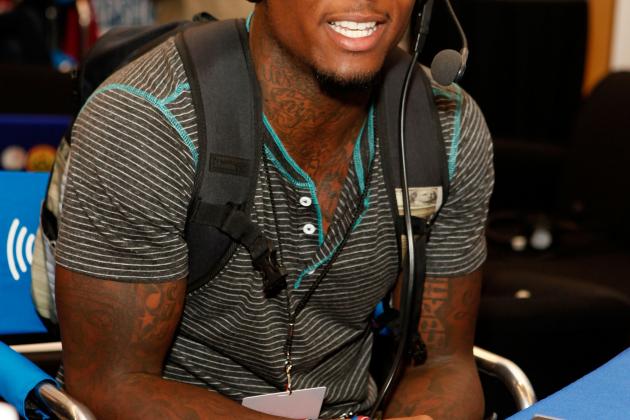 Cindy Ord/Getty Images

Since 1996 Buffalo has been able to do one thing really well on a consistent basis: find a No. 1 receiver. In this time period those recievers (Eric Moulds, Peerless Price, Lee Evans, Terrell Owens and Steve Johnson) have given defenses fits. However, more often than not these guys wondered who would get them the ball and how long they would be doing it for.
The reason Buffalo has positioned itself as the best trading partner for St. Louis is the fact they have two things the Rams would surely be interested in as a return for the No. 2 pick. They have a top-10 pick and a star-quality wideout. While losing the uber-talented Johnson would be sad, as he is one of my favorite players, if he could help Buffalo bring in RG3 it would be worth taking a look at.
A proposed trade of the 2012 10th overall pick, a 2013 first- or second-round pick and, say, Leodis Mcklevin could be an offer no team could match. All things being equal, it is a risk the Bills could afford to take as they would essentially give up at the most one first- or second-rounder and also be able to sign a free-agent wideout, like Vincent Jackson, Dwayne Bowe or Mike Wallace, who the Bills; staff already has ties to. After doing this the Bills could trade or release Ryan Fitzpatrick for some draft picks to save cap space.
An interesting side note is the fact that Rams GM Les Snead and Bills GM Buddy Nix have a history of being part of trades for franchise quarterbacks as the men served as directors of player personnel for the Falcons and Chargers, respectively, in 2001, when Nix's Chargers helped Snead's Falcons acquire Michael Vick.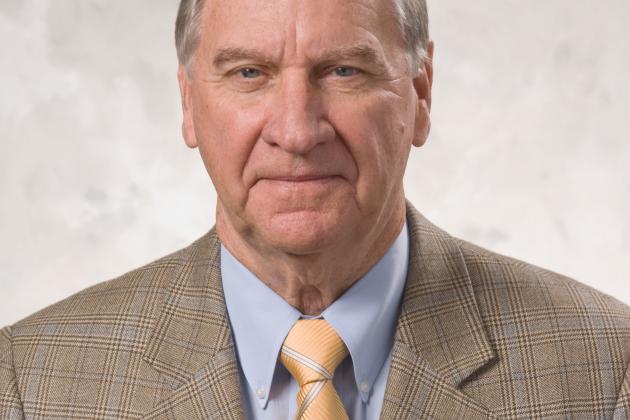 Handout/Getty Images

Buddy Nix is a straight shooter, and even he knows that this team has to do something to become relevant once again. He surely tasted the fruits of early-season success last year and perhaps expected the drop-off, sensing the team was still a few pieces away.
However, the Bills have a rare chance to go for a franchise QB without acting out of desperation. Griffin is affordable, based on the fact that the market for a quarterback is a very small one. He also presents the drawing power that no other available or current Bills quarterback can or will in regard to pending free agents and could help set up the Bills for success in the long and short runs.
The options at the No. 10 spot are not franchise altering. A move for Griffin has the potential to be. In the long and short of it, a move to get Griffin is safer, more fiscally prudent and merited for the long-term success of the Bills.