2012 NFL Draft: Cleveland Browns, Colt McCoy & the Bernie Kosar Complex
March 5, 2012

"It isn't that they can't see the solution, it's that they can't see the problem."-GK Chesterton
Part I in a 5-Part Series 
From the moment in 1993 when Bill Belichick (yes, that Bill Belichick) waived him citing "diminishing skills," the specter of Bernie Kosar has haunted the starting quarterback position with the Cleveland Browns.
Browns fans choose from a litany of root-causes when diagnosing their misery in the years following the team's 1999 revival; chiefly apathetic ownership, short-sighted draft picks and poor coaching hires. Deficiency at the quarterback position inevitably ranks among the top causes of suffering.
The Browns' 1985 season forever inflated expectations for rookie quarterbacks on Erie's shores. Bernie Kosar led that squad to a division title and a playoff berth. In 1986 and 1987, the Browns came within minutes of Super Bowl berths.
Yet fans and media alike curiously omit the contributions of Earnest Byner, Kevin Mack and Ozzie Newsome from their collective memory. Newsome made the Pro Bowl at tight end, while Byner and Mack ran for 1,000 yards each.
Additionally, the Browns ranked 7th defensively in 1985. Still, Marty Schottenheimer's team stumbled into the playoffs with a modest 8-8 record.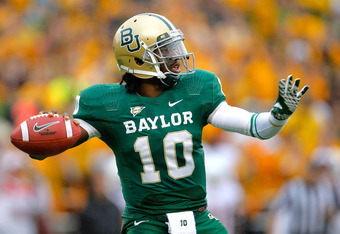 Sarah Glenn/Getty Images
In myth, Bernie Kosar nearly led the Browns to their only modern-era championship game appearance.
In reality, Colt McCoy threw for around 900 more yards, 6 more touchdowns and a 5% higher completion percentage in his first 16 starts.
Also, the 1985 Browns played in one of the weakest divisions in NFL history while, in 2011, each of the Browns' three division rivals qualified for the playoffs.
In the same first-16-game time-frame, McCoy threw for more TD's than the likes of John Elway, and more yardage than one Drew Brees, among others. This hardly earns him a bust in Canton, but unequivocally merits an encore.
This draft season, the best conversation-starter from Elyria to Lakewood revolves around whether the Browns should draft the electrifying Heisman-winner Robert Griffin III, or perhaps acquire Matt Flynn through free agency.
Flynn or Griffin III would be the seventeenth contestant to line up under center for the Browns since 1999.
The quick success of Roethlisberger, Dalton and Flacco torments Browns fans. Yet in our haste to find a silver bullet for the AFC North through auditioning quarterback after quarterback, we must consider: Eli Manning lost his first 6 starts.
Aaron Rogers went 6-10 in his first 16 starts, Matt Schaub and Alex Smith struggled before their respective organizations built around them. Without an answer to Jacobs and Bradshaw, or Crabtree and Davis etc., the Browns could start Joe Montana and still finish 6-10.
We Browns fans howled for the firing of Bill Belichick (the same Bill Belichick) for replacing Kosar with the equally mediocre Vinny Testaverde.
Tim Couch went 9-7 and we cheered as he lay on the field with a broken leg. The problem isn't that the Browns can't draft the next Favre or Manning, it's that, at this rate, we wouldn't know if they had.
You can follow Brian on Twitter @StepanekButton 
Part II: Colt McCoy vs notable QB's in their first 16 starts 
Part III: Missing Pieces & the RG III Saga
Part IV: The AFC North & the case for RG III