2012 NFL Draft: The Cleveland Browns' Draft Recipe for AFC North Success
March 7, 2012

Larry French/Getty Images
"At the base of it was the urge, if you wanted to play football, to knock someone down, that was what the sport was all about, the will to win closely linked with contact." -George Plimpton
Part Five in a Five-Part Series
If NFL divisions personify films, the AFC North translates to Mel Gibson's Mad Max pictures. The champion of the NFL's "black-and-blue" division invariably boasts of one of the NFL's staunchest defenses, and the ability to gain yardage at will on the ground in the second half.
If the Browns correctly deduce that pugilism provides a path to prosperity in the AFC North, they'll bear in mind the fundamental truth that championship teams invest from the ball outward. Consider the New England Patriots and the New York Giants, this year's Super Bowl contestants:
New York Giants: Interior Offensive Line
LG: David Diehl (Seasons: eight, Pro Bowls: one)
C: David Baas (Seasons: six)
RG: Chris Snee (Seasons: seven, Pro Bowls: three)  
Seasons: 21
Pro Bowls: Four
Wins: 13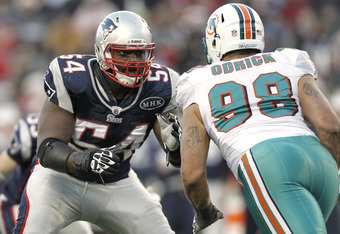 Winslow Townson/Getty Images
New England Patriots: Interior Offensive Line
LG: Logan Mankins (Seasons: six, Pro Bowls: four)
C: Dan Connolly (Seasons: six)
RG: Brian Waters (Seasons: 11, Pro Bowls: six) 
Seasons: 23
Pro Bowls: 10
Wins: 15
Let's examine our division rivals, the Baltimore Ravens:
Baltimore Ravens: Interior Offensive Line
LG: Ben Grubbs (Seasons: four)
C: Matt Birk (Seasons: 13, Pro Bowls: six)
RG: Marshall Yanda (Seasons: four, Pro Bowls: one)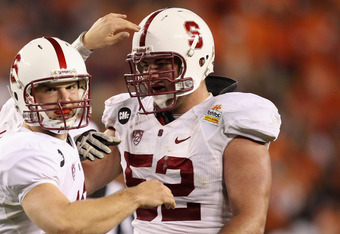 Christian Petersen/Getty Images
Seasons: 21
Pro Bowls: 7
Wins: 13
Cleveland Browns: Interior Offensive Line
LG: Jason Pinkston (Seasons: None)
C: Alex Mack (Seasons: two, Pro Bowls: one)
RG: Shawn Lauvao (Seasons: zero)
Seasons: Two
Pro Bowls: One
Wins: Four
New Ohio State Buckeye head coach Urban Meyer expressed similar urgency to the Plain Dealer this week, with respect to establishing a mobile, hostile interior offensive line down in Columbus. The Browns must take heed of Meyer's correct assessment; whether in the AFC North, the SEC or the Big Ten, winning football derives from quality guard and center play.
To that end, I will conclude this five-part epic with my contention that the Browns should use their unique position with two top picks in the draft to invest in a top-five rushing attack and keeping Colt McCoy's jersey clean.
Potential Scenarios for the Browns' No. 4 Pick
Scenario No. 1: RG III is not available at Pick No. 4
If the Rams succeed in ensnaring the covetous Dan Snyder in a deal shipping Robert Griffin III to Washington, the Browns should still look to trade down. If Matt Kalil or Trent Richardson are available, I would advocate for the Browns to draft either. If the Browns manage to find a partner to trade down, I would strongly urge that they do so with David DeCastro, Riley Reiff and Quinton Coples in mind.
DeCastro particularly intrigues me, as the Browns desperately need a quality guard to build for the future.
Scenario No. 2: RG III is available at Pick No. 4
If RG III indeed drops to the fourth pick, the Browns should lobby with every ounce of their might to secure a deal with the Washington Redskins to trade down. In such a scenario, the Browns could consider Kalil, Richardson, Morris Claiborne, Justin Blackmon or Coples. The Browns would likely acquire multiple second and or third-round picks, an area in which Tom Heckert excels.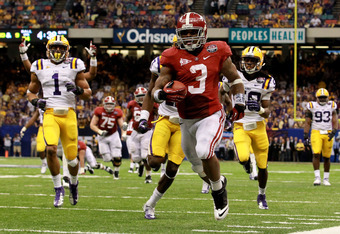 Ronald Martinez/Getty Images
Should the Browns cave to fan and media pressure and draft Robert Griffin III, the "best player available" argument will prove difficult to dispute. Parting with any draft picks present or future in hopes of finding a quick fix to put points on the board will augur poorly in the long run should the Browns neglect to address their interior line (and various other) needs.
Robert Griffin III could emerge as the best quarterback in franchise history, but to invest multiple draft picks in any player constitutes a massive gamble.
Best-Case Scenario
The most prodigious result the Browns could hope for would be to trade down and pick up DeCastro, or draft Richardson. With their 22nd pick, they could potentially take hometown favorite Mike Adams or Georgia's Cordy Glenn in the event the Browns take Richardson. If the Browns take DeCastro and Adams, our offensive line could develop into a dominant force.
Imagine Peyton Hillis racing out to the flats, flanked by DeCastro, Alex Mack and Joe Thomas. Picture Chris Ogbonnaya, Montario Hardesty or Trent Richardson crashing off tackle for four-yard gain after four-yard gain.
Hopefully, this series serves to illuminate the Browns' path to the AFC North crown, and by extension, NFL relevance. The numbers don't lie; that path leads right up the middle.
You can follow Brian on Twitter @StepanekButton
Part I: NFL Draft 2012: Cleveland Browns, Colt McCoy and the Bernie Kosar Complex
Part II: NFL Draft 2012: Cleveland Browns, Colt McCoy vs. Other Notable QB's in Their First 16 Starts
Part III: NFL Draft 2012: Cleveland Browns, Missing Pieces and the Robert Griffin III Saga
Part IV: NFL Draft 2012: Cleveland Browns, The AFC North and the Case for RG III