NY Giants: Is Their Biggest NFL Draft Need at Tight End in Round One?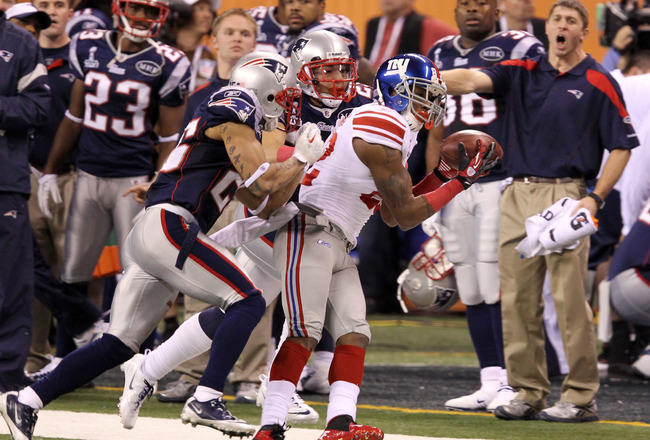 Manningham is screamed at by a Pats coach.
Andy Lyons/Getty Images
Mario Manningham probably won't be back for the New York Giants in 2012, and that's 39 receptions that they will miss. Jake Ballard (38 receptions) and Travis Beckum (5 receptions) will start the year on the PUP list.
That's a total of 82 receptions that will be off the board to start the '12 season. They have two traditional Y receivers (an inline TE) still on the roster in Bear Pascoe and Christian Hopkins. Hopkins had no catches, as he spent '11 on the practice squad, although Giants GM Jerry Reese likes him a lot. Pascoe had only 12 receptions.
The upside of having Pascoe and Hopkins is that the Giants have two blockers they trust.
Hopkins is an unknown entity but fans and analysts know what to expect with Pascoe. He's not going to stretch the field, he won't split a cover 2, he'll make some underneath catches, he'll shift into FB. He's a football fan's football player, tough and willing to do anything to help his team.
The biggest loss will be Manningham. With the TE position really being split between traditional Y tight ends and H-Backs, the Giants will need to draft someone who can play both.
Reese really has three options, any of them could be considered a reach. At the same time all three also have the upside potential to yet again make Reese look like a genius.
Option 1: Dwayne Allen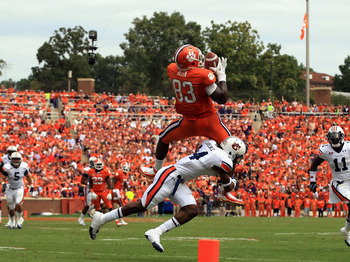 Dwayne Allen reaches high for a pass.
Streeter Lecka/Getty Images
Why the Giants will draft Dwayne Allen:
Dwayne Allen catches everything.
Especially at the combine, he isn't dropping passes, regardless of what drill they are running. He is simply snatching balls with quick hands. Allen doesn't let passes get to his body.
He had an extremely productive year at Clemson. Allen has the size and speed that the Giants tend towards in their TEs. At the combine he finished the 40 at 4.84, which is not extremely fast but he plays faster on the field. He is more dangerous after the catch than anyone the Giants had at TE in 2011.
Nearly every mock draft that has the Giants picking a TE with their 32nd pick have Allen locked into that slot. It's difficult to disagree.
Other positives: durability, good locker room presence, smart enough to start right away.
Why the Giants won't draft Allen:
He only had one good year in college. He didn't get the reps in previous years, which is why most scouts aren't letting that worry them.
Allen will be productive as both a Y and an H. At Y, he'll be behind Pascoe and Hopkins in terms of blocking ability. The Giants need to improve their running game—it's a big part of their offseason—and a run blocking TE would help that.
Allen will become a great blocker in time, but he will never gain speed. If the Giants want a fast TE who can break away in the same way Vernon Davis did against them it is not Allen. In the 3-cone drill, he did show good quickness though, but will that be enough for Jerry Reese?
Option 2: Coby Fleener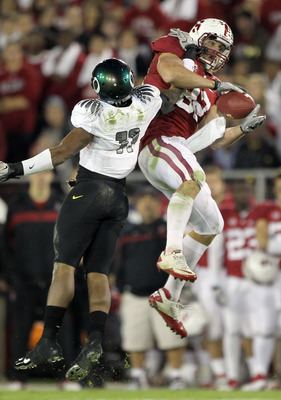 Coby Fleener should have his eyes on the ball.
Ezra Shaw/Getty Images
Why the Giants will draft Coby Fleener:
Fleener played in a pro-style offense at Stanford, so he will be up to speed with the playbook much more quickly than most TE's coming out of the draft this year. He is a big play threat and terrific in the red zone.
When the Giants drafted Ramses Barden, they hoped he would be an able-bodied replacement for Plaxico Burress. After Burress accidentally shot himself in the leg in a NYC night club, the Barden experiment has left a lot to be desired.
It makes sense to bring in height—when Eli Manning misses he tends to miss high, especially in the middle of the field. A tall TE would be fantastic in the Giants offense, and Fleener is 6'6".
He did not run the 40 at the combine but his speed is in line with the top 3 TE's in the '12 draft. However, Fleener did participate in the bench press surprised a lot of scouts when he hit 27 reps, which tied Dwayne Allen, besting the average rep from the previous draft class (21) in the process. He has big hands and a long reach.
Other positives: Hands. Intelligence. Crafty in tight spaces. Makings of a great split out TE.
Why the Giants won't draft Fleener:
Yes, he is 6'6" but he is also 247 pounds, which is too thin for his height.
Fleener would set the running game back. Unless he can gain about 15 pounds over the next few seasons he may never be the blocking TE the Giants need.
Oddly he is ranked the No. 2 TE on almost everyone's board (even when the No. 1 slot switches between Orson Charles and Dwayne Allen, Fleener remains No. 2). He is not a stand alone TE and teams know that.
His pass-catching, route-running, and body control may rival Jimmy Graham's but he will need to be in a two tight end situation much like that of the New England Patriots. That could work well when Jake Ballard returns but it won't help the Giants early in the 2012 season.
Option 3: Orson Charles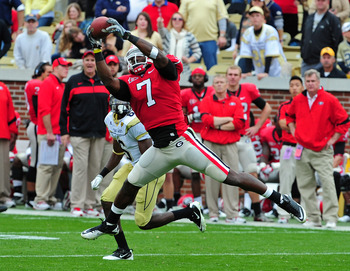 Orson Charles doing his best Michael Jordan impression.
Scott Cunningham/Getty Images
Why the Giants will draft Orson Charles:
Charles is ranked No. 3 on most boards, but why would Jerry Reese not surprise fans? Of all the TE's at the combine, no one raised their stock as much as Charles, leading the way in bench press with 35 reps, only bested by all but one offensive lineman.
Although he did not participate in any of the speed or agility drills, he ran well in the pass catching drills.
His head snap and eye placement was more advanced than the other participating TE's at the combine. He located the ball in the air, caught it with his hands out away from his body.
Between his strength and his explosiveness in tight spaces, he has the potential to become a great blocker. It will take a year or so, but he would be the best run blocker of the top three TE's on opening day.
The upside may be too much for Reese to pass on. Nobody can gauge what Reese's gut feeling is, but there is a chance he fell in love with Charles at the combine. The chatter about Charles was very positive, especially his willingness to support his other TE's.
Other positives: He will be locker room gold in the NFL.
Why the Giants won't draft Charles:
He is only 6'3". There have been questions about his ability to catch the ball consistently and he did have some drops at the combine. Most scouts feel he won't be a feared pass catcher and look at him as a 2nd round stretch, although he could fall to the 4th round.
Projected to be a 2nd TE by some, projected to be the next Aaron Hernandez by others, it seems that the vote is out and people are not sure what to think of him as an overall football player. Reese is not usually affected by other people's worries (see Jason Pierre-Paul) but it's possible that he could be scared away from Charles.
If Charles fails to impress immediately, Reese will be a goat yet again. Not that he will let that affect his decision but still...
Keep Reading

New York Giants: Like this team?