Luck of the Draft Should Spurn the Indianapolis Colts
February 22, 2012

Harry How/Getty Images
Jim Irsay cleaned house. Coaches, executives and a soon-to-be ex-quarterback thrown out with the bathwater. But divorced from the only greatness Indianapolis has ever known, Irsay and the Colts can flush one more thing down the toilet. 
The No. 1 pick.
Because Andrew Luck should sign with any team but the Colts.
Ridding itself of everything remotely tied to the outstanding success of the last decade, the Colts are irrelevant again. The things that made Indianapolis an interesting football destination a few months ago are gone in the time it took to shuck two Polians, ditch a head coach, and embarrass a future Hall-of-Fame quarterback. 
Left now is a crumbling 2-14 team whose owner's penchant for name calling has even its legendary quarterback counting down the days to say good riddance. 
Who wants to be part of that?
John Elway didn't in 1983.
Eli Manning didn't in 2004.
And Andrew Luck should follow suit.
If Irsay and the Colts had even pretended to honor their championship-year architects, maybe things would be different. But the truth is professional sports hasn't seen the dismantling of a champion this fast since Major League Baseball's Florida Marlins in 1997.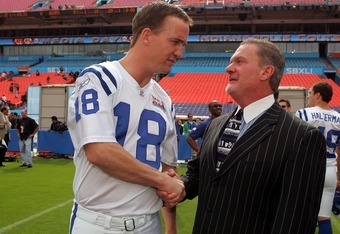 Scott Halleran/Getty Images
It's as if Irsay was looking for an excuse to implode the franchise so he could rebuild in the rubble and take credit.
But that arrogant risk will backfire when Stanford's Andrew Luck does to Jim Irsay what Stanford's John Elway did to Robert Irsay, Jim's father.
And you can't blame the player this time.
If Peyton Manning's a politician, Jim Irsay's just foolish. Because only a fool would embarrass a much-loved and legendary quarterback while trying to convince an heir-apparent to sign with the team and take the legend's spot.   
Yes, the Colts have the No. 1 pick, and in a perfect world that would mean landing Luck regardless. But if this year's super celebration of Eli Manning and the New York Giants teaches us anything, it's that no one really cares if top talent and a well-connected franchise screw the draft and dictate who will play where.
It's good business.
People love Eli Manning, celebrate his grit and just about unanimously forget that he and the New York Giants fixed the 2004 draft and left the entire league crying foul. 
Because the NFL and media largely ignore that indiscretion, let me point out this obvious truth:  Andrew Luck holds the No. 1 pick, not the Indianapolis Colts.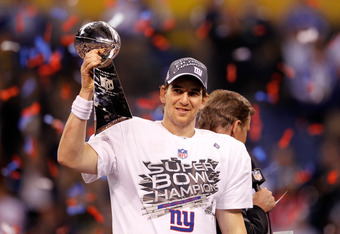 Rob Carr/Getty Images
Jim Irsay's arrogance is one of many reasons Luck should choose the Rams, Vikings, Browns or Redskins instead of the Colts. At least on those other team's players don't have to walk on eggshells. 
Many are lauding Irsay and the Colts for making the difficult business decision to rebuild. But too many forget that Andrew Luck himself has a business decision to make, and it may well be inconsistent with the Colts' planned direction.
The fact is Luck's best decision might be to refuse the Colts and establish a winner in a different market.
Would Eli Manning and John Elway recommend anything different? 
Not likely.
More likely, Manning and Elway would recommend avoiding the cloudy skies that hang over Indianapolis and looking toward more fertile football pastures in other cities. 
They'd tell Luck and his agent to at least call Dan Snyder's Washington Redskins, the draft-pick-rich Cleveland Browns and the slightly fed-up-with-Bradford Rams. 
It's unseemly and unfortunate. 
But it's the reality of a draft that the NFL refuses to police.  And fixing the draft this year makes sense for Andrew Luck.
Waiting to get drafted by the Colts, on the other hand, would be downright unlucky.
Bob Firpo is an attorney and freelance sports and outdoors writer.  He lives in Boise, Idaho.  Follow him @knockingitout