2012 NFL Mock Draft: Will Ryan Tannehill Go in Round One?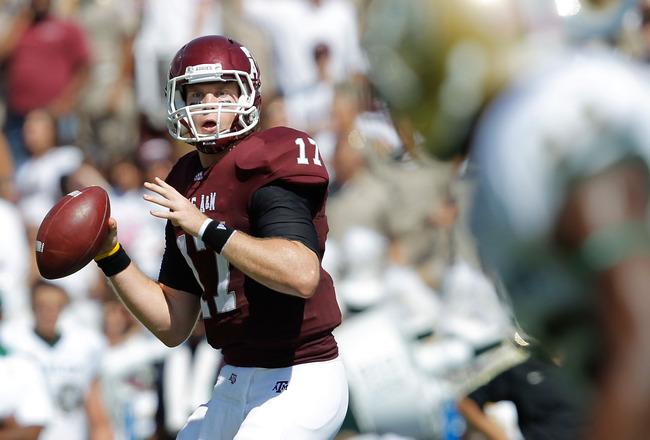 Sarah Glenn/Getty Images
The NFL Combine is about to begin; pro days are just about scheduled, and Mel Kiper has already released a few of his mocks. This only means one thing—the 2012 NFL Draft is quickly approaching.
After sitting through a considerably eventful 2011 season, the league's annual draft is the next biggest event the sport has to offer. It's a time of new faces and new beginnings for NFL teams as well as college football's best.
And with every NFL Draft comes a never-ending list of questions. One of the hotter debates comes with the prospect of taking Texas A&M quarterback Ryan Tannehill in the first round.
Is Tannehill NFL-ready? Will his injury keep him off team's draft boards? Does he actually warrant a first-round selection?
All of these questions and more are answered in my latest first-round mock of the 2012 NFL Draft.
1. Indianapolis Colts: Andrew Luck, QB, Stanford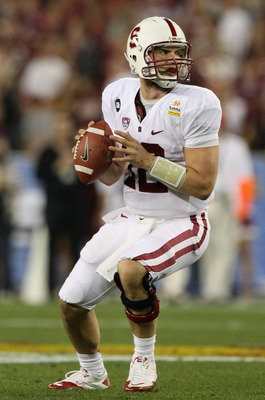 Donald Miralle/Getty Images
With their Week 17 loss to the Jacksonville Jaguars, the Indianapolis Colts officially clinched the No. 1 pick in the 2012 NFL Draft. Even though they'll be on the clock for four months, we all know the pick must be Stanford's Andrew Luck.
Luck going No. 1 overall is a clear no-brainer. The ability and intelligence are there, and it looks as if he's the next big thing coming into the NFL.
Indianapolis, however, will be in perhaps the stickiest situation in the game's history. If they take Luck, which they will, what happens to the quarterback they have now?
Maybe you've heard of him—Peyton Manning?
Will the Colts draft Luck and start him immediately?
Will they take Luck only to place him under the wing of Manning for a chunk of the season?
Or will Indy just cut ties with their long-time quarterback to make way for what looks like the second version of Manning?
There are many questions surrounding that potential scenario, but there are none when it comes to drafting Andrew Luck with the first pick in 2012.
2. Washington Redskins (from St. Louis): Robert Griffin, QB, Baylor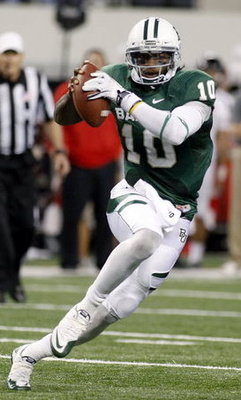 Sharon Ellman, AP
Predicting a trade this early may be a tad ridiculous, but it seems very likely to occur. With teams such as Washington, Seattle, Kansas City and perhaps Cleveland vying for the services of Robert Griffin III, St. Louis currently sits in a commanding spot.
Jeff Fisher and his Rams can either sit in this spot and take USC's Matt Kalil or ship this pick away for multiple selections. Being that the Rams need help in nearly every position on the field, it would make sense to trade the pick in order to stock up on talent.
So who will be the team St. Louis trades with? Given their desperate need for a franchise quarterback, the Washington Redskins could very well emerge as the favorites. Add the useful or not so useful fact that Fisher and Mike Shanahan are pretty good friends, and we may have a winner here.
The trade would certainly entail the Redskins surrendering their sixth overall pick as well as a few more selections in either this draft or a future one. This would mean St. Louis would still have nice position at the No. 6 spot along with the additional picks they could use to fill up their weak roster.
And we all know about Washington's horrific quarterback history, so Griffin would be nothing short of a savior for the struggling franchise. He has ridiculous accuracy on his deep throws, can make plays with his feet and was college football's best player in 2011.
Griffin has passed for 36 touchdowns and 3,998 yards and has thrown just six picks. He has also displayed his explosive run game, rushing for 644 yards and nine touchdowns.
After seeing Carolina take a risk that paid off huge dividends with Cam Newton, perhaps the Redskins will have no problems taking a calculated chance of their own on a quarterback with multiple tools.
3. Minnesota Vikings: Matt Kalil, OT, USC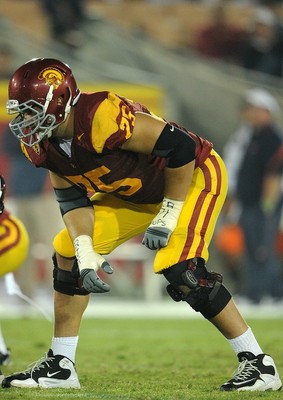 Photo credit: nflsfuture.com
If Washington or any other team were to trade up to select Griffin with the second pick, it would leave the Minnesota Vikings with the easiest pick in the entire draft. (Yes, even more so than Indianapolis and Luck.)
The younger brother of Carolina's Ryan Kalil, Matt, is another one of those sure-fire offensive lineman prospects. Kalil is 6'7", 275 lbs and is probably the best player in this draft not named Andrew Luck.
Taking Kalil would help protect youngster Christian Ponder and provide some running space for Adrian Peterson. There is no doubt he can immediately help an offensive line that gave up the fifth-most sacks in 2011.
4. Cleveland Browns: Trent Richardson, RB, Alabama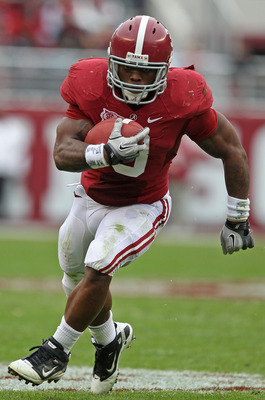 Mike Zarrilli/Getty Images
I've had the draft's top wideout, Justin Blackmon, mocked here quite a few times. But as it goes in just about every draft, teams often flock towards the best available talent over a need.
In this case, Cleveland certainly gets the best available player while addressing a need. There's no doubt the team is starving more for a wide receiver than a running back. Trent Richardson of Alabama, however, gives the Browns a much better ratio of talent-to-need than Blackmon does.
Richardson is the undisputed champion when it comes to this year's crop of running backs and would most definitely give Colt McCoy and his offense some much-needed help. The 2011 Heisman candidate has nice vision, great speed and the hands to take some passes out of the backfield.
Cleveland's ultimate focus going into the 2012 season should be surrounding McCoy with some type of talent.
Given Peyton Hillis' foggy situation as well as the team's lack of a playmaker on offense, Richardson would be a positive step forward.
5. Tampa Bay Buccaneers: Morris Claiborne, CB, LSU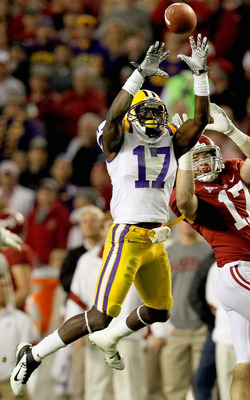 Kevin C. Cox/Getty Images
With Ronde Barber growing older and Aqib Talib most likely on his way out, the Bucs will be in the market for a new cornerback.
If so, they would definitely grab Morris Claiborne with this pick. The LSU corner is easily the best prospect on the board at this point.
At 6'0" and 185 lbs, Claiborne has been one of college football's best cornerbacks over the last two seasons. In fact, he may be the best defensive player coming out in 2012. He has good hands, exceptional speed and the ability to be an elite cover corner in the NFL.
Tampa taking Claiborne would be yet another no-brainer in this draft.
6. St. Louis Rams (from Washington): Justin Blackmon, WR, Oklahoma State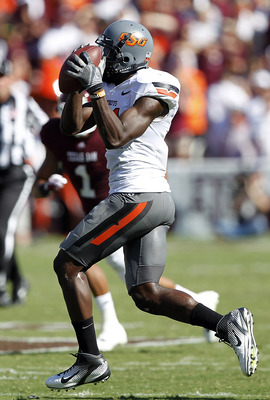 Bob Levey/Getty Images
As a product of the forecasted trade with Washington, the St. Louis Rams would wind up with the sixth overall pick in the draft. And if Cleveland does in fact take Trent Richardson with the fourth selection, Oklahoma State's Justin Blackmon will be off the board as soon as the Rams hit the clock.
Blackmon is the top wide receiving prospect in the draft. He has the size, footwork and hands to become an elite receiver in the NFL. Many compare Blackmon's skill set to that of Terrell Owens' minus the off-field baggage.
The Rams' current No. 1 target, Brandon Lloyd, is a free agent in 2012. He has already vowed to follow his former offensive coordinator Josh McDaniels. So it seems extremely unlikely the team will be able to reel him back in unless they tag him.
Luckily for the Rams, Justin Blackmon could be available and would immediately give Sam Bradford some help.
7. Jacksonville Jaguars: Kendall Wright, WR, Baylor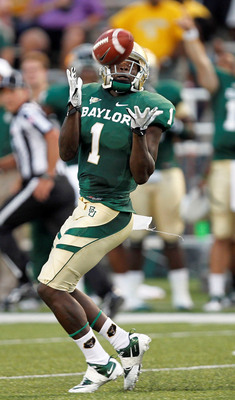 Allow me to start off by stating that you're currently reading a mock draft. This is not what I think should be done; it is what I think will be done. With that being said, I do not believe Kendall Wright is the second best receiving prospect in this draft class. In fact, I wouldn't regard him as the third best either.
But given that this selection belongs to the Jacksonville Jaguars, anything can happen. I'm not saying the Jaguars front office is completely inept at the draft process, but they are not afraid to reach for a need. (See Alualu, Tyson.)
And although I do have both Alshon Jeffery and Michael Floyd a bit higher on my big board, Wright is much more of a Gene Smith-type pick.
What do I mean by a Gene Smith-type? He is a squeaky clean guy and does present some upside. Wright hasn't been busted by law enforcement like Floyd, and he hasn't been questioned about his work ethic like Jeffery.
Plus, Smith has already tipped his hand about his draft strategy and may actually have Wright ahead of Justin Blackmon as the draft's top overall wideout.
With that being said, Wright could be the perfect prediction for the Jags in this spot. He has great hands, killer speed and the ability to break off big plays. He'll bring a whole new dimension to this one-sided offense and would immediately present Blaine Gabbert with a better target than whatever he has there now.
8. Miami Dolphins: Quinton Coples, DE, North Carolina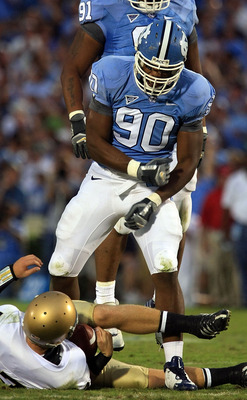 Scott Halleran/Getty Images
Newly hired head coach Joe Philbin has announced his defense will work under a 4-3 scheme.
This means the Dolphins need a talented pass-rusher to add to a pretty thin defensive line.
So Quinton Coples of North Carolina would be an incredible value pick for Miami here. The 6'6", 275 lbs defensive lineman racked up 7.5 sacks with 10 tackles for loss in his 2011 campaign. He certainly looks to be the very best pass-rusher this draft has to offer.
Philbin can slot Coples on the opposite side of the team's current top pass-rusher, Cameron Wake, to create one of the league's most dangerous defensive end duos.
9. Carolina Panthers: Michael Brockers, DT, LSU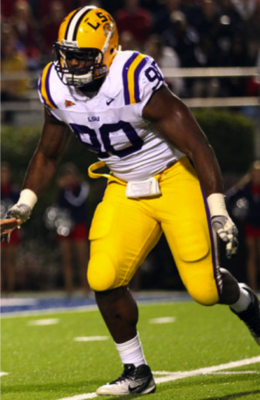 With the ninth overall selection in the draft, the Panthers will have quite a few options. Marty Hurney and the rest of the Panthers brass could opt for an offensive tackle to bolster the line, a wideout for Cam Newton or a corner to help their struggling secondary. But given their obvious need for a run-stuffer, Michael Brockers is likely to emerge as the favorite for this pick.
Over the past three seasons, Carolina's run defense has ranked amongst the very worst in the NFL. They finished 22nd in 2009, 23rd in 2010 and 25th in 2011. Their pass defense hasn't been exactly great either, allowing a league-high 8.4 yards per completion. These are the type of numbers that indicate a team's lack of an efficient playmaker on the defensive line.
Although Brockers is still quite raw at the position, many draft experts regard him as the draft's best defensive tackle. He displays great quickness, has very powerful legs and is an overall freakish athlete. All you'll hear about Brockers going into the draft is his tremendous upside, as he stands at a ridiculous 6'6", 306 lbs.
The former LSU Tiger may fill the team's biggest need and already has a scheduled visit with Carolina on March 8th.
10. Buffalo Bills: Melvin Ingram, DE/OLB, South Carolina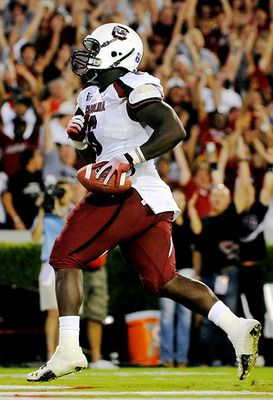 John Amis/AP Photo
In last year's draft, Buffalo took defensive tackle Marcell Dareus to improve their struggling line.
Dareus, however, needs some better talent next to him in order to make a greater impact. The Bills ranked 27th in sacks and were the fifth-worst rush defense in the league.
The pick could come down to Alabama's Courtney Upshaw and South Carolina's Melvin Ingram. But since Ingram is more fit to play the line, he would be the likelier option.
Ingram is incredibly athletic, has a good first step and is one of the draft's best pass-rushers. He chalked up 8.5 sacks in 2011 and could help the Bills increase their chances of getting to opposing quarterbacks. He may seem like a reach as of now, but I expect Ingram to increase his stock after his upcoming Combine performance.
11. Kansas City Chiefs: Riley Reiff, OT, Iowa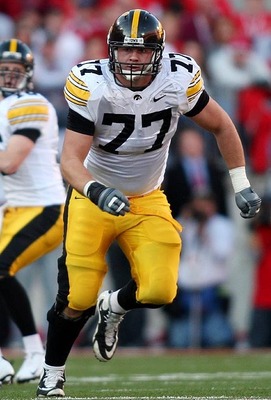 Kansas City didn't have the worst offensive line in football last year, but they do have a need at the left tackle spot. So if Iowa's Riley Reiff is still available for the Chiefs at this spot, I'm sure they will not hesitate at grabbing him.
Reiff has emerged as one of college football's best players as a result of his impressive 2011 season. He's 6'6", 300 lbs and has been praised for his great fundamentals. The former tight end has great footwork, bends very well and has already played in a pro-style offense.
He'll surely open up some holes for Jamaal Charles and keep their quarterback, whomever that may be, on his feet.
12. Seattle Seahawks: Ryan Tannehill, QB, Texas A&M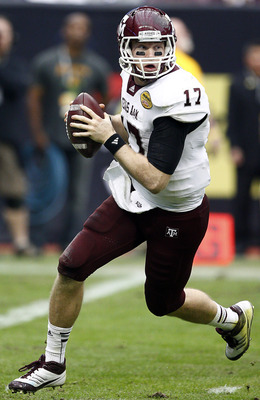 Bob Levey/Getty Images
This happens every draft. A team in need of a quarterback ignores the ol' big board and reaches for a potential play-caller.
The most recent instance of taking such a gamble came when Minnesota selected Christian Ponder with the 12th pick in last year's draft. But although he was considered by many as a second-round talent at best, Ponder did turn in an impressive rookie campaign with the Vikings.
Given Seattle's desperate need at the position, Ryan Tannehill could very well be this year's version of Ponder. Just like Ponder, Tannehill is not regarded as a first-round talent and could be taken well ahead of his time.
As we await for his performance at the Combine, Tannehill looks to be a pretty decent prospect as of now. He threw for 3,744 yards along with 29 touchdowns and 15 interceptions in 2011. Tannehill has a quick release, exhibits solid accuracy and is a very good athlete.
Some of his concerns lie in his ability to throw the deep ball as well as his inexperience at the quarterback position. I believe his rawness as well as his foot injury should keep him out of this round. But given the desperation for a starting quarterback in this league, I would not be surprised to see his named called on the first day.
13. Arizona Cardinals: Jonathan Martin, OT, Stanford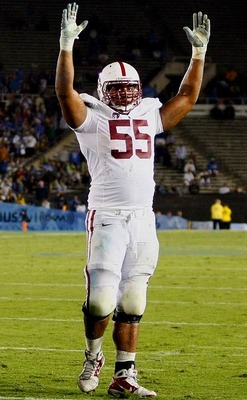 Craig Bennett/Icon SMI
The Cards' offensive line wasn't exactly great in 2011, ranking 31st in pass protection. So if the team believes Kevin Kolb is their guy, they must help him. Luckily, they could see Stanford's Jonathan Martin drop to them in this spot.
Martin is flat-out huge, standing at 6'6", 305 lbs. He has good footwork, has great mobility and is a very smart player. He'll give Kolb more throwing time and clear up some space for Arizona's dangerous ground attack.
14. Dallas Cowboys: Janoris Jenkins, CB, North Alabama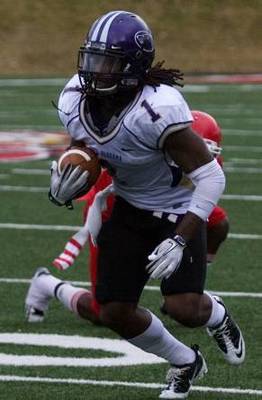 The Cowboys sit in a great spot at No. 14. With their three major needs being in their secondary, their pass-rush and their offensive line, they'll have a handful of legitimate talent to pick from. They may have prospects such as David DeCastro, Courtney Upshaw, Devon Still and Dre Kirkpatrick still available to them when their turn comes around.
But if they want to prevent another upending from the New York Giants, the secondary should be addressed with their first rounder. They can't have Hakeem Nicks, Victor Cruz and Mario Manningham (if he stays) running the field, as their corners constantly get left behind in the dust.
As of now, Janoris Jenkins looks to be the front runner for Dallas' pick here.
Jenkins has incredible quickness and great body control and is very aggressive on coverage. He is a very gifted athlete and has potential to be an elite corner in the NFL.
There is also no doubt the North Alabama transfer is a typical Jerry Jones draft pick. He has tremendous ability but a handful of off-field questions. Jones has consistently shown that his appetite for talent vastly overshadows his concern for attitude.
The Cowboys brass will have to believe that Jenkins' dismissal from Florida last season was just a wake-up call for a very promising prospect.
15. Philadelphia Eagles: Luke Kuechly, ILB, Boston College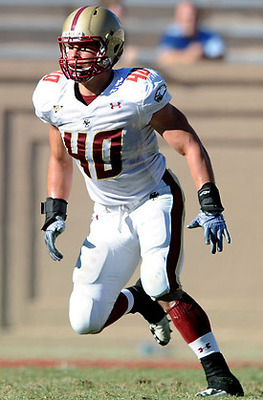 Philly's linebacking corps have been nothing short of terrible. This problem has been plaguing their defense and needs to be addressed. So if Luke Kuechly of Boston College is still there for the Eagles, expect them to jump on him.
He is a sound tackler, displays good mobility and is a very intelligent player. Kuechly also has good size and always seems to be in the middle of every play.
Some may argue the Eagles should go with the best remaining wideout in order to fill a potential hole left by DeSean Jackson. But with or without Jackson, scoring is not a problem for this team. When you have Michael Vick, LeSean McCoy and Jeremy Maclin headlining your offense, you're going to score.
The Eagles should look to patch up a problem that's been pestering them for a number of years now by taking Kuechly.
16. New York Jets: Courtney Upshaw, DE/OLB, Alabama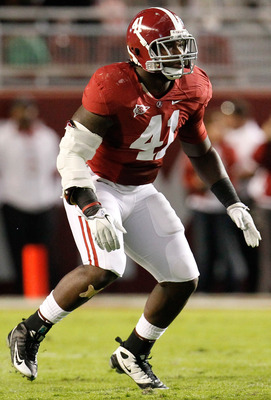 Kevin C. Cox/Getty Images
The Jets must upgrade their pass-rush as well as their run defense in order to regain their spot amongst the league's best defenses.
Rex Ryan's crew ranked 13th against the run and 17th in sacks, lower than their top-10 positioning from the previous two seasons. They need a legitimate threat to rush the quarterback, so Ryan doesn't have to use the blitz so much.
Courtney Upshaw, the linebacker from Alabama, would give them an immediate boost. Upshaw has tremendous versatility in terms of positioning on defense. He has good speed and strength and is very quick off the ball.
Upshaw is also acquainted with 3-4 defense, something Rex Ryan will definitely like.
17. Cincinnati Bengals (from Oakland): David DeCastro, G, Stanford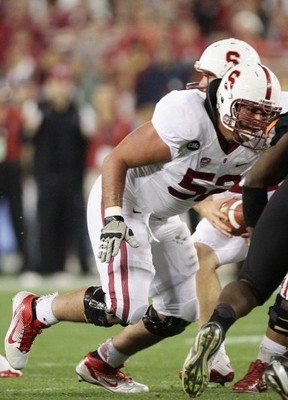 The Cincinnati O-line proved to be very effective this season, allowing the seventh fewest amount of sacks in the entire NFL. But with Bobbie Williams and Nate Livings entering the free-agent pool this offseason, the Bengals may look to reinforce their line with their first pick.
I do believe the team will come to terms with the 36-year-old Williams. Livings, however, may not be so fortunate. Allowing Livings to walk would leave a hole at left guard in Cincinnati.
If so, selecting Stanford's David DeCastro would be one of the easiest picks in the draft. Not only is he the best guard in the draft, but he's by far the best remaining talent available.
DeCastro plays with a consistent mean streak and never takes a play off. He is also very athletic, exhibits nice footwork and is quite intelligent at his position. DeCastro is undoubtedly the best guard in the upcoming draft.
18. San Diego Chargers: Nick Perry, DE/OLB, USC
Jeff Golden/Getty Images
This pick should come down to three options. The Chargers could go for a strong safety, an offensive lineman or a pass-rusher. I would have them going with Alabama's Mark Barron here. But given his recent hernia surgery and the rest of his injury history, teams may balk.
So if the Chargers cannot draft an offensive lineman who will be worth their while, they should be looking to upgrade their weak pass-rush. San Diego ranked 23rd in sacks. Their inability to consistently get to opposing quarterbacks played a huge factor in their disappointing defense in 2011.
If USC's Nick Perry has a successful Combine, he may very well be the pick. Perry exhibits elite speed and great athleticism, uses his hands very well and is extremely versatile.
19. Chicago Bears: Michael Floyd, WR, Notre Dame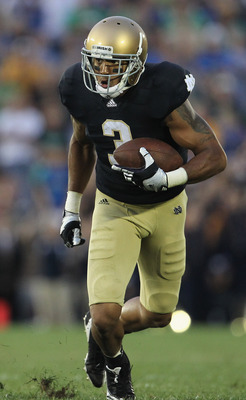 Jonathan Daniel/Getty Images
Jay Cutler has yet to work with a legitimate No. 1 wideout during his time in Chicago. Devin Hester and Johnny Knox are very lethal weapons. Neither, however, cut it as a top target in the NFL.
So if Michael Floyd is available, expect the Bears to take a very long look at the Notre Dame product.
The 6'3" receiver has done nothing but dazzle during his collegiate years. In his four seasons at South Bend, Floyd never failed to put up less than 700 yards receiving and catch at least seven touchdowns. He raked in a bulky 95 passes this season, eight of them in the end zone.
And although Floyd does carry some off-field baggage, that could be overlooked given his immense talent.
Chicago could also opt for an offensive lineman such as Cordy Glenn or Peter Konz to improve their horrible pass protection. But being that Cutler really needs a top wide receiver, Floyd may be too tempting to pass up.
20. Tennessee Titans: Cordy Glenn, G, Georgia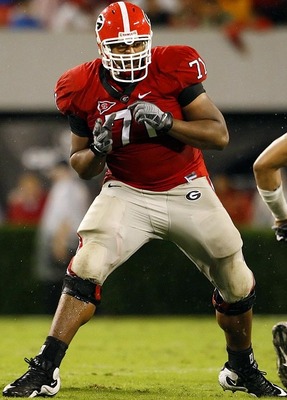 The Tennessee Titans were on the cusp of a playoff berth this past season. If Tennessee can fill out a few needs, then they'll once again be a solid contender for a postseason spot.
One of the needs they have to address is their offensive line. They didn't exactly help the struggles of star running back Chris Johnson last season.
Cordy Glenn, a 6'5", 348 lbs monster, would be a great match if Tennessee wants to emphasize its run game. He's relatively nimble for a man his size and is very good at opening up holes for the run game.
21. Cincinnati Bengals: Dre Kirkpatrick, CB, Alabama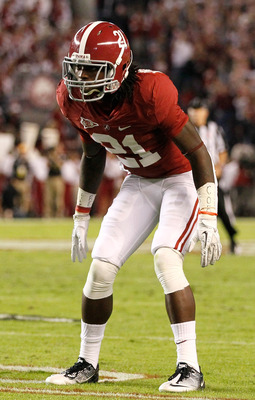 Kevin C. Cox/Getty Images
Dre Kirkpatrick drops to Cincinnati by virtue of Janoris Jenkins' Senior Bowl performance rather than his recent drug incident. I don't believe Kirkpatrick's marijuana situation will have teams throwing him off their draft board. It was just the fact that he was in a car with an illegal drug just a month before the Combine. He did, however, have the charge dropped early this week.
Either way, he seems to be slipping behind Jenkins en route to becoming the third-best corner in the draft. This will give the Bengals a crack at the Alabama corner with the 21st overall selection.
At 6'3", Kirkpatrick is a considerably tall cornerback. He has great speed, elite size and a knack for making big plays. He is also extremely effective against the run thanks to his anticipation and that speed.
22. Cleveland Browns (from Atlanta): Alshon Jeffery, WR, South Carolina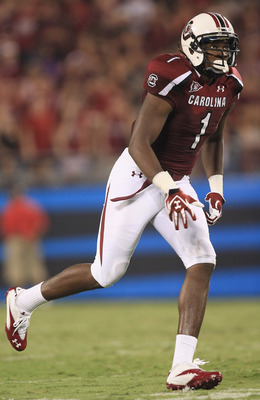 Streeter Lecka/Getty Images
Although General Manager Mike Holmgren isn't a fan of drafting wideouts in the first round, something has to be done to supply Colt McCoy with more weapons. So after grabbing Trent Richardson with their first pick this round, the Browns should be looking to nab a wideout.
McCoy needs a legitimate target in order to move along his development as a franchise quarterback. If so, Alshon Jeffery would be quite a steal here.
Jeffery, 6'4" and 229 lbs, has an incredibly promising skill set, making him a very desirable player in the upcoming draft. In three seasons at South Carolina, Jeffery has hauled in 22 touchdowns and eclipsed the 600-yard receiving mark each year.
There are questions surrounding Jeffery's weight and breakaway speed. But if the former Gamecock turns in a great performance at the Combine, I wouldn't be surprised to see him in the earlier part of the first round.
23. Detroit Lions: Alfonzo Dennard, CB, Nebraska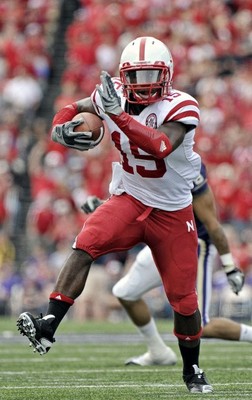 After watching the Saints and Packers completely dismantle the Lions' secondary in their last two games, there must be something done at the cornerback position.
If the Lions want to surpass Green Bay in the NFC North, they must stop their aerial assault.
Alfonzo Dennard has excellent speed and good athleticism and displays great instincts. He does, however, need to improve his reaction on coverage. As well as improving his footwork, he also needs to make better breaks on the ball.
He does need some work but has the tools to be a quality corner in the NFL.
24. Pittsburgh Steelers: Mike Adams, OT, Ohio State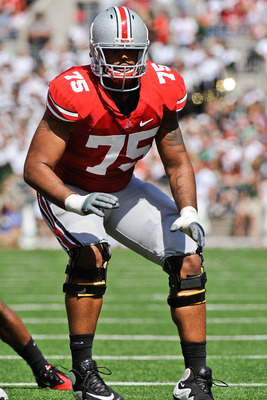 Jamie Sabau/Getty Images
Team President Art Rooney II has stated he wants the "old" Steelers offense. By "old," Rooney wants a run heavy, grind-it-out type of offense. Nothing says grind it out more than a 6'8", 320 lb monster.
The logical choice is actually Mike Adams of Ohio State. He has a great frame and often exhibits very nice footwork. Many believe Adams could be the third-best offensive tackle, ahead of Stanford's Jonathan Martin.
The Ohio State product would be a much-needed addition to an underperforming offensive line.
25. Denver Broncos: Devon Still, DT, Penn State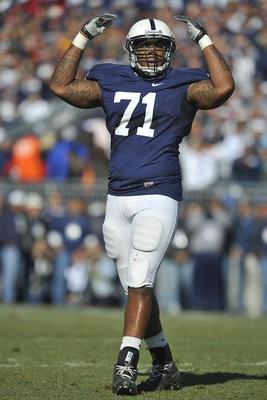 The Broncos could look to upgrade their defensive line after that horrific performance against New England. If that's the direction they choose, Penn State's Devon Still would be an incredible value pick.
The big defensive tackle fills a need and would easily be one of the best players remaining. At 6'5", 307 lbs, Still is a very physical player. He has a strong upper body and uses his bull-rush well enough to get to opposing backfields.
26. Houston Texans: Mohamed Sanu, WR, Rutgers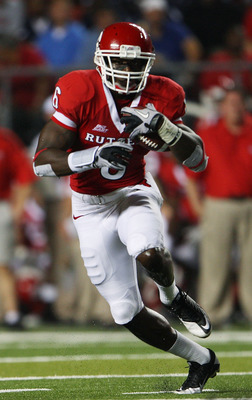 Andrew Burton/Getty Images
The Houston Texans were a very good football team in 2011. In fact, they may have competed for the Lombardi Trophy had Matt Schaub stayed healthy. But the team can't look back on a season that could have been and must look forward to improving in 2012.
One position where the team needs some more depth is wide receiver. After Andre Johnson, the Houston wideouts get a little shaky. Kevin Walter is decent, and Jacoby Jones is all right. Neither, however, are legitimate No. 2 guys. The Texans need a real No. 2 to detract some attention from Johnson.
So with the best remaining receiver on the board in Mohamed Sanu, Houston may very well find its man. Sanu has good size, above average speed and a great set of hands.
Look for this Rutgers product to improve his draft stock at the Combine.
27. New England Patriots (from New Orleans): Mark Barron, S, Alabama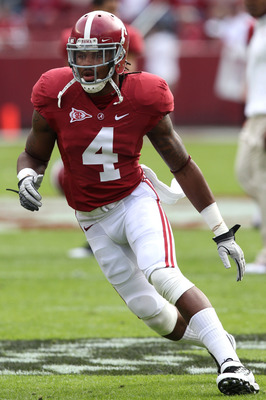 Mike Zarrilli/Getty Images
Due to his recent hernia surgery, Mark Barron may find himself slipping down some team's boards. The surgery will render him absent at the Combine, which could force some general managers to stay away.
But regardless of his injury history, Barron is easily one of the draft's best players. Barron, a member of the great 2011-12 Alabama defense, brings a number of tools to the table. He's solid against the pass, very good at stopping the run and a sure tackler. Barron also has some nice size at 6'2", 218 lbs.
So given New England's glaring hole at the safety position, Barron couldn't have come at a better time. There is no question that New England's secondary needs some help. They gave up 293.9 passing yards per game and 8.0 yards per attempt in 2011.
28. Green Bay Packers: Whitney Mercilus, DE/OLB, Illnois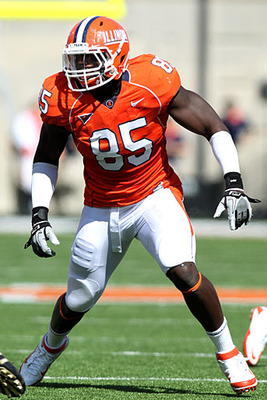 Brad Schloss/Icon SMI
The Packers' defense has been extremely unstable this season. They relinquished the most yards per game this season and only got to the quarterback 29 times, the fifth lowest total in the NFL. They must add a pass-rusher opposite Clay Matthews to solidify that shaky defense.
If so, Whitney Mercilus is the clear-cut choice here. Mercilus would be the best available player at this point and could help increase the team's sack total.
No defensive end in college football was better in 2011 than Mercilus. He racked up a gaudy 14.5 sacks in 2011, slating his name right into the thick of the first round.
29. Baltimore Ravens: Vontaze Burfict, ILB, Arizona State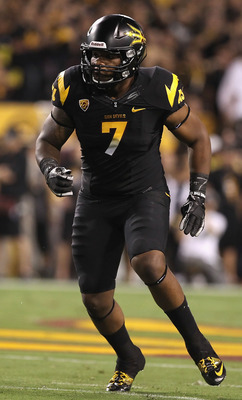 Christian Petersen/Getty Images
Although Ray Lewis is one of the greatest players ever to step on the gridiron, he's not going to last forever.
With that in mind, Baltimore should look for his successor this offseason. It'll give Lewis time to mentor whomever that may be and ease him into the defense once he's gone.
Vontaze Burfict would be a candidate if available. He does need work in man-to-man coverage, but he carries the agility to break off blockers and get to the ball.
Burfict carries a hell of a mean streak and would fit right into the hard-nosed Ravens system.
30. San Francisco 49ers: Coby Fleener, TE, Stanford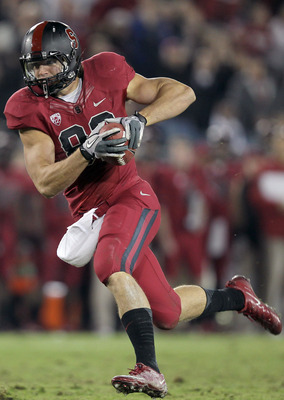 Ezra Shaw/Getty Images
After his surprising yet pleasant 2011 campaign, Alex Smith finally seems to be the player that San Francisco drafted first overall back in 2005. He threw for over 3000 yards, gave up only five interceptions and led the Niners to a 13-3 regular season.
If they want to keep Smith going, the front office must provide him with more weapons. Besides Vernon Davis and perhaps Michael Crabtree, the team's targets are just not solid enough.
So Stanford's Coby Fleener could reunite with his former coach Jim Harbaugh in the Bay. Fleener, 6'6", 244 lbs, would be a nice complement opposite Davis. He caught 10 touchdowns for Stanford in 2011 and is the best wideout or tight end remaining.
31. New England Patriots: Fletcher Cox, DT, Mississippi State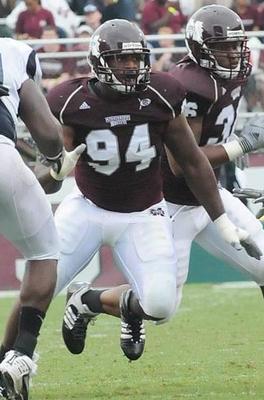 Photo credit: scout.com
The Patriots could look to boost their defensive line this offseason, making Fletcher Cox of Mississippi State an appealing option in this spot. He is very athletic and uses his great upper body strength to get by offensive linemen.
Cox was also named SEC Defensive Lineman of the Week four times in 2011, an honor that shouldn't be taken lightly.
32. New York Giants: Zach Brown, OLB, North Carolina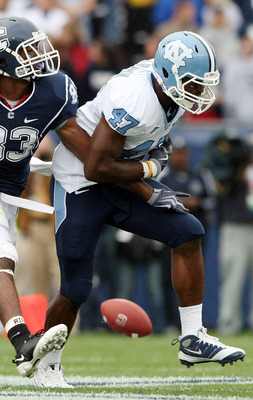 Elsa/Getty Images
The linebacker position is a huge need for the New York Giants, and North Carolina's Zach Brown would provide some stability for Tom Coughlin's defense next season.
Brown can come in and immediately help the Giants. He is a sound athlete with the speed and ability to get to opposing ball-carriers.
Keep Reading