Faking the End of Steve Smith's Career and Other Mailbag Treats
February 21, 2012

Scott Cunningham/Getty Images
I'm happy to answer whatever questions you might have about the NFL...or anything else. Drop me a line at joshz at bleacherreport dot you know what, and I'll include your email in the next mailbag.
Eric G. opens the festivities with a Peyton Manning question:
If the Jets acquire Peyton Manning, does that signify that they're giving up on Mark Sanchez or they're just giving him a year of tutelage?
Mark Sanchez seems to spend more time chasing down underage girls and aggravating his favorite wide receivers than shoring up his game. He's not a big-play guy and he's not a consistent West Coast-style passer. He's basically Tony Romo with a better tan (which is really a dis on Romo, who actually played well down the stretch last season).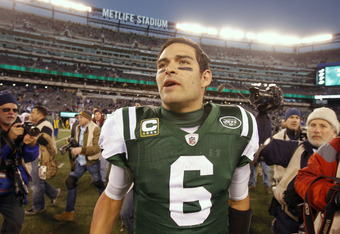 Rich Schultz/Getty Images
Despite whether or not the rumors of Peyton-to-Jets have any merit (spoiler alert: they don't), I think Sanchez's job is safe as far as 2012 is concerned. The USC product has two years remaining on his $50 million rookie contract, more than half of which was for guaranteed money. Cutting him now wouldn't make sense financially.
Whether the Jets would benefit from a fresh face under center is another debate. Sanchez has started 47 of the team's 48 games under Rex Ryan, and depending on who you ask, could be a locker room liability. His alleged star treatment from the front office, his questionable work ethic and his rift with arguably the team's best player in Santonio Holmes, could explain why Sanchez hasn't improved under center, or why the team missed the playoffs this year. 
I think the Jets will stand pat with Sanchez for 2012. Plaxico Burress is poised to have a breakout year and Holmes is already making guaranteed money this season. If a guy can't throw for 4,000 yards with those two receivers at their best, he shouldn't be in the league.
But if somehow Peyton does find himself in green-and-white this summer, Sanchez is done in New York, destined to finish out his days in a Leinart-esque career arc. Then again, he can't be any worse than Charlie Whitehurst.
***
Reader Jason, a "lifetime" Chiefs fan, noticed what I'd posted about NFL fandom and left his two cents:
I won't go into the whole story, but I have never lived near KC and I've never actually been to a game. I have however always rooted for them, bought Chiefs gear (currently own Holmes' jerseys) and cheered and booed them.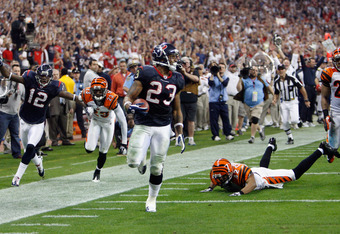 Bob Levey/Getty Images
After the most recent debacle in which the Chiefs crushed my spirit, there was a moment, a small moment when I thought, "I have had enough!". How much can I take? Year after year of them doing mediocre to poor, always wanting that sick feeling in the pit of my stomach to go away. I've lost 10 lbs just going for walks to take a time out so I don't destroy my T.V. 

I understand the argument you made in your article, [but don't] switch teams. Be a Bengal fan, buy gear secondhand, don't go to games. Boycott giving the franchise money which they hoard in their greed, but don't switch teams.
I actually had been doing that for the better part of 20 years, when the team was awful in the 1990s and 2000s. And they weren't just "Oh, we barely missed the playoffs" awful. I mean "Will we actually win a game this season?" awful. And for two decades, the Bengals organization did nothing to improve that team, short of stockpiling draft picks and threatening to move the franchise.
The county built the Bengals a brand new, state-of-the-art stadium, agreed to pay for maintenance and improvements, and hasn't charged the team any rent at all for five seasons. And yes, the team did get better. They've made the playoffs in two of the last three seasons, but I'm just numb to it all now. I just couldn't invest the same level of emotion into a Bengals game that I did even five years ago. I couldn't love an organization that clearly did not love me.
So, I don't cheer for them anymore (but I don't boo them either). I don't think that makes me a disloyal fan. I think that makes me a rational human being.
Another country heard from on the matter. This from reader Matt O., a Pats fan:
I have been a Pats fan at least in spirit for many years for the approach of Bob Kraft and Belichick. They run a team-first organization with the intent of winning championships.

I can't stand (Bengals owner) Mike Brown. I look at the teams I support in the same way I look at the automotive industry, if you cant put a product on the field or a car I can depend on in the lot, I'm not going to have some blind allegiance to you because of my geographic market.
Jerry H. also appreciates those fans that are loyal, but can keep it in check:
The rabid fans have always made me sigh. I have seen Packer fans (great franchise) leaving the stadium (when the Lions played in the Pontiac Silverdome) loudly insulting the Lions, their fans, pretty much everything Detroit, following a Packer loss in which Favre threw three interceptions. The biggest loud mouth in the group was wearing a Chumera jersey...this right after he was broomed for Kennedying the babysitter.
It is refreshing to meet REAL fans, who concede when their team was beaten, congratulate the fans of their opponent and keep the "you/they suck" isn't the only response in discussion of the team that soundly beat theirs.
***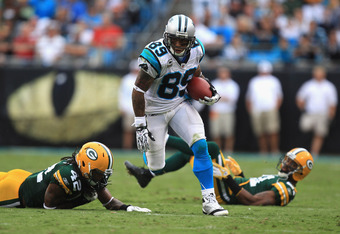 Streeter Lecka/Getty Images
I've said before that Carolina Panthers wide receiver Steve Smith is the best football player I've ever seen in person. Matt K. shared that sentiment, and asked about his prospects for Canton:
I had the pleasure of living in North Carolina and watching Steve Smith during the prime of his career. Even though he had to deal with Jake Delhomme throwing him the ball, he still put up great numbers. But more than just numbers, he passed the eye test. If there was a crucial third down or the Panthers absolutely needed to score, I had absolute faith that Smith would either find a way to get open or just straight up jump over somebody to get the ball (which was incredible considering how small he is).
There's no way he's a Hall-of-Famer right now, but let's say that Cam Newton revitalizes his career and he has another three seasons with over 1,000 yards receiving each and another 20-25 touchdowns. Could we start thinking of him as a possible Hall-of-Famer then, or would he need to do even more?
Maybe I'm just an anal-retentive idiot, but I think the biggest obstacle of Steve Smith's enshrinement is the voters making sure they pick the right Steve Smith. That's always a weird moment in my fantasy football drafts: when someone picks "Steve Smith" without following that name with "Carolina" or "Philadelphia." Even our favorite Smith has his Wikipedia page qualified with "Steve Smith (wide receiver, born 1979)." How hilariously cumbersome.
So if you did the math just then, you've deduced that Smith is 32. Last season, Smith caught 79 balls for 1,394 yards and seven touchdowns. For the sake of argument, let's say he plays for three more seasons and, in each of those seasons, duplicates those numbers exactly (just bear with me) and then retires. And then you and me are sitting in a hotel room, days away from Super Bowl LIII, among the 44 voters charged with reviewing and debating the list of finalists for enshrinement.
In terms of yardage, Smith will have finished with 14,460 career receiving yards in our hypothetical. That would put him ahead of James Lofton, Steve Largent and Michael Irvin, and all three of those guys have busts in Canton. It would also put him ahead of Cris Carter, who probably will have a bust by then. His 80 hypothetical career receiving touchdowns would also put him in the top 25 all-time, ahead of Lofton and Irvin.
And finishing his career at such a strong pace would certainly merit one or two additional Pro Bowl selections, which would bring his career total to six or seven. He also caught a touchdown pass in Super Bowl XXXVIII.
Matt, I think those projected numbers we just reviewed would pass, as you say, the eye test for getting into the big orange juicer. But the voters seem to have a higher standard for wide receivers and I don't have a problem with that. The bigger concern is whether Smith would be considered deserving of the honor ahead of the likes of Andre Johnson, Reggie Wayne, or even Hines Ward, whose two Super Bowl rings will carry a lot of weight with the panel of 44.