2012 NFL Mock Draft: Predicting 1 Trade for Each NFL Team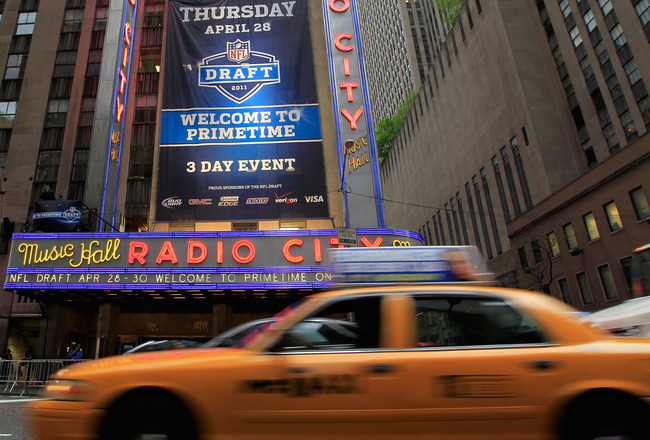 Chris Trotman/Getty Images
The NFL Draft is one of the most fun sporting events of the year, despite the fact that there is no game action going on.
For three days, all 32 NFL teams meet to pick the players that they hope will lead them to the Promised Land for years to come. The hope is to hit a home run with your first and second-round picks and not wind up with that year's version of JaMarcus Russell. Then you find your diamonds in the rough in rounds three through seven.
But draft weekend is also the most active day in the NFL to make trades. Teams can trade draft picks for established veteran players or for higher spot in the draft so that those teams can pick the players that they see as the difference makers. Often you will also see teams trade out of their picks into lower slots in exchange for additional picks either in the current draft or in the future.
In fact, that tends to be the New England Patriots' draft plan year after year, and due to this strategy there's a chance that we will wake up one year to find the Patriots with every other pick in the draft (which of course they will wind up trading for more picks in future drafts).
Instead of a mock draft where I just predict who each team will pick in their own slot, I'll focus on what trades each team could make during the draft. Some might trade up, others might trade down. Some will even make trades that won't have anything to do with the draft.
Now, I should warn you before reading this that this is all speculation by me. I'm going to be plausible and not suggest outrageous one-sided deals for my team, the Miami Dolphins (that only works in Madden), but instead look at potential deals that could help each team going forward.
While you're reading this, feel free to also submit in the comments a draft-day deal you would be interested in seeing your team making; maybe you might come up with some better ideas than I could.
Indianapolis Colts
Craig Mitchelldyer/Getty Images
Trade: 2012 second and fourth rounder and 2013 first rounder to New England Patriots for their 2012 first rounder (27th pick acquired from New Orleans) and 2013 second rounder.
The Colts are going to release Peyton Manning and draft Andrew Luck. While Jim Irsay did say that Peyton will be welcome back to the Colts, you know that won't be the case once we get to March 8th.
However, even after drafting Andrew Luck, Indianapolis will have other issues that need to be addressed. They will likely lose Reggie Wayne to free agency, and Dallas Clark will likely go wherever Manning goes as he is owed $4.53 million by the Colts and will be 33 years old next season.
Meanwhile, other Colts free agents include defensive end Robert Mathis, center Jeff Saturday (who might wind up retiring) and offensive lineman Mike Pollack. Pollack is the only player on this list that the Colts might be able to keep.
Luck, meanwhile, will need not only protection, but targets. While they will have the 34th pick, by then tight ends Coby Fleener from Stanford and Dwayne Allen of Clemson could be gone.
A good idea for the Colts would be to trade up with the New England Patriots to select Fleener and reunite him with Luck. Last season, Fleener caught 34 passes for 667 yards and 10 touchdowns with Luck as his quarterback at Stanford. He would provide Luck with a safety blanket he already has chemistry with while the new franchise quarterback acclimates himself to the NFL.
St. Louis Rams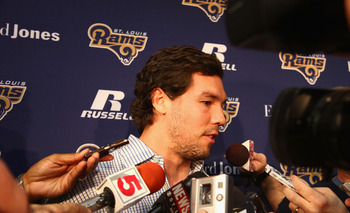 Dilip Vishwanat/Getty Images
Trade: 2012 first-round pick (No. 2) to Washington Redskins for 2012 first-round pick (No. 6), 2012 second-round pick and 2013 first-round pick.
The No. 2 draft pick will be the most coveted pick in the NFL draft. St. Louis already has their quarterback of the future in Sam Bradford (and a lot of money tied up in him) and needs to get him an offensive line to protect him as well as receivers and tight ends for him to throw to.
The Miami Dolphins (if they fail to acquire Peyton Manning and Matt Flynn, and I see them getting one of those two), Seattle Seahawks and Cleveland Browns will attempt to trade up for the No. 2 pick; however, I see Washington making this move. While they are in the hunt for Manning, the odds are he will stay in the AFC and join the Dolphins or Jets. I see Flynn either going to Miami (if they lose out on Manning) or Seattle, meaning Washington will need to make a big move for a quarterback.
St. Louis, meanwhile, would only drop far enough to draft Ryan Reiff, an offensive tackle that will help to keep Bradford upright in 2012. They'll use their other draft picks on weapons for Bradford to throw to, then will have a 2013 first-round pick that they will be able to dangle in front of teams who might be interested in shedding some cap room by trading a skill player (they could even make a run at DeSean Jackson, who the Eagles are going to franchise tag).
Minnesota Vikings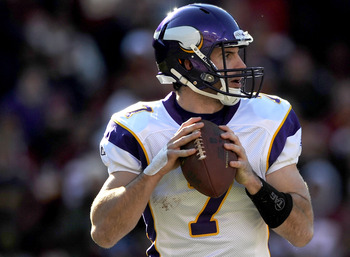 Patrick Smith/Getty Images
Trade: 2012 fourth-round pick to Miami Dolphins in exchange for 2012 fourth and seventh-round picks and 2013 fifth-round pick.
Sometimes you look at a team and wonder what potential trade they could make with their first-round pick. While the Vikings (who already have Christian Ponder at quarterback) have the third overall pick and have already stated that they are willing to trade it, odds are they won't see as big of a market as they think because of the threat that someone will trade up with the Rams for their second overall pick.
So, I just gave them the boring old late-round pick trade that you see every day, with the Miami Dolphins trading up in Round 4 in order to acquire Cal's Mitchell Schwartz at right tackle.
The Vikings can then use their later fourth round pick to draft Miami Hurricanes wide receiver Tommy Streeter to pair up with Percy Harvin.
Cleveland Browns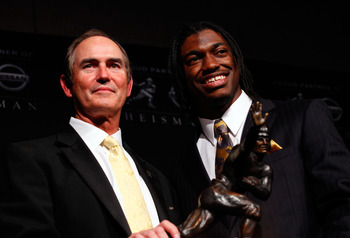 Jeff Zelevansky/Getty Images
Trade: Two 2012 first-round picks (No. 4 and No. 22) and 2013 second-round pick to St. Louis in exchange for the No. 2 pick.
I might be the last person outside of Cleveland (actually probably the last person period) who thinks that Colt McCoy can be a good quarterback. The Browns don't have any pieces around him save for Josh Cribbs, and their protection of McCoy leaves a lot to be desired.
But I'll also admit that there's a reason that Mike Holmgren has a job in Cleveland and I don't, as well as the fact that the man has been to three Super Bowls and won one.
Cleveland looks to be in the driver's seat to acquire Robert Griffin III. If any team attempts to deal for the Rams' second overall pick, the Browns can swoop in and top that deal with their two 2012 first rounders. Since that draft pick will likely be the most sought after draft pick this offseason (unless the Colts decide to hold on to Manning and trade down), the Browns will have to give up their second first rounder to move up two slots in the draft.
Or they could hope for St. Louis and Minnesota to have the same problem that Baltimore had last season in the first round when they ran out of time and were skipped.
Tampa Bay Buccaneers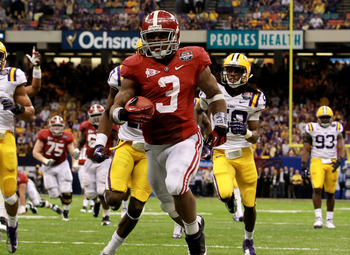 Ronald Martinez/Getty Images
Trade: LeGarrette Blount to Minnesota for 2012 fourth-round pick.
Tampa Bay is selecting Trent Richardson with the No. 5 pick. It's as simple as that and there's no need to go around that. He's the best running back prospect in a while and gives the Bucs some much needed fire-power on offense around Josh Freeman.
If I were the Bucs, I would also sign Peyton Hillis (giving them a great one-two punch similar to the Warrick Dunn/Mike Allstott backfield of the late 90s) which would make LeGarrette Blount expendable.
However, teams like Minnesota would likely value Blount as a serviceable backup running back, especially with Adrian Peterson likely to miss the start of the season. This would be a good opportunity for Tampa Bay to receive a late-round draft pick to address other needs in the draft.
Washington Redskins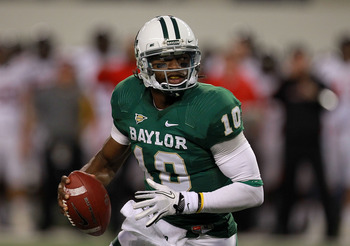 Ronald Martinez/Getty Images
Trade: 2012 first-round pick (No. 6), 2012 second-round pick, and 2013 first-round pick to St. Louis Rams for 2012 first-round pick (No. 2)
I already discussed this trade in the St. Louis slide; however, I'll elaborate more as two why this trade could be made from the perspective of the Washington Redskins.
Washington has some good pieces to work with on offense with Roy Helu and Leonard Hankerson (if Hankerson comes back strong from his injury), and their defense ranked 13th last season. Their need at quarterback is what sticks out like a sore thumb.
They will make attempts at Peyton Manning and Matt Flynn, but should they fail on both pursuits, they will have to trade up for Robert Griffin III (as I'm sure you noticed, they'll have plenty of competition to acquire that pick with the Cleveland Browns).
RGIII will also help put some excitement back in Washington, something the team has been missing for much of the last decade.
Jacksonville Jaguars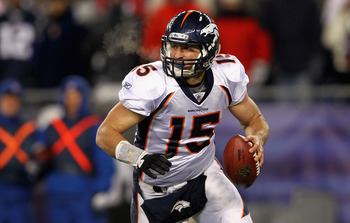 Al Bello/Getty Images
Trade: Blaine Gabbert and 2012 second-round pick to Denver Broncos for Tim Tebow and 2012 third-round pick.
This trade would be the Jaguars' best chance of staying in Jacksonville.
The Jaguars made a mistake by not drafting the hometown hero Tebow in 2010. While Denver claims that Tim Tebow is their starter "going into camp", they would likely rather have Blaine Gabbert since he fits the prototypical quarterback mold and has a bit more upside than Tebow does.
Tebow would also fit in well with Jacksonville's offense, which seems better suited for him than Denver's. He'll have Maurice Jones-Drew (I smell a team that could break the single-season team rushing record with that backfield), and Marcedes Lewis gives Tebow a tight end, which would make him that much more successful.
Hard to believe I'm saying this, but Tebow to the Jaguars makes them a playoff team, especially in a fairly weak AFC. More importantly, it would sell tickets. The day after this trade is made, season tickets in Jacksonville will likely sell out and they would likely not face a single blackout this season.
This is a trade I would pursue if I ran the Jaguars both from a business perspective as well as a football perspective, and when I get to the Broncos, I'll explain why this trade makes sense on their side.
Miami Dolphins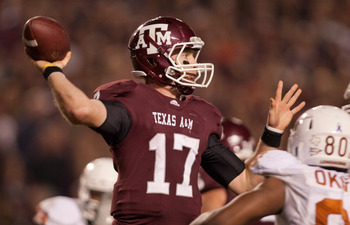 Darren Carroll/Getty Images
Trade: 2012 first-round pick (No. 8), and 2013 second-round pick to Cincinnati Bengals for two 2012 first-round picks (No. 17 and No. 21) followed by trading Cincinnati's 2012 first-round pick (No. 17) and 2012 third-round pick to New Orleans Saints for 2012 second-round pick and 2013 first-round pick
I know it sounds complicated, but hear me out.
I did say that Trent Richardson would likely be gone to the Tampa Bay Buccaneers, but let's say I'm wrong and walterfootball.com is right and LSU's Morris Claiborne is drafted by Tampa Bay. Cincinnati would likely be very interested in Trent Richardson and has the ammunition to trade up for him. Miami, who will likely sign either Peyton Manning or Matt Flynn, would be able to score a huge draft pick haul, but I don't even think they'd be close to finished after that trade.
Later that night, as the Dolphins are on the clock, you have the New Orleans Saints looking to trade their way back into the 2012 first round, because they need linebacking help and Dont'a Hightower will be available. This provides another chance for Miami to trade down into another second-round pick, as well as a second first-round pick in 2013.
Miami could then use their No. 21 draft choice on USC's Nick Perry, then use their early second-round pick on Texas A&M quarterback Ryan Tannehill (who was coached by new Dolphins offensive coordinator Mike Sherman) to be groomed behind Peyton Manning.
However, if Flynn winds up coming to Miami, that draft pick could be used on Rutgers wide receiver Mohamed Sanu. If you think Miami doesn't need a wide receiver, well, keep reading the slideshow and pay special attention to what I say about the Chicago Bears.
Carolina Panthers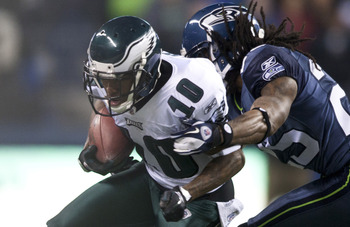 Jay Drowns/Getty Images
Trade: 2012 first-round pick to Philadelphia Eagles for DeSean Jackson.
The Eagles will franchise wide receiver DeSean Jackson, and I've always believed that if he were to leave Philadelphia (which I doubt the Eagles would be too disappointed if he did), Carolina would be the best place for him.
His only chance of getting a long-term deal this season would be for Carolina or another team to step in, and it's a gamble that the Panthers should make. There are other holes for them to fill, especially on defense, but if you put DeSean Jackson on that Panthers offense with Cam Newton, you will have one of the top offenses in the NFC.
Buffalo Bills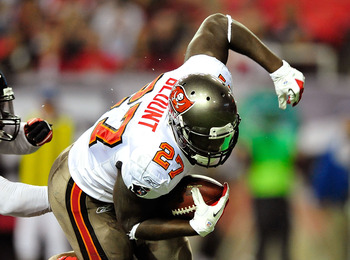 Grant Halverson/Getty Images
Trade: 2012 fourth-round pick to Tampa Bay Buccaneers for LeGarrette Blount
Once again, we take a look at the possibility (or as I would say inevitability) that the Buccaneers draft Trent Richardson. Again, Blount becomes expendable (especially if they sign Peyton Hillis, which they should do), yet can still fetch a fourth or fifth-round pick.
Now, take the Buffalo Bills, a team no stranger to doing weird things on draft day. Despite getting a healthy Fred Jackson back as well as CJ Spiller, they will likely need more depth at running back. A Bucs team with LeGarrette Blount would be a great trade partner to accomplish this.
Kansas City Chiefs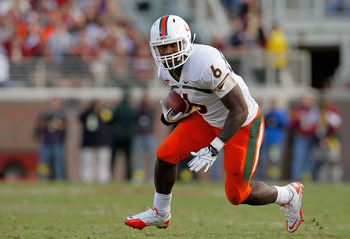 Mike Ehrmann/Getty Images
Trade: 2012 first-round pick (No. 11) and 2013 second and third-round picks to New England Patriots for two 2012 first-round picks (No. 27 and No. 31).
For the Chiefs, this would be a great way to add depth. They would be trading with a willing partner in New England as well as a Patriots team that could use an additional pass-rusher while picking up two first-round picks that could help them now and in the future.
Seattle Seahawks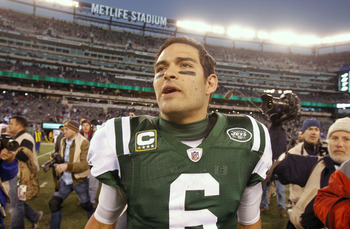 Rich Schultz/Getty Images
Trade: 2012 second and third-round picks and 2013 second-round pick (becomes a first-round pick if Seahawks win the NFC West) to New York Jets for Mark Sanchez and 2012 fourth-round pick.
I get the impression from the New York Jets' decision to bring back Santonio Holmes that they're not 100 percent on board with Mark Sanchez. They will make a run at Peyton Manning, but even if that fails, what exactly would that say to Mark Sanchez?
I do believe that Sanchez can be a good quarterback in the NFL. He has a record of 34-23 (30-21 during the regular season) and has been to the AFC Championship twice in his first three years. However, he does need a change of scenery.
Seattle would be the best place. They have a good offensive line, a great running attack with Marshawn Lynch and good targets in Golden Tate and Zach Miller. He will also be reunited with former USC coach Pete Carroll.
How wouldn't this be a great pickup for Seattle? Would you risk two picks in 2012 and possibly a 2013 first rounder for Sanchez? Yes, he could win Seattle the NFC West, possibly take them further.
More on the Jets side of this deal later.
Arizona Cardinals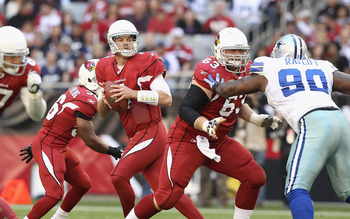 Christian Petersen/Getty Images
Trade: Kevin Kolb to Miami Dolphins for 2012 second and third-round pick and 2013 second-round pick.
Now we come to the portion of this slideshow when we look at what would happen if Peyton Manning were to sign with the Arizona Cardinals. The Cardinals have too much money tied up in Kolb to cut bait on him if they are able to sign Manning, and there are too many quarterback-ready teams that will get desperate if they lose out on Manning to the Cardinals as well as losing out on Matt Flynn and trading up for Robert Griffin III.
I shudder to think of what could happen if the Miami Dolphins were one of those teams, but if Arizona does acquire Manning, Miami's brain trust of Jeff Ireland and owner Stephen Ross might just be desperate enough to make this deal. Kolb did come up in Philadelphia in a west coast offense and would be a good fit for Miami; however, they would be giving up too much to acquire him.
The Cardinals, meanwhile, will be able to take advantage of Miami's desperation, and fill other holes on their team.
Let's move on. I just broke out in a cold sweat. I didn't know that setting up straw-men would be so traumatizing.
Dallas Cowboys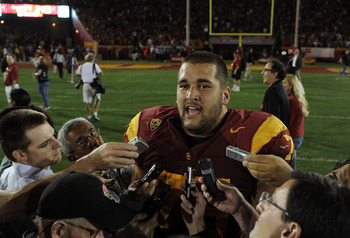 Harry How/Getty Images
Trade: 2012 first-round pick (No. 14) 2012 second-round pick and 2013 first-round pick to Minnesota Vikings for 2012 first-round pick.
Jerry Jones has done desperate things like this before, so don't put this past him. The Cowboys need offensive line help, and Matt Kalil is far and away the best lineman available in the draft. It's a crazy deal to say the least, but the Cowboys do need to get quarterback Tony Romo protection, and Minnesota could be a likely trade partner, especially if Dallas throws in a 2013 first rounder (which they would because they are in win-now mode: heck they're always in win-now mode).
Philadelphia Eagles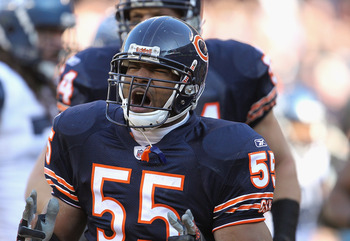 Jonathan Daniel/Getty Images
Trade: 2012 and 2013 second-round picks and a 2012 third-round pick to Chicago Bears for OLB Lance Briggs.
The Eagles need help at linebacker, which is painfully obvious to anyone that watched them in 2012. Meanwhile Chicago should start focusing on rebuilding their defense and trading Lance Briggs might wind up being a good start due to his age as well as his previous demands for a raise.
So, here's a deal that likely won't happen but would work out well for both teams. The Bears would get an additional second-round pick (when I get to Chicago you will see what this would be important), a 2012 third-round pick and an additional second rounder, while Briggs would join a new team that might be more receptive to giving him a slight bump in pay.
New York Jets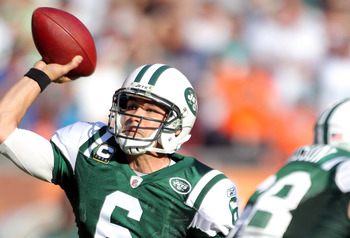 Marc Serota/Getty Images
Trade: Mark Sanchez to Seattle for 2012 second and third-round pick and 2013 second-round pick (becomes first-round pick if Seattle wins the NFC West).
I mentioned the Seahawks' side of the trade and why it works for them, now here's why it would work for the Jets.
As mentioned before, the Jets seem to have lost confidence in Sanchez due to their decision to bring back Santonio Holmes and their potential pursuit of Peyton Manning. If they go hard at Manning, it wouldn't be such a good idea to hold on to Sanchez since that relationship will already be sour.
Instead trade him to a better situation for him, while on the flip side making the situation better for the Jets. With the two additional draft picks in rounds two and three, the Jets can address holes in their defense. They also could find themselves with either another first or second rounder in 2013.
As for the quarterback position, the Jets would actually be a decent fit for free agent Kyle Orton while grooming a quarterback picked up in the draft. They won't be Super Bowl favorites in 2012 with Orton under center, but with the pieces they have on offense, I doubt they would be as bad as one would assume. As long as the Jets stick to their power running game and improve what they have to on defense (in other words, playing Jet football), they should be in decent shape.
And if they do somehow get Peyton Manning, then it will be even better.
Oakland Raiders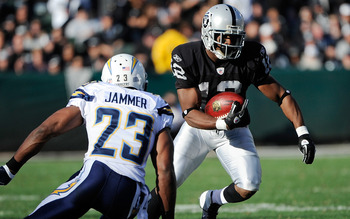 Thearon W. Henderson/Getty Images
Trade: Jacoby Ford to New England Patriots for 2012 third-round pick.
Oakland needs draft picks, and New England needs a speedy deep threat to keep defenses honest and make the Gronkowski/Welker/Hernandez trio more effective (yes it is possible for that to happen).
At first, I considered using Darrius Heyward-Bey, but I don't think he could fetch a draft pick higher than the fourth or fifth round. It would be preferable for Oakland to get back into the first round; however, they need the few pieces on their roster that could be used to acquire such a pick, and RB Michael Bush is a free agent.
San Diego Chargers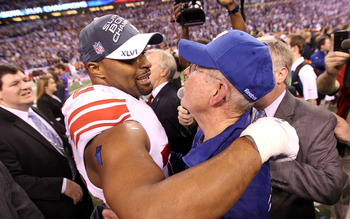 Jamie Squire/Getty Images
Trade: 2012 third-round pick to New York Giants for Osi Umenyiora
San Diego needs a pass-rushing presence, and they need one now since they will be in win-now mode with this potentially being Norv Turner's final season in San Diego (I know, I know, I know I might be saying this next year).
Osi Umenyiora would be a great addition as the Giants will need to trim cap room.
Chicago Bears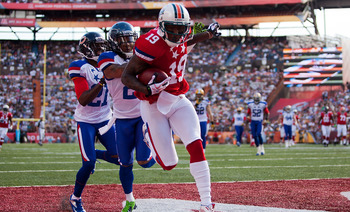 Kent Nishimura/Getty Images
Trade: 2012 second and third rounder and 2013 third rounder to Miami Dolphins for Brandon Marshall and 2012 fifth rounder.
Dolphins WR Brandon Marshall wants a reunion with his former Broncos teammate Jay Cutler. He's said so himself as you can see based off of the article, where he stated this:
"Maybe down the road, we may have some extra picks, and we may be able to trade for him."
Now, if Matt Flynn (who Marshall has tried to recruit to come to Miami) and Peyton Manning don't wind up with the Dolphins, this trade could be a possibility.
Chicago needs to put more weapons around Cutler (as well as protection, which they should use their first-round pick on), and Marshall has already proven himself around the league and has great rapport with Jay Cutler. An offense featuring Marshall and Forte (with deep threat Johnny Knox) would give the Bears one of the most formidable offenses in the NFC with one of the best aerial attacks.
Chicago Bears and best aerial attacks: never I thought I'd type that sentence.
Tennessee Titans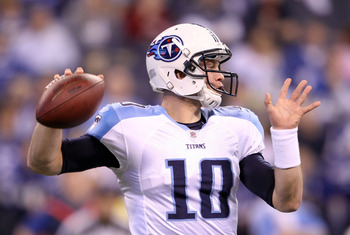 Andy Lyons/Getty Images
Trade: 2012 first-round pick (No. 20) to New Orleans Saints for 2012 second and third-round picks and 2013 second-round pick.
Tennessee's main need is at offensive line. Additional second and third-round picks would be a good way to fill that role in a more cost-effective way as the Titans build a unit that can open up holes for Chris Johnson while protecting Matt Hasselbeck/Jake Locker.
New Orleans, like I mentioned earlier, would find it wise to trade up into the first round to acquire a linebacker that could improve their defense, which at times last season was atrocious.
Good trade for both. Doubtful it happens but it does make sense, even if it does mean the Titans would give up a first rounder in exchange for depth.
Cincinnati Bengals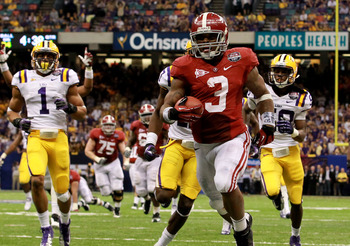 Ronald Martinez/Getty Images
Trade: Two 2012 first-round picks (No. 17 and No. 21) and 2012 second-round pick to Tampa Bay Buccaneers for 2012 first-round pick (No. 5).
Imagine if the Bengals are able to acquire Trent Richardson? Andy Dalton, A.J. Green AND Trent Richardson on the same offense would be the closest replication of the Dallas Cowboys' triplets of Aikman, Irvin and Smith. Instant favorites to win the AFC North not just in 2012 but for the next five years.
If I'm the Bengals, I'd give this trade some consideration. They already have the defense and are set at quarterback and offensive line. Just throw in another receiver to take some pressure off of Green and you have a team poised to not just be a playoff team, but also a juggernaut.
Meanwhile, Tampa Bay could still pick up Miami's Lamar Miller and add depth to their defense with two first-round picks.
How are these two teams not discussing such a deal (other than the fact that Tampa Bay would love to have Richardson too)?
Atlanta Falcons
Chris Trotman/Getty Images
Trade: 2013 second and third-round picks to New England Patriots for 2012 second-round pick.
I found it difficult to find a trade for Atlanta, so I threw this one together.
The Falcons, like many other teams, are in win-now mode. However, they don't have the draft picks or assets to move into the first round and will likely want to keep their 2013 first-round pick. Any assets the Falcons do have are needed for their 2012 playoff push.
So, I just threw this one together since New England loves trading for future draft picks and it will help the Falcons at least get another pick in the top 64 even if it's only in the second round.
However, it should be noted that Atlanta's main priority this offseason will be to hold onto their crop of free agents.
Detroit Lions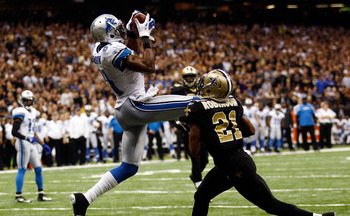 Chris Graythen/Getty Images
Trade: 2013 second and fourth-round pick and 2012 fifth-round pick to Buffalo Bills for 2012 second-round pick and 2012 sixth-round pick.
This was another one of those trade scenarios that I had to scratch my head to think about seeing that Detroit needs the trade-able assets that they already have and are positioned to have a decent draft with their picks.
However, it wouldn't be such a bad thing for them to add another second-round pick in order to draft FSU OT Zerbie Sanders in Round 2 in order to shore up their offensive line.
Pittsburgh Steelers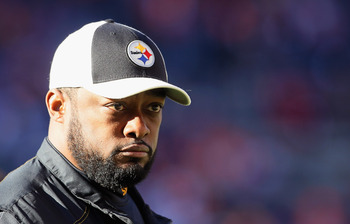 Jeff Gross/Getty Images
Trade: 2012 fourth and seventh-round picks to San Francisco 49ers for 2012 third and seventh-round picks and 2013 fourth-round pick..
Pittsburgh rarely makes draft day trades; they usually just let the cards fall as they may.
So, I gave them a typical draft-day lower-round picks trade with San Francisco so that they have an additional third-round pick, most likely to draft a running back to replace Rashard Mendenhall.
Denver Broncos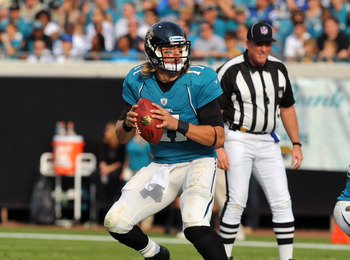 Al Messerschmidt/Getty Images
Trade: Tim Tebow and 2012 third-round pick to Jacksonville Jaguars for Blaine Gabbert and 2012 second-round pick.
I already discussed the Jacksonville aspect of this trade earlier in the slideshow, so now here's Denver's take.
I see the Broncos regressing in 2012, and it has nothing to do with Tebow. On top of that they aren't too crazy about bringing back Tebow as evidenced by their actions towards him since John Fox and John Elway took over the Broncos prior to the 2011 season.
Blaine Gabbert has plenty of upside and will need to play for a team that can upgrade at a lot of positions, while the Jaguars would be an ideal situation for Tebow (not just because of the fact that he's from Jacksonville but also because of their defense and an offense that already has Maurice Jones-Drew and Marcedes Lewis and can pound the ball very well).
The Broncos will struggle in 2012 with Gabbert at quarterback, but with the additional second-round pick as well as the fact that they will hold onto their first-round pick, they will be able to build their team around Gabbert for the future.
They also will be selling high on Tebow by gaining a first-round quarterback as well as a second-round pick. While it might disappoint some Broncos fans, this trade will actually stabilize the team going forward.
Houston Texans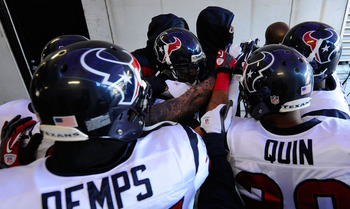 Patrick McDermott/Getty Images
Trade: 2012 fourth-round pick and 2013 third-round pick to Seattle for 2012 third-round pick.
I know, this is a boring trade, but here's what I see with Houston.
This team, if they can hold on to Mario Williams and get him back healthy, will have the best defense in the NFL next season. If Matt Schaub is healthy next year, we could be talking about the Texans being the team most likely to put a scare into Mercury Morris in 2012 (look at their schedule: Green Bay, Detroit and New England are the only 2011 playoff teams they will face, and the only team in their division that could compete is Tennessee).
I know there are a lot of ifs, but consider the fact that they won their division by a comfortable margin and won a playoff game in 2011 while pulling a Monty Python Black Knight on everybody.
Now imagine this team at full strength (with another wide receiver to go alongside Andre Johnson). Scary stuff.
While there are holes to be filled (and what NFL team doesn't have those), most of them can be fixed through the draft picks they already possess as well as free agency. Trading up for a third-round pick would help out as well, but isn't necessary.
New Orleans Saints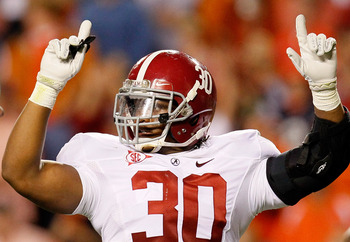 Kevin C. Cox/Getty Images
Trade: 2012 second and fourth-round picks and 2013 first and third-round picks to Cincinnati for 2012 first-round pick (No. 21).
New Orleans would be greatly helped by trading into the first round in order to acquire a linebacker. Their linebacking corps was a mess last season and is only getting older. Some younger blood would help, especially Alabama's Dont'a Hightower, who's already a very polished interior linebacker that could help the Saints' defense get a bit tougher.
While the Saints' defense will always be "bend but don't break", a player of the caliber of Dont'a Hightower will help the Saints' defense not break.
Green Bay Packers
Jonathan Daniel/Getty Images
Trade: Matt Flynn (with a franchise tag) to Miami Dolphins for 2012 third-round pick.
The Green Bay Packers have already stated that they do not have the cap-room to place the franchise tag on Matt Flynn; however, there is the possibility of Washington or Miami (who will be hot on Flynn's trail) possibly working out a potential trade to Green Bay for Flynn to ensure that he lands in Miami or Washington.
Miami would be more likely to do this considering that Joe Philbin was the former Packers offensive coordinator, and to Dolphins owner Stephen Ross, sacrificing a third-round pick to make sure he gets his potential franchise quarterback would be a small sacrifice to make.
The only thing standing in the way of that, though, is likely the fact that the Packers' tight end will get the franchise tag and will likely not be on his way out.
Only reason I bring this up is due to Green Bay's reputation for building through the draft. More draft picks help them out with that method.
Baltimore Ravens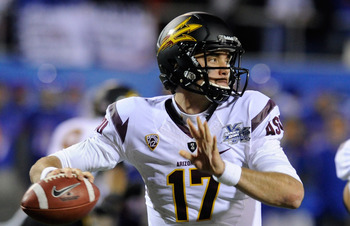 Ethan Miller/Getty Images
Trade: 2012 third and seventh rounders and 2013 second rounder to Philadelphia Eagles for 2012 second rounder.
I'm looking at what the Ravens need this offseason, and quarterback somehow comes up.
Do the Ravens have trust in Joe Flacco? I don't seem to think so. While he'll start in 2012, it wouldn't hurt to trade up to get a quarterback. Just not in the first round.
Trading up to get an additional second-round pick and spending the draft pick on Arizona State's Brock Osweiler does seem more sensible. They won't have the pressure to bench Flacco unless the Ravens get off to a poor start, and the Ravens will have a developmental project.
Plus with this trade they'd only have to give up two 2012 draft picks, and none in the first two rounds.
San Francisco 49ers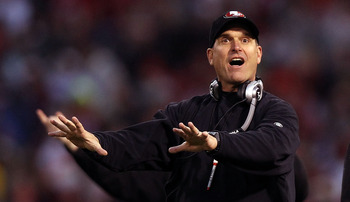 Ezra Shaw/Getty Images
Trade: 2012 second and fourth-round picks to Cleveland Browns for 2012 second and fifth-round picks.
The San Francisco 49ers need wide receivers in a bad way. I'm sure you noticed this need during the NFC Championship game when the Giants keyed in on Vernon Davis and Michael Crabtree.
So why not trade into an earlier second-round pick and target Rutgers wideout Mohamed Sanu?
Their first-round pick could also be used on Stanford tight end Coby Fleener to use alongside Davis a la Rob Gronkowski and Aaron Hernandez on the Patriots, unless of course the Colts agree to that deal with the Patriots I suggested in the first slide.
Hey speaking of New England...
New England Patriots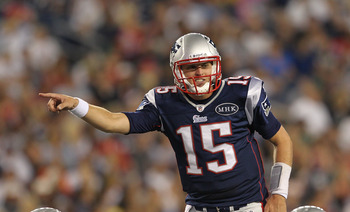 Jim Rogash/Getty Images
Trade: Ryan Mallett and 2012 fourth-round pick to Denver Broncos for 2012 second and fifth-round picks.
The Patriots wouldn't do this because Ryan Mallett is the heir apparent to Tom Brady and they're more likely to trade one of their late first-round picks (I'd bet on them doing that if I could).
However, here's how I see the 2012 New England Patriots at this point in time: they're a good team. They should win their weak division by two games, but they won't have the same luck they had in 2011.
Here's what I mean by luck: first, there's the fact that the Texans weren't at full strength. Had they been at full strength all season long, they would've had home-field advantage. On top of that their defense isn't too different from the Giants' defense, so Brady would've had his problems against the Texans in the playoffs.
Secondly is the fact that, thanks to Tebow time in the Wild Card round, the Patriots avoided the Steelers in Round 2. Do you remember what the Steelers did to New England during the regular season? It wasn't pretty. It would've been a closer game; however, I see the Steelers going up to Foxborough and punching New England in the mouth, likely getting the victory.
Then there's the AFC Championship game, which they were a dropped pass away from losing and a missed field goal away from going to overtime. Also that was the first game against a team with a winning record that the Patriots had won all season.
Unless New England improves that team, specifically their pass-rush, they'll have to rely on such luck to win one more Super Bowl. It can happen in one year (and even then they still fell short at the end), but you can't bank on it to happen two years in a row. They'd still be a good team, and they'd still win the AFC East going away (New York is descending, Miami will likely be a year away and Buffalo is Buffalo), but against a team like Houston (who will be the AFC favorites this August) in the postseason they will need a little bit of luck.
To go from good team that wins a mediocre division to favorites to win the Super Bowl, New England should actually use their draft picks this year, even if it means trading Ryan Mallett. They will get plenty of offers for the second-year quarterback, who will get a chance to start elsewhere (yes, even in Denver since he is a prototype quarterback with a big arm).
New York Giants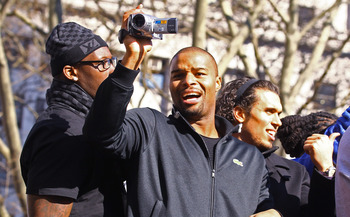 Al Bello/Getty Images
Trade: Osi Umenyiora to San Diego Chargers for 2012 third-round pick.
I already explained this trade in the Chargers slide, and it would benefit the Giants basically because they will be getting something for a player who a year later they will wind up losing anyways.
Also remember, Umenyiora won't be starting anymore, and the Giants could use that pick on another position of need in the draft.
As much as Umenyiora would like to stay in New York, maybe it would be best for both parties to end the relationship on a high note of a Super Bowl and let him go to San Diego (who could really use his services) in exchange for a third-round pick.
Keep Reading