NFL Draft 2012: In-Depth and Unorthodox Approach to a Mock Draft
February 9, 2012

Sarah Glenn/Getty Images
I am not someone who commits hours and hours each day to studying film of college players, nor do I look to predict exactly how the NFL draft is going to pan out each season. I do, however, spend a lot of time covering the NFL and understanding, in-depth, the composition, needs and strengths of every NFL franchise.
Therefore, for me, mock drafts are more about provoking thought, understanding situations, evaluating options and, I guess, entertainment.
Looking to create unique, but realistic, situations that would work for each team is essentially what I try to do. While these moves may not be predictions, they are ideas worth giving some thought and aren't unrealistic.
I guess you could call these draft selections bold, but in reality, each move makes sense so it's not so much bold as realistically going against the grain.
In this draft, I have placed more emphasis on team's needs and fitting the pieces of a puzzle together as opposed to being one of those draft nuts who focuses completely on the quality of talent available. As such, I must commend Matt Miller's work for giving my research on college players a reliable avenue to go through.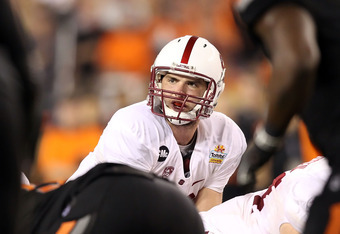 Christian Petersen/Getty Images
1. Indianapolis Colts select: Andrew Luck, QB, Stanford
It's time to usher in the next era in Indianapolis. This is definitely the silver lining on the Colts' 2011 NFL season. Peyton Manning's injury may be a blessing in disguise in the long-term considering that Luck is rated as the best college prospect since Manning himself by most scouts.

With Luck under center next season, the Colts fortunes' will likely take a hit. That shouldn't be a problem, however, as the Colts' dependence on Manning and his subsequent loss will force them to rebuild and fully enter a transition period regardless.

 
2. TRADE! Washington Redskins select: Robert Griffin III, QB, Baylor
 
Trade Details 
St. Louis Rams acquire the sixth (first round) and 70th (third round) overall selection in 2012 draft, first-round draft choice in 2013 as well as left tackle Trent Williams.
Washington Redskins acquire the second-overall selection in the 2012 draft, fourth-round selection in 2013 as well as left tackle Roger Saffold.


Trade Analysis
Mike Shanahan may be willing to let Trent Williams leave in the right situation now that he has gone through a suspension for drug use and is just one more mistake away from a season long suspension. Getting Saffold gives Shanahan a potential long-term left tackle with some consistency question-marks.


With Robert Griffin III under center, Kyle Shanahan finally has a quarterback capable of running his offense effectively. The Redskins have a lot of talent both defensively and offensively, but were handicapped last season by Rex Grossman and John Beck.

Griffin III is seen as a special player and would be expected to lock down the quarterback position in Washington for the next decade.

  
3. Minnesota Vikings select: Matt Kalil, LT, USC
Kalil is the clear-cut top-ranked left tackle in this year's draft class. Considering he was the reason that Tyron Smith played right tackle in college, Kalil will enter the NFL with huge expectations. Having put their hope for a franchise quarterback in place last season, Kalil would be looked to as his blindside protector for the next decade.

With Kalil at left tackle, hopefully a fully-fit Adrian Peterson at tailback, Christian Ponder at quarterback,  Kyle Rudolph at tight end and Percy Harvin at wide receiver, the Vikings would have a very impressive young base to build around on offense.


4. Cleveland Browns select: Morris Claiborne, CB, LSU
While most mock drafts will have Trent Richardson in this spot, I still can't convince myself that taking a running back in the top five is a good idea. In today's NFL, no team has two true shutdown cornerbacks. The Browns would be the first to make this happen by bringing in Claiborne.

The Browns undoubtedly need more firepower on offense, but with another first-round pick in tow, the Browns can afford to take somewhat of an unconventional approach here despite cornerback not being a major weakness on the roster.


5. Trade! Kansas City Chiefs select Trent Richardson, RB, Alabama
 
Trade Details
Tampa Bay Buccaneers acquire 11th-overall (first round) selection in the 2012 draft, the 43rd-overall (second round) selection in the 2012 draft as well as the second-round selection in the 2013 draft.
Kansas City Chiefs receive the fifth-overall (first round) selection in the 2012 draft.


Trade Analysis
The Chiefs are somewhat playing with house money in this situation. After their injury-ravaged 2011 season, the team had a much higher draft pick than their roster actually needs. New head coach Romeo Crennel will want to pair Richardson and Jamaal Charles to bring the Chiefs offense back to the Thomas Jones and Charles style of 2010.

Richardson is considered a game-changer a la Adrian Peterson. Most people, including myself, won't want to touch a running back in the top five or even top 10 of any draft. Richardson is such an impact player, though, that someone will bight on him.

The Chiefs will be expecting to be a playoff team next season; therefore, that second-round pick in 2013 shouldn't be a major loss to them. If that fails, and their season is a flop, they can always trade down a high pick to recoup the second-round selection.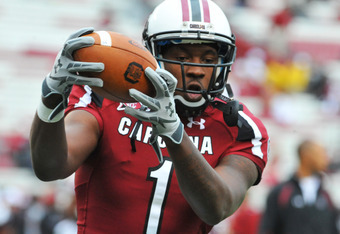 Al Messerschmidt/Getty Images
6. St. Louis Rams select: Alshon Jeffrey, WR, South Carolina
Most mock drafts have Justin Blackmon going to the St. Louis Rams. Unfortunately, those analysts are concentrating too much on who is the better player as opposed to who is the better fit. The Rams are in desperate need of a respectable deep threat, as Brandon Lloyd is unlikely to return.

With Danny Amendola coming back next year and Danario Alexander not getting the job done, Jeffrey would become the perfect complement in the Rams offense and the big-play receiver that Sam Bradford is desperately crying out for.
7. Jacksonville Jaguars select: Justin Blackmon, WR, Oklahoma State
If Blackmon is still on the board for the Jaguars at No. 7 and they do not pick him, Blaine Gabbert should instantly ask for a trade. Blackmon is different than Jeffrey in that he doesn't possess overwhelming deep-ball ability.

His speed and agility, combined with his strength, makes him one of the most difficult receivers to cover or read. Much like a Terrell Owens or Dez Bryant, Blackmon should provide an all-around game for whatever quarterback is throwing him passes.
 
8. Carolina Panthers select: Michael Brockers, DT, LSU
Prior to last season, Ron Edwards and a pair of rookies were being looked to to fill the gap inside the Panthers' defensive line. Ideally they would be able to bring in a bulky run stuffer to get the best out of the team's linebackers behind and solidify the front, but Brockers' talent as a pass rusher can't be overlooked.

With Brockers and a healthy group of linebackers with Ron Edwards potentially returning from injury, the Panthers defense could actually complement the offense enough to be a playoff contender next year.

9. Miami Dolphins select: Nick Perry, DE, USC
The Dolphins defense is an ambiguous unit right now, as the multiple-front approach won't be fully appreciated until their offseason acquisitions are made. One thing is for certain, the Dolphins can't rely on Koa Misi to replace the impact of Jason Taylor last year regardless of scheme.

Whether it be as a 3-4 outside linebacker or a 4-3 defensive end, Perry could make a huge impact playing across from Cameron Wake next year. The Dolphins may have more needs on offense, but adding pass rushers is never a bad way to build your team.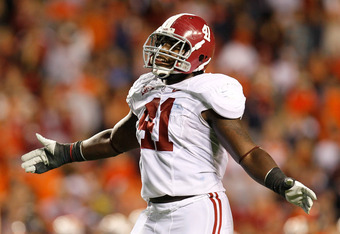 Kevin C. Cox/Getty Images
10. Buffalo Bills: Courtney Upshaw, DE, Alabama
The Bills are moving from a 3-4 defense to a 4-3 next season in order to pair Kyle Williams and Marcell Dareus inside. With Dareus and Williams inside, Courtney Upshaw would be my early favorite for Rookie of the Year on the outside.

The Bills front seven has been crying out for a pass rusher or two over the past few years. With Dareus, Williams and Upshaw, they would have three fearsome players who will make their secondary look even better than it is.

11. Tampa Bay Buccaneers select: Michael Floyd, WR, Notre Dame
The Tampa Bay Buccaneers had many, many, many problems during last season. A problem that has hung around since the previous year was their lack of playmakers on offense. After passing on Trent Richardson earlier because of LeGarrette Blount, the Bucs bring in Floyd to complement Mike Williams on the outside.

We don't really know what to expect from Greg Schiano as an NFL head coach, but don't expect him to be scared to go after a few play-makers on offense in this draft.

  
12. Seattle Seahawks select: David DeCastro, G, Stanford
I expect the Seahawks to make a strong play for Matt Flynn. With Flynn and Marshawn Lynch hopefully returning, the Seahawks will need to protect their young quarterback with a strong running game.

It's too early for the Seahawks to give up on Russell Okung, and James Carpenter appears to be staying at tackle; therefore, the Seahawks look to round out their offensive line with the best guard in this draft class and one of the best to come out in years.

  
13. Arizona Cardinals: Jonathan Martin, OT, Stanford
Levi Brown was still playing left tackle in the NFL last season. Cardinals fans have suffered enough with Brown; it's time for them to invest in a replacement. Martin is described as a balanced tackle who is talented both as a run and pass blocker.

His versatility perfectly fits the Cardinals offensive identity as they look to run a balanced offense. The Cardinals essentially have no choice but to bring in better pass protection. It's too much of a glaring hole on the roster.

  
14. Dallas Cowboys: Janoris Jenkins, CB, North Alabama
The Cowboys won't be scared of bringing in a player with off-the-field issues, and Jenkins is the only legitimate option for the team at this stage. The highest-rated players right now would be running backs and offensive tackles.

The Cowboys need an upgrade of talent at cornerback, and Jenkins has the ability to play press coverage, which can only complement DeMarcus Ware and company upfront.

  
15. Trade! Chicago Bears select: Riley Reiff, OT, Iowa
 
Trade Details
Philadelphia Eagles acquire 19th-overall (first round) selection in 2012, as well as the 81st-overall (third round) selection in 2012.
Chicago Bears acquire 15th-overall (first round) selection in 2012.


Trade Analysis
The Bears see an opportunity to move up ahead of the San Diego Chargers to get an offensive tackle and don't want to wait for the Chargers to have any chance of selecting him. The Eagles are happy to add a third-round choice to only move back four positions.


The Bears, without Mike Martz, will need better pass protection on the offensive line next year. J'Marcus Webb simply isn't going to get it done as Jay Cutler's blindside protector. Reiff has the ability to play both left and right tackle.

After bringing in Gabe Carimi to be the team's starting right tackle last year, the Bears will have two dependable tackles in place to allow their offense to function next year.
 
16. Trade! Tennessee Titans select: Melvin Ingram, DE, South Carolina.
 
Trade Details
New York Jets acquire 20th-overall (first round) selection in 2012 draft and the 52nd overall (third round) in 2012 draft.
Tennessee Titans acquire 16th-overall (first round) selection in 2012 draft.

 
Trade Analysis
The Jets are looking to trade down and pick up extra picks to cover multiple holes on the roster. There are a few options that they could take here, but instead, they would be better to pick up an extra choice and still get one of the players they covet later in the round.


The Titans had a top-10 defense in 2011; however, they ranked second last in sacks. Trading up to draft Melvin Ingram, the team will be hoping to get a Von Miller type of player for their front seven. Ingram is a versatile defensive end who could play upright also.

With Kenny Britt coming back to the offense and Chris Johnson hopefully returning to his regular form, the Titans offense should be strong next year. Defensively, they still need to add a playmaker or two, especially with Cortland Finnegan hitting free agency.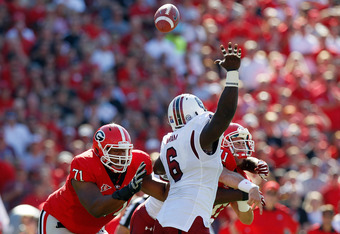 Kevin C. Cox/Getty Images
17. Cincinnati Bengals select: Cordy Glenn, G, Georgia
The Bengals are set at both tackle positions, but both of their starting guards are hitting free agency. I expect them to find one guard in free agency, while Glenn can become the other starter.

With another pick in the first round, the Bengals can wait to add a running back to replace Cedric Benson. Putting in place a talented guard to blow open holes for that whoever carries the ball, as well as to protect Andy Dalton, is just another positive step for an emerging franchise.

18. San Diego Chargers select: Whitney Mercilus, OLB, Illinois
Ideally, the Chargers would add an offensive lineman to keep Philip Rivers upright. However, without a tackle or guard worth taking, the Chargers jump at the chance of adding a pass-rusher to complement Antwaan Barnes.

Barnes, despite being a situational pass rusher, was the only Charger to get more than four sacks last year. With Larry English once again failing to make an impact, playing only five games, the Chargers have to look to move on with Mercilus.

 
19. Philadelphia Eagles select: Zach Brown, OLB, North Carolina
The Eagles are looking for help at linebacker. While Vontaze Burflict has to be considered because of the veterans on the Eagles roster as well as the strong coaching staff, ultimately, Brown is the cleanest addition that they could choose.

Brown is fast enough to play in coverage, as the Eagles will often ask their linebackers to drop in coverage, instead relying on their defensive line to rush the passer. He should also bring some solidity to the position, playing with Jamar Chaney and the impressive young Brian Rolle.

 
20. New York Jets select: Kendall Wright, WR, Baylor
While Mark Sanchez received a lot of criticism last season, the pieces around him were never in place to allow him to succeed. I am by no means a believer in Sanchez, but the offense around him needs to be retooled and rebuilt.

The receiving corp in particular hurt Sanchez last year, as they didn't complement each other well. Jeremy Kerley was an OK inside receiver, but Kendall Wright will bring much-needed dynamism to the offense and give Sanchez a reliable possession receiver.

 
21. Cincinnati Bengals select: Chris Polk, RB, Washington
After bringing in Cordy Glenn with their first choice, it is only natural for the Bengals to bring in a back to carry the load in place of Cedric Benson. Polk would bring the right complement to Bernard Scott and Brian Leonard as a bigger back.

The Bengals have a lot of wiggle room and versatility with their two first-round draft picks, but it makes sense for them at this point in the draft to pick up a top-rated player at his position opposed to adding lesser talent elsewhere. They have the financial flexibility to cover areas of need in free agency.

 
22. Cleveland Browns select: Lamar Miller, RB, Miami-Fla
Colt McCoy needs weapons, and after passing on Trent Richardson earlier, the Browns can't afford to let Lamar Miller pass them by. With Greg Little showing a lot as a rookie and Miller's dynamism coming out of the backfield, McCoy's offense is at the very least moving in the right direction.

The Browns may have passed on a franchise running back, but at least Miller will help them evaluate whether they have their franchise quarterback in place or not.

 
23. Detroit Lions select: Mike Adams, OT, Ohio State
The Lions would ideally bring in better interior linemen, but adding Adams on the outside would aid the newest member of the 5,000-yard club. Upgrading the offensive line is the biggest issue in Detroit this offseason, at least offensively; therefore, taking the best talent available makes the most sense.

 
24. Pittsburgh Steelers select: Dontari Poe, NT, Memphis
Many analysts have the Pittsburgh Steelers looking at tackles in the draft and free agency. If the team does indeed take an offensive lineman, it will be a guard opposed to a tackle. With Willie Colon being uncuttable, Marcus Gilbert impressing as a rookie and the potential return of Max Starks, the Steelers may not actually need any additional offensive linemen next year.
 
On the other side of the ball, however, the Steelers will need to complete the retooling of their defensive line. Casey Hampton's torn ACL will undoubtedly hamper his effectiveness in the middle. Steve McLendon has been impressive for the team, but bringing in another tackle is a must after Chris Hoke's retirement.
 
  
25. Denver Broncos: Stephon Gilmore, CB, South Carolina
Champ Bailey played like an All-Pro last year, while Andre Goodman was a solid starter across from him; however, neither player is exactly in the early stages of their respective careers. Bringing Gilmore in may not be giving Tim Tebow any more weapons, but it will add to an already emerging defense.


26. Trade! Buffalo Bills select: Quinton Coples, DE, North Carolina.
 
Trade Details
Houston Texans acquire 42nd-overall (second round) selection in 2012, second-round selection in 2013 draft as well as Stevie Johnson.
Buffalo Bills acquire 26th-overall (first round) selection in 2012, as well as fourth-round selection in 2013 draft.


Trade Analysis
While Stevie Johnson is a free agent, I do expect him to be franchise tagged by Buffalo. If he can work out a long-term deal, then he would be a great addition to the Texans roster. Prior to last year, I wrote that the Texans offense was a second receiver away from being elite. Johnson would give them that second receiver.

The Bills front seven has been their biggest problem over the past few seasons. As Coples drops, they bring in an end to round out what would be a very strong front four in Buffalo. Relying on Shawne Merrimen's health is not a good idea; drafting Coples would make Merrimen's health moot.
 
 Losing Johnson won't be a major issue to the Bills, as they have a good young group of receivers emerging behind him and there is talent available in free agency at the position.
 
27. New England Patriots select: Dre Kirkpatrick, CB, Alabama
With Antwuan Molden and Kyle Arrington starting at cornerback and Devin McCourty milling between safety and cornerback, the Patriots are in need of more secondary help. The return of Ras-I Dowling should help, but adding Kirkpatrick gives the team a second physical corner to improve the secondary.

Bringing in Kirkpatrick will allow McCourty to become a full-time safety, alongside Pat Chung, and pair Kirkpatrick with Dowling on the outside and move Arrington inside where he excels. That secondary would be much improved over last year's version.

 
28. Green Bay Packers select: Chandler Jones, OLB, Syracuse
The Packers front seven really struggled last year. Clay Matthews may be one of the more overrated players in the NFL, but he still needs more help up front as far as pass-rushing goes. Erik Walden did more damage off the field last year than he did on it while the inside linebackers' level of play plummeted.

Bringing in a pass-rusher to play across from Matthews should have a big knock-on effect on the rest of the defense all the way through to the secondary.


29. Baltimore Ravens select: Vontaze Burflict, ILB, Arizona State
Burflict started the season with comparisons to Patrick Willis, but his indiscipline dropped him to the bench. The Baltimore Ravens need a long-term replacement for Ray Lewis, and Burflict has the talent to make a similar impact on the NFL stage.

However, he needs to be mentored and be in a locker room with strong leadership. In Baltimore, he will get exactly that while also not being forced into the starting line-up for a year or two because of Jameel McClain.

 
30. San Francisco 49ers select: Mohammed Sanu, WR, Rutgers
Depending on how the Carlos Rogers situation resolves itself, the 49ers will be hoping to draft a wide receiver here. Sanu is a versatile player who could become a dangerous weapon in the hands of Jim Harbaugh.

Outside of Vernon Davis, the 49ers still don't have a receiving threat that really scares defenses. Adding better depth at wide receiver to complement the tight end is an obvious priority.
 
31. New England Patriots select: Donta Hightower, OLB, Alabama
Donta Hightower is one of the most versatile players in the draft; versatility is exactly what the Patriots crave in their front seven. With Hightower, the team has a player that can play outside in their 3-4, or inside, as well as be the third 4-3 linebacker.

With Jerod Mayo and Brandon Spikes in place, adding Hightower, as well as his college teammate, Dre Kirkpatrick, earlier in the round, would be a big step towards bringing this defense back to respectability. 
32. New York Giants select: Orson Charles, TE, Georgia
The Giants will reluctantly take the athletic pass catcher after the serious injuries suffered in the Super Bowl at the position. Ideally, Peter Konz could be brought in after David Baas' uninspiring first season (the team can let Baas go for just $2 million).

Either way, Charles will add another weapon to the offense or ease the potential loss of Mario Manningham on the Super Bowl champions.
Tweeting @Cianaf