Ranking the NFL's Top 50 Players, Post-Super Bowl Edition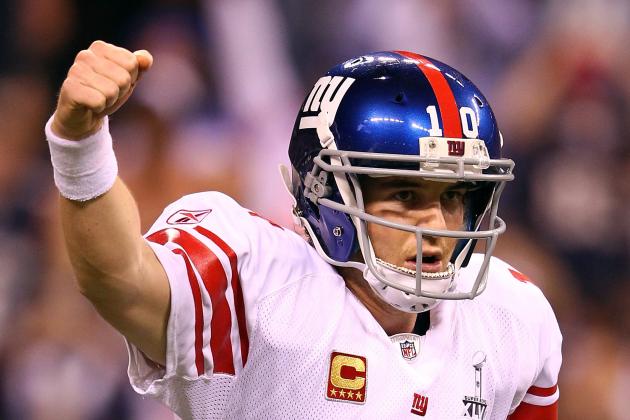 Al Bello/Getty Images

Now that Super Bowl XLVI is over, the 2011-2012 NFL season is completely in the books.
There hasn't been an NFL season in recent memory that has had so much fluctuation in the top 50 players from the beginning of a season to post-Super Bowl.
Players like Victor Cruz and Matthew Stafford catapulted themselves into the top 50, while former staples in the top 50 like Jake Long and Ray Lewis suffered major setbacks.
Here are the NFL's top 50 players, post-Super Bowl.
Begin Slideshow

»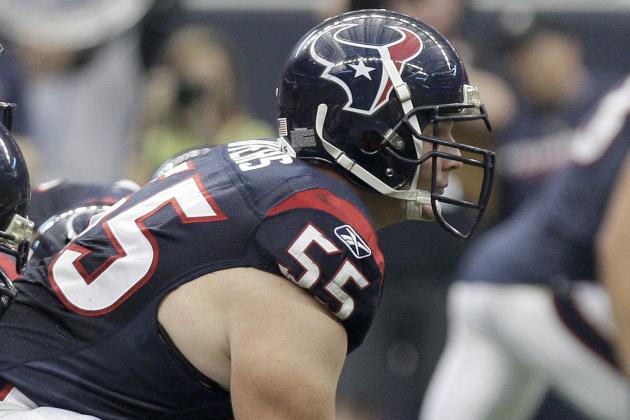 Thomas B. Shea/Getty Images

Chris Myers is the first of six Houston Texans to make this list, showing just how good this team is set to be for the next few years.
Throughout the 2011 season, Myers established himself as the second-best center in the league. While the entire offensive line for Houston deserves mad respect, Myers was a huge reason why they were so successful.
Center is an extremely underrated position, but when you have a good one, like the Texans do, they are able to do so much offensively.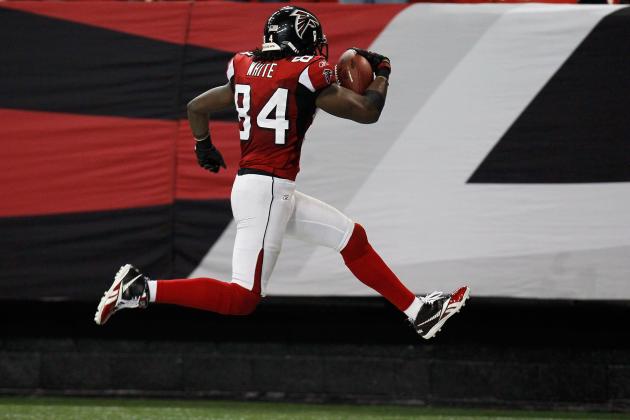 Kevin C. Cox/Getty Images

While Roddy White's numbers didn't take a drastic hit, it just seemed like there was something off with his game this year.
Maybe it was the addition of Julio Jones. Maybe it was something else.
Whatever it was, it made White look much less effective this year. He's still one of the better receivers in the league, but not top-five anymore.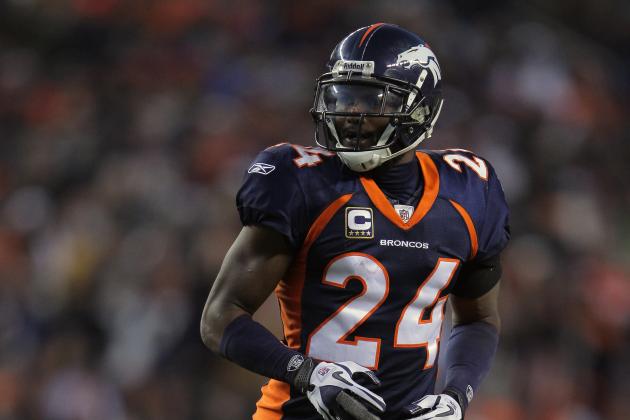 Doug Pensinger/Getty Images

Even though Champ Bailey is starting to get up there in age, it's hard to have a conversation about the top cornerbacks in the league without mentioning his name.
He still has great cover and playmaking ability, and he was quite the leader for a young Denver Broncos defense in 2011.
His play may drop some in the next year or two, but right now, he absolutely deserves to be on this list.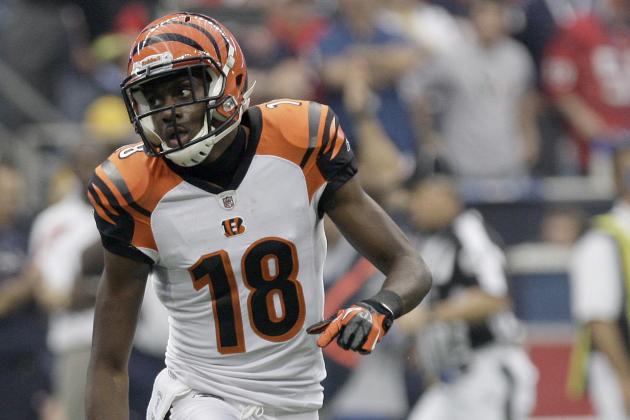 Thomas B. Shea/Getty Images

It may seem surprising to see a rookie ranked as one of the 50 best players in the NFL, but A.J. Green is simply that good.
Green took the league by storm in his rookie season and was a legitimate Offensive Rookie of the Year candidate. He put up over 1,000 receiving yards and seven touchdowns.
His future is extremely bright, and he absolutely needs to be considered one of the best young receivers in the NFL.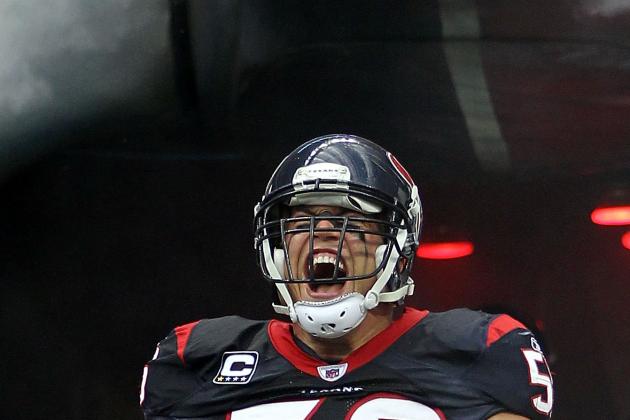 Jamie Squire/Getty Images

After a rather disappointing sophomore campaign, Brian Cushing got back to his old ways in 2011 as a dominant linebacker.
He posted 114 tackles, four sacks and two interceptions. His aggressive style of play made the entire defensive unit one of the better ones in the league.
As long as Cushing can continue to play at such a high level, the Houston Texans should continue to be one of the better defensive teams in the league.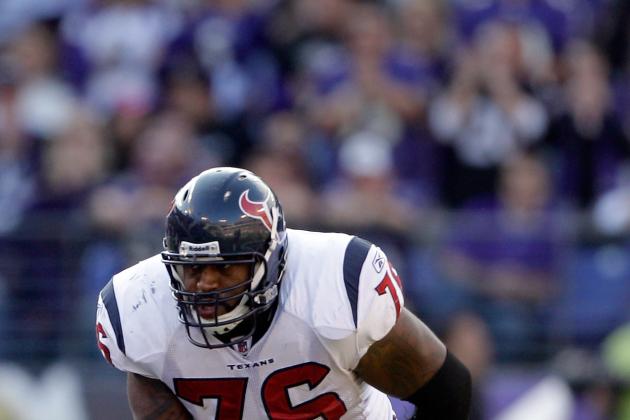 Rob Carr/Getty Images

While Chris Myers was a big part of the Houston Texans' success on offense, Duane Brown was an even bigger part.
He broke out onto the scene and established himself as one of the best tackles in the game in 2011. The most impressive statistic involving Brown was the zero sacks that he allowed during the regular season.
If that doesn't prove that Brown is elite, then I don't know what does.
Christian Petersen/Getty Images

There simply wasn't a better running back during the second half of the season than Marshawn Lynch.
He single-handedly put the Seattle Seahawks into playoff contention late in the season.
We've been waiting for Lynch to put together this type of consistent season for quite some time, and now that he has, it's time to consider Lynch a top running back in the league.
If the Seahawks can get their quarterback situation figured out, they could be a dangerous team next year.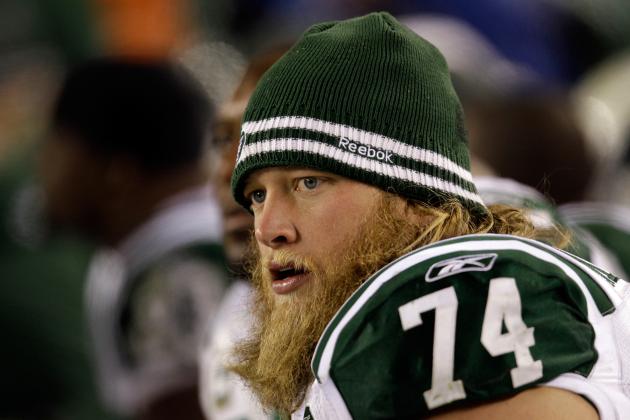 Rob Carr/Getty Images

There simply isn't a better center in the NFL right now than Nick Mangold. This guy can literally do it all.
While he missed some time early in the season, it wasn't enough to dethrone him from his position atop the rankings of centers in the league.
Mangold isn't likely to relinquish the honor of best center anytime soon, either.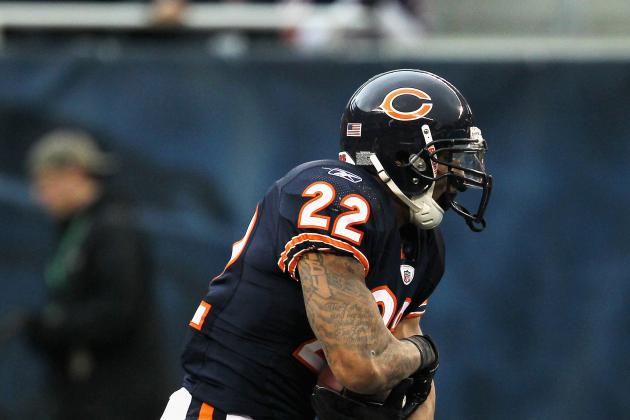 Jonathan Daniel/Getty Images

Had Matt Forte played a complete season of football in 2011, it's very likely that he would have ended much higher in these rankings.
However, even with missing the last four games, Forte still managed to compile nearly 1,500 yards from scrimmage. He was easily on pace for a career year and was easily the most potent player on the Chicago Bears offense.
As long as Forte can come back completely healthy in 2012, he should make a strong case as the best dual-threat running back in the league.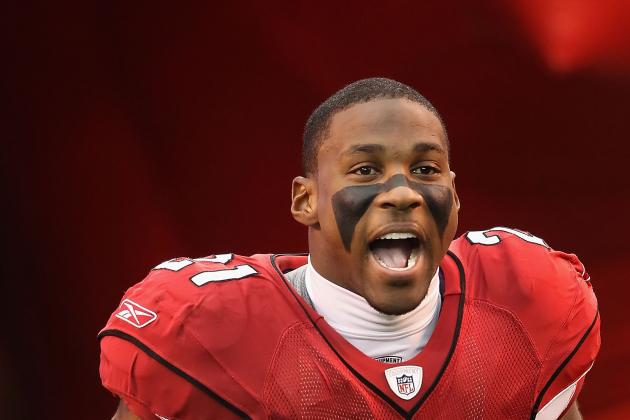 Christian Petersen/Getty Images

The main reason that Patrick Peterson is making this list right now is because of his ability as a return man.
He has a unique ability to make plays once the ball is in his hands, and he has replaced Devin Hester as the most dangerous player when receiving kicks and punts.
Add that to his improved cornerback play over the second half of the season and you have an absolute star in the making.
Peterson looks capable of becoming an elite player at his position, and if he does that, he'll continue to rise up these rankings.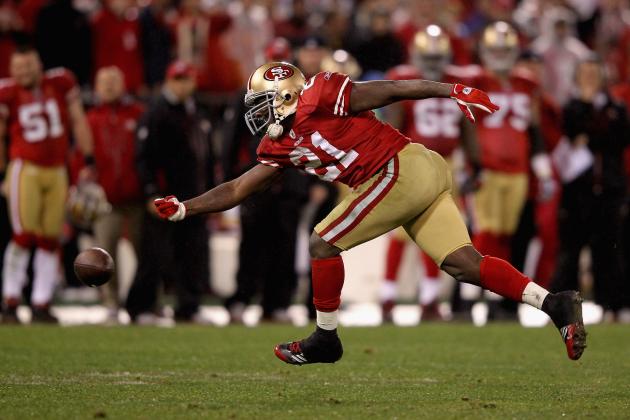 Jamie Squire/Getty Images

For so many years, Frank Gore has been somewhat of a disappointment. However, in 2011, Gore played his first full season in four years.
Sure, he suffered some minor injuries, but he still played in all 16 games and amassed over 1,200 rushing yards. His play was a huge key for the overall success of the San Francisco 49ers this season.
Gore's got the talent, but he's starting to get older, and his body has taken a beating. This could be the last year he ranks as one of the top 50 players.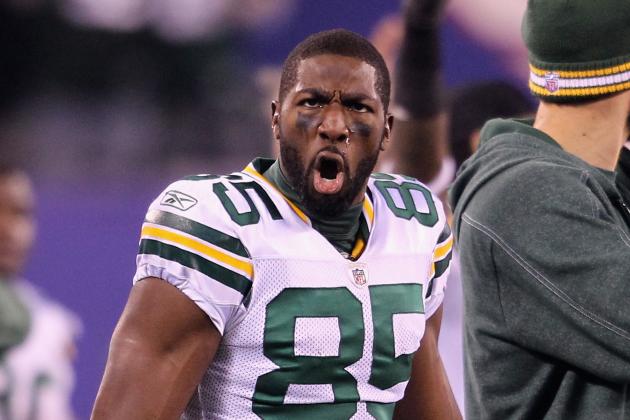 Nick Laham/Getty Images

Even though Greg Jennings was outplayed by Jordy Nelson, he's still the best wide receiver that the Green Bay Packers have on their roster. In fact, the main reason why Nelson can be so successful is that defenses spend much of their effort honing in on Jennings.
If Jennings played on a team with less talent at the receiver position, it wouldn't surprise me to see him put up some of the best numbers in the league.
The fact that he's so productive with so many other playmakers surrounding him simply cements his status as one of the top receivers in the league.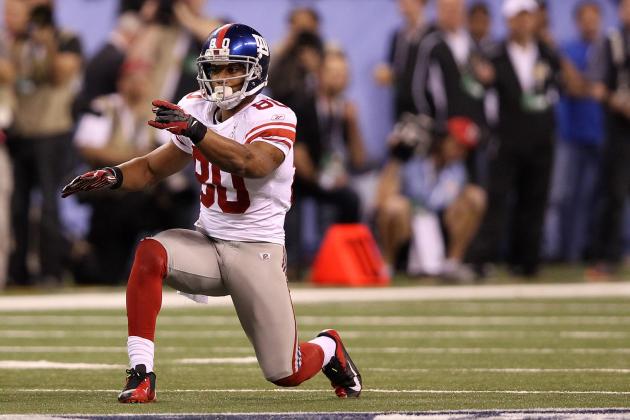 Ezra Shaw/Getty Images

Victor Cruz was the breakout player of the year in 2011.
This man literally came out of nowhere to set numerous franchise records for the New York Giants.
He took the league by storm and made the Giants' receiving corps one of the top units in the league. He isn't the most overly athletic receiver, but he does the small things well, which makes him so effective as a player.
He may never be as physically imposing as Larry Fitzgerald or Calvin Johnson, but you can guarantee that he'll continue to produce at a high level for many years.
Jim Rogash/Getty Images

As the offensive guard position becomes more and more important, teams are going to continue to look for players like Logan Mankins.
He's physically talented and is a huge reason why it always seems that Tom Brady has 30 minutes to throw every single time he drops back to pass.
While his play in the Super Bowl caused some concerns, he still needs to be considered one of the best players in the NFL right now.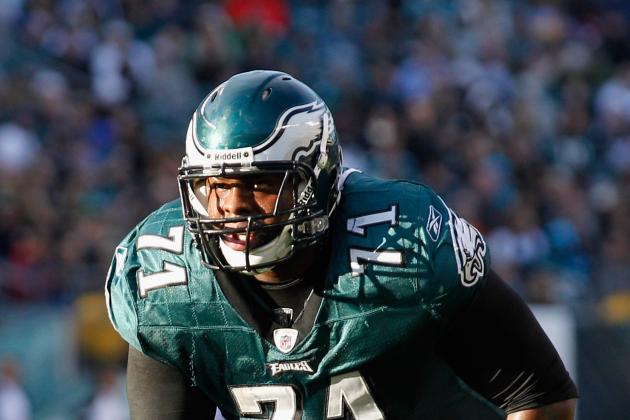 Rob Carr/Getty Images

As much as the Philadelphia Eagles struggled as a team in 2011, none of the blame should be placed on Jason Peters' shoulders.
Peters played fantastic football all year long and was a big reason why LeSean McCoy was able to have a breakout season.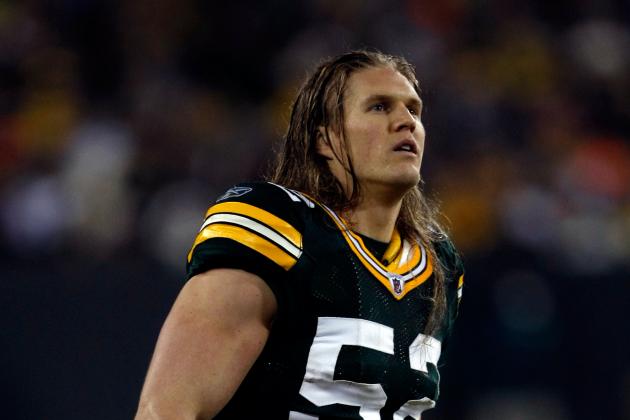 Scott Boehm/Getty Images

When you first look at Clay Matthews' numbers, the first thing to pop out is the lack of sacks accrued.
The biggest reason for that was the overall lack of pass rush the Green Bay Packers could get with their personnel.
Matthews has become a more complete player, and that showed in 2011. Not only is he still able to pressure quarterbacks, but he's also improved in the run game and in pass coverage.
If he continues to improve at this rate, he'll need to be considered one of the best all-around 3-4 outside linebackers in the game.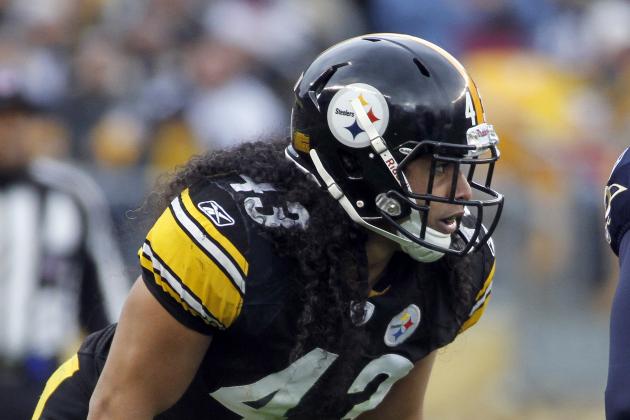 Justin K. Aller/Getty Images

I fought long and hard about whether to include Troy Polamalu on this list. When it was all said and done, he's still one of the best players in the league.
His statistics might not be up to par with what to expect, but his impact was still felt in every game he played in. He continues to make plays all over the field and forces offenses to specifically tweak their game plan to avoid him.
As long as Polamalu is on the field, he'll need to be considered a top player in the NFL.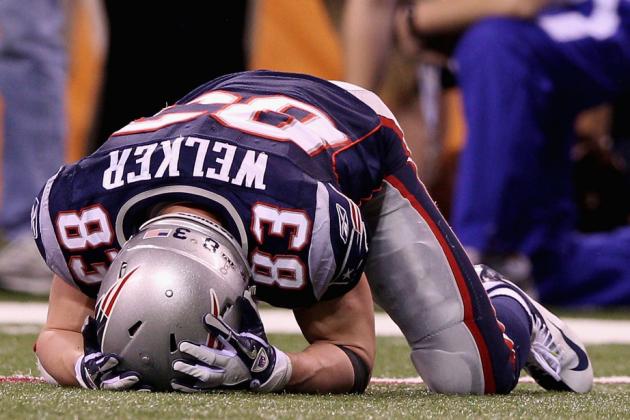 Elsa/Getty Images

There aren't many things to dislike about Wes Welker. He's the ultimate competitor and team player.
Many thought that Welker simply thrived because of big-play threat Randy Moss, but in 2011, Welker proved capable of being a legit No. 1 receiver. His 122 receptions led the league, and his nine receiving touchdowns were a career best.
As long as Welker has Tom Brady throwing him the ball, you can bet he'll continue to provide top-notch statistics for the New England Patriots.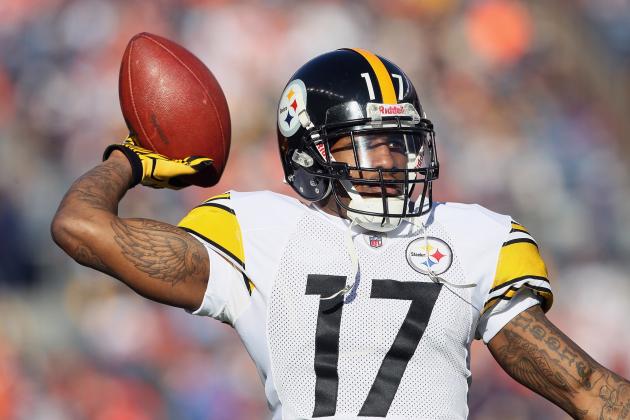 Jeff Gross/Getty Images

What Mike Wallace excels at is the vertical game. As a complete receiver, there's still room for improvement, but he's one of the best deep-ball receivers in the NFL right now.
He's another receiver, much like Greg Jennings, who has loads of talent around him but still produces at a high level. If he was on a team with fewer options, he'd put up ridiculous statistics like a Steve Smith or Calvin Johnson.
Wallace is still relatively young and still learning how to fully use his talents, so don't expect him to go anywhere.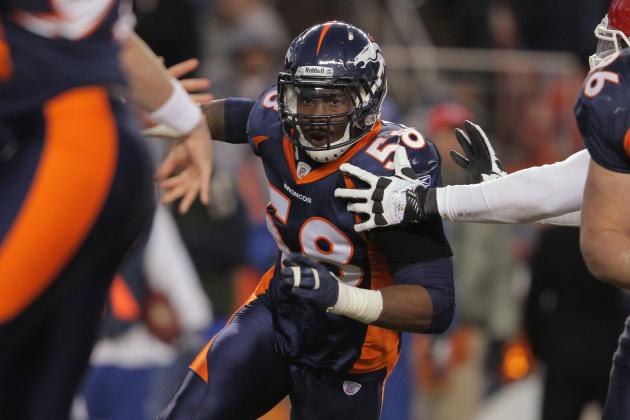 Doug Pensinger/Getty Images

This is the highest-rated rookie on this list.
Some might cry for my head because of the exclusion of Aldon Smith, but so be it. Von Miller is a better player right now.
He's a more complete player than Smith, and he means more to the success of his team than Smith does. The only area that Smith outperformed Miller in was in sacks, and that was more because of who was around him than actual ability.
Miller should already be considered one of the best linebackers in football, and it's scary to think how good he can still become.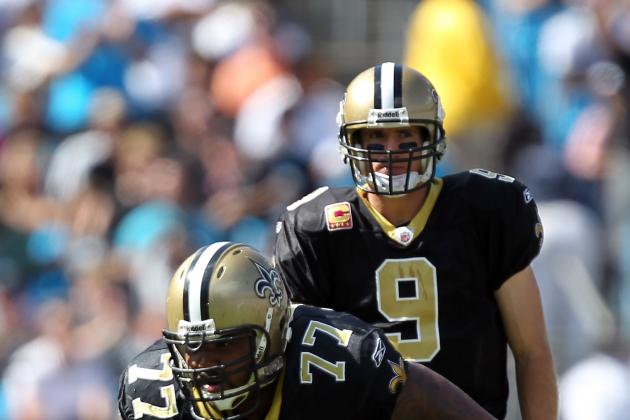 Streeter Lecka/Getty Images

If you've ever wondered why Drew Brees has so much time in the pocket, look no further than Carl Nicks.
He's easily the best offensive guard in the NFL.
As a free agent this offseason, look for nearly every team in the league to try to sign him.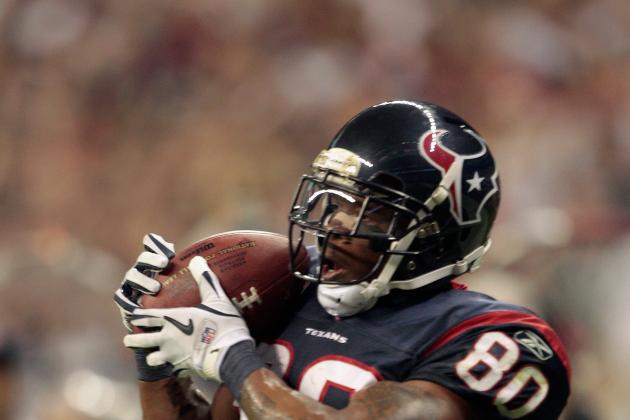 Bob Levey/Getty Images

To be honest, I hated putting Andre Johnson this high. He simply can't stay healthy.
But when he's healthy, he's a beast. When healthy, he's the best receiver in the league.
Should we ever see Johnson play at 100 percent for a full 16 games, watch out because amazing things will happen.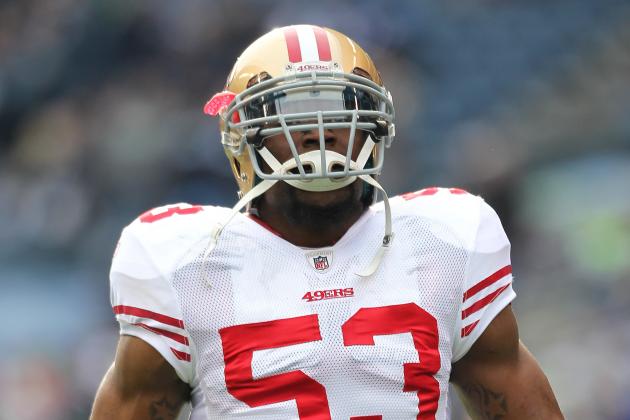 Otto Greule Jr/Getty Images

NaVorro Bowman came out of nowhere to become one of the better middle linebackers in the league.
Even playing next to Patrick Willis, Bowman shined bright as an ultra-productive player. When Willis went down with an injury late in the season, Bowman picked his game up and showed that he can lead a defense.
This is a young player who is going to dominate opposing offenses for many years.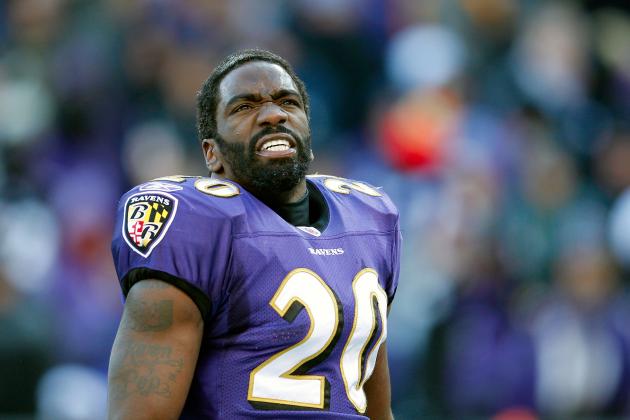 Rob Carr/Getty Images

The old man has still got it.
We saw just how much of an impact Ed Reed can have when healthy in the playoff game against the Houston Texans. The problem of late has been getting a completely healthy Reed on the field.
However, even when he isn't 100 percent, Reed figures out how to have an impact, which is what makes him such a special player.
Jonathan Daniel/Getty Images

It's simply amazing to think that Charles Woodson is getting better with age.
While most players' talents regress with age, Woodson continues to improve his craft with the older he gets.
His 2011 statistics were eerily similar to his 2009 Defensive Player of the Year statistics. With the Green Bay Packers defense struggling all year long, Woodson still shined.
If Woodson continues his current pace of improving with each year that passes, he might be the best player in the league when he is 50 years old.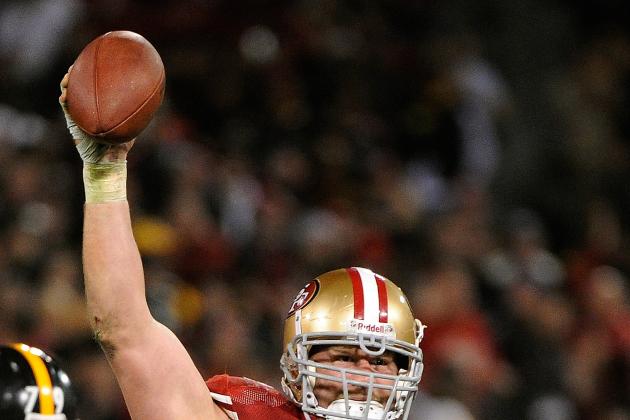 Thearon W. Henderson/Getty Images

You just have to love a player like Justin Smith. This is a player who is tough and will do anything to win the game.
He's been in the league since 2001, but it wasn't until he joined the San Francisco 49ers in 2008 that he really started to make a name for himself. Now that he's able to play with talented players, he has stepped his game up to a whole other level.
As long as Smith is anchoring the defensive line for the 49ers, look for them to boast a top defense every year.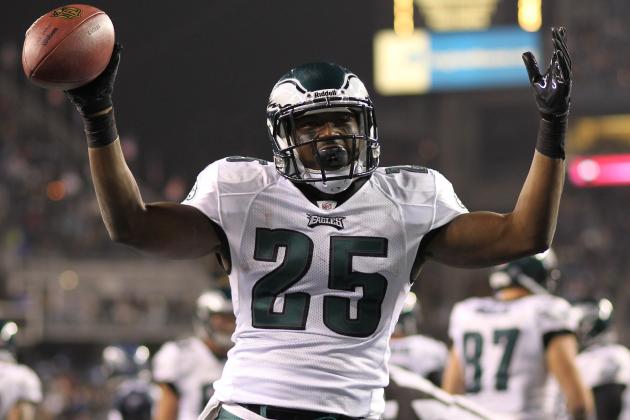 Otto Greule Jr/Getty Images

LeSean McCoy became a household name in 2011. That's what 1,300 rushing yards and 17 rushing touchdowns will do to a man.
With Michael Vick getting injured and having a down year, McCoy took it upon himself to lead the offense. He did a spectacular job as a receiver, adding nearly 50 receptions and three touchdowns.
With another productive season, McCoy could propel himself into the conversation of who the best running back in the league is.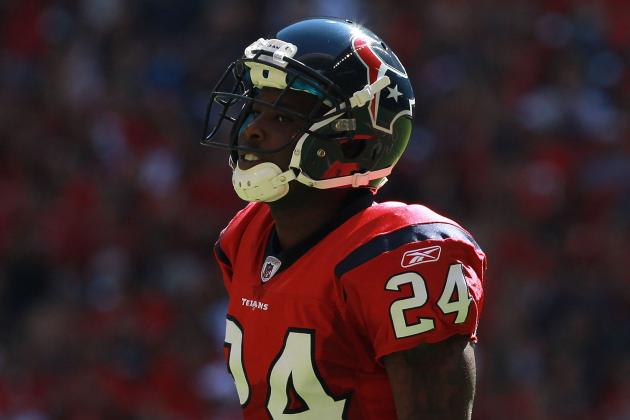 Ronald Martinez/Getty Images

Everyone knew that Johnathan Joseph would improve the Houston Texans secondary, but no one could have predicted how much.
Joseph literally made one of the worst secondaries in the league a top unit. The only cornerback who can call himself better than Joseph is Darrelle Revis of the New York Jets.
To be honest, Joseph isn't that far behind Revis either.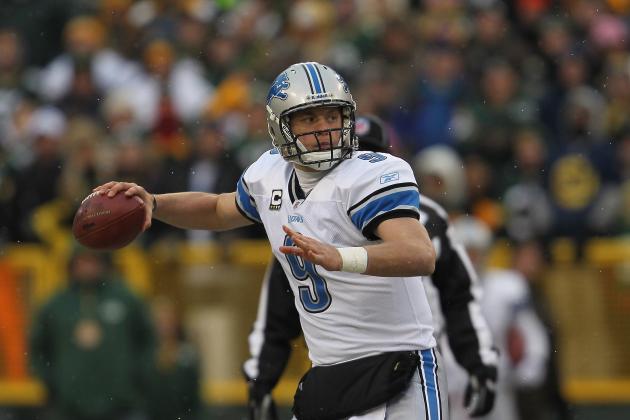 Jonathan Daniel/Getty Images

As a football fan, you have to love what the Detroit Lions did during the 2011 season.
Their franchise has turned around, and this is a legitimate title contender for the foreseeable future.
Much of the turnaround is in thanks to the amazing play of Matthew Stafford. In his first full season, Stafford threw for over 5,000 passing yards. His connection with Calvin Johnson (more on him later) was impressive.
Look for Stafford to continue to assert himself as the next elite quarterback in the NFL.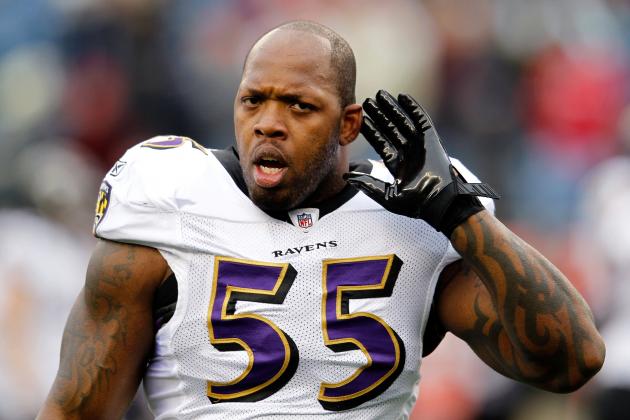 Rob Carr/Getty Images

This may seem a little low for the Defensive Player of the Year, but I wasn't very convinced that Terrell Suggs should have won the award.
With that said, Suggs is still an elite player on a very good Baltimore Ravens defense. He has a relentless motor and makes all the big plays when his team needs him to.
Hopefully, Suggs will build off his career year and continue to be an enjoyable player to watch.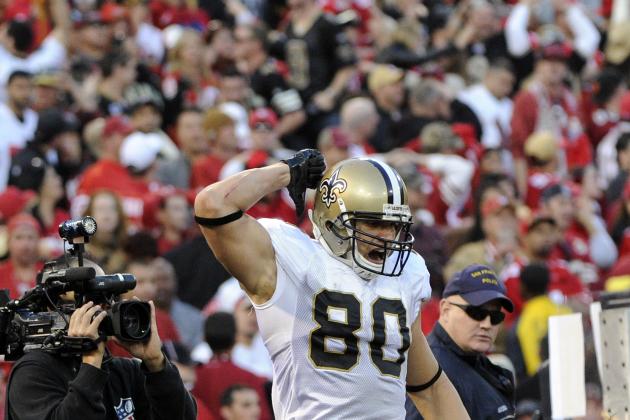 Thearon W. Henderson/Getty Images

Jimmy Graham was a popular "fantasy breakout" candidate for the 2011 season.
Teaming with Drew Brees, Graham broke out in a big way. His 99 receptions, 1,310 yards and 11 touchdowns led all receivers for the New Orleans Saints.
It's possible that Graham will have an even bigger 2012 season because of possible free agents leaving the Saints.
If that happens, he could surpass Rob Gronkowski as the best tight end in the game.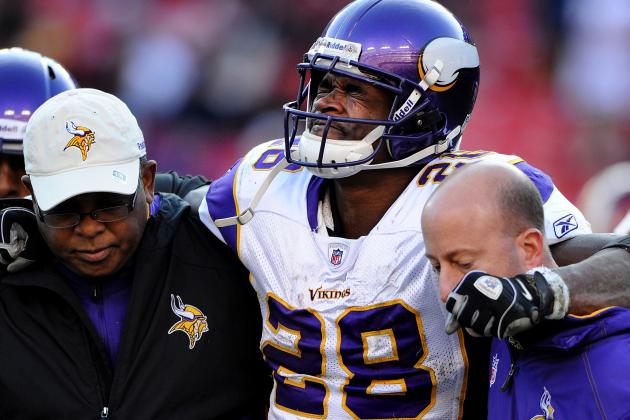 Patrick Smith/Getty Images

It hurt so much to put Adrian Peterson this low.
He's clearly the best running back in the NFL, but he can't stay on the field for long enough to prove so.
If Peterson played all 16 games on two healthy legs, he would have a legit chance at surpassing 2,000 rushing yards.
What makes it even worse is that he's so crucial to the Minnesota Vikings. It literally breaks my heart to put Peterson this low.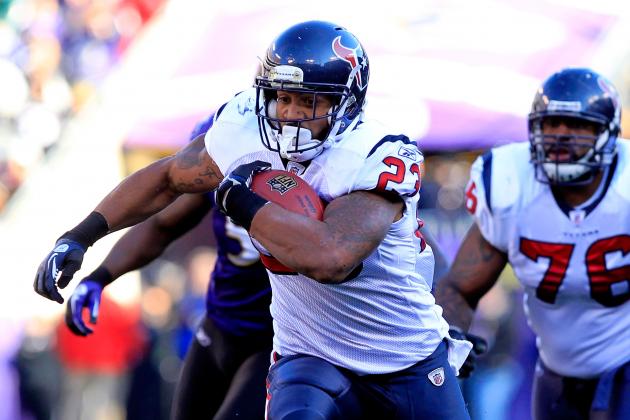 Chris Trotman/Getty Images

While his 2011 campaign wasn't as impressive as his 2010 campaign, Arian Foster actually looked like a better player this year than last year.
He improved as a receiver, averaging over 11 yards per reception and amassing over 600 yards. Even with sharing time in the backfield with Ben Tate, Foster still managed 1,224 rushing yards and 10 touchdowns.
This kid is a stud and will be for many years.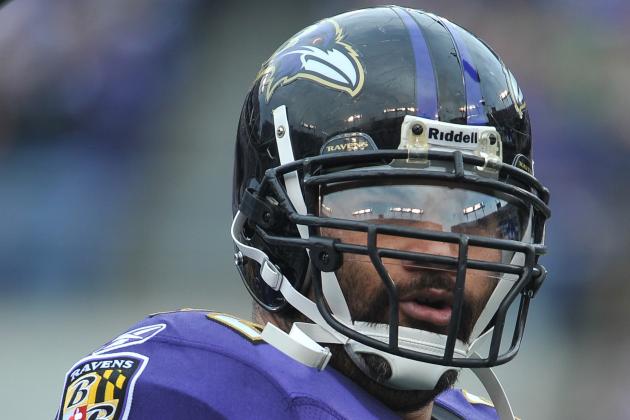 Larry French/Getty Images

Haloti Ngata continued his dominance of offensive lines during the 2011 season.
Ngata is one of the most unique players in the NFL. He's extremely nimble for a man of his size, and he succeeds at stopping the run and getting after the quarterback.
With so many talented players around him it would seem difficult to shine, but Ngata is talented enough to do so.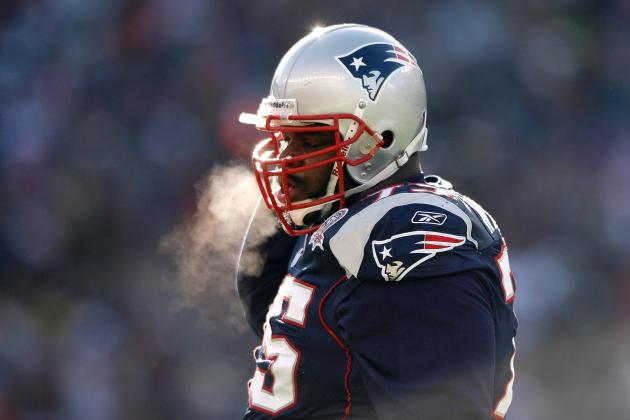 Elsa/Getty Images

The only defensive tackle better than Haloti Ngata this year was Vince Wilfork.
He was way more important to the success of his team, and when the two teams met in the AFC championship game, Wilfork had a much larger impact.
This may sound ridiculous, but Wilfork may even be more athletic than Ngata too.
With the New England Patriots really struggling on defense this year, Wilfork's play was a huge plus for that team.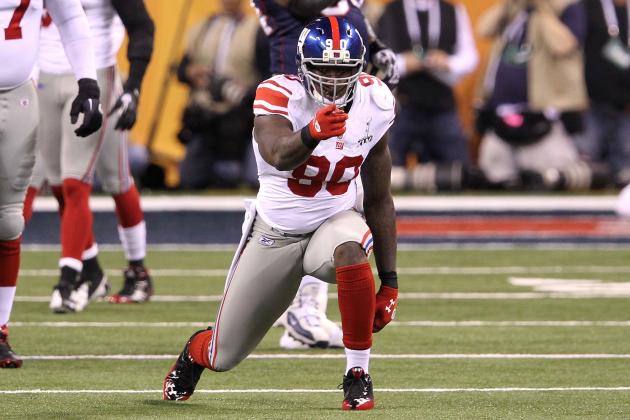 Andy Lyons/Getty Images

What Jason Pierre-Paul did this year was simply amazing.
In only his second year, Pierre-Paul put together one of the most impressive defensive seasons this year.
This guy is so athletic and so talented, but what makes him so scary is that he is only going to get better. Being only 23 years old, JPP has plenty of room to grow and develop.
When that happens, he's going to become an even bigger game-changer.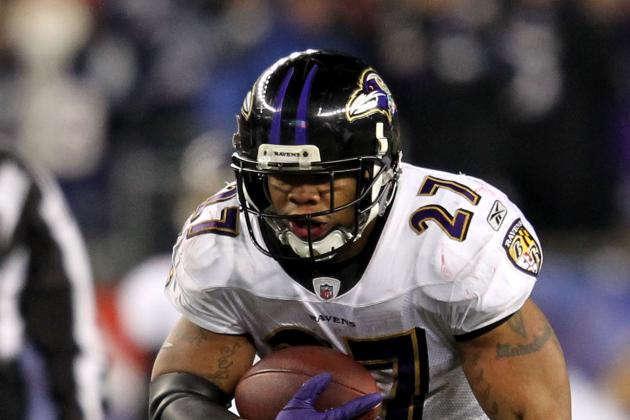 Jim Rogash/Getty Images

As of right now, Ray Rice is the best dual-threat running back in the NFL.
The entire offense of the Baltimore Ravens runs through him. Without him, the Ravens would most likely be a bottom team in the AFC.
There simply isn't anything that Rice can't do, as evidenced by his 2,068 yards from scrimmage and 15 total touchdowns.
Rice isn't going anywhere anytime soon and will likely continue his dominant play in 2012.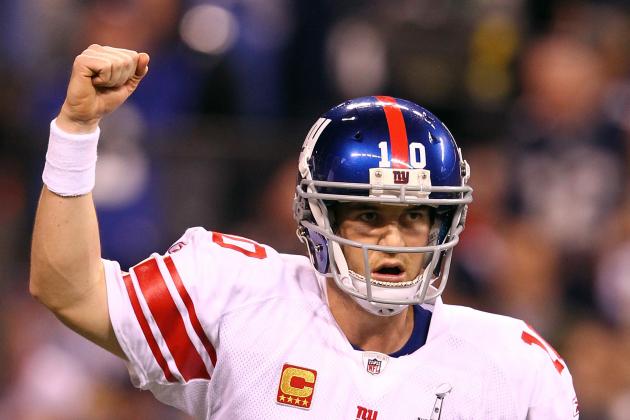 Al Bello/Getty Images

After an extremely impressive 2011 season and a second Super Bowl MVP, Eli Manning has established himself as an elite quarterback.
While the road to the Super Bowl was pretty impressive for Manning, it was really his regular-season performance that put him so high up on this list.
He posted a career high for yards with nearly 5,000, and his 92.9 QB rating was the second-highest of his career.
On top of all of that, Manning has proven to be one of the most clutch quarterbacks in the NFL. He'll have a great opportunity to break into the top-three quarterback discussion in 2012 if he keeps playing like this.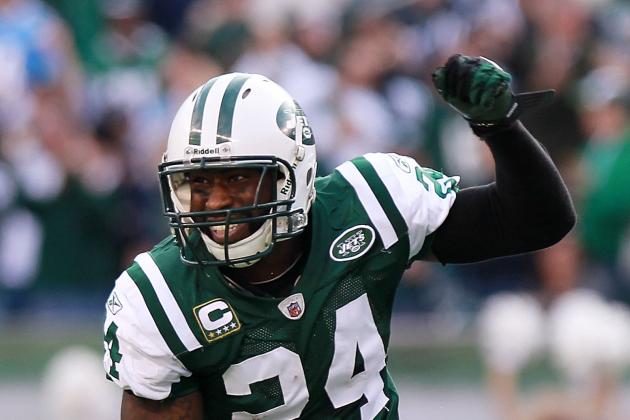 Nick Laham/Getty Images

You know you are a good cornerback when you have the ability to literally take away an entire half of the field from the quarterback.
That is exactly what Darrelle Revis does every Sunday when he steps onto the field. While his play did fade as the season came to an end, much of that had to do with the loss of Jim Leonhard rather than his declined play.
Revis is still the best shutdown cornerback in the NFL, and that won't be changing anytime soon.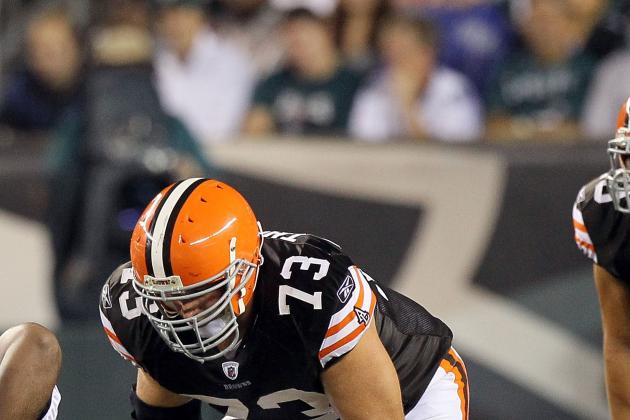 Jim McIsaac/Getty Images

The 2011 season showed everyone that Joe Thomas is the best offensive tackle in the NFL.
To be honest, it isn't even that close.
With Jake Long having a down year and Ryan Clady also struggling, Thomas continued his strong play to make his fifth straight Pro Bowl and his third straight All-Pro Team.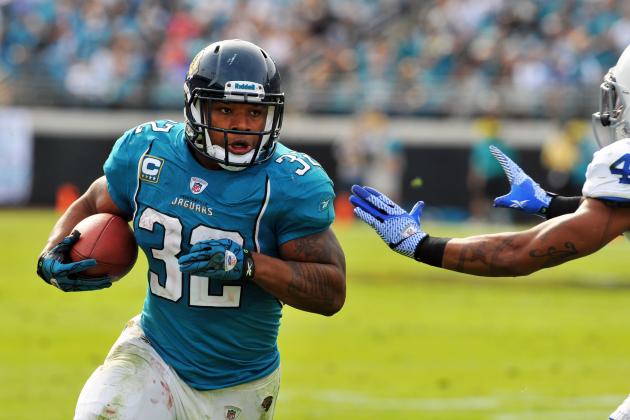 Al Messerschmidt/Getty Images

There wasn't a better running back over the entire course of the 2011 season than Maurice Jones-Drew.
The problem is that no one wanted to watch him play because of how bad the Jacksonville Jaguars were.
Those that did watch him saw MJD gain over 1,600 yards, nearly 250 more than any other running back in the league. He also added another 374 yards as a receiver and three touchdowns.
If Jones-Drew was on a playoff contender, there's no doubt that he would have gotten serious MVP consideration.
Hopefully, the Jaguars can turn their team around so people can see more of the best running back in the league right now.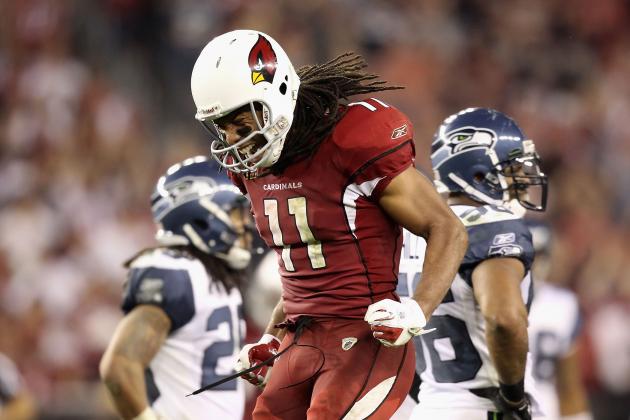 Christian Petersen/Getty Images

You know what's amazing about Larry Fitzgerald?
This man has the ability to have 1,411 receiving yards and eight touchdowns with the combination of Kevin Kolb and John Skelton throwing him ball.
I don't think there is another receiver in the NFL who could do that.
Fitzgerald is so good and so talented that it's almost a second thought of what he has to deal with by being a member of the Arizona Cardinals.
However, through all of the crappy quarterbacks that he has to deal with, he continues to produce at a ridiculous rate.
To put it simply, Fitzgerald is the man.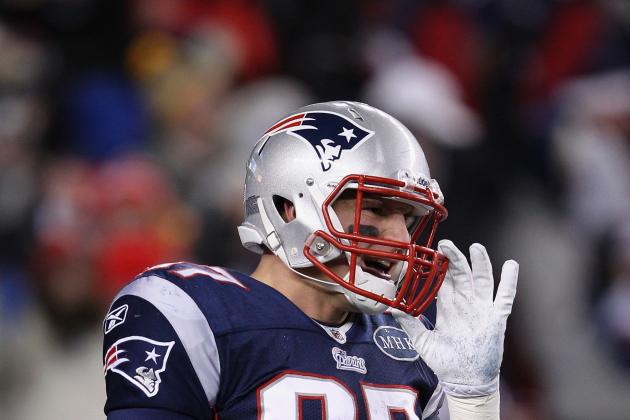 Elsa/Getty Images

Rob Gronkowski had an impressive rookie season, but he had the most impressive season by a tight end in NFL history during his second season.
His 17 touchdowns was a record for a tight end. He also added 90 receptions and 1,327 receiving yards. On top of all that, Gronkowski even had a rushing touchdown.
The man is nearly uncoverable. His size, strength and hands are out of this world. He's a freak of nature.
Do you get the point?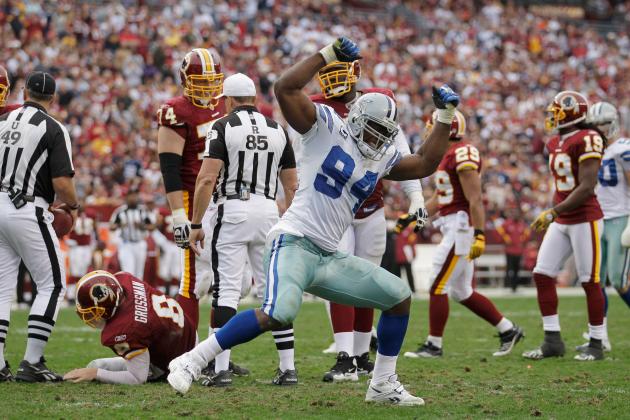 Rob Carr/Getty Images

DeMarcus Ware continues to show everyone that he's the best outside linebacker in the NFL.
The 2011 season saw Ware put up 19.5 sacks, giving him 99.5 in just seven seasons in the league.
If he continues to perform at this level, it's very likely that he'll retire as the all-time leader in career sacks.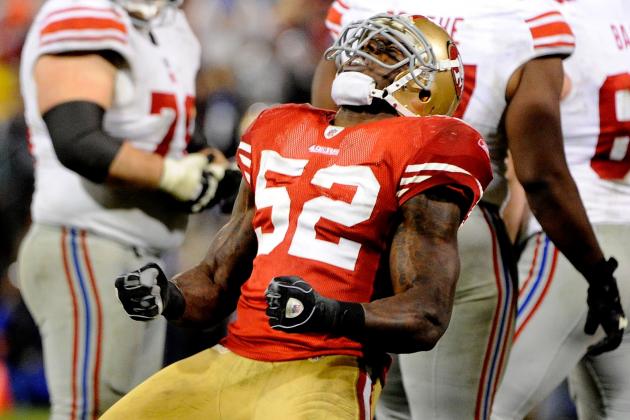 Thearon W. Henderson/Getty Images

Patrick Willis has officially taken Ray Lewis' place as the most dominant linebacker in the NFL.
It's almost incredible to think just how good Willis is. There simply isn't one thing that this man can't do on a football field.
He can tackle, he can blitz, he can succeed in pass coverage and he hits like a freight train.
What should scare the rest of the NFL is that Willis is only starting to enter his prime years. It's quite possible that he could still get better.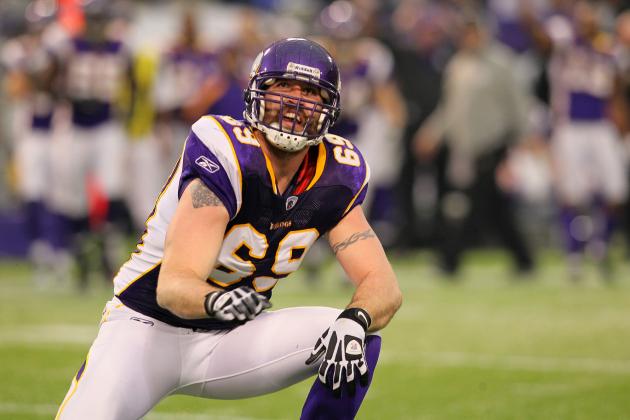 Adam Bettcher/Getty Images

When you look at the season that Jared Allen had, it seems ridiculous that he didn't win the Defensive Player of the Year Award. Heck, he was a legitimate MVP candidate for the majority of the season.
His 22 sacks led the NFL, and he was only a sack away from setting a new NFL record. He added 66 tackles, four forced fumbles and an interception.
The biggest reason he didn't win Defensive Player of the Year was because of the poor play of the Minnesota Vikings.
Should Minnesota put together a respectable season in 2012 and Allen continue his high level of play, the DPOY Award will be his.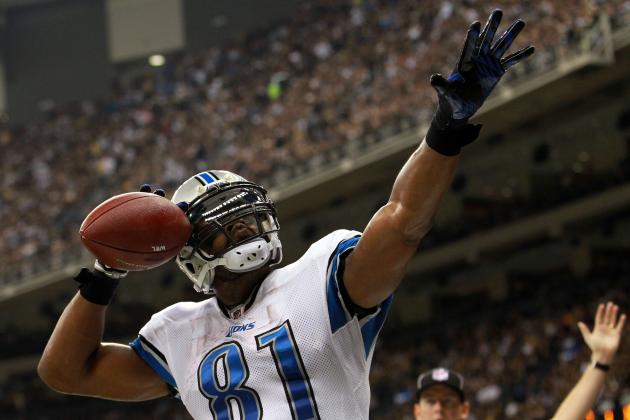 Ronald Martinez/Getty Images

The easiest way to describe Calvin Johnson is by calling him a freak of nature.
He's so big and so athletic that I'm confident you could put anyone behind center for the Detroit Lions, have him throw the ball high in the air and Johnson would come down with it. He is simply that good.
Johnson is lucky to have Matthew Stafford throwing him the ball, and these two make quite the combination.
Johnson finished the 2011 season with 1,681 yards and 16 touchdowns.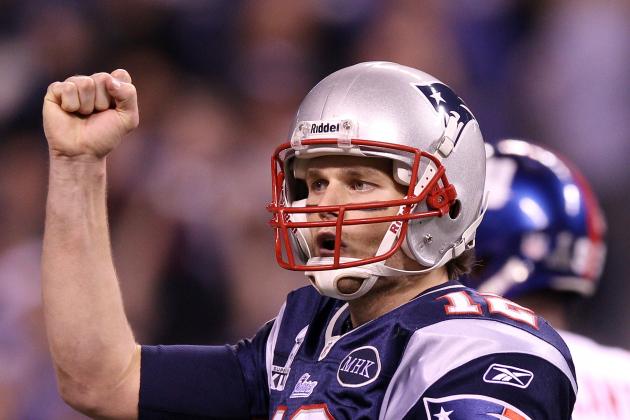 Elsa/Getty Images

I understand that Tom Brady lost the Super Bowl, but I'm still not putting him any lower than the third-best player in the NFL.
People have come to the point to expect Brady to do everything, and when he fails, we go crazy. That's how good Brady has been for such an extended period of time. We expect perfection every single time he steps on the field.
So, when he loses, people scream for his head but forget to realize that this is still one of the best quarterbacks in NFL history.
Brady isn't going anywhere, and he won't be ranked any lower than this for a long time.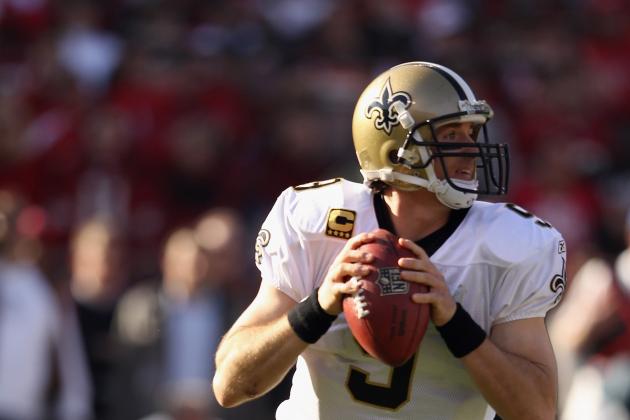 Ezra Shaw/Getty Images

The decision to put Drew Brees at second instead of first was extremely difficult. The reality is that you could really swap any of the top three players, and I'd still be satisfied.
As it sits right now, I'm putting Brees as the second-best player in the NFL. He shattered Dan Marino's single-season record of 5,084 passing yards, and he could make another run at it in 2012.
Brees is the biggest free agent this offseason, but the possibility of him leaving the New Orleans Saints is about as likely as me joining New Orleans and playing offensive guard.
Brees will retire as the best player in Saints history.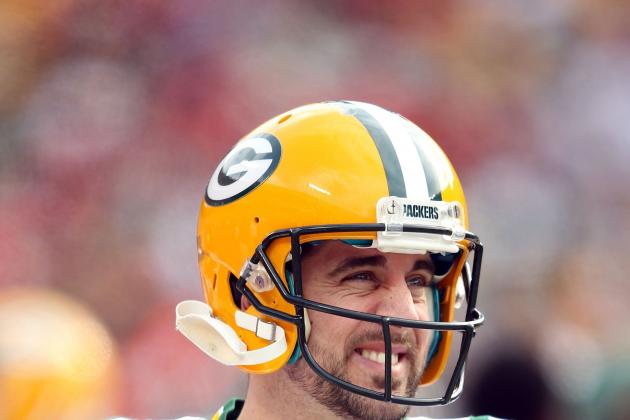 Jamie Squire/Getty Images

And the best player in the NFL is none other than the MVP himself, Aaron Rodgers.
Sure, he got bounced from the playoffs earlier than expected, but that shouldn't take away from what he did on the field as a whole.
Watching him play the quarterback position this year was like watching an artist. He was so incredibly good and made throws that no other quarterback could make.
His precision was nearly perfect, and his 122.5 QB rating during 2011 is an NFL record.
It will be extremely difficult for Rodgers to lose his throne as the best player in the NFL because of his age and the talent around him.
He's going to be extremely good for a really, really long time.