2012 NFL Draft: Exploring the Houston Texans' Needs at Nose Tackle
January 31, 2012

It seems that every year since I can remember, I always make a grave mistake with a certain type of prospect in regards to the Texans. See, I'm in the camp that thinks the one thing that has been missing from this defense since forever has been the lack of a true nose tackle.
I'm not going to let this turn into a presumed vendetta against Shaun Cody. He was an unsung hero at the position in 2011 and he should be commended for his effort.
No, what I am talking about is a fat, space-eating nose tackle who can clog the middle and allow DeMeco Ryans and Brian Cushing to play towards the ball more.
Every year I lead myself to believe that it is finally the year that the Texans are going to get said guy and every year, I leave draft weekend a little more bummed out.
In 2007, I hoped for Paul Soliai to become a Texans. In 2008 it was Frank Okam and I actually got my wish. But we all remember how that one ended. In 2009, I thought that if B.J. Raji slipped to them, that it would be the year, but he didn't make it out of the top 10 and I convinced myself they wouldn't have picked him anyways. In 2010, I knew they would take a corner, but I held onto the slim hope that Dan Williams would catch their eye. They took Kareem Jackson and you know how well that ended.
By last year's draft, I had given up on the hopes that it would ever happen. But with the hiring of Wade Phillips, I started to let myself believe that it would finally be the year with guys like Phil Taylor and Kendrick Ellis available.
If J.J. Watt hadn't of worked out so well, I would have been a little more upset about it.
But you get the point—this has been a huge position of desire for this fan base and many are hoping that for the love of the football god's, this is finally the time it happens. Will it? I'm not so sure, but the timing would seem appropriate since the tam is drafting for depth and upgrades this year instead of glaring needs.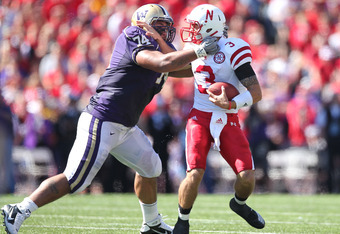 Otto Greule Jr/Getty Images
With that said, let's take a look at the position of my favorite mistake each year: Nose Tackle.
Alameda Ta'amu, Washington
This is the guy who has rekindled my hope that Houston is finally considering doing this. His strong showing at the Senior Bowl this past week boosted his draft stock and even got him some interview time with the Texans brass in attendance.
I know many say that they talk to everyone while they're there, but the fact that many in attendance have said that the Texans have shown the most interest in him has to be encouraging to the fans.
What Ta'amu and his 345-pound, 6'3" frame can bring to the Texans defensive line is drool-worthy. He plugs the run well and even has success at getting after the passer. If he can free up Watt and Antonio Smith to single coverage, that defensive front could be close to unstoppable. Think Vince Wilfork.
Dontari Poe, Memphis
Ah, yes, the YouTube sensation. Just based off of his measurable alone (350 pounds, 6'5"), Poe is every Texan fans dream of a nose tackle. He is the definition of a space-eater and he always commands multiple blockers to contain him.
This is another guy that if paired up with J.J. Watt and Antonio Smith could do some serious damage to the opposition. Forget running the ball, you're going to have to air it out to have a chance.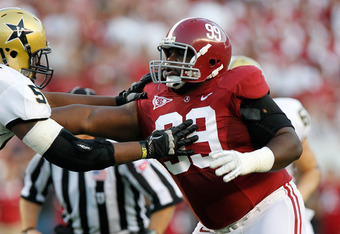 Kevin C. Cox/Getty Images
Unfortunately, I don't see a prospect like Poe falling to the Texans at 26. Especially when the Steelers are going to be looking to replace Casey Hampton, more than likely, and they pick two spots ahead of Houston this year. But crazier things have happened.
Josh Chapman, Alabama
In my last mock before the Senior Bowl, I had Chapman going to the Texans in the second round. This was before the news really got out that he played the second half of last season with a torn ACL and now will not be able to participate in pro day or most of the NFL Combine drills. He'll still be available to lift and give team interviews, but he'll be quite limited other than that.
Playing through the injury could do one of two things for his NFL Draft stock. Either it will drop his draft stock and he could be a bargain in the later rounds, or it could make teams see that he is all about team first and will tough it out and leave everything on the field.
With Houston seemingly being a fan of the way the program is run at Alabama, I'm sure Chapman is on their board somewhere. His weight doesn't fit the description of a space-eater at just 310 pounds, but he does seem to fit the Texans mold of quickness over mass.
Mister Cobble, Kentucky
After the first three guys mentioned above, the talent level really drops off and the Texans will have to start looking for that hidden gem at the bargain level from the late third until the end of the draft. A guy like Cobble just might fit that description.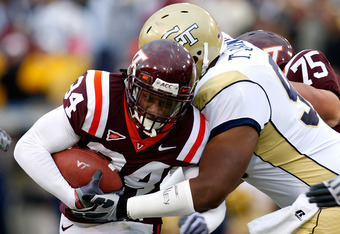 Kevin C. Cox/Getty Images
At 332 pounds, Cobble was able to be a wrecking ball to opposing offensive lines as a redshirt sophomore. He has incredible quickness for his size and could supplant Cody by the end of preseason if he studies the playbook.
Delvin Johnson, Marshall
Johnson had a breakout season last year thanks to the stellar play of teammate Vinny Curry. Still, that's no reason to scoff at his 10.5 tackles for a loss and a pair of sacks. Much like Chapman, his lower total weight (315 pounds) seems to be the prototype the Texans are looking for up the middle.
T.J. Barnes, Georgia Tech
The reason that I think a player like Barnes could be a late round option for the Texans is not because of the 335 he submits to the weight scale, but because of his monstrous 6'7" frame.
What is something that a Wade Phillips defense does a lot besides rush the passer? They bat down a ton of passes at the line of scrimmage. Barnes has a ridiculous wingspan and you better believe that will find him on some team's roster this season.
Hebron Fangupo, BYU
By this point in the draft, most of the guys picked would be projects that I could see Houston trying to stash on their practice squad. Fangupo had a fine year for the Cougars but he is still very raw due to his late start in the game of football. But his size (330 pounds, 6'4") will make his name get called before the draft ends.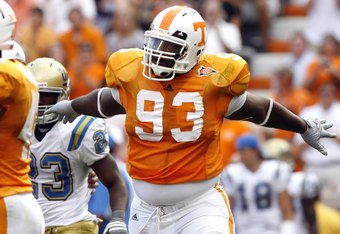 Joe Murphy/Getty Images
Montori Hughes, Tennessee
Hughes is quite the story, as he seemed like he was well on his way to being a top prospect a year or two ago, but he found himself kicked off the team in June due to misconduct and academic issues. Therefore, it's hard to predict where his draft stock stands at the moment. To be honest, going back to school another year might be the best option, but his possible "high reward" status will see him get picked in the late rounds.
In the end, I'm not sure if I'll ever let this one go. Every year I try to convince myself that I'm done with hoping for it and then I let myself fall in love with the idea of a certain prospect anchoring the middle for Houston and I'm right back into a relapse. Who knows, maybe Wade Phillips can convince coach Kubiak that this is they year a certain prospect is the difference that puts them over the top.
Or perhaps I'm still dreaming.
Mike Kerns is a Featured Columnist for the Houston Texans at Bleacher Report. Feel free to follow him on Twitter and catch his latest Texans podcast on iTunes.