2012 NFL Pre-Senior Bowl Mock Draft: Houston Texans' Full 7-Round Predictions
January 24, 2012

Chris Trotman/Getty Images
With the Senior Bowl this weekend, I wanted to fit in a mock draft before almost every draft eligible player on the board changes their draft stock immensely. Some go way up while others show that they may be fool's gold with all the red flags.
Ask Von Miller and Da'Quan Bowers what the Senior Bowl can do to your draft status. Miller was thought a mid-round pick before the Senior Bowl last year and rose all the way to the 2nd overall pick, whereas Bowers was thought to be a top 5 lock and eventually dropped to the 2nd round. So the Senior Bowl is certainly worth watching for draft junkies such as myself.
With that said, if the draft were tomorrow and these players would be on the board when the Texans, who will finally be drafting for depth mainly, make their selections. Bookmark this page, because it will probably look drastically different by the next mock. To compare and contrast with my last mock back in early December, you can find that here.
Round 1: Dwight Jones, WR, North Carolina
I realize that this breaks the heart of all the people hoping for Kendall Wright out of Baylor, but I just don't see him as a fit in Houston. With a quarterback that routinely underthrows his receivers, getting a "burner" like Wright just doesn't seem to fit what they're trying to do. They need a guy who is more physical, taller and able to leap and outmuscle defenders. Thus, I am going with the physically gifted Dwight Jones out of North Carolina here.
It is no secret that the Texans are going to be looking for a receiver or two in this draft and a guy like Jones could still be on the board when they pick, even if he has a strong showing at the Combine and Senior Bowl. This is a deep draft for wide receivers and a lot of them have stock that is rising. At 6'4" Jones has all the tools to be great in this offense and I wouldn't be surprised if he's already on Gary Kubiak's shortlist.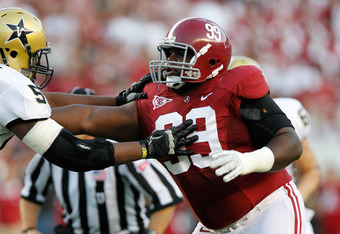 Kevin C. Cox/Getty Images
Previous pick: Dont'a Hightower, LB, Alabama
Round 2: Josh Chapman, NT, Alabama
This one should be pretty much self-explanatory, really. Fans have been clamoring for a nose tackle the past five years and the Texans finally take one here. However, it would be met with mixed reviews as Chapman isn't exactly the 350 pound space-eater they have always wanted. But his body frame does seem to be the type of guy the Texans go for in their scheme.
Chapman isn't going to blow anyone away with his pass-rushing ability, but he is an elite run-stopper and could be competing with Shaun Cody for the starting job by the end of camp. There may not be too many college coaches better at developing NFL quality interior linemen as Nick Saban and Chapman would be the next Crimson Tide product to join the Texans. 
Previous pick: Juron Criner, WR, Arizona
Round 3: Ryan Broyles, WR, Oklahoma
I know that many of you are thinking: "Two wide receivers?! In the first three rounds?!" The answer to that is a resounding yes. This draft is all about depth for the Houston Texans and I would be surprised if two receivers weren't taken this year. With Jacoby Jones and Kevin Walter's contracts exceeding their production, both could be on the chopping block in 2012.
With Broyles, you gain a slot receiver with burst that doesn't lose speed when changing directions. He can create mismatches with safeties and linebackers, but he lacks ideal size to be a downfield threat. As a bonus, he also has some value in the return game. With this one pick, you can make both Jacoby Jones and Kevin Walter expendable.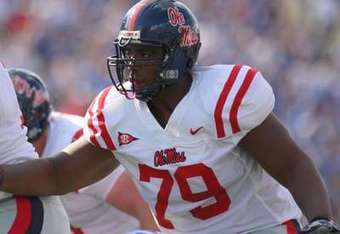 Previous pick: Ryan Miller, OG, Colorado
Round 4: Bobby Massie, OT, Ole Miss
When Rashad Butler went down with a season-ending injury this past year, the Texans were one Duane Brown or Eric Winston ankle sprain away from throwing rookie tackle Derek Newton out there. So even with Butler expected to make a full recovery, look for the Texans to shore up more depth this draft for the offensive line, and Bobby Massie could be that guy.
Massie has excellent size and quick feet to go with his long arms. His balance is superb and he can cut off the edge with no problem. He's a solid drive blocker which is essential in this scheme. Look for him to be groomed to be Eric Winston's possible replacement down the road. 
Previous pick: T.J. Barnes, NT, Georgia Tech
Round 5: Carmen Messina, ILB, New Mexico
This is another one of those picks that probably have people counting the Texans' linebackers and saying that they don't get why I would make this selection. Well, it's quite simple really. In the 3-4 scheme that Wade Phillips runs, you can never have enough linebackers. Remember that this is a draft about depth and a lot of these selections are going to seem like luxury picks. It's what good teams do in these situations.
As for Messina, the guy is simply a flat out tackling machine. With 142 tackles, including 12.5 for a loss, he was one of the most productive at his position in the nation this past season. He's no flash in the pan either, as it was his third consecutive year to be at the top or near the top of that category in all of college football. He has a nose for the ball and amazing instincts. To scoop him up in the fifth round would be a coup. 
Previous pick: Jacquies Smith, DE, Missouri
Round 6: Jonathan Massaquoi, DE, Troy
This is the only pick from my previous mock to stay the same and just like linebackers, another thing that a Wade Phillips defense needs is a vast number of pass-rushers. In Massaquoi, he would add a guy who is probably more of a tweener, and most scouts would translate him to a linebacker in the NFL. He is good at dropping into coverage, and he is quick enough off the ball to bring quarterback pressure.
Remember what Wade Phillips did the last time he got his hands on a pass-rusher out of Troy? That's not to say that you would find the next DeMarcus Ware in the sixth round, but drawing the parallels is always fun.
Previous pick: Jonathan Massaquoi, DE, Troy
Round 7: Tauren Poole, RB, Tennessee
If Derrick Ward decides that he enjoyed playing the role of mentor to Arian Foster and Ben Tate, but wants an opportunity to play, he'll likely find himself on another roster to begin the 2012 regular season. Therefore, I think the Texans will be looking for a young replacement in the later rounds in this draft.
In Tauren Poole, they would get a guy who is projected as a fifth rounder, but late round backs always seem to free fall towards the end. After being mostly a special teamer at Tennessee his first two years, he had a breakout year in 2011 that saw him rush for 1,034 yards and 11 touchdowns. He has all the makings of a third down back in the NFL and he is a good receiver out of the backfield, which is essential in the Texans offense.
Previous pick: Greg McCoy, CB, TCU
Even before I'm done writing this, there are already changes I would make to it based off of only one day of Senior Bowl practice. But like Allen Iverson would say; we're talkin' 'bout practice. So I'll stick with what I have here, but expect plenty of changes by the next mock in a few weeks. Keep it locked in for all things Texans draft.
Mike Kerns is a Featured Columnist for the Houston Texans at Bleacher Report. Feel free to follow him on Twitter and catch his latest Texans podcast on iTunes.