Peyton Manning Rumors: Why Miami Dolphins Are Perfect Destination for 4-Time MVP
January 30, 2012

Joe Robbins/Getty Images
With recent reports of tension between Indianapolis Colts quarterback Peyton Manning and owner Jim Irsay, and the fact that Irsay said he will select a quarterback with the first pick in this year's NFL draft (which likely means that they will go with Andrew Luck), the upcoming free-agency period looks to be one of the most exciting ever.
Already, ESPN has reported that teams such as the Washington Redskins, New York Jets and Arizona Cardinals are very interested in signing a Peyton Manning deal.
However, there's one other reported team that may be Peyton's best choice: the Miami Dolphins.
According to Barry Jackson of the Miami Herald:
Manning sits atop the Dolphins' quarterback wish list this offseason, and they will aggressively pursue him if he's a free agent and if he's cleared medically, two people with direct knowledge of Miami's plans said in the past week.
Yes, the same Dolphins that this past season went 4-9 under coach Tony Soprano and finished out the season 6-10.
Yes, the same Dolphins team that hasn't found a decent quarterback since Dan Marino retired, and instead has had to play with guys like A.J. Feeley, Gus Frerotte, Cleo Lemon and Chad Henne under center.
Yes, the same Dolphins team that hired Bill Parcells—a former two-time Super Bowl-winning coach who's been known to turn teams around as soon as he's hired—as executive vice president of football operations, but wasn't able to do anything in the three years that he was there.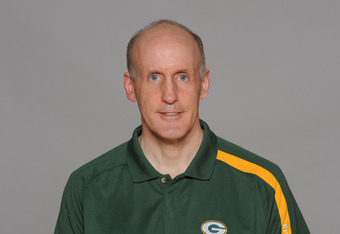 Handout/Getty Images
So why exactly are the Dolphins are a perfect fit? Well, for a number of reasons.
First off, the team will have the cap space to afford such an expensive player.
The Redskins are the only other team that could have a say in spending big bucks on Manning. The Cardinals have already invested $47 million in Kevin Kolb over the next four years. Mark Sanchez will be the highest-paid quarterback in the NFL next season, as he will be paid $14.25 million.
Currently, the Dolphins' 2012 roster stands at just over $105 million. All 32 teams have to have a salary floor of $108 million, and the 2011 cap stands at $120 million.
That means Peyton won't be making $28 million if Irsay decides to keep him, but can be signed to a $15 million-per-year contract (possibly more, depending on the 2012 cap and any future caps thereafter, and if the Dolphins release/trade any players before June 1) for next season, and still be one of the highest-paid quarterbacks in the league.
Second, the Dolphins should have a solid coaching staff.
Joe Philbin was hired to be the new head coach of the team a couple of weeks ago. Philbin was a part of the Green Bay Packers since 2003, and was hired as their offensive coordinator in 2007.
Between 2007 and 2011, the team has ranked in the top 10 in both yards per game and points scored.
Philbin won't be alone, though, as he'll have a solid coaching staff around him.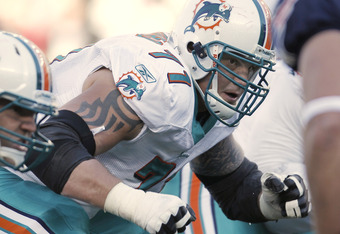 Winslow Townson/Getty Images
Mike Sherman, the former Packers and Texas A&M head coach, will serve as offensive coordinator. During his time with the Packers, he led them to five straight winning seasons, three NFC North division titles and a .663 winning percentage from 2000-2004, which is second to Vince Lombardi in franchise history.
Karl Dorell, a former UCLA head coach that set a school record for most comebacks in 2005 and led them to a 10-2 season, moved from wide receivers coach to quarterbacks coach last season.
Third is that outside of the quarterback position, they have a very solid team on both offense and defense, despite what their record might indicate.
Offensively, they have Reggie Bush as their starting running back, who eclipsed the 1,000-yard rushing mark this past season for the first time in his pro career. Brandon Marshall is an elite wide receiver, capable of having 80 to 100 receptions a season, and has had 1,000-plus yards receiving each year since 2007. Jake Long, the Dolphins offensive tackle who was the team's first pick in the 2008 NFL draft, has gone to the Pro Bowl every year in his career so far and was a first-team All-Pro in 2010.
Defensively, the Dolphins allowed an average of 18.3 points per game last season. They also have a slew of young, up-and-coming talent in the secondary, including cornerback Vontae Davis (who led the team in interceptions with four). What really stands about this defense though is how they handled the running game. They allowed their opponents just 98.5 rushing yards per game, third best in the league.
With Peyton Manning as the signal-caller, and with a continuously solid defense, the Dolphins are a lot more poised to make it to the playoffs.
Money, a great coaching staff and young but solid surrounding talent—the Miami Dolphins are a team that can boast all three of these things. All they need now is a premier quarterback to take the snaps.
Manning is the answer. If he is released, there is no doubt that signing with Miami (compared to the other teams) would be the best decision Peyton could make.