Pro Bowl 2012: 7 Players We're Most Excited to See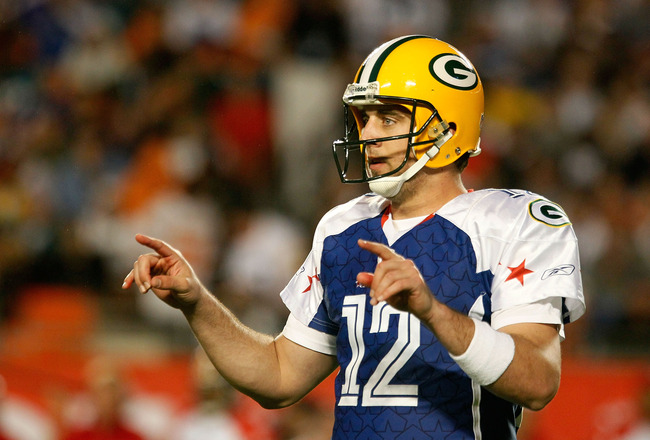 Scott Halleran/Getty Images
The Pro Bowl is just around the corner and, if history is any indicator, it will be quite the offensive affair. Epic defensive struggles rarely take place in Aloha Stadium—instead, the offenses for both teams are usually left to run wild and free. For this reason, the following list has been compiled with a deliberate and unapologetic offensive bias.
Aloha and enjoy!
7. Sebastian Janikowski
Ezra Shaw/Getty Images
Putting a kicker on a "Players We're Most Excited to See" list may seem like an odd decision, but Janikowski is not your average kicker. The FSU alum weighs in at a hefty 250 pounds, most of which seems to be located in his stomach. This makes him quite a sight to see in a close-fitting football uniform. While he may or may not be a slouch off the field, he makes the most of his time spent between the white lines. In 2010 he led the league with 33 field goals, but failed to make the AFC Pro Bowl squad (most likely because he only hit 80 percent of his tries). This season, he hit 31 of his 35 attempts and was offered a spot on the AFC roster.
There's little doubt that Janikowski has the strongest leg in the league. That common belief was strengthened when he drilled an NFL record 63-yarder earlier this season. If Gary Kubiak is put in a position to allow Janikowski to tie or break his own record (even though it won't technically count), we, as NFL fans, can only hope that he'll jog Janikowski onto the field, jiggling belly and all.
6. Mike Wallace
Justin K. Aller/Getty Images
Mike Wallace is arguably the AFC's biggest deep threat. With teammate Ben Roethlisberger lining up under center to start the game, don't be surprised if Wallace tries to burn one deep early in the contest. During the regular season, Wallace caught eight touchdowns from Roethlisberger, the longest a 95-yard bomb against the Cardinals in week seven.
Another factor that sways in Wallace's favor is the absence of corner back Carlos Rogers. Wallace will likely be lined up against Seattle's Brandon Browner, who should give him a lot less trouble than the aforementioned Rogers.
5. Andy Dalton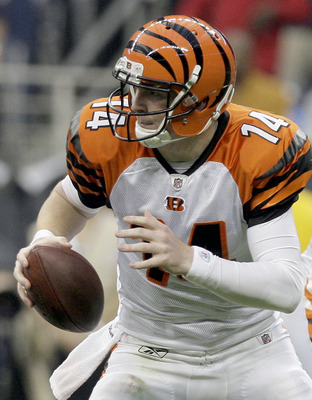 Thomas B. Shea/Getty Images
The Bengals were one of the biggest surprises of the 2011 season, and Andy Dalton's steady quarterback play was one of the main reasons for the team's dramatic turnaround. Cincinnati was dismal in 2010, finishing the season in the AFC North cellar with a 4-12 record. But they unexpectedly stormed out of the gate in 2011, winning six of their first eight games. They cooled off a bit in the second half of the season, but still locked up nine wins and a trip to the playoffs. Dalton, a rookie out of Texas Christian, made the oft-maligned Carson Palmer a distant memory for most Bengals fans, throwing for 3,398 yards (fourth most by a rookie) and 20 touchdowns while leading the Bengals to their first playoff appearance since 2006.
Dalton's somewhat unexpected trip to Honolulu puts him among elite company—he is only the fourth rookie quarterback since 1970 to be named to the Pro Bowl. The other three are Dan Marino, Vince Young and, of course, Cam Newton.
Like Newton, Dalton will likely have a chance to toss the rock to a trusted receiver—teammate and fellow rookie A.J. Green. In fact, if Dalton completes a pass to Green, it will be the first pass connection between two rookies from the same regular season squad in Pro Bowl history.
4.. Cam Newton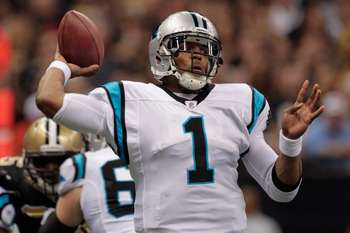 Chris Graythen/Getty Images
With Eli Manning heading to Indianapolis next week to take on the Patriots, Cam Newton has secured a spot on the NFC Pro Bowl roster. Some fans are surprised by the decision to select Newton over Lions' quarterback Matthew Stafford (who threw for 5,000+ yards this season, one of only four quarterbacks in NFL history to accomplish the feat), and while it is unfair that Stafford was overlooked, there is little doubt that Newton is indeed worthy of a Pro Bowl selection.
The 6'5, 250 pound signal-caller is coming off one of the most successful rookie seasons in NFL history. He finished the campaign with 4,051 passing yards, a new high-water mark for rookie quarterbacks (312 more than the previous record set by Peyton Manning in 1998). He also rushed for 14 scores, a new single season record for quarterbacks.
Newton enters tonight's game third on the depth chart but should get plenty of playing time. Look for Cam-Cam to make some big plays with his feet (because linebackers are notoriously lax in the Pro Bowl) and through the air (because he should get some opportunities to hook up with teammate Steve Smith.)
3. Ray Lewis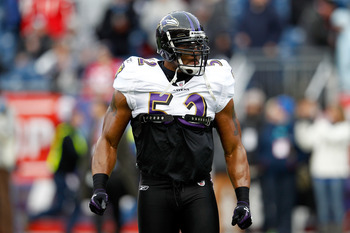 Rob Carr/Getty Images
While Ray Lewis has confirmed that he will be returning to the Ravens next season, it's no secret that his days in the NFL are nearing an end. The 15-year veteran out of Miami is approaching his 37th birthday, and some skeptics are worried that his unique skills are beginning to deteriorate. Some have cited his occasional difficulties with covering athletic tight ends as evidence of his decline. Others wonder how long his aging body will be able to hold up against a constant barrage of 230-pound fullbacks
There is a very real possibility that tonight's game will be the last Pro Bowl for this legend of the gridiron. Off-field incidents aside, Ray Lewis will be remembered as one of the greatest linebackers to ever play the game—a deeply passionate player whose name deserves to be uttered in the same sentence as Butkus, Lambert, and Taylor. There is no guarantee that Lewis will make it through next season—injuries can happen at anytime, and an ailment this late in his career could send him into retirement. So watching him strap on the pads tonight, even if it is just for a glorified exhibition, should not be taken for granted by any serious NFL fan.
2. Drew Brees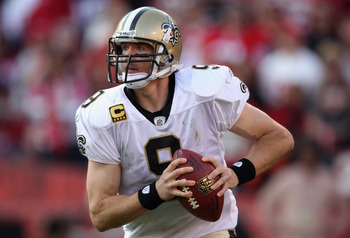 Jed Jacobsohn/Getty Images
The 2011 season will go down as the year of the quarterback, and no one (except maybe Aaron Rodgers) performed at a higher level than Drew Brees. He led the league in passing touchdowns (46), completions (468), completion percentage (71 percent), and set an NFL record by throwing for 5,476 yards—yet he will begin the game on the bench, behind the Discount Double Check guy. But Brees is a kind-hearted, easy-going kind of fellow, so don't expect him to take much offense to this. After all, it is the Pro Bowl, so he should see some playing time before the end of the first half anyway. When he does make it onto the field, look for him to go to Jimmy Graham early and often, just like he did all season long.
1. Aaron Rodgers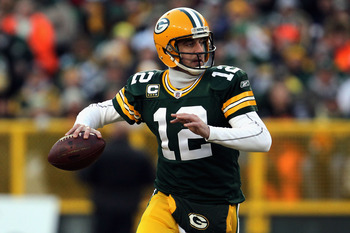 Jonathan Daniel/Getty Images
Aaron Rodgers' 2011 campaign was, plain and simple, one of the greatest seasons for a quarterback in NFL history. Let's take a brief look at Mr. Rodgers' incredible accomplishments:
- 122.5 passer rating (an NFL record)
- 45 TD passes (5th best single season mark), 6 INTs
- 4,693 passing yards
- Finished with a passer rating of 100+ in 14/16 regular season games.
- 5 games with at least 4 TD passes.
- 7 games with at least 300 passing yards.
- Multiple TD passes in all but one regular season game.
On top of his individual accomplishments, Rodgers also led the Packers to a 13-0 start and a 15-1 regular season record. He also contributed one of the most memorable commercials of the season and is a photobombing enthusiast.
In tonight's Pro Bowl, Rodgers will have the chance to throw to his long time teammate Greg Jennings. If we're lucky, the dynamic duo will have multiple opportunities to stretch the field and complete some long pass plays.
Keep Reading