New England Patriots: Alabama Duo to Be the Patriots' Perfect Draft Picks?
November 9, 2016
Kevin C. Cox/Getty Images
After completing my first 2012 NFL mock draft today, I had the New England Patriots landing a pair of former Alabama defensive studs. While it is still very early to be mocking the draft, this situation could be almost perfect for the Patriots.
With Dre Kirkpatrick arriving with the 27th overall selection, acquired from the trade that gave New Orleans Mark Ingram last season, coincidentally another Alabama star, linebacker Dont'a Hightower was taken 31st overall.
Now obviously it is no dead certainty that the Patriots will take these two players, but fans should be very happy if the situation plays out.
Even though a deep-threat wide receiver remains a priority, before free agency begins at least, the Patriots' biggest needs in the offseason are located on the defensive side of the ball. Bill Belichick did manage to get some level of performance from his defense as the season went on, but the lack of talent was exposed against the better teams.
The Patriots' 1-3 record, including the whole season, against teams with winning records reflects how the teams with better weapons overwhelmed a defense built on undrafted free agents and practice squad pickups.
Unfortunately for the Patriots, this year's draft class doesn't feature a game-changing speedster receiver who is expected to be available late in the first round. Therefore, outside of trading up or down, the Patriots will surely use these selections on their defense.
Linebacker isn't a major issue entering the draft, as Jerod Mayo and Brandon Spikes are two of the Patriots' best players, but Dont'a Hightower has the versatility to play outside linebacker in either scheme and even line up as a defensive end in a 4-3.
With Hightower added to Spikes and Mayo, the Patriots would have three physically gifted and very versatile linebackers who would all have game-changing ability. Hightower's addition would be another piece that allows Belichick to remain ambiguous with his defensive front seven entering the 2012 regular season.
The physical talent of Hightower alone makes him an improvement over Rob Ninkovich as a pass-rusher and if he takes to coaching, his potential to be a game-changer for the Patriots will be limitless.
Offensively, the Patriots' scheme is based on matchup advantages and creating mismatches. With Hightower's addition, the defense could take on a similar form. Because of Spikes, but more importantly Mayo and Hightower's versatility, offenses can't count on any of the team's linebackers to be a liability in any facet of the game.
In turn, they also can't game-plan as effectively in the week leading up to playing the Patriots.
Whoever drafts Dont'a Hightower will look to use him in a similar fashion to how he was used at Alabama. In the NFL, there are already good examples of players being moved around as Von Miller and Cameron Wake played both end and outside linebacker this year, with Terrell Suggs being the prototypical hybrid NFL player.
The Ravens use Suggs in a variety of ways, but even he couldn't play linebacker in a 4-3, which Hightower looks like he's capable of doing. Considering the level of performance Belichick has gotten from oddities such as Mark Anderson and Rob Ninkovich, just imagine what he could do with Hightower on the roster.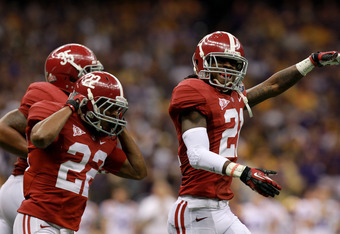 Ronald Martinez/Getty Images
Of course, the Patriots' front seven wasn't their biggest problem last year.
Drafting Dre Kirkpatrick would not only be improving the coverage on the Patriots' back end, it would also be adding some much-needed physicality. Drafting a cornerback has a major effect on the rest of the Patriots' secondary.
In a VERY positive way.
With Kirkpatrick coming in as a starting corner on the outside and last year's second-round-pick, Ras-I Dowling, returning from injury on the opposite side of the field, the Patriots would have better size and physicality on the outside as opposed to last year.
This would also allow the team to move last year's starting cornerbacks to other areas of the defense.
Devin McCourty looked better during his short stint as a safety last year, which admittedly isn't saying much considering how bad his play at cornerback was. If McCourty has a full preseason to become the starting safety alongside Patrick Chung, the Patriots would once again have a player with enough talent to adequately replace James Sanders and Brandon Meriweather, who were both released last year.
While the Patriots' secondary as a group was poor last year, Kyle Arrington played with pride and showed a lot to like.
Arrington played well enough to keep his place as a starting cornerback in the team's base defense, but much like the Pittsburgh Steelers used William Gay last year and the Green Bay Packers have used Charles Woodson in recent years, moving Arrington inside would make the defense as a whole much better in nickel packages.
In the Super Bowl, even though he was receiving some help, Arrington was excellent against Victor Cruz. Despite being a smaller cornerback, Arrington plays aggressive coverage and isn't overwhelmed as a tackler.
With Dowling, Kirkpatrick and Arrington playing cornerback, while McCourty and Chung control the back end, the Patriots shouldn't be anywhere near having one of the worst secondaries in the NFL as they did this year.
At the very least, the addition of Kirkpatrick would allow the team to have more talent on the field. It is no certainty that McCourty can adjust to playing safety, but there are examples of talented college corners who showed less than McCourty in the league yet still managed to transition well to the position. Guys like Malcolm Jenkins, Jairus Byrd, Antrel Rolle and Clover Quinn have all seamlessly transitioned to safety in recent years.
You also can't guarantee that Dowling will be a starting-caliber corner or that Kirkpatrick will transition to the NFL well. However, one thing that is certain about each and every starter on the Patriots' projected secondary in this situation, each player has a lot of talent.
Talent was the difference in the Super Bowl. The Patriots didn't have the depth defensively to deal with the Giants' receivers. Considering that Hakeem Nicks was contained and Victor Cruz was shut down, the coaching staff couldn't have asked for a better game plan.
You can win without big reputation players, just because one player is drafted in the first round doesn't guarantee that he is better than someone who goes completely undrafted and is cut multiple times. Guys like Tony Romo, James Harrison, Arian Foster, Victor Cruz and Wes Welker prove that.
However the Patriots' players on defense are not talented enough to contain the best offenses in the league. Guys like Julian Edelman, Antwuan Molden, James Ihedigbo and Rob Ninkovich shouldn't be starters on any NFL defense.
At least with these two Alabama products, the talent on the defense improves. Not just at those two positions either.
Tweeting @Cianaf