Giants vs. 49ers: What San Francisco Can Do to Improve After Loss to New York
January 23, 2012
Ezra Shaw/Getty Images
This year's San Francisco 49ers team had not beaten themselves all season, until last night.  The 49ers won all season because their defense was arguably the best in the league, and their special teams always put them in great position to succeed. It's interesting that two messed-up punt returns doomed the 49ers' chances of returning back to the Super Bowl, after the season began with two brilliant punt returns by Ted Ginn Jr., the same man who was sidelined last night with a knee injury.
After losing in a fashion that will sting all offseason, the San Francisco 49ers and their fans have no reason to lower their heads. At the beginning of the season, the 49ers were an afterthought. With a short offseason, new coaching staff and a lot of the same players from the Mike Singletary era, what was there to be excited for? What kind of an impact could Jim Harbaugh possibly make in his first year as a head coach in the NFL?
Well, quite a big one.
Just like he changed the culture at Stanford before, Harbaugh morphed the same bonehead San Francisco 49ers from the last few years into the most physical, mentally prepared team in the NFL. With Harbaugh as the coach, the 49ers will be in good position to be a strong team again next season. But in order for the 49ers to continue to improve, there are a few things that need to take place.  
1. Wide Receivers
The three leading receivers for the 49ers last night were Vernon Davis, Frank Gore and Delanie Walker. You know what those three have in common? None of them are wide receivers.
Michael Crabtree, picked 10th overall in the 2009 NFL draft, was a no-show. He finished with one reception for a whopping total of three yards. Not the kind of production you are hoping to get from your "best" wide receiver, especially when Hakeem Nicks, taken by the Giants later in the same 2009 draft, finished with five receptions for 55 yards.
I know 49ers had injury issues at wide receiver, but to get just one reception from your receivers for three yards all day? Unacceptable. I wonder just how much Harbaugh is kicking himself for not signing his former Stanford receiver, Doug Baldwin, before the season started. Joshua Morgan will be healthy next season, but the 49ers are still in dire need of a true playmaker at wide receiver.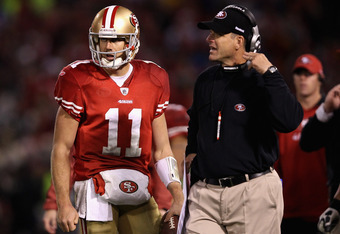 Ezra Shaw/Getty Images
2. Consistent Quarterback Play
You can no longer call Alex Smith a bust. A bust could not have done what Smith pulled off against the New Orleans Saints just a week ago. With that being said, anyone who watched last night's game saw that Smith struggled mightily.
Now, Smith's struggles could be a result of the New York Giants' dominating pass-rushers and the below-average receivers of the 49ers. Next season will be career-defining for Smith. Is he a one-season wonder or have his failures in the past been a result of poor coaching?
Another offseason with Harbaugh could be just what Smith needs to make the leap from "game-manager" to "game-changing" quarterback. Smith has to improve though, or this team will begin to look around for a new starting quarterback.
3. Secondary
It's not hard to find the weak spot in the 49ers defense. Last night, Victor Cruz finished with 10 receptions for 142 yards. Eli Manning threw for 316 yards. The week before, Drew Brees carved up the 49ers secondary for 462 yards and they allowed three different players to finish with over 100 yards receiving.
The 49ers secondary is not a complete abomination; it's just getting a little older. They tackle well and create a lot of turnovers. But when they don't create turnovers, good quarterbacks can pick them apart, as Manning and Brees did the past two weeks.
San Francisco 49er fans should not be discouraged about last night's loss. Jim Harbaugh is building a winning foundation for the years to come. Harbaugh has not given any reason to doubt his work so far. There should not be any doubt that Harbaugh will make the right offseason moves to bring this team back to the playoffs with a shot to make it to the Super Bowl.