8 Best One-on-One Matchups in Super Bowl XLVI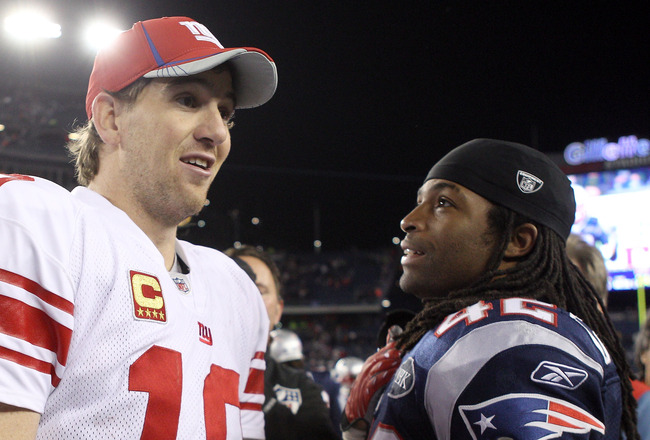 Elsa/Getty Images
Football is a team sport. Twenty-two players start, 46 dress for game day, 53 are on the roster, eight work out on the practice squad. Beyond them there are 15-20 coaches and a small army of trainers, scouts, executives and staff. All contribute in vital ways to the success of the franchise.
But in the NFL, wins and losses aren't decided all at once. Points aren't awarded on group merit. Super Bowl XLVI, like all NFL games, will be decided by the results of 22 men squaring off over and over and over.
One player's advantage over the other will be multiplied over and over and over throughout the course of the game; every snap another roll of the loaded dice.
What matchups will provide the Patriots and the Giants the fine edges they'll need to slice each other apart? What matchups will provide the Patriots and Giants with huge blunt instruments they can beat each other with?
We run down the eight most intriguing one-on-one battles of Super Bowl XLVI.
David Diehl vs. Mark Anderson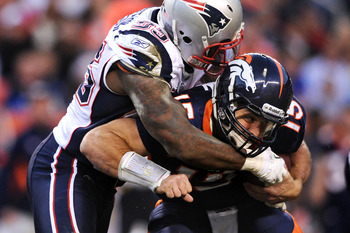 Patrick Smith/Getty Images
This was the year stalwart Giants left tackle David Diehl was finally beaten. 2009 second-round pick William Beatty won the blindside job in training camp, and Diehl moved inside to guard. But when Beatty was lost for the season with a detached retina, Diehl resumed protection duties.
Flatly, he's struggled. Pro Football Focus graded Diehl negatively every single week this season, save for the Wild Card game against the Atlanta Falcons. He hasn't earned a single positive mark for run blocking or pass protection all season.
Primary Patriots pass-rusher Andre Carter was lost for the season with a knee injury in Week 15, but DE Mark Anderson has filled his shoes, matching Carter's 10-sack total on the year. Diehl will have to play like he did against Atlanta, not like he's played in every other game this season, if Eli Manning is going to have time to throw.
Wes Welker vs. Corey Webster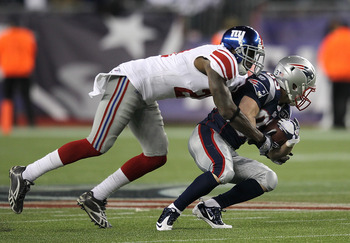 Jim Rogash/Getty Images
Wes Welker had a monster 2011 season, racking up 122 catches for 1,569 yards and nine touchdowns. Welker has established himself as quarterback Tom Brady's true first option. Even without a physically imposing, elite-tooled receiver across from him, Welker shreds secondaries as a matter of course.
In the first matchup against the Giants, Welker had a field day: he hauled in nine catches for 135 yards. Can Giants cornerback Corey Webster slow Welker down?
He'd better. Though the Giants hung on to win the last match, they'll need to do a better job of preventing Welker from giving Brady an outlet.
Ahmad Bradshaw vs. Brandon Spikes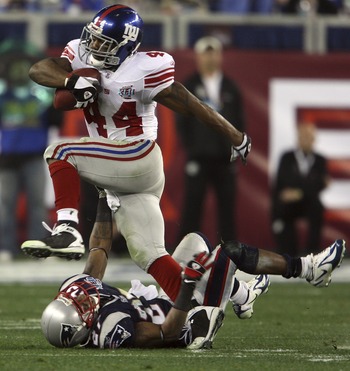 Andy Lyons/Getty Images
Giants tailback Ahmad Bradshaw is a key cog of Big Blue's offense. Bradshaw missed four games in the middle of the season, including the first game against the Patriots, with a foot injury. The Giants went 1-3 in that stretch.
With speed, wiggle, and underrated power, Bradshaw poses matchup problems for almost any defender, but Patriots linebacker Brandon Spikes isn't just any defender. He's an engine in the middle of the New England defense—and he missed much of the first game against the Giants after spraining an MCL.
With both of these key players back in the lineup and playing well, whichever one outplays the other could help his team out tremendously.
Rob Gronkowski/Aaron Hernandez vs. Mathias Kiwanuka/Michael Boley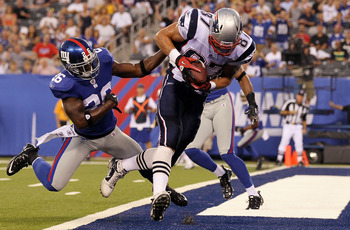 Jim McIsaac/Getty Images
These are supposed to be one-on-one matchups. But the Patriots' pair of receiving tight ends, Rob Gronkowski and Aaron Hernandez, pose similar threats to a Giants linebacking corps that's struggled in coverage.
Bleacher Report's Chris Trapasso did an in-depth analysis of the Giants' performance against tight ends throughout the season, and found that athletic tight ends have given New York fits. If the Giants want to best New England for the second time this season, they'll need to do a better job of keeping a lid on Gronkowski and Hernandez.
Matt Light vs. Jason Pierre-Paul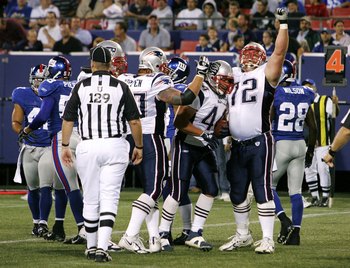 Jim McIsaac/Getty Images
In the first matchup between the Patriots and Giants, Patriots left tackle Matt Light did a great job containing Giants defensive end Jason Pierre-Paul. Pierre-Paul did get a sack and two tackles, but that's an average day for Pierre-Paul.
The terrifying edge rusher has 17 sacks and 63 tackles in 18 games this season, by Pro Football Focus' count. PFF's pass rush grades for Pierre-Paul, and pass protection grades for Matt Light show that besides his sack, Pierre-Paul didn't make much impact.
If the Patriots want revenge for the Giants' prior Super Bowl upset, Light will again have to hold one of the NFL's hottest pass-rushers to an unremarkable day.
Victor Cruz vs. Devin McCourty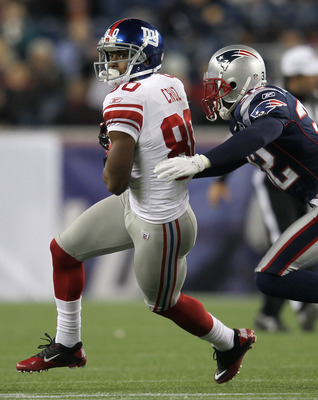 Jim Rogash/Getty Images
In the first matchup between the Giants and Patriots, Giants WR Victor Cruz worked primarily against Patriots cornerback Kyle Arrington. According to Pro Football Focus, quarterback Eli Manning threw Cruz's way six times against Arrington, but only completed three of those passes for just 43 yards.
Hakeem Nicks missed that first game, and he'll likely be matched up against Arrington in Super Bowl XLVI. Cruz should see plenty of time against Devin McCourty, and in the first matchup Cruz's only two targets against McCourty were 18- and 19-yard completions.
McCourty's going to have to do a better job of containing Cruz, one of the hottest wideouts in football, in Super Bowl XLVI.
Eli Manning vs. Tom Brady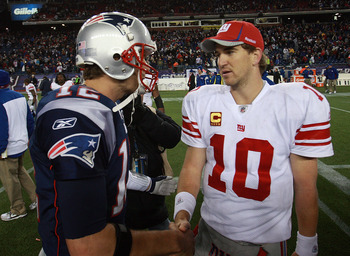 Jim Rogash/Getty Images
They won't line up across from each other. They won't directly affect each other's play. They can't act to slow the other down; they'll have to rely on their teammates.
But Super Bowl XLVI could easily come down to a classic quarterback duel. Both Eli Manning and Tom Brady have been here before, and both have come away as champions.
As with Super Bowl XLII, Manning and the Giants had an inconsistent, often unimpressive season. As in 2007-08, the Giants got hot at the perfect time. As with 2007-08, the Patriots cruised through the NFL and are favorites to win.
But unlike the prior title bout between these teams, Manning has ascended to the statistically elite level. In the 2011 regular season, Brady threw 611 times for 5,235 yards and 39 touchdowns; Manning threw it 589 times for 4,933 and 29 touchdowns. The Giants and Patriots will both be counting on their quarterbacks to play at their usual level.
In this season's regular season matchup, Manning had the upper hand, if barely. He completed 20 of 39 attempts, for 250 yards, 2 TDs, and 1 INT. Brady threw it more times (49) for more yards (342), but paired his own two touchdowns with two interceptions.
There's no single player in the NFL that affects his team's fortunes more than the quarterback. In this game, there's no doubt: the aerial duel between Manning and Brady is the most important one-on-one player matchup of Super Bowl XLVI.
Tom Coughlin vs. Bill Belichick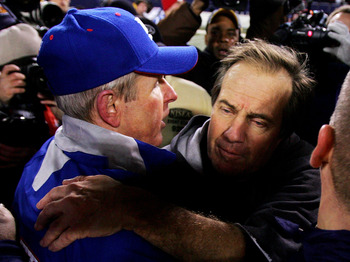 Chris McGrath/Getty Images
Bill Belichick is often hailed as a genius, at least in the realm of football. His ability to continually restock and retool his roster to suit his scheme (and his scheme to suit his roster) has kept the Patriots amongst the NFL's elite year in, year out.
Tom Coughlin is rarely mentioned in the discussion of today's best NFL coaches. But if he can, again, usher an unimpressive and inconsistent Giants squad through the playoffs to an upset of the mighty Pats?
Perhaps the "G-word" will start getting attached to the G-Men's coach for once.
Keep Reading