Fantasy Football: Ranking the Top 20 Fantasy QBs in 2012
January 16, 2012

Scott Boehm/Getty Images
It is never too early to think about the 2012 fantasy football season!
Fantasy football has gone through a seismic shift. Fantasy leagues used to be won by the teams with the best running backs. But thanks to NFL teams employing two-tailback systems and rules favoring passing attacks more than ever, quarterbacks have now become more valuable in fantasy leagues, especially those leagues where two QBs must be started weekly.  
So here are the top 20 fantasy quarterbacks heading into the 2012 season: 

1. Aaron Rodgers, Green Bay Packers
Rodgers ranked in the top five in virtually every passing category imaginable thanks to his 4,643 passing yards, 45 touchdown tosses and 122.5 QB rating. The two advantages he has over the No. 2 man in these rankings are his rushing stats (257 yards and three scores in 2011) and his lower amount of interceptions (six).  

2. Drew Brees, New Orleans Saints
I guess the questions about Brees' size and arm strength can finally be put to rest, right?  All Brees did was lead the league with 46 touchdown passes and set an NFL record with 5,476 passing yards. Let's hope his favorite target, Marques Colston, opts to stay rather than sign a huge free-agent contract with another team. 

3. Tom Brady, New England Patriots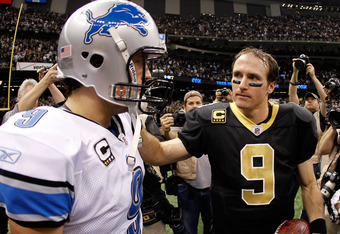 Chris Graythen/Getty Images
Brady does not need a running game to keep defenses honest or even a speedy wide receiver to go to deep for him. Brady threw for an amazing 5,235 yards and 39 touchdowns thanks to wily Wes Welker and the most terrific tight end twosome in football. In most years, Brady would be the No. 1 fantasy QB with numbers like that, but throwing for 5,000 yards isn't as hard as it used to be. 

4. Cam Newton, Carolina Panthers
Who said a rookie quarterback who only operated out of a spread offense in college would be a colossal fantasy flop?  Many fantasy experts, that's who. But look for Newton to pass for more yards and touchdowns than most quarterbacks and run for more yards and touchdowns than most running backs in 2012. 

5. Matthew Stafford, Detroit Lions
Fantasy owners and football fans finally got to see what Stafford could do when he does not get his shoulders separated. As long as he stays injury-free—and Calvin Johnson does, too—Stafford should have no trouble putting up back-to-back 5,000-yard, 40-TD seasons. 

6. Eli Manning, New York Giants
Manning obliterated his previous career-high in passing yards by almost 1,000 yards this season, throwing for a shade under 5,000 yards and adding 29 TD passes. There is no reason to think he cannot repeat the feat, especially with Hakeem Nicks and Victor Cruz catching his throws. 

7. Philip Rivers, San Diego Chargers
Rivers was not himself for most of 2011, throwing mindless interceptions like he was Brett Favre. But he ended the season on a high note with 1,413 yards and 11 touchdown passes over his last five contests, which bodes well for 2012.  

8. Michael Vick, Philadelphia Eagles
Remember this guy?  He was thought of as the top-ranked or second-best quarterback going into this year's fantasy drafts, then kind of dropped like Newt Gingrich's popularity thanks to numerous injuries and ho-hum efforts. He will be a steal in 2012, provided he keeps his games missed to a minimum. 

9. Tony Romo, Dallas Cowboys
Who cares if Romo and his Cowboys never come up big in big games?  Not fantasy owners. Romo has arguably the best trio of weapons in the NFL with Miles Austin and Dez Bryant at receiver and Jason Witten at tight end, so another 4,000-yard, 30-TD year should be on his horizon.  

10. Peyton Manning, ?
We do not know yet if Manning will be able to come back from his career-threatening neck injury, nor do we know what team he would quarterback for if he does return. If he is able to play he definitely gets slotted up a couple spots. If he can't, then Eli holds the title as best Manning for a second straight season.   

11. Matt Ryan, Atlanta Falcons
Ryan has got to get over the two-point playoff fiasco he and his Falcons were a part of a couple weeks ago. The bottom line is he plays his home games inside a dome, has Roddy White and Julio Jones at receiver and should throw for 4,300 yards and 30 touchdowns next season.  

12. Ben Roethlisberger, Pittsburgh Steelers
"Big Ben" has finally convinced the Steelers hierarchy that they should be a pass-first team instead of a run-first team, and it is about time. With world-class sprinters Mike Wallace and Antonio Brown as his wideouts, Roethlisberger remains a prime-time passer. 

13. Carson Palmer, Oakland Raiders
Palmer will greatly benefit from a full training camp and preseason where he can work with his receiving corps and get the passing attack's timing down. Palmer showed flashes of brilliance and flashes of erraticness this season, but expect more brilliance next year.   

14. Jay Cutler, Chicago Bears
Cutler will not have offensive coordinator Mike Martz around anymore, which is good and bad. The good news is that Cutler will not be put in as many precarious positions by Martz's play-calling where he can be sacked into submission. The bad news is he probably will not pass as much, which will cut down on his yards and touchdowns. 

15. Matt Schaub, Houston Texans
Schaub has never thrown 30 touchdown passes in a season, has trouble staying healthy and quarterbacks a team built around Arian Foster, so he cannot be placed in the top 10. But Schaub is still a solid choice for fantasy owners, more so in leagues that require two QBs. 

16. Andy Dalton, Cincinnati Bengals
"The Red Rifle" hopefully will not endure a sophomore slump in 2012. If he avoids the dreaded S.S. and keeps his face off the cover of Madden '13, Dalton could throw for 3,500 yards and 25 touchdowns. 

17. Sam Bradford, St. Louis Rams
Just write off 2011 as a nightmare that never happened. Bradford is too talented to have another horrible campaign. With Jeff Fisher at the helm and with the Rams aiming to upgrade the offensive line and receiving crew around him, look for Bradford to have a breakout season. 

18. Joe Flacco, Baltimore Ravens
Fantasy owners now realize that Flacco will never be the kind of quarterback who throws for 5,000 yards and 35 TD. Draft him in the middle rounds and be happy with his 3,600 yards and his 20-25 TD, because he has posted those exact numbers for three years running.   

19. Tim Tebow, Denver Broncos
If it was guaranteed that Tebow would be the starter for the entire 2012 season, he could be ranked a little higher because the man is a touchdown machine and runs for more yards than most signal-callers. But chances are he will not last the whole season as a starter, so maybe San Francisco's Alex Smith or New York's Mark Sanchez would be safer fantasy choices. 

20. Ryan Fitzpatrick, Buffalo Bills
Have you ever seen a quarterback fall apart faster than Fitzpatrick did this past year?  Once he signed his $59 million contract extension, he went from being Johnny Unitas to being Ryan Leaf. Fitzy's 10-to-16 TD-to-INT ratio over the second half of the season has to worry fantasy owners.