Power Ranking the Most Impressive NFL Records Set This Year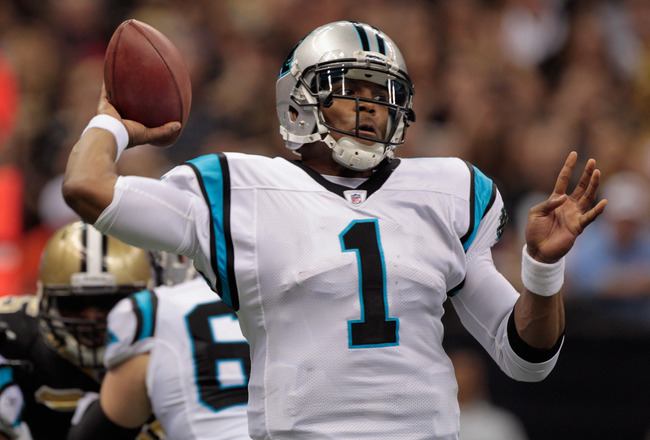 Chris Graythen/Getty Images
The 2011 NFL season was an amazing year. Teams were forced to play without benefits of OTA's or mini-camps, had shortened summer camps and practiced less with pads than any other prior season. But when it came time to play the games, the top-tier offenses and elite quarterbacks took over and dominated the league.
We have everything here from individual records to team records that established new highs in NFL history. We also have some dubious new team records that teams would probably just as soon not have.
Today we will look back at the records that were set this year, and power-rank them according to the magnitude and degree of difficulty of the records that were set.
From rookie records to veteran records, the 2011 season will go down as a highly entertaining year for NFL fans.
Most Passing Yards Surrendered by a Defense in a Single Season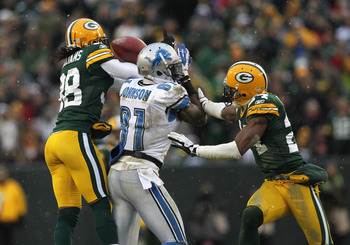 Jonathan Daniel/Getty Images
Of course, not every record that is set is going to be a positive thing. Some records are also made due to a player or a team being inept at something. In 2011, there were two teams that allowed the most passing yards by any other defense in the history of the NFL.
Those teams were the Green Bay Packers (4,796) and the New England Patriots (4,703). It is not lost on me that both of these teams are No. 1 seeds in their respective conferences and that they also have high-powered offenses that put a ton of points up on the scoreboard every week.
The old record had been created by the Atlanta Falcons, who allowed 4,541 passing yards in 1995. I imagine that this is one record that the Falcons team is happy to give up.
Oakland Raiders Set New Record for Penalties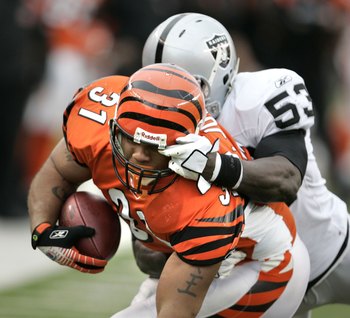 David Maxwell/Getty Images
I realize this one might be a little hard to believe, but the Oakland Raiders set a new NFL record for the most penalties in a season. They committed 163 penalties for the year, which totaled 1,358 yards.
The old record was set by the 1998 Kansas City Chiefs of 158 penalties in the year.
Head coach Hue Jackson had NFL referees at every Raiders practice, just to make sure that they cut down on penalties.
Most 3,000-Yard Rookie Passers in a Single Season (2)
Jamie Squire/Getty Images
The 2011 NFL season had two-rookie quarterbacks throw for more than 3,000 yards in a season. They were Andy Dalton (Cincinnati) and Cam Newton (Carolina).
Newton threw for 4,051 yards while Dalton threw for 3,398 yards.
Both quarterbacks benefited from starting from Week 1, and they were able to take advantage of the new NFL with a pass-heavy attack to surpass the 3,000-yard barrier as rookies.
Newton set so many records that I will be devoting a single-slide just to recognize all of his marks.
Most Yards on Offense in a Single Season by New Orleans Saints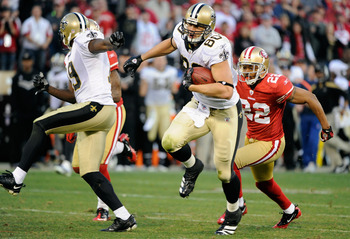 Thearon W. Henderson/Getty Images
In the history of the NFL, no offense has ever produced more yardage over the course of a single season than the New Orleans Saints offense generated this year. The Saints gained 7,474 yards, which easily surpassed the old mark of 7,075 yards that the St. Louis Rams generated in 2000.
With the efficient Drew Brees running the offense, having a wide array of receivers to throw the ball to, a healthy running back committee and a talented and athletic offensive line, the Saints have all the ingredients needed to possess a dynamic offense that is very hard to contain.
Other records established this season by the New Orleans offense:
Yards Passing by a team in a single season: New Orleans (5,347).
Total First Downs by a team in a single season: New Orleans (416).
Fewest Turnovers Committed by One Team in a Season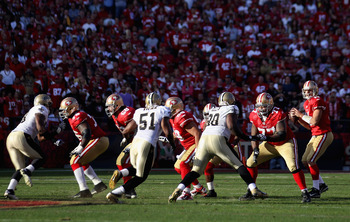 Jed Jacobsohn/Getty Images
Over the last two NFL seasons, two teams have stood out for taking extra care of the ball and not turning it over. In the 2010 season, the New England Patriots set a new record for fewest turnovers committed in a season with only 10.
That record was tied this year by the San Francisco 49ers, who also committed just 10 turnovers for the entire season.
There is a possibility the two teams could meet in the Super Bowl, and if they do, which team will turn the ball over the most?
Rob Bironas Establishes New Record for Kickers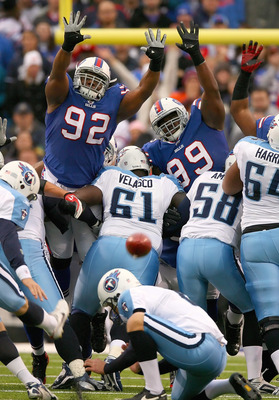 Rick Stewart/Getty Images
Tennessee Titan's field goal kicker Rob Bironas was on a roll this year—especially from beyond 40 yards.
Bironas made at least one 40-yard or longer field goal in 10 consecutive games, establishing a new NFL record, and breaking his old record of nine straight games.
We should also note that Bironas doesn't have the benefit of a domed-stadium for his home games either, which makes his accomplishment all the more special.
Most 4,000-Yard Passers in a Single Season (10)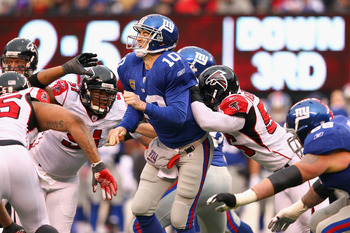 Al Bello/Getty Images
In the 2011 season, there were a total of 10 quarterbacks that all threw for at least 4,000 yards, which also happened to tie the record of 10 quarterbacks, which was set in 2009. The fact that this mark has been reached in two of the past three years is a reflection on the current state of the pass-heavy NFL offenses and philosophies to throw the ball first and run the ball second.
The 10 quarterbacks that topped the 4,000-yard passing barrier were: Drew Brees, Tom Brady, Matthew Stafford, Eli Manning, Aaron Rodgers, Tony Romo, Matt Ryan, Ben Roethlisberger, Cam Newton and Philip Rivers.
The former group of 10 from the 2009 season were the following: Matt Schaub, Peyton Manning, Romo, Rodgers, Brady, Brees, Roethlisberger, Rivers, Brett Favre and E. Manning.
Bill Belichick Sets New Record for Wins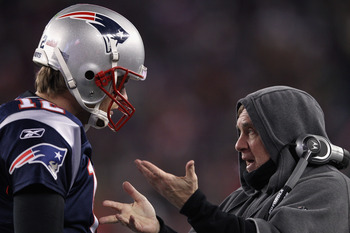 Elsa/Getty Images
Another record established this season was that New England Patriots head coach Bill Belichick became the first coach in the history of the NFL to win at least 13 regular season games in five different seasons.
That record is a testament to his longevity and ability to roll out a superior product year after year. For Belichick haters, this will be another reason to add to their lists.
Most 5,000-Yard Passers in One Season (3)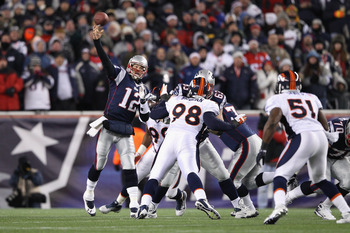 Elsa/Getty Images
In the history of the NFL, there have only been two quarterbacks that have ever passed for over 5,000-yards in a single season. It was first done by Dan Marino in 1984 (5,084) and then it was done again by Drew Brees in 2008 (5,069).
In the 2011 season, a new mark was established when three quarterbacks eclipsed the 5,000-yard mark. They were: Drew Brees (5,476), Tom Brady (5,235) and Matthew Stafford (5,038).
With the prolific passers in the league, the rules favoring the offenses and protecting the quarterbacks and defenseless receivers and new talent coming into the league, I would expect this record to be broken over the next year or two.
Most 500-Yard Passing Games in a Season (2)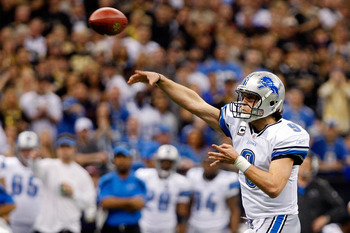 Chris Graythen/Getty Images
Over the years in the NFL, there have been a number of games where a quarterback has been able to pass for over 500-yards in a single game. But, in the history of the league, there has never been a season before where at least two quarterbacks threw for at least 500-yards in a single game.
That old record was finally broken in 2011, when Tom Brady did it in Week 1 (517 yards) and Matthew Stafford did it in Week 17 (520 yards).
The old record (one 500-yard game in a season) was first established in 1951, then tied in 1962, 1982, 1985, 1988, 1990, 1996, 2000, 2006 and 2009.
NFL League Record of Most Points Scored in a Season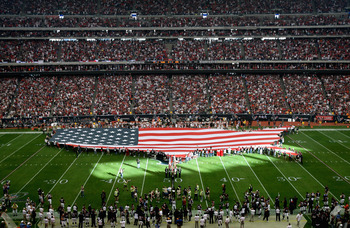 Thomas B. Shea/Getty Images
Another interesting record that was set: The 2011 season produced a total of 11,356 points, which is the most points ever scored in a single-season in league history.
The previous record was established last year of 11,283 points.
During the 2011 season, NFL teams averaged 44.36 points per game, which is the second-highest average in league history. The old mark was established in 1965, which was 46.12 points per game.
Darren Sproles Establishes Most Combined Net Yards in a Season Record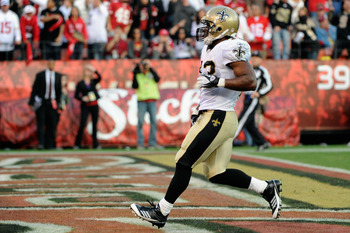 Thearon W. Henderson/Getty Images
Darren Sproles had a super year as a free-agent signing with the New Orleans Saints and reuniting with his old quarterback from San Diego, Darren Sproles.
In the 2011 season, Sproles established a new NFL record for most combined yards in a season with 2,696—breaking the old mark set by Derrick Mason in 2000 of 2,690 yards (he beat his old record by just six yards).
Sproles averaged 168.5 all-purpose yards per game in 2011. Sproles gained 710 yards as a receiver, 603 yards rushing the ball and the rest as a return specialist.
Aaron Rodgers Sets New QB Passer Rating Record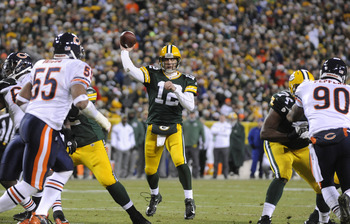 David Banks/Getty Images
In the 2011 season, Aaron Rodgers of the Green Bay Packers set a new NFL record for the highest QB Passer Rating for a single season with a rating of 122.4.
The rating is a measure of the overall-effectiveness of Rodgers as not only a passer, but in making good decisions with his passes and avoiding turnovers. He is accurate unafraid to throw the ball down the field.
The old record was established by Peyton Manning in 2004, when he came up with a 121.1 QB Passer Rating.
Rob Gronkowski Establishes New Tight End Records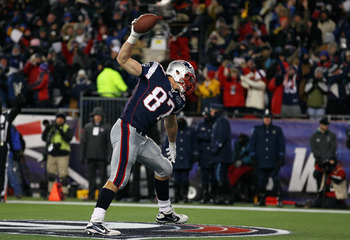 Al Bello/Getty Images
The NFL was blessed in 2011 to see a trio of tight ends do some amazing things throughout the year. The trio consisted of Rob Gronkowski and Aaron Hernandez of the New England Patriots and Jimmy Graham of the New Orleans Saints.
As far as setting new records, Gronkowski set a new record for tight ends with the most touchdown receptions in a single season (17). In addition, Gronkowski established a new season high for the most passing yards gained in a single season by a tight end with 1,327. Jimmy Graham also broke the old mark with his season of 1,310 yards—only to watch Gronkowski break his record later that day.
The yardage mark that Gronkowski broke had previously stood for 31 years.
It was held by Kellen Winslow of the San Diego Chargers, who gained 1,290 yards in 1980. The touchdown record that Gronkowski created had been jointly held by Antonio Gates of the San Diego Chargers (who scored 13 touchdowns in 2004) and Vernon Davis of the San Francisco 49ers, (who also caught 13 touchdowns in 2009).
Drew Brees Sets New Career Passing Records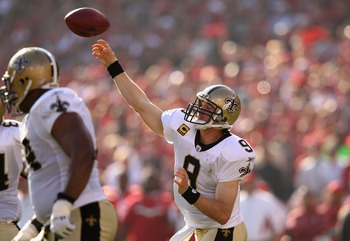 Ezra Shaw/Getty Images
The list of new passing records that Drew Brees established in 2011 is not as long as Cam Newton's achievements, but they are quite noteworthy nonetheless.
Brees' set the record for most passing yards in a single season (5,476). Brees broke the old record established by Dan Marino (5,084). Tom Brady also broke Marino's mark, with 5,235 yards, but Brees is in first place.
This is a significant accomplishment because Dan Marino held this record for a 27-year period.
Brees also broke the record for most pass completions in a season at 468 and highest pass completion percentage in a season at 71.2 percent.
Brees passed for 300 yards or more in seven straight games, which is a new record. He accomplished that feat 13 different games in the season, which is also a new record.
Brees was the old record-holder in both of the new marks that he re-established.
Cam Newton's Rookie Records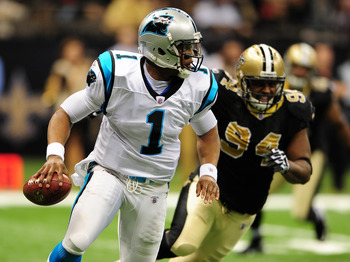 Scott Cunningham/Getty Images
According to the Wikipedia entry for Cam Newton, the following are all various NFL records that he set this year. As you can tell from this long list, Newton has already established himself as a special player.
NFL records
Most passing yards by a rookie in a game (432), Sept. 18, 2011
Most passing yards by a rookie in a season (4,051), breaking the old mark of 3,739 yards set by Peyton Manning, Indianapolis Colts, in 1998.
First quarterback in NFL history to pass for more than 400 yards in first career start, Sept. 11, 2011

First quarterback in NFL history to pass for more than 400 yards in first two career starts, Sept. 11, 2011 and Sept. 18, 2011

First rookie in NFL history to pass for more than 400 yards in back to back games, Sept. 11, 2011 and Sept. 18, 2011

First player in NFL history with at least five rushing touchdowns and five passing touchdowns in his first five games
First rookie in NFL history to throw for 10 touchdowns and run for 10 touchdowns in a season.
Most rushing touchdowns in single season by a quarterback (14)
Second player in NFL history with 20-plus pass TDs and 10-plus rush TDs in a season, Joining Kordell Stewart ('97)
First player in NFL history with 4,000-plus pass yards and 10-plus rush TDs in a season.
First player in NFL history with 4,000-plus pass yards and 500-plus rush yards in a season.
Most total touchdowns by a rookie NFL player: 35 (21 pass, 14 rush).
Had a passing touchdown and a rushing touchdown in the same game eight times, tying the NFL single-season record—previously accomplished by Steve Grogan of the New England Patriots in 1976 and Daunte Culpepper of the Minnesota Vikings in 2002.
Keep Reading