NFL Divisional Round Playoffs: Wide Receiver Fantasy Rankings and Analysis
January 13, 2012

Figuring out who the best wide receiver players are for the week is probably the toughest of all the fantasy decisions you have to make, even when you only have four games to look at.
That's why those of us in the fantasy industry put together these lists—to give the reader a gauge of what to expect from their players during the NFL Divisional Playoff weekend.
With that, here are the WR rankings for Round 2 of the playoffs along with detailed analysis of the top 10 players of the week:
26.           Chad Ochocinco (vs. Den—Saturday, 8:00pm ET)
25.           Ted Ginn (vs. NO—Saturday, 4:30pm ET)
24.           Lee Evans (vs. Hou—Sunday, 1:00pm ET) 
23.           Matt Willis (@ NE – Saturday, 8:00pm ET)
22.           Randall Cobb (vs. NYG—Sunday, 4:30pm ET)
21.           Jacoby Jones (@ Bal—Sunday, 1:00pm ET)
20.           Donald Driver (vs. NYG—Sunday, 4:30pm ET)
19.           Kevin Walter (@ Bal—Sunday, 1:00pm ET)
18.           Devery Henderson (@ SF—Saturday, 4:30pm ET)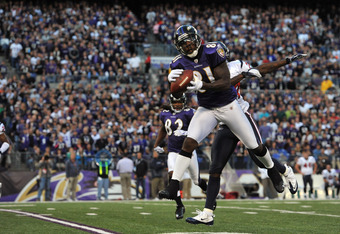 Larry French/Getty Images
17.           Kyle Williams (vs. NO—Saturday, 4:30pm ET)
16.           Deion Branch (vs. Den—Saturday, 8:00pm ET) 
15.           Eddie Royal (@ NE—Saturday, 8:00pm ET)
14.           James Jones (vs. NYG—Sunday, 4:30pm ET)
13.           Robert Meachem (@ SF—Saturday, 4:30pm ET)
12.           Torrey Smith (vs. Hou—Sunday, 1:00pm ET)
11.           Mario Manningham (@ GB—Sunday, 4:30pm ET)
THE TOP 10
10.           Anquan Boldin (vs. Hou—Sunday, 1:00pm ET)
I've said it before and I'll say it again—a receiver returning to the field after sitting out for a while can be very dangerous to contend with. He's rested, he's hungry and he wants to prove to all those around him that he's the same guy he was before.
Boldin is returning on Sunday after not playing for a month. Believe me; he's ready.
Earlier in the year against the Texans, 'Quan caught eight passes on nine targets for 132 yards in a Ravens win—and that was against All-Pro CB Johnathan Joseph!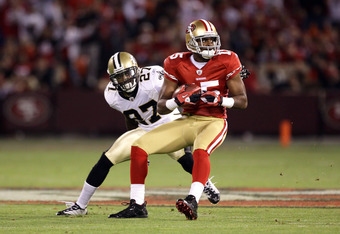 Ezra Shaw/Getty Images
If the Texans put Joseph on him again, Boldin may not be able to repeat those numbers with the way J.J. is playing.
However, if they stick him on Torrey Smith for the game, look for Boldin to go off.
9.             Michael Crabtree (vs. NO—Saturday, 4:30pm ET)
It took him a little while to get it, but it seems Mr. Crabtree finally understands what it takes to be a top-flight receiver in the NFL.
He's caught less than four balls in a game just once since Week 5 of the regular season, and has come up big for the 'Niners whenever they needed it.
However, the biggest thing Crabby has going for him this weekend from a fantasy standpoint is that the 49ers are taking on the highest-scoring team in the league—the New Orleans Saints.
San Fran's defense is good enough to hold them under their average, but they'll still have to score points on offense to win this one. Look for Crabtree to see double-digit targets in his first career playoff game.
8.             Demaryius Thomas (@ NE—Saturday, 8:00pm ET)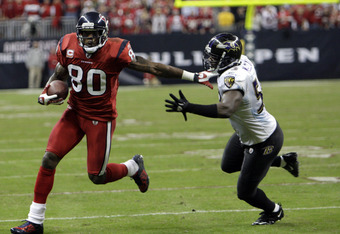 Bob Levey/Getty Images
Demaryius Thomas might be the hottest receiver in the league over the last couple months who is not named Calvin Megatron Johnson.
In his last six games, Thomas has averaged just under five catches and almost 109 yards a game,  while catching four TD passes in that time (not to mention the 80-yard game winner on the first play of OT last weekend).
Just four weeks ago, Demaryius had 116 yards on seven catches against these Patriots. With the likelihood that the Broncos will be playing catch-up ball this Saturday, my guess is he'll have every chance to do even more.
7.             Andre Johnson (@ Bal—Sunday, 1:00pm ET)
Baltimore's pass D is one of the better ones in the league, so no doubt Andre Johnson will have a tough time getting open all game long.
He didn't get to face them earlier this season due to injury. But Kevin Walter and Jacoby Jones combined for 10 catches, 128 yards and a touchdown in his stead, so obviously, the Ravens can be beat.
When Johnson did face Baltimore back in Week 14 of 2010, he put up a monster stat line of nine catches for 140 yards and two touchdowns. I can't see these numbers repeating themselves, but at least we know he has it in him against this team.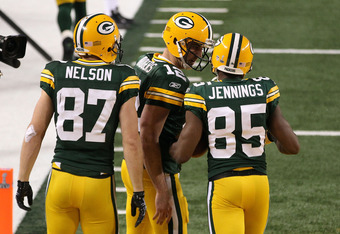 Streeter Lecka/Getty Images
6.             Greg Jennings (vs. NYG—Sunday, 4:30pm ET)
I'm pretty sure most people would say differently, but fantasy-wise, I'm actually a big fan of the fact that Jennings sat out the final three regular season games for the Packers.
A rested receiver who will have been caged for over a month come game time can be a very dangerous thing for his opponent—especially when the guy who normally lines up next to him, Jordy Nelson, has been as hot as anyone in the league.
The Giants might choose to lay off him at the start, expecting a bit of an injury hangover. If they do, Jennings will make them pay dearly for it.
Green Bay faced the Giants in each of the last two regular seasons, winning both times, with Jennings combining for 14 catches, 236 yards and a touchdown.
5.             Marques Colston (@ SF—Saturday, 4:30pm ET)
In the last five games, including last week's playoff win over the Lions, Colston has averaged just over seven catches for 108.4 yards and one TD per contest.
If this isn't the perfect time for the Saints receiver to be peaking, I don't know when is.
That being said, the 49ers are a much better defensive team than Detroit is, so the numbers may not come as easily for him this Saturday.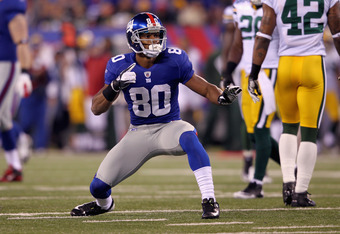 Nick Laham/Getty Images
He'll still see a ton of targets, though, as the Saints won't be able to run on San Fran and might have to toss the ball up 45-50 times in order to come away with a victory.
4.             Victor Cruz (@ GB—Sunday, 4:30pm ET)
Cruz hit a bit of a speed bump against the Falcons last week, but it really shouldn't have been all that unexpected with this being Victor's first real taste of NFL playoff pressure.
Now that he has it out of his system, I expect him to loosen up within the Giants offense and go back to what was working for him all year long—causing havoc and making plays.
Cruz caught seven of his nine targets for 119 yards against the Packers earlier this season, numbers that could certainly be repeated in what should be the highest-scoring game of the weekend.
3.             Wes Welker (vs. Den—Saturday, 8:00pm ET)
Welker had trouble getting going in the Patriots' matchup with Denver back in Week 15—partly due to the Broncos coverage and partly because the tight ends were on fire.
It's possible Denver sticks with the same defensive plan this time around, but I doubt it considering that New England scored 41 points against it.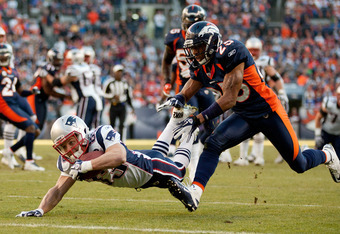 Justin Edmonds/Getty Images
If the Broncos choose to roll coverage to the tight ends more, Welker will be the direct benefit and should come be able to come up with double-digit catches.
Either way, Bill Belichick and Tom Brady don't mess around come playoff time and will more than likely go with what always works for them—which means a lot of action for the Slot Machine.
2.             Hakeem Nicks (@ GB—Sunday, 4:30pm ET)
Well, Nicks sure got back on track in a hurry last weekend after catching 11 passes for 169 yards and one TD over his last three games of the regular season.
I don't think he'll have any trouble continuing his hot play from last Sunday, (6-115-2) as he had very similar stats against the Packers earlier in the season when he grabbed seven balls for 88 yards and two TDs.
Eli seems to trust him a little bit more than Cruz right now with Victor still being a bit of a newbie, so make sure you grab Nicks this week in what is sure to be a high-scoring affair.
1.             Jordy Nelson (vs. NYG—Sunday, 4:30pm ET)
Nelson really hit his stride in the second half of the season, especially in the last two games where he caught 15 balls for 277 yards and five touchdowns combined.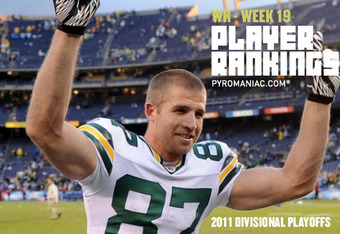 I also don't believe the week off between games will affect him very much, seeing that he put up five catches for 105 yards and a touchdown the game after Green Bay's bye earlier in the year.
Ride the white horse while he's rolling.
Week 2 Playoff Rankings for Quarterbacks, Running Backs and Tight Ends

Brought to you by pyromaniac.com
Listen and subscribe to our Pyro® Weekly Podcasts: http://pyromaniac.buzzsprout.com
Follow Pyro® on Twitter:  https://twitter.com/pyroman1ac
Follow Pyro® on Facebook:  http://www.facebook.com/pyromaniac