2012 NFL Mock Draft: Robert Griffin III & High-Ceiling Studs Who'll Wow Scouts
December 31, 2011
Ronald Martinez/Getty Images
In every single draft we see teams reach for players who may not be as refined as others who are still on the board, but are seen as high-ceiling players with huge upside.
It worked out for the Panthers when they drafted Cam Newton No. 1 overall a season ago, but blew up in the Chargers' face when they went with Ryan Leaf at No. 2.
Here's a full first-round mock, along with the high-ceiling studs who are sure to wow scouts.
1. Indianapolis Colts: Andrew Luck, QB, Stanford
Andrew Luck is the most polished player at any position in this draft. He also happens to have ridiculous upside that makes him impossible to pass on at this spot.
While Luck is a lock to go No. 1, he hasn't always been a lock to go to the Colts. His mobility, leadership, rifle arm and the fact that he's insanely intelligent make his combination of upside and polish impossible to pass up, even with the prospect of Peyton Manning returning.
2. St. Louis Rams: Matt Kalil, T, USC
Matt Kalil is the most refined tackle prospect to enter the draft since Jake Long. He's got a 6'7" frame and feet like a guard.
A pass pro nightmare and technician in every sense of the word, this brick wall of a man is the perfect candidate to fill the void the Rams have at left tackle.
3. Minnesota Vikings: Jonathan Martin, T, Stanford
This is too early for Jonathan Martin to go, but he fills a major need for the Vikings and Minnesota can't afford to leave Christian Ponder unprotected.
They need help on both sides of the ball, but the last thing they want is to see Ponder end up in Sam Bradford's situation. Ideally Kalil slips to this spot, but Martin would start from day one and would provide a serious lift in the trenches.
4. Cleveland Browns: Trent Richardson, RB, Alabama
Teams shy away from drafting a running back in the top five, but what if that running back had the potential to overtake Adrian Peterson as the best running back in the NFL?
Trent Richardson's ceiling is sky high. He has an elite combination of strength, agility and speed. A force in the weight room, Richardson's power translates to the field. He could easily outlift every offensive lineman in this class, which scouts will undoubtedly find appealing.
5. Jacksonville Jaguars: Quinton Coples, DE, North Carolina
It's Quinton Coples' upside that will have him going in the top 10, if not the top five. He's got the tools to be the next Osi Umenyiora.
Players who have the potential to be a top-notch rush end in a 4-3 are in high demand. His relative lack of production won't deter teams from taking the plunge and Jacksonville shouldn't hesitate to add him to their underrated defense.
6. Tampa Bay Buccaneers: Morris Claiborne, CB, LSU
Rhonde Barber has to retire at some point, right? The Bucs need to find a replacement to take over at corner and Claiborne wouldn't just fill the need, he would upgrade the position.
Going from wily vet to talented rookie is a move the Bucs need to make and one that could be transpiring this offseason.
7. Washington Redskins: Robert Griffin III, QB, Baylor
The question is no longer whether or not Robert Griffin III is a first-round pick, or even if he'll go in the top 10. It's where will he go in the top 10. By the time April rolls around, we could see this track phenom turned Heisman quarterback selected with the No. 2 pick in the draft.
Teams are going to fall in love with RGIII. He's got a serious shot at breaking the all-time 40 record at the combine, he's grounded, he's intelligent, he's a pass-first quarterback who just so happens to be  blessed some of the best wheels in the world and he has shown that he has the ability to take over the game.
A team like the Dolphins could be willing to give up a lot to move up and bring him in.
8. Miami Dolphins: Landry Jones, QB, Oklahoma
Landry Jones is going to be a consolation prize for the team that doesn't land one of the top two quarterbacks in this draft.
He's got the prototypical measurements and nobody questions his ability to fling the football, but his leadership skills are lacking and he regressed mightily as the season went on. The Dolphins need a QB, this is the best QB on the board, and they'll have to take him out of obligation in this scenario.
9. Carolina Panthers: Justin Blackmon, WR, Oklahoma State
Justin Blackmon does NOT have a high ceiling. He's a big name and his production is downright ridiculous. At best, he's going to be a glorified version of Anquan Boldin. He could easily see the same fate Michael Crabtree did on draft day.
He's 6'1". Teams want wide receivers who are giants. Blackmon can blame Randy Moss for his inevitable skid. Even so, he's a great pickup for the Panthers who need to surround Cam Newton with as much talent as possible.
10. Buffalo Bills: Kevin Reddick, LB, North Carolina
The Bills need serious help on their offensive line, but we've seen that their offense is capable of putting up points when they are at their best, while their defense is porous at best.
Marcel Dareus is the perfect piece to build around. Adding Kevin Reddick on the outside gives them a guy who can contribute to the run and pass defense and become active in the backfield, something the Bills desperately need.
11. Kansas City Chiefs: Riley Reiff, T, Iowa
Riley Reiff has a crazy wrestling background that makes him that much more appealing. Like Trent Williams, he could make a late push as draft day approaches and be selected far earlier than many expect.
The Chiefs need help at tackle and Reiff would give them help in pass protection, while making their run game that much more lethal once Jamaal Charles returns.
12. Arizona Cardinals: David DeCastro, G, Stanford
The Cardinals need a tackle, but they are one pick too late in this mock. Luckily for the Cardinals, David DeCastro can upgrade their offensive line immediately and has the potential to be a Pro Bowl lineman.
They need to fill holes up front and while guard isn't their biggest area of need, they can't pass up the chance to beef up their offense. Kevin Kolb is useless to them on the sidelines.
13. Philadelphia Eagles: Vontaze Burfict, MLB, Arizona State
Vontaze Burfict has the highest ceiling of any defender in this draft. Unfortunately, his head isn't on straight. If he lands in the right situation and reaches the height of his ceiling, he's got what it takes to be the next great middle linebacker (think Ray Lewis, not D'Qwell Jackson).
The Eagles need a middle linebacker and Andy Reid just might be able to harness Burfict's talent. This is a prospect that can run like a deer and hit like a truck. He's got it all, but his character concerns drop him down to this spot.
14. Seattle Seahawks: Ryan Tannehill, QB, Texas A&M
Just as we saw teams reach in the draft to draft QBs like Christian Ponder, Blaine Gabbert and Jake Locker, we'll see the Seahawks reach big-time to upgrade their QB position.
Ryan Tannehill isn't an ideal pickup here, but he's an upgrade from Tarvaris Jackson and could have what it takes to take the Seahawks to the postseason in his very first year.
15. San Diego Chargers: Michael Floyd, WR, Notre Dame
Michael Floyd is a play maker. He's got great hands and while we aren't looking at a receiver who is ever going to be considered the best in the business, he's going to leave teams kicking themselves and wondering how they passed on him.
If things don't work out with Vincent Jackson, the Chargers are going to need to plug in a receiver that Philip Rivers can go to in clutch situations.
16. Chicago Bears: Alshon Jeffery, WR, South Carolina
Alshon Jeffery is one of the most polarizing players in this class. Some have him going in the top 10, others have him nearly escaping the first round.
Regardless of how he stacks up against other wideouts in this class, he would be the Bears' No. 1 from day one. The Bears need weapons and with Matt Forte's future uncertain, the Bears can't afford not to bring in a new weapon for Jay Cutler.
17. Tennessee Titans: Kendall Wright, WR, Baylor
Kendall Wright is a burner. His elite speed and ability to contribute in multiple areas could make him one of the most feared speedsters in the game.
It didn't hurt having RGIII throwing him the rock, but Wright's speed speaks for itself and unlike many pure deep threats, this guy can actually catch the football.
18. Dallas Cowboys: Andre Branch, DE, Clemson
The Cowboys may not make the playoffs this season, but they don't have an overabundance of needs. They need a new quarterback and it doesn't look like Jason Garrett is the answer, but for now, bringing in a weapon who can rush the passer will have to do.
Putting Andre Branch opposite or alongside DeMarcus Ware would be dangerous. He's got a knack for getting to the quarterback and their defense would become even more dangerous if they brought in another guy who could register double-digit sacks.
19. New York Jets: Courtney Upshaw, OLB, Alabama
Courtney Upshaw is a staple in the best defense in the nation. He's got somewhat of an awkward build, but many scouts will chock that up as "versatility".
The Jets need a guy who can get to the quarterback. This has been a huge need for years and though they whiffed on Vernon Gholston, they need to get back on that horse.
20. Cincinnati Bengals: Alfonzo Dennard, CB, Nebraska
Alfonzo Dennard will have to battle it out with all of the other talented corners in the draft, but he's got a solid shot at hearing his name called second amongst the DBs in this class.
The Bengals need a corner who can replace Johnathan Joseph. Nate Clements isn't the answer and though he overachieved this season, nobody is fearing him like they feared Joseph.
21. New York Giants: Zach Brown, LB, North Carolina
The Giants need a linebacker to go along with their developing and overly impressive front four. They haven't had a top-notch linebacker playing clean up since Antonio Pierce.
The defense will always feature the front four as their focal point, but Zach Brown's addition would give them a guy who can ensure that their run defense remains on point and can even get after the passer if need be.
22. Denver Broncos: Brandon Thompson, DT, Clemson
Brandon Thompson is just the sort of beast in the middle of the field that John Fox needs. Von Miller was step one to repairing the broken Broncos defense.
Now, he's got to beef up the middle and make the run defense feared once more. Thompson terrorizes the backfield and gets great push. Perfect pickup for the Broncos.
23. Cincinnati Bengals: Devon Still, DT, Penn State
Devon Still is a giant man. The Bengals have a solid linebacker corps and need to beef up the trenches a bit to maximize the potential of their defense.
They invested heavily in their offense in the last draft. Bringing in a guy who could be the second coming of Casey Hampton isn't a bad move in this year's draft.
24. Cleveland Browns (via Atlanta Falcons): Jarvis Jones, LB, Georgia
Jarvis Jones is a lesser known player because he had to sit out a year after transferring from USC. He's a sack master though and performed right away on his new team when he was eligible for play.
The Browns have bits and pieces defensively and would benefit tremendously from having a guy quarterbacks fear when they drop back.
25. Detroit Lions: Dre Kirkpatrick, CB, Alabama
Dre Kirkpatrick is ruthless, in all the right ways. He's physical against receivers and solid against the run. He's nasty when he needs to be and the Lions are going to love that.
His stock has slipped a bit, but just like they were able to catch a falling Nick Fairley, they'll be glad to do the same here.
26. Houston Texans: Mike Adams, T, Ohio State
The Texans need a tackle and Mike Adams is the best one available. He may never make his way over to the left side, but he's going to compete for the starting right tackle job from day one.
It's a huge stretch to say that one of the top three tackles will fall here, but it's hard to see the Texans going defense or bringing in another offensive weapon.
27. Pittsburgh Steelers; Luke Kuechly, LB, Boston College
Luke Kuechly is in on virtually every play. The Steelers have enough team speed to compensate for his shortcomings and they need to replace a rapidly aging James Farrior.
Kuechly has good instincts and fills in a hurry, but he is in jeopardy of seeing a huge setback when he enters the next level.
28. Baltimore Ravens: Michael Brewster, C, Ohio State
Michael Brewster is a true plug and play center. The Ravens pride themselves on being physical and saw the success Pittsburgh saw as a result of taking Mike Pouncey in the first round.
This isn's a sexy pick, but it's the right one for the Ravens.
29. New England Patriots: Jared Crick, DE, Nebraska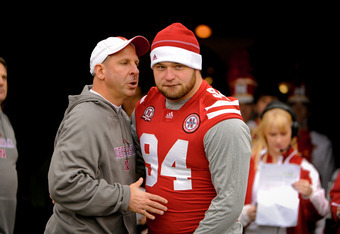 Eric Francis/Getty Images
Jared Crick is coming off an injury, but if he checks out medically, there is no way he's slipping out of the first round.
This is a guy who is abnormally strong and brings it on every single play. The Patriots are still looking for a guy to replace Richard Seymour and Crick would bring a little fire to their front seven.
30. San Francisco 49ers: Jerel Worthy, DT, Michigan State
The 49ers are getting along fine without Jerel Worthy, but imagine if the big fella ended up being the nose he's shown he's capable of being.
He can hold the point and if he could soak up blockers and allow Patrick Willis and NaVorro Bowman to go untouched, the 49ers would be even more dangerous than they are right now.
31. New England Patriots: Mark Barron, S, Alabama
The Patriots have an embarrassing secondary. They cut Brandon Merriweather prematurely and paid for it this season.
They need to plug the hole at safety and bringing in a no-nonsense player like Mark Barron, who happens to be the best safety in this class, is the right move.
32. Green Bay Packers: Janoris Jenkins, CB, North Alabama
Had Janoris Jankins kept his nose clean, he would have been the first corner selected in the draft. The fact of the matter is, he was banished from the Florida program and had to try to redeem himself at North Alabama.
He's still the most talented corner in this class, with rare skills that made him a starter as a true frosh at Florida. The Packers have the stable locker room to make him great, and Charles Woodson would be the perfect mentor.