Washington's Ryan Kerrigan Highlights an Elite Crop of Defensive Rookies
December 20, 2011
Rob Carr/Getty Images
From "Mean" Joe Greene to Ndamukong Suh, rookies have shown they can dominate from Day 1 throughout the history of the league. The 2011 season is, by no means, an exception. As a matter of fact, I have been more impressed with this crop of rookie defenders than I truly expected I would be following the draft last April. The class of 2011 may be the best class of defensive players in the history of the NFL.
The mainstream media blitz has focused on Denver Broncos outside pass rusher Von Miller. But with 11.5 sacks, Miller is still second behind San Francisco's Aldon Smith. After last evening's coming-out party, Smith is likely to receive a lot more attention in the final weeks of this season.
What Miller and Smith have been able to do is impressive, but what is even more impressive is the depth of the talent being shown by the rookies this year. As you will see, most of this class from Smith and Miller all the way down to Baltimore cornerback Jimmy Smith and Washington linebacker Ryan Kerrigan have exceeded expectations from a statistical and impact perspective.
To be fair, only a couple of defensive backs have stood out from the pack this year. Leading all rookies in interceptions is Seattle's Richard Sherman. A cornerback drafted in the fifth round out of Stanford, Sherman's three picks lead the way this year.
While it may not seem impressive, considering Sherman has only eight starts under his belt thus far, his knack for making plays at the most opportune time have made us forget about some of the draft busts in the secondary Seattle has had recently (like Kelly Jennings).
Baltimore cornerback Jimmy Smith has tallied two interceptions in much more limited time than Sherman. Still, this first-round pick is beginning to live up to the hype of where he was selected in the draft out of Colorado.
Arizona's Patrick Peterson, a cornerback, is making his name known for his kick and punt return skills. Second in returning to only Chicago's Devin Hester, Peterson has thrown his name in the mix for Defensive Rookie of the Year for the impact he has had on the Arizona Cardinals via special teams. Without Peterson's playmaking ability, the Cardinals would not still be in contention for a wild card berth in the NFC.
Two safeties out of Denver have been successfully relied upon, too. Strong safety Chris Harris and free safety Quinton Carter both rank in the top 12 among rookies in tackles. They both have shown the ability to help out when needed in stopping the run. This is especially important for a Denver defense that is soft up the middle among their front seven.
Typically, it is the rookie linebackers that garnish the most attention among fans for their insane amount of tackles that essentially hyper-inflate their actual production. Regardless, a few of these linebackers look like they are going to be playing for a long time. Tampa Bay's Mason Foster and Tennessee's Akeem Ayers have shown a knack for getting gritty, while the Giants' own Jacquian Williams looks like a viable defender in the middle.
The rookies who anchor the defense as pass rushers are really making their mark, though. Below is a list of the rookie sack leaders in the NFL this year.
OLB Aldon Smith (49ers) — 13
OLB Von Miller (Broncos) — 11.5
DE Jabaal Sheard (Browns) — 7.5
OLB Ryan Kerrigan (Redskins) — 7.5
DE Adrian Clayborn (Buccaneers) — 7.5
OLB Brooks Reed (Texans) — 6
DT Karl Klug (Titans) — 6
DE Pernell McPhee (Ravens) — 6
DE Marcell Dareus (Bills) — 5.5
DE Robert Quinn (Rams) — 5
OLB Sam Acho (Cardinals) — 5
DE J.J. Watt (Texans) — 4.5
DT Phil Taylor (Browns) — 4
OLB Justin Houston (Chiefs) — 4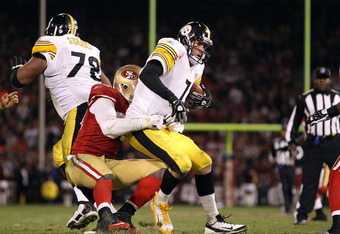 Ezra Shaw/Getty Images
For comparison's sake, last season, only one rookie acquired at least 10 sacks (Ndamukong Suh—10). Also, only one other rookie had more than five sacks (Carlos Dunlap—9.5). Meanwhile, 2011 has already given us two rookies with more than 11 sacks and 11 rookies who have at least five sacks.
Thus, it is feasible that at least 14 rookies will finish with five or more sacks as compared to two in 2010, two in 2009 (Brian Orakpo and Clay Matthews), three in 2008 and three in 2007.
To find a rookie draft class that has been as productive as the class of 2011 in sacks, one has to travel back to 2002 when seven rookies finished with at least five sacks, including Dwight Freeney and Julius Peppers. Still, the possibility looms that the 2011 class could double the figure of seven rookies with a minimum of five sacks that the class of 2002 gave us.
While it has gone unnoticed outside of Denver (and now San Francisco), this draft class has performed exceptionally well, especially among its pass rushers. Several years from now, we may finally realize how great this crop of defenders really was.
Pete Dymeck is a long-time freelance journalist with a new blog - Fourth Quarter Collapse - that legitimizes honest insight with a reputable backdrop on the NFL.