Tim Tebow vs. Tom Brady: A Matchup of Art Versus Science
December 16, 2011
Garrett Ellwood/Getty Images
The most intriguing quarterback showdown in Week 15 of the NFL season pits Denver's Tim Tebow against New England's Tom Brady. Usually, a quarterback matchup is interesting because each player does well, but the devil is in the differences between these quarterbacks.
Tim Tebow and Tom Brady are as dissimilar as art and science.
Tebow plays the quarterback position like an artist creates a masterpiece. His process is messy and unpredictable. Just as a painter will scrap a canvas or an author will tear up the first draft of a novel, Tebow's performance is fraught with mistakes.
He completes just over 39 percent of his first-half passes, and 37.5 of his third-quarter passes. Some of his incompletions are so off the mark they make Tebow look as desperate as Ernest Hemingway searching for the perfect word. 
Tebow botches hand-offs, and more often than not puts the Broncos in a punting situation. These fits and starts and moments of failure fade away with his fourth-quarter epiphanies.
Just as an artist's greatest inspirations occur in moments of tumult, Tebow thrives in chaos. His completion percentage skyrockets to 61.3 percent in the fourth quarter, and he has led the Broncos to five fourth-quarter comebacks this season, most recently against the Chicago Bears.
As an artist needs a muse to stay focused, the Denver defense keeps Tim Tebow in a position to be brilliant. Were it not for the D holding opposing offenses to under 15 points in four of their last five games, Tebow would not have an opportunity to lead his team back from sure losses.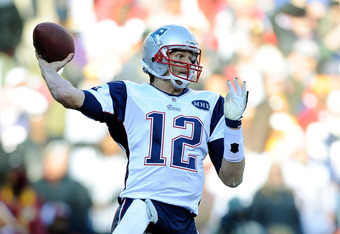 Patrick McDermott/Getty Images
Tim Tebow's fourth-quarter artistry, his ability to overcome mistakes and turn anarchy into a masterpiece, inspire as much awe as any work of art.
Conversely, Tom Brady does not create art; he performs surgery. He accounts for every variable by knowing not only where his receivers will be, but where the defenders will be as well.
Like a scientist with his nose in the books to gain an edge, he studies his opponents to know their every vulnerability and has publicly said he watches other quarterbacks to pick up ways to improve his game.
All of this research makes Brady predictably great. His completes 64.8 percent of his first-half passes and 67.5 percent of his second-half passes. He has 14 first-half touchdowns and 19 second-half touchdowns.
Tom Brady has backing too, in the form of Bill Belichick. The Hoodie is not a muse, he is a billion-dollar company who gives his prized employee all he needs. Think Pfizer. He gives Brady the best strategy, knowledge and pieces he can, so the Patriots succeed.
Tim Tebow is admired for the unquantifiable. The world marvels at his leadership, iron will and grit.
Unlike Tebow, Brady does not need to be admired for intangibles, because his precision can be measured in the objective. After all, who needs magic when you have three Lombardi trophies, two Super Bowl MVPs and two NFL MVPs?
Who is to say if the discovery of the polio vaccine is more important or inspirational as the Sistine Chapel? Each are brilliant, right?
This clash of styles, Tebow's art against Brady's science, will be the most captivating quarterback matchup in Week 15 of the NFL season because both men are winners. The results are what matters most.