5 NFL Players Who Are Simply Products of a System
Patrick McDermott/Getty Images
Some guys get all the breaks.
Take Johnny Depp for example. He has that devilish smile with his good looks and full head of hair. Makes you want to break his nose.
Or Bill Gates. You know that you can beat him up, but he's rich enough to get someone else to beat you up for him
In the NFL, you have the guys like Tom Brady who can win Super Bowls and marry supermodels.
However, there are other NFL players who happen to be in the right place at the right time. They might have talent, but they've also landed in a system that maximizes the talent that they have.
For them, it's nice to be good, but it's better to be lucky.
Jermichael Finley, Green Bay Packers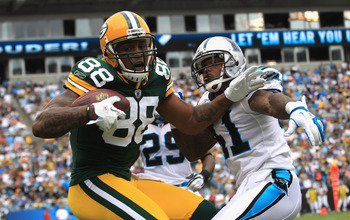 Streeter Lecka/Getty Images
If anyone should be "Tebowing" every Sunday afternoon, it's Jermichael Finley.
He plays tight end for a team that has all-world quarterback Aaron Rodgers and wide receivers Greg Jennings, Jordy Nelson, Donald Driver and the enigmatic, but talented James Jones.
All Finley has to do is run down the field 15 yards and turn around. That route alone would guarantee him 50 catches a year on this Packers team.
Dwight Freeney, Indianapolis Colts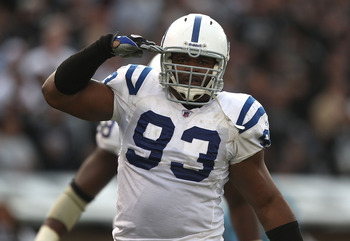 Jed Jacobsohn/Getty Images
Quite frankly, I could have put the entire Indianapolis Colts organization on this slide. The organization has been a product of the Peyton Manning system. But I decided to make Freeney the representative.
Freeney has been able to play his full-time rush-the-passer style because Manning was around to cover for him and the defense. Manning would either give the defense a big lead or make a great comeback, which allowed Freeney to abdicate his run support responsibilities and focus on padding his sack total.
Now that the Manning binky is broken, the Colts defense has proven to be a farce, as it's surrendering a league-worst 29.4 points per game, with the lowlight coming in a 62-7 thrashing at the hands of the New Orleans Saints
Sure, not having Manning hurts, but that's no excuse for Freeney and company to play possum. Hell, the Baltimore Ravens won a Super Bowl with Trent Dilfer at quarterback, so it's not of out the realm of possibility for the Colts to win a few games with even Art Schlichter at the helm.
If Freeney and company were any good, they would be able to keep the Colts competitive. But they can't keep them competitive because they aren't any good without Manning around to save them.
Matt Schaub, Houston Texans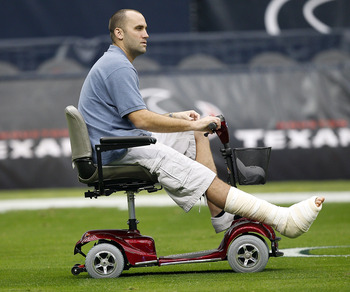 Bob Levey/Getty Images
Yes, I know it's not polite to talk ill of the injured reserve, but Matt Schaub deserves a mention.
Until his injury, he just had to follow this formula—hand the ball off to Arian Foster or stand in the pocket forever behind a strong offensive line while waiting for Andre Johnson to get open.
Repeat it as often as necessary.
Following injuries to Foster and Johnson, the Texans were still managing to win, so it appeared that Schaub might not just be a system quarterback.
But when both Schaub and backup Matt Leinart went down with season-ending injuries, T. J. Yates stepped right in and started winning.
Why?
Because whether it's Yates or T.S. Eliot behind center, the Texans have a good enough system to prevent their season from becoming a wasteland, no matter who is at quarterback.
Wes Welker, New England Patriots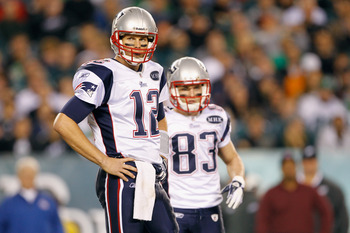 Rich Schultz/Getty Images
Wes Welker has to be the happiest man in the NFL.
He could just as easily be "that white guy" with the New York Jets attempting to catch bounce passes thrown by Mark Sanchez.
Instead, he's become the favorite target of Tom Brady, arguably the greatest quarterback in NFL history.
Before joining the New England Patriots, Welker had 96 receptions and one touchdown for his career.
This year alone he has 100 receptions and 10 touchdown passes.
Welker came to the Patriots in 2007, the same year that Randy Moss arrived. That year, the Pats offense set numerous records, and Welker led the league with 112 receptions.
He cracked 100 receptions the next two years.
In 2010, however, he struggled with injuries and averaged only 9.7 yards per catch. Added to that was the mid-season departure of Moss.
But with the emergence of Rob Gronkowski and, to a lesser extent, Aaron Hernandez, as well as the continued steadiness of Brady, Welker is benefiting once again from the system around him.
Tim Tebow, Denver Broncos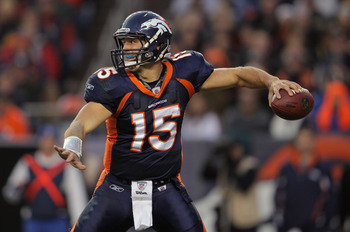 Doug Pensinger/Getty Images
What's going on right now with Tim Tebow is the byproduct of a perfect storm—the rise of the Denver Broncos defense, the unbelievable incompetence of the competition and the foresight of John Fox and the coaching staff.
Fox and the offensive assistants were cognizant of Tebow's strengths and his glaring weaknesses. They implemented a scheme—the read-option offense—that puts Tebow in his comfort zone.
However, the clock will eventually strike midnight on this fairy tale once the opposition exploits the limitations of the read-option scheme and the Broncos defense stops keeping games close.
Keep Reading