2012 NFL Draft: The 10 Most NFL-Ready Prospects in the Draft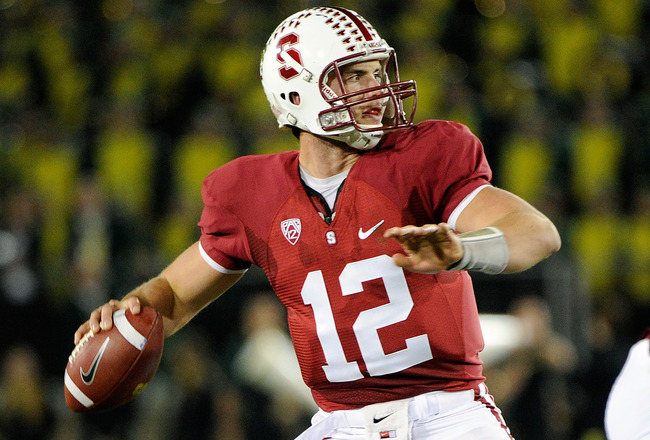 Thearon W. Henderson/Getty Images
We all have all been beaten to death by coverage of Andrew Luck—the consensus No. 1 overall pick in the 2012 NFL draft.
There are some record-setting prospects set to enter the draft, but college production does not always translate to NFL stardom. If you don't believe me, do a quick Google search on the top college passers in NCAA history. Then tell me how many of them have been successful in the NFL.
I'll save you some trouble—zero.
On the other hand, Luck is ready to take over an NFL team now. The only thing that will stop him from starting from day one will be if he has to play student behind Peyton Manning for a season.
Who else will join Stanford's quarterback as an instant producer in the NFL?
Trent Richardson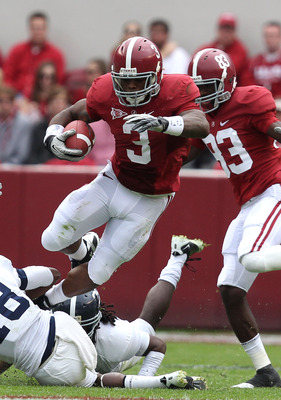 Mike Zarrilli/Getty Images
Trent Richardson has ideal size and speed to start at the next level. Richardson has produced in all three years, but needed Mark Ingram to take his talents to the NFL before he could break out.
The Heisman Trophy finalist is averaging six yards per carry en route to 1,583 yards and 20 touchdowns.
Richardson has been such a dominant rusher that his value as a receiver is almost forgotten. Alabama's money back has accumulated 50 catches in the last two years for another seven touchdowns.
Richardson will be drafted in the Adrian Peterson/Darren McFadden range, and could have that type of effect with his new team. My one knock on Richardson: He can do anything he wants at the college level, as he is a man amongst boys.
In the NFL, he needs to rely more on his legendary power than his speed. His 40 time (in the 4.5 range) is good, but not NFL elite.
Morris Claiborne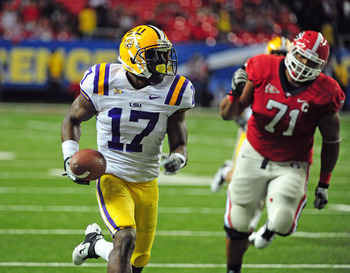 Scott Cunningham/Getty Images
How about LSU's duo at cornerback? Heisman Trophy finalist Tyrann Mathieu and Morris Claiborne will both be playing on Sundays, but only Claiborne is eligible for next April's NFL Draft.
Claiborne is the less heralded of the two, but has been just as much of a game breaker. The LSU star has six interceptions on the year, taking one to the house.
He is the fastest cornerback in the class and will absolutely make a Defensive Coordinator smile when his name is called in the first round.
Matt Kalil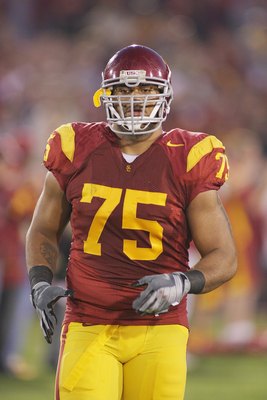 Jeff Golden/Getty Images
Matt Kalil will be the first lineman selected in the NFL Draft. He has the size and the pedigree to protect a quarterback's blind side for the next decade.
In this day of faster, quicker defensive ends and linebackers, Kalil has the ideal build. At 6'6," 295 lbs. he is relatively slender for a tackle.
Again, I believe his slimmer physique will be an advantage against this generation of quicker pass-rushers.
Say hello to Sam Bradford's new best friend.
UPDATE: According to Rob Rang of CBS Sports, Kalil is "set to return" to USC. No official announcement has been made yet, but if true, it looks like we would have to project Kalil toward being one of the most pro-ready prospects in the 2013 NFL Draft, not the 2012 NFL Draft.
Quinton Coples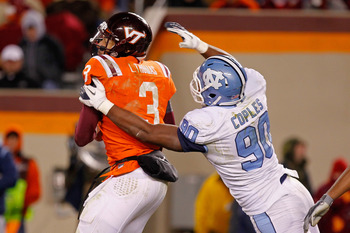 Geoff Burke/Getty Images
Quinton Coples has the best combination of size and speed of all the defensive linemen eligible for the 2012 NFL Draft. Coples is not merely a tape measure terror, he has been a freak on the field as well.
The 6'6" defensive end has registered 7.5 sacks this season after his 10-sack breakout year of 2010.
Coples is a complete end, as he has 10 tackles for loss to bring his career total to 32. Just for good measure, the big fella will create some turnovers, as he has forced a fumble in each of the last two years.
Out of necessity Coples has also lined up at tackle this season. His versatility against the rush and the pass will allow him to start from day one, whether it is in a 4-3 or 3-4 system.
Andrew Luck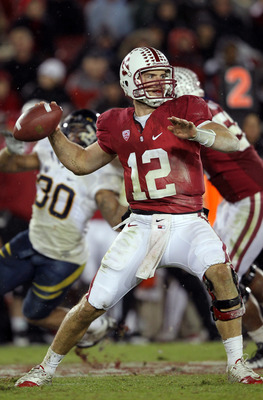 Ezra Shaw/Getty Images
"With the first pick in the 2012 NFL Draft the Indianapolis Colts select, Andrew Luck." Expect those words to kick off the frenzy on April 26th.
What can I say about him that has not already been said? He is the most heralded prospect since John Elway.
He has ideal size and has been running an NFL system for three years now. Luck is also a coach's son, so he has been talking football at the dinner table since the time he could walk.
With the technique to go with all the ability, the question is not "Will Andrew Luck be great," but rather "How great will Andrew Luck be?"
Zach Brown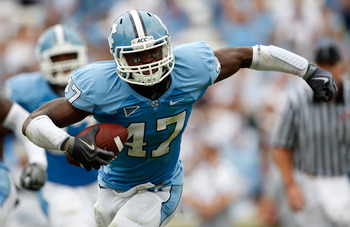 Streeter Lecka/Getty Images
Zach Brown and his sub-4.5 speed has been all over the field making plays for the North Carolina Tar Heels.
In regards to a stat sheet, Brown has left no box unchecked in 2011. The outside linebacker has 5.5 sacks, two forced fumbles, two interceptions and a team-leading 91 tackles.
Brown will be a sideline-to-sideline tackler in the mold of Lawrence Timmons at the next level.
Devon Still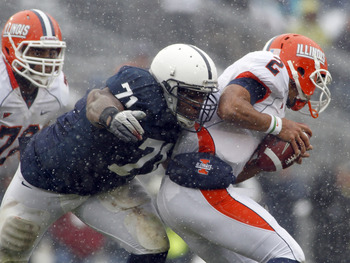 Justin K. Aller/Getty Images
Devon Still is the top-rated defensive tackle in the 2012 draft for a reason; he has the ideal size to plug up the middle against the run, and the production to back it up.
At 6'4," 310, Still will stuff any running back, and his 14 tackles for a loss prove it.
At that size, Still can still chase down quarterbacks, as he has 4.5 sacks on the year. In a slugfest against Illinois, Still was a menace contributing 10 tackles and a sack in a 10-7 win.
Expect similar production from Still on Sundays.
Alshon Jeffery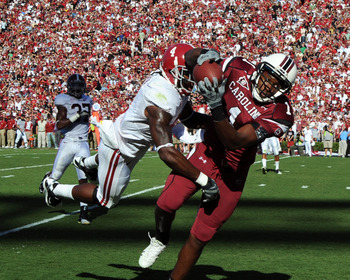 Al Messerschmidt/Getty Images
Alshon Jeffery will reward the team that takes him in the first round of April's NFL Draft.
At 6'4" and with 4.5 speed, Jeffery has everything you could want from a wide receiver. Big, strong and productive, I see Jefferson as a potential game-breaker.
His stats have taken a serious hit with the dismissal of his quarterback, Stephen Garcia, but Jeffery has still been South Carolina's most consistent producer.
Michael Floyd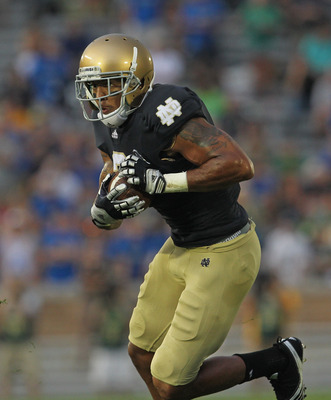 Jonathan Daniel/Getty Images
Michael Floyd has produced from the day he stepped on Notre Dame's campus, and there is no reason to believe that production will stop on graduation day.
In four seasons Floyd has contributed no fewer than 44 catches for seven touchdowns. This year he raised his game to another level with 95 catches for over 1,100 yards.
Floyd will have an immediate impact as a lanky possession receiver, and his 6'4" frame makes him a valuable red-zone threat.
Matt Barkley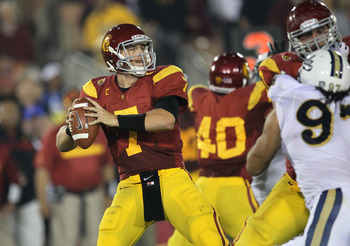 Stephen Dunn/Getty Images
It is not often a star quarterback from USC can be considered a forgotten name in the NFL draft, but to a degree, Matt Barkley has been the exception.
USC's postseason ban has eliminated the team from BCS contention, thus hurting Barkley's media and national exposure. Plus, that Andrew Luck fella has kind of dominated the headlines.
Speaking of Luck, Barkley actually has more touchdowns and fewer interceptions than the consensus No. 1 pick.
Standing at 6'2", Barkley may not have Luck's prototypical size, but he is big enough to get the job done.
Every quarterback in this draft knows he will be compared to Andrew Luck; I love the motivation and intangibles this gives a guy like Barkley, who will be determined to prove he is not merely "the other guy" of the 2012 draft, but rather "The Guy."
Thanks for reading. You can follow Alexander on twitter @thesportsdude7 or become a fan on his bleacher report profile.
Keep Reading