NFL Picks: Predicting All 96 Games Left in the Regular Season and the Playoffs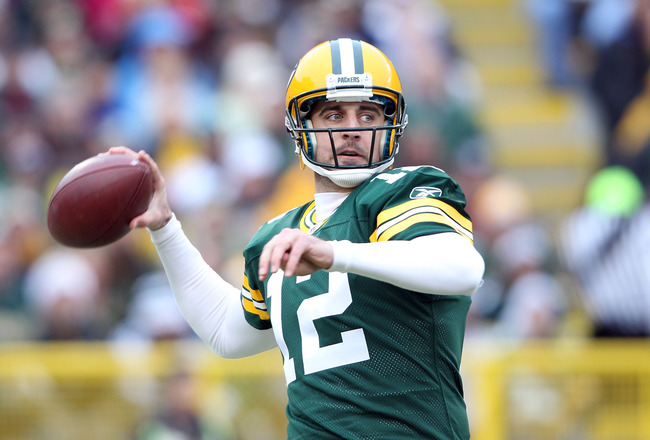 Elsa/Getty Images
The 2011 season has been one of the most exciting ones in years. With record-breaking individual performances to colossal disappointments, the first 11 weeks have been a rollercoaster ride.
But beginning with a trio of great matchups on Thanksgiving Day, every game could decide the difference between a playoff team and a mediocre team.
Can the Green Bay Packers go undefeated? Can the Bears and Texans survive without their star quarterbacks? Can the Giants avoid another late-season collapse?
All these questions and more will be answered, as I predict every single football game left in the season.
Week 12 Picks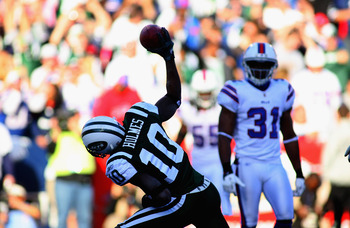 Rick Stewart/Getty Images
Week 12 Analysis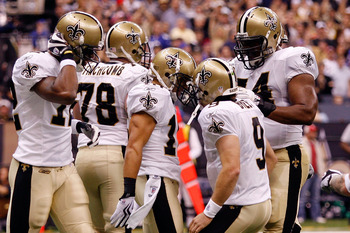 Chris Graythen/Getty Images
Week 12 will give us a clearer picture on who are the true postseason contenders this season.
The Jets win big over the struggling Bills, seemingly eliminating Buffalo from playoff contention. The Bengals remain in the final wild-card spot in the AFC, with the Titans (6-5) and Jets (6-5) narrowly trailing.
The AFC West remains up for grabs, as the Chargers stay in the picture with a huge win over the Broncos. Oakland also loses, but remains a game ahead of Denver (5-6) and San Diego (5-6).
In the NFC, the 49ers lose, but are still a game away from clinching the West division for the first time in nearly a decade.
Green Bay remains undefeated after a convincing win over divisional rival Lions, who have now lost three of their last five games. The Bears (8-3) and the Falcons (7-4) remain in the two wild-card spots as they both hang on to win big games. Detroit (7-4) and New York (6-5) remain in the hunt despite big losses.
Week 13 Picks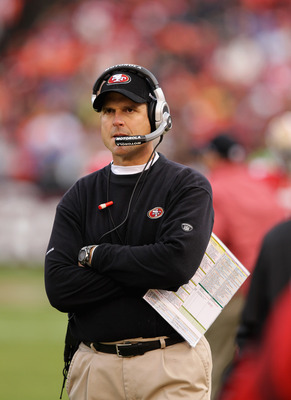 Ezra Shaw/Getty Images
Eagles 24, Seahawks 13
Titans 26, Bills 17
Bears 19, Chiefs 10
Dolphins 16, Raiders 14
Broncos 23, Vikings 20
Patriots 38, Colts 7
Steelers 24, Bengals 10
Buccaneers 28, Panthers 27
Jets 20, Redskins 6
Falcons 31, Texans 23
Ravens 17, Browns 6
Packers 24, Giants 21
Cowboys 17, Cardinals 13
49ers 21, Rams 13
Saints 34, Lions 27
Chargers 20, Jaguars 14
Week 13 Analysis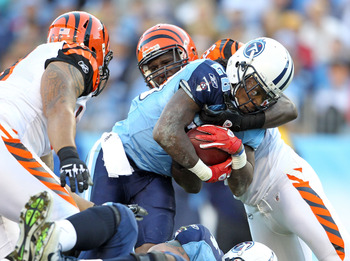 Andy Lyons/Getty Images
The 49ers become the first team to clinch a divisional title in Week 13, as they handle the Rams to wrap up a weak NFC West.
The Detroit Lions and New York Giants both take heartbreaking losses to two of the NFL's best teams, and the two franchises; playoff hopes continue to be destroyed.
The AFC West is now the most exciting division in football, as the Raiders, Broncos and Chargers all sit at 6-6 and in a three-way tie for first place.
The Titans, Jets and Bengals continue to fight for the final wild-card spot in the AFC as all three franchises sit at 7-5, with Cincinnati holding the tiebreaker because of win percentage in conference games.
Week 14 Picks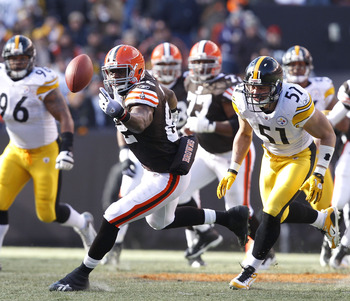 Matt Sullivan/Getty Images
Steelers 20, Browns 3
Bengals 20, Texans 17
Lions 30, Vikings 23
Packers 31, Raiders 13
Eagles 28, Dolphins 17
Jets 23, Chiefs 6
Patriots 40, Redskins 10
Falcons 34, Panthers 30
Buccaneers 17, Jaguars 12
Ravens 27, Colts 0
Bears 13, Broncos 17
49ers 20, Cardinals 12
Chargers 37, Bills 17
Giants 21, Cowboys 19
Seahawks 12, Rams 10
Week 14 Analysis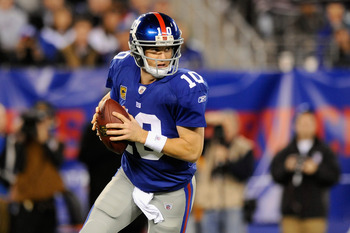 Patrick McDermott/Getty Images
Week 14 of the football season delivers its share of thrills, and leaves fans screaming after some significant postseason developments.
The Packers clinch the NFC North with a convincing win over the Raiders at home as they advance to 13-0.
Those Raiders, now losers of three straight, fall a game back in the AFC West as the Chargers crush the free falling Bills at home and the Broncos shock the red-hot Bears at Mile High to move to 7-6.
New England, Baltimore and Pittsburgh continue to establish themselves as Super Bowl contenders in the AFC as all three powerhouses move to 10-3 records with convincing wins.
Tennessee falls a game behind Cincinnati and New York in the wild-card race, as the Bengals tough run defense slows down dynamic runner Arian Foster at home while the stifling Jets defense shuts down the Kyle Orton-led Chiefs.
Week 15 Picks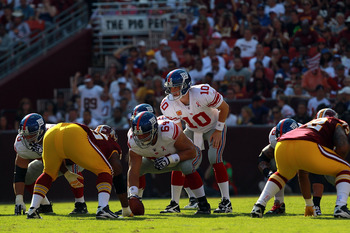 Ronald Martinez/Getty Images
Falcons 27, Jaguars 14
Buccaneers 23, Cowboys 21
Dolphins 17, Bills 12
Bears 24, Seahawks 17
Titans 19, Colts 14
Packers 38, Chiefs 6
Bengals 14, Rams 12
Saints 40, Vikings 30
Giants 27, Redskins 9
Texans 20, Panthers 17
Raiders 31, Lions 27
Patriots 28, Broncos 12
Eagles 30, Jets 24
Browns 13, Cardinals 9
Ravens 17, Chargers 14
Steelers 23, 49ers 14
Week 15 Analysis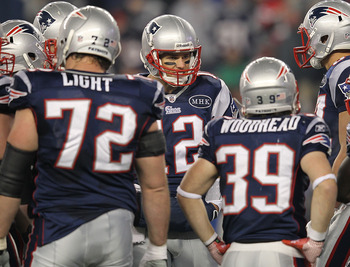 Jim Rogash/Getty Images
After huge wins, elite powerhouses such as the Saints, Patriots, Steelers and Ravens all clinch respective playoff spots.
The Packers destroy a weak Chiefs squad to stay undefeated and clinch home-field advantage throughout the postseason.
The Lions suffer a gut-wrenching defeat at Oakland, and are now in need for a miracle to reach the playoffs.
The AFC West continues to go down to the wire as a Raiders win and Chargers and Broncos losses tie all the teams atop the division with a record of 7-7. Oakland owns the tiebreaker between the three teams thanks to their head-to-head wins over each divisional rival.
The Bengals move to 9-5 with a big win in St. Louis, and with a Jets loss, now control their own destiny in the AFC wild-card race.
The Cowboys suffer a huge loss in Tampa Bay, and thanks to a tiebreaker, now trail the Giants in the NFC East divisional race. The suddenly hot Eagles (7-7) are not out of the picture yet.
Week 16 Picks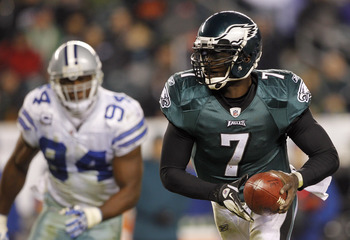 Rich Schultz/Getty Images
Texans 17, Colts 14
Broncos 14, Bills 13
Bengals 24, Cardinals 21
Titans 17, Jaguars 12
Raiders 23, Chiefs 10
Patriots 30, Dolphins 23
Jets 24, Giants 21
Steelers 19, Rams 7
Vikings 24, Redskins 14
Panthers 32, Buccaneers 26
Ravens 21, Browns 13
Lions 41, Chargers 38
Cowboys 34, Eagles 28
49ers 17, Seahawks 10
Packers 30, Bears 20
Saints 27, Falcons 24
Week 16 Analysis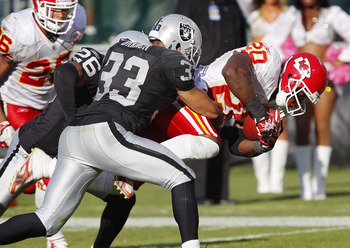 Brian Bahr/Getty Images
In an amazing week of football, the Texans clinch the AFC South, and every other postseason spot is still up for grabs.
The Cowboys eliminate the Eagles from the NFC East race with a highly-entertaining divisional battle. Despite a Giants loss, New York will play Dallas in a game that decides the divisional champion in the final week of the season.
The Falcons and Bears both lose to divisional opponents, and will now have to win their final regular season game to guarantee a postseason spot over the Lions (9-6).
The Bengals stay hot with a huge home win over the Cardinals, and now are a win away from taking the final wild-card spot in the AFC. The Titans (9-6) and the Jets (9-6) need to win and get some help to qualify for the playoffs.
The Raiders are now also in a "win and in" scenario, but a loss in Week 17 could open the door for the Broncos to snatch the divisional crown. After a tough defeat to the Lions in Detroit, San Diego is eliminated from postseason contention.
Week 17 Picks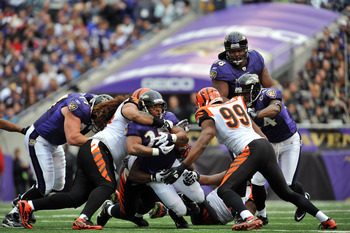 Larry French/Getty Images
Falcons 28, Buccaneers 14
Ravens 23, Bengals 10
Steelers 23, Browns 7
Packers 34, Lions 30
49ers 17, Rams 6
Jets 21, Dolphins 16
Bears 24, Vikings 14
Patriots 30, Bills 13
Saints 32, Panthers 24
Cowboys 26, Giants 21
Eagles 30, Redskins 10
Colts 13, Jaguars 10
Texans 24, Titans 20
Broncos 23, Chiefs 16
Raiders 20, Chargers 17
Cardinals 26, Seahawks 23
Week 17 Analysis
Rob Carr/Getty Images
In a wild Week 17, the Dallas Cowboys (10-6) narrowly edge the Giants (8-8) at Metlife Stadium to capture the NFC East title. The Cowboys' potent offense and formidable pass rush will be too much for Big Blue to handle.
The Baltimore Ravens (13-3) finally win the AFC North with a huge victory over the Bengals while also claiming home-field advantage throughout the playoffs. The Steelers settle for the first wild-card spot with a ridiculous record of 13-3.
The Texans (11-5) beat the Titans in Houston thanks to a huge game from Ben Tate after Arian Foster and most of the starters were benched in preparation for the postseason. The win by the Texans keeps their bitter rival out of the postseason.
The Bengals suffer a heart-wrenching defeat to the Ravens and fall to 10-6. The Jets (10-6), given a chance for a postseason berth thanks to a Titans' (9-7) loss, defeat the Dolphins in Miami and win the tiebreaker over Cincinnati by virtue of a better win percentage in common games.
Atlanta and Chicago both end the season on a high note, and claim the two NFC wild-card spots with an 11-5 record. The Bears claim the No. 5 seed thanks to a head-to-head win over the Falcons in Week 1.
The Raiders (9-7) win the division with a hard-fought victory over a strong Chargers squad, and the Broncos (9-7) terrific finish goes to waste despite a win over the Chiefs at home. Oakland wins the tiebreaker over Denver by a better win percentage in divisional games.
The Green Bay Packers become the third team in the Super Bowl era to finish the season undefeated after a huge win over the Lions (9-7) at home. The Colts avoid the infamous 0-16 record with a hard fought victory over the Jacksonville Jaguars.
AFC Final Standings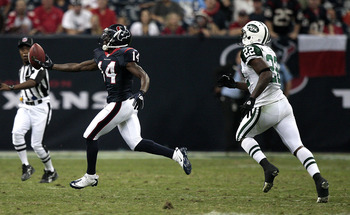 Bob Levey/Getty Images
1. Baltimore Ravens (13-3)
2. New England Patriots (13-3)
3. Houston Texans (11-5)
4. Oakland Raiders (9-7)
5. Pittsburgh Steelers (13-3)
6. New York Jets (10-6)
7. Cincinnati Bengals (10-6)
8. Tennessee Titans (9-7)
9. Denver Broncos (9-7)
10. San Diego Chargers (7-9)
11. Miami Dolphins (5-11)
12. Cleveland Browns (5-11)
13. Buffalo Bills (5-11)
14. Kansas City Chiefs (4-12)
15. Jacksonville Jaguars (3-13)
16. Indianapolis Colts (1-15)
AFC Playoff Predictions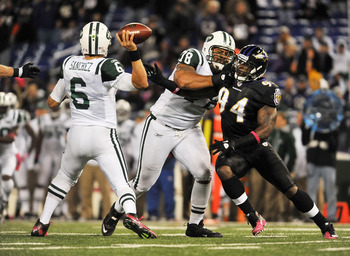 Larry French/Getty Images
Wild Card Round
Jets defeat Texans 24-17
Steelers defeat Raiders 24-14
Divisional Round
Ravens defeat Jets 20-17
Patriots defeat Steelers 23-20
Championship Round
Patriots defeat Ravens 27-23
AFC Champion: New England Patriots
NFC Final Standings
Matthew Stockman/Getty Images
1. Green Bay Packers (16-0)
2. San Francisco 49ers (13-3)
3. New Orleans Saints (13-3)
4. Dallas Cowboys (10-6)
5. Chicago Bears (11-5)
6. Atlanta Falcons (11-5)
7. Detroit Lions (9-7)
8. Philadelphia Eagles (8-8)
9. New York Giants (8-8)
10. Tampa Bay Buccaneers (7-9)
11. Seattle Seahawks (6-10)
12. Arizona Cardinals (4-12)
13. Carolina Panthers (4-12)
14. Washington Redskins (3-13)
15. Minnesota Vikings (3-13)
16. St. Louis Rams (3-13)
NFC Playoff Predictions
Kevin C. Cox/Getty Images
Wild Card Round
Saints defeat Falcons 30-24
Cowboys defeat Bears 28-27
Divisional Round
Packers defeat Cowboys 34-30
Saints defeat 49ers 27-14
Championship Round
Saints defeat Packers 38-34
NFC Champion: New Orleans Saints
Super Bowl: Saints 34, Patriots 31
Keep Reading

New York Jets: Like this team?