10 Things We Learned from Week 10 in the NFL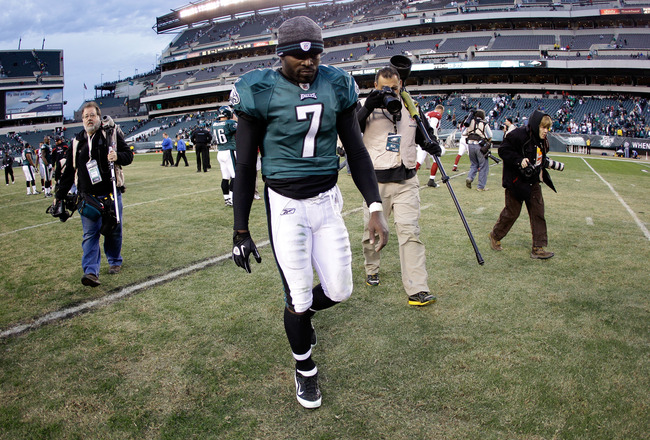 Rob Carr/Getty Images
With the 2011 NFL season starting its second half of the season, fans were treated to great football games during Week 10 that featured close finishes, offensive explosions and controversial coaching decisions.
Some teams are now getting ready to punch their tickets into the playoffs while others have now played themselves out of contention. We saw some teams answer the bell and stop a losing streak, while we also saw some former 2011 darlings see a dramatic fall from grace.
Here are 10 things we can take away from last week's set of games.
10) Buffalo Bills Get Blitzed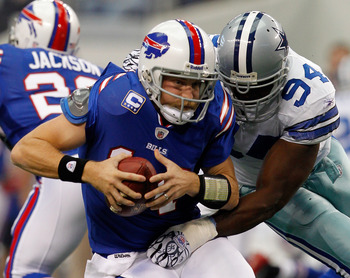 Tom Pennington/Getty Images
Two weeks ago, the Buffalo Bills were 5-2, tied for first place in the AFC East and enjoying life as one of the darlings of the league.
What a difference two games and 14 days can make.
After the 44-7 throttling they received at the hands of the Dallas Cowboys, the Bills are now in third place and have been outscored 71-18 in that span.
Yes, the Bills are 5-4, and if you asked almost anyone 10 weeks ago if Buffalo would still just be a game out of first, you'd most likely be told you were crazy. However, the bloom is clearly off the rose.
Despite their horrid play recently, the optimistic Bills fan will tell you four of their last seven games are against teams currently under .500. It's clear though that Buffalo must win at least one of their next two games on their current three-game road trip to get to 6-5 and hope they can go on a late season run.
9) Will the Real Baltimore Ravens Please Stand Up?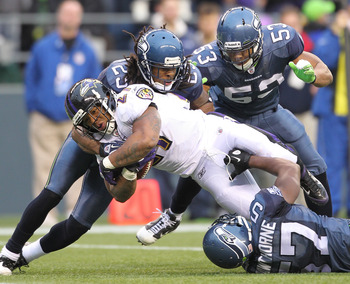 Otto Greule Jr/Getty Images
At 6-3, the Baltimore Ravens have beaten some of the AFC's best teams including the Pittsburgh Steelers and Houston Texans. However, two of their three losses have come against some of the worst teams in the league. Their game against the Jacksonville Jaguars was one of the uglier contests in recent NFL history.
The Ravens in 2011 exemplify a team that plays to the level of its competition. With three of their last seven against playoff contenders, the Ravens should be in good position to make the postseason. However, if they play like they did last week against Seattle, the only place the Ravens will be come January is on their couch watching the playoffs from home.
For a team that has beaten its hated rival twice, it really is no excuse that they're clinging to a wild-card spot. It appears that the Ravens always find themselves in this position.
8) Chicago Bears Down on a Playoff Spot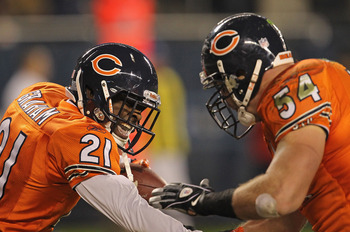 Jonathan Daniel/Getty Images
In 2010, the Chicago Bears were 4-3 before going 7-2 in their last nine games, and ultimately lost a close NFC championship game to the Green Bay Packers.
Though the Bears looked completely lost on offense for much of the first half of the 2011 season, the Bears entered their bye week again at 4-3. They followed this up by beating the Philadelphia Eagles on the road and just destroyed the Detroit Lions 37-13 at Soldier Field in a game that looked very reminiscent of the Super Bowl Bears of 2006.
Many people refuse to pay much attention to Chicago, and in a way, it's understandable. They don't look flashy on offense, and the defense has played virtually the same way for nearly a decade. However, the Bears now have gone 17-8 in their last 25 games and are in position to make the playoffs again as five of Chicago's last seven opponents are under .500.
Chicago may not be flashy, but if they can bring the type of defense and special teams we saw bring down the Lions this past weekend, the Bears could be a very dangerous team in January.
7) Tim Tebow and the Denver Broncos Show You Can Run a College Offense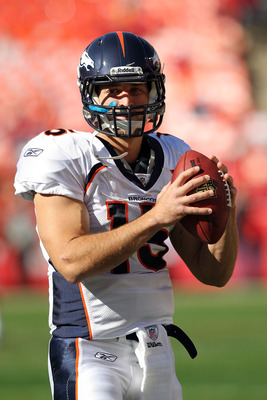 Jamie Squire/Getty Images
Well, the Denver Broncos proved everyone wrong...for one game.
There is an old saying that it doesn't matter how you look as long as you win. Well, Tim Tebow is putting that belief to the test as he threw just eight passes the entire game, completing two of them for 69 yards and a touchdown.
In an NFL where passing the ball is done more than ever before, the Broncos ran the ball an astonishing 55 times en route to a 17-10 win over the Kansas City Chiefs.
While Tebow has looked far from graceful, he's 3-1 as the Broncos starter, and Denver is somehow just one game out of first place. On one hand, you can't dismiss the fact the team is finding ways to win. Still, you have to worry the Broncos could just as easily lose every remaining game this year.
6) J-E-T-S Get B-E-A-T Down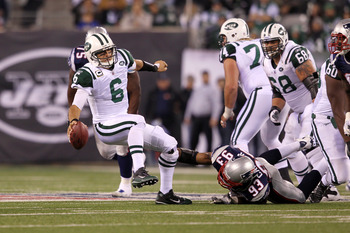 Nick Laham/Getty Images
Having won two games in a row, the New York Jets were coming into their game with the New England Patriots riding high. After all, they had just beaten the Buffalo Bills 27-11 in a game that could have easily been a bigger blowout.
The Patriots, on the other hand, had lost two games in a row including losing their first home game with Tom Brady at the helm in five years. It seemed the perfect time for the Jets to take over control of the division.
Well, not only did the Jets lose, but they didn't even look competitive, losing 37-16. The Jets managed to do something no team in the NFL has done this year against the Patriots. They made New England's defense look formidable.
At 5-4, the Jets are on the outside looking in for an AFC playoff spot, but they do have a fairly easy schedule to end the year. Still, this is a Jets team that now has more questions than answers as they enter the home stretch.
5) The Patriots Take Control of the AFC East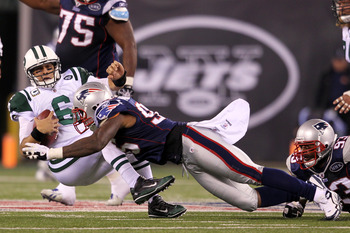 Nick Laham/Getty Images
For one of the first times in the past decade, the Patriots had the look of a team that was vulnerable. However, one game in New York, and now, the Patriots are in the drivers seat to not only win the AFC East but secure home-field advantage throughout the playoffs as well.
The 6-3 record may not be the most awe-inspiring record in the world, but the Patriots last seven games are against teams with a combined 21 wins, with only one team, the 5-4 Buffalo Bills being over .500.
With a schedule like that, the Pats should be able to win 12 or more games...again.
The defense is still a concern, but for one game, they looked dominant. Their front four hit Mark Sanchez all night, and if the Pats can continue to get pressure on the opposing quarterback, it could make the difference between a team that wins a Super Bowl or loses yet another home playoff game.
4) Detroit Gets Bullied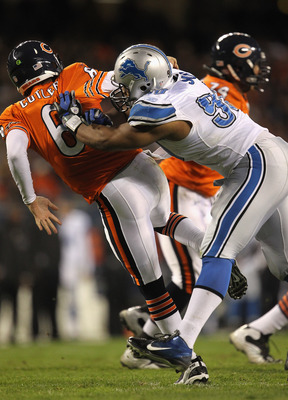 Jonathan Daniel/Getty Images
The Detroit Lions feasted on a porous Chicago Bears offensive line in a Week 5 meeting on Monday Night Football that the Lions won 24-13. The Lions were 5-0 and enjoying life as a beautiful surprise in the season.
Since that win though, the Lions have gone 1-3 and just got humiliated 37-13 against the same Bears team they dominated five weeks earlier. At 6-3, the Lions are fighting for a playoff spot, and now, instead of being called tough, they're now known as dirty.
With seven weeks to go, the Lions now not only have to prove they're a legitimate contender, but now have to try and fight a reputation for being a chippy team that doesn't play within the rules.
It's easy to forget that this same Lions team won two games in two years. At 6-3, this team is clearly making progress. But it's now time to see if Detroit is just a first half surprise, or a team that can get into the postseason and perhaps make some noise.
3) Falcons Gamble Their Season Away?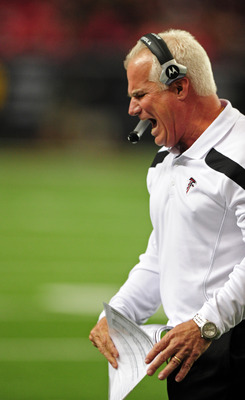 Scott Cunningham/Getty Images
You're 4th-and-inches on your own 29-yard line in overtime against a division rival with first place on the line.
With Drew Brees and his high-powered offense staring him in the face, head coach Mike Smith took a big gamble and told his offense to get a first down. They failed. Several plays later, the New Orleans Saints left Atlanta with a crucial overtime victory that might have cost the Falcons a playoff spot.
We saw something similar to this two years ago when Bill Belichick had his Patriots offense go for it in Indianapolis Colt territory late in the fourth quarter. Tom Brady failed as well except everyone knew regardless of the result of that game, both teams would go to the playoffs.
The Falcons don't have that kind of security. At 5-4, they're in danger of missing the playoffs. They have a manageable schedule, but with the Falcons coming up short on a number of tiebreakers, they will likely have to go at least 5-2 in their last seven games and possibly 6-1 in order to get back into the postseason.
2) 49ers Prove They Are True Contenders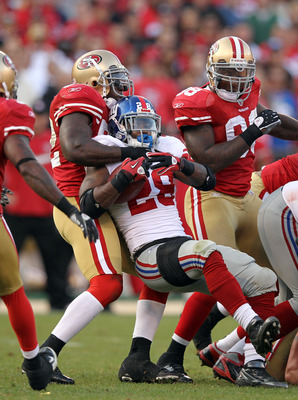 Ezra Shaw/Getty Images
It took 10 weeks, but their 27-20 victory over the New York Giants on Sunday finally made fans and media alike begin to respect the San Francisco 49ers.
At 8-1, San Francisco has a five-game lead and could wrap up a division title before Thanksgiving. With five games left against NFC West "competition," it's not unreasonable to believe the 49ers could win 13 or 14 games this season.
Jim Harbaugh was a college coach many expected to struggle since he didn't have a lot of time to prepare due to the offseason lockout. However, not only has he not struggled, he's got his team at 8-1, and he's helping embattled quarterback Alex Smith become an effective player.
The Niners will be going to the playoffs. That's not even a doubt. The question is, can this team actually be a Super Bowl contender? If they can play like they did against the Giants, the answer is yes.
Though Green Bay is undefeated, the Niners have a blueprint of how to beat the Packers—play good defense and keep Aaron Rodgers off the field with a great running game.
It's still a long way from that potential matchup from actually occurring, but it's still an exciting time for Niner fans as they can truly believe their team could compete for a Super Bowl.
1) The Dream Is Officially a Nightmare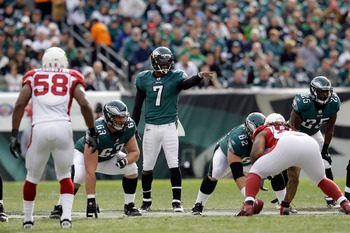 Rob Carr/Getty Images
Three months ago, the Philadelphia Eagles were the talk of the NFL. When they signed many of the top free agents, they were predicted by many to win the Super Bowl. Backup quarterback Vince Young dubbed his team the "Dream Team," and the team has regretted his comments since.
With their most recent loss to the Arizona Cardinals, the Eagles are 3-6, and their season has gone up in flames. DeSean Jackson just got suspended, Michael Vick cracked his ribs again and the defense is one of the worst in the league.
The Dream Team? Really?
Even though Philly has a decent schedule to end the year, they could win out and still miss the playoffs. With losses to Atlanta and Chicago, they will lose out on almost every tiebreaker with other wild-card contenders.
The question is less if they'll make the playoffs and more if Andy Reid will coach this team in 2012.
Keep Reading