NFL Picks Week 11: 5 Stone-Cold Locks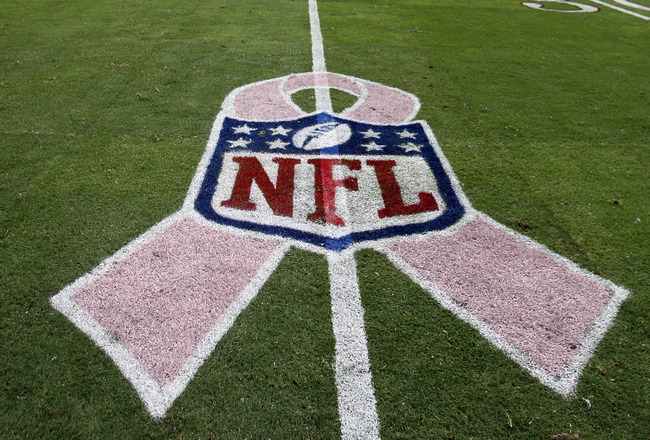 This weekend again showed us that nothing in the NFL is a given
Bob Levey/Getty Images
The state of affairs in the NFL is, as always, tumultuous, and as such it's difficult to say any game is a lock. With the exception of the Green Bay Packers, every team has shown that it can be beaten, and often by teams that seem to be of lesser talent.
Such is life in the parity-rich NFL. While it's hair-pulling regarding gambling and pool picks, it's also one of the reasons this game is so damned awesome.
The carnage of the weekend fresh in my mind, I looked forward to the schedule next week. Though there are again some games that certainly could go either way, but there are some that appear to be virtual certainties.
Which five games do I see as being stone-cold locks for next weekend?
Turn the page and find out.
Dallas @ Washington: Dallas Is Moving on Up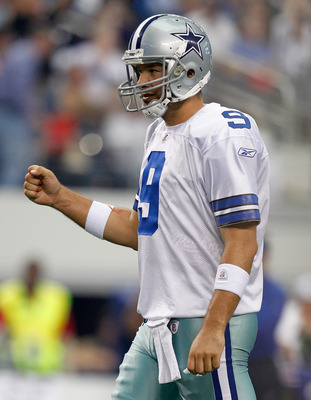 Tony Romo had another solid performance on Sunday
Tom Pennington/Getty Images
The 5-4 Dallas Cowboys travel to the reeling 3-6 Washington Redskins on Sunday in a divisional battle that once appeared to carry playoff implications for both teams, but now appears to be another stepping stone for Dallas on its way to the top of the NFC East.
With the New York Giants losing Sunday, the Cowboys are now only one game back and surging.
Tony Romo seems to have put his fourth-quarter meltdowns behind him, DeMarco Murray is a rushing demon and the defense is making plays when it counts. All of that was on display during Sunday's 44-7 destruction of the Buffalo Bills on their home turf.
The Redskins, on the other hand, are going in the opposite direction. Since starting the season 3-1 the 'Skins have lost five in a row, and have only managed 10 PPG during that stretch.
Dallas is in the top 10 in both offensive and defensive rankings, has a plus-four turnover ratio and has won three of its last four games.
Washington, though having a relatively stingy defense, has an anemic offense in the bottom half of the league.
The Redskins have made two quarterback changes already this season and are back with Rex "I'm fine as long as I'm not in the red zone" Grossman, have started everyone short of myself at running back and simply have no identity as a franchise.
Despite being on the road and despite playing a division rival, Dallas easily will show that these two teams are on such opposite paths that it won't even be close.
Tampa Bay @ Green Bay: No Stopping the Pack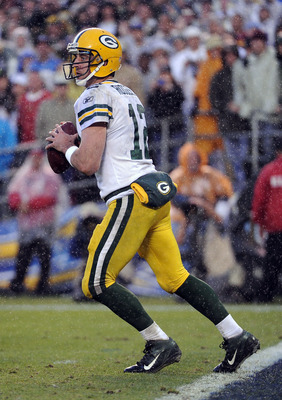 Rodgers has been simply phenomenal this season
Harry How/Getty Images
Regardless of what happens in Green Bay against Minnesota Monday night, the Packers are the class of the NFL and Tampa Bay is, well, getting schooled by the NFL right now.
Green Bay should and I expect will be 9-0 going into this game, and have shown no signs of slowing down on offense.
This is a team that can routinely put up 500 yards a game, and hang a 40-burger on anyone at any given time. Aaron Rodgers is so good with both his arm and feet that he is impossible to defend, and in an era with Peyton Manning, Tom Brady, Drew Brees and the rest, he is reinventing the quarterback position before our eyes.
And they are playing a Tampa team this weekend who's lost four of five games, and who has the No. 31-ranked defense in the NFL.
Tampa looked good over the last season and a half, but it was a mirage.
They built a 10-6 record against a soft schedule last season, and then surged to a 3-1 record against a collection of the NFL's worst earlier this year. Wins over Minnesota and Indy—and Atlanta before they remembered they were a good team—fattened them up and gave them confidence.
But once they started playing better teams, it all came crashing down.
Since then they've been exposed as a young team who needs to go back to the drawing board. They've had some injuries, but Josh Freeman has regressed, Mike Williams is a non-factor, their high draft picks on defense aren't playing well consistently and it's causing the team to struggle in all facets.
They are simply overmatched against Green Bay, as are most. With Tampa's defense, a 60-burger isn't out of the question in this one.
San Diego @ Chicago: Prepare to Be Depth-Charged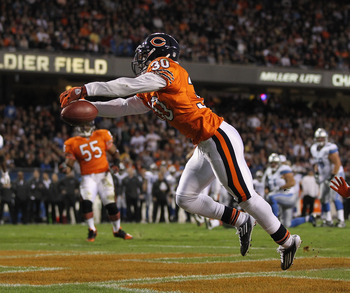 DJ Moore just misses what would've been a fifth Detroit interception on the day
Jonathan Daniel/Getty Images
This is another example of two teams on opposite paths. The Chargers eschewed their usual slow start for a 4-1 record, but have since remembered who they were and lost four in a row.
The Bears, on the other hand, couldn't block a four-year-old with asthma earlier this season and as such struggled to run and pass the ball. Not surprisingly, they lost some games.
But Matt Forte continued to plug along without a new contract, leading the NFL in yards from scrimmage, the Bears defense continued to be the Bears defense and the offensive line has gelled into a cohesive unit, allowing Jay Cutler the time and ability to throw the ball.
As such, the Bears have surged to four straight wins, and beat the Detroit Lions today in such impressive fashion it had Matt Stafford fightin' mad toward the end of the game.
The Chargers turn the ball over a lot.
Philip Rivers, normally sure-handed and solid, leads the NFL in interceptions. Ryan Mathews puts the ball on the turf, and the Chargers have suffered as a result. They sit with a minus-eight turnover differential, which is tied for 30th in the league; that's not going to win you many ball games. Hence, they've lost four in a row.
The Bears, on the other hand, have a plus-nine turnover differential, good for fourth in the NFL. It's simple: Rivers is struggling to throw the ball, Soldier Field is awful and windy in November and the Bears force turnovers like taking breaths.
A blowout at home in Week 11 should prepare the Bears nicely for a cross-country trip to Oakland in Week 12.
Carolina @ Detroit: The Lions Regain Their Roar at Home
Matt Stafford needs to take off the gloves and play like his old self in Week 11
Leon Halip/Getty Images
Cam Newton is fun to watch. He stands tall in the pocket, fires laser beams and takes off running like Bo Jackson when everyone is covered. He's a dynamic player who has kept Carolina competitive in many contests this year.
Not this one.
Carolina, at this point, is just Cam Newton. Despite having DeAngelo Williams—and giving him a hefty raise this offseason—and Jonathan Stewart in the backfield, they can't run the ball consistently. They have some talent on defense, but it's spread out, and their key linebackers can't stay healthy.
Detroit was the feel-good story of the year for five weeks, and then reality set in. On Sunday they were flat-out pounded in Chicago, and the taste from that one will not have subsided when the Panthers roll into town in Week 11.
Something tells me in the comfort and warmth of the dome Stafford will be gloveless, accurate and ready to redeem himself.
This Lions defense is also well-suited to defend Newton. They have a lot of speed in the front seven and will be able to readily spy him, and they also have some players who can cover on the back end. Louis Delmas and Amari Spivey are hard-hitting safeties who make receivers pay for going over the middle.
The Lions know they need this game if they have any hope of contending for a playoff spot, and they are emotional and angry about their performance on Sunday in Chicago.
I fully expect them to take it out on an overmatched Carolina team in Week 11.
Kansas City @ New England: Haley and the Chiefs Get Shaved at Gillette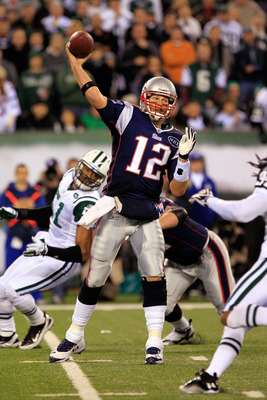 Brady rediscovered his mojo against the hated Jets on Sunday night
Chris Trotman/Getty Images
Todd Haley was growing an awful beard earlier this year during his team's misleading four-game winning streak, but after two straight humiliating losses to teams with a combined three wins prior to their victories over Kansas City, he's in need of a lot of things, including a shave.
Good thing the Chiefs are coming to Gillette Stadium next Monday—he said in the worst pun ever.
The Chiefs are a bad team. Yes, they won four in a row, but two of those victories came over teams winless at the time—and Indy is still winless.
They then got the Raiders, who were breaking in two new QBs after a Jason Campbell injury, and who lost Darren McFadden in the first quarter. The Chiefs forced six interceptions, and ran two for scores, yet could only score 28 points.
That was a bad omen for the offense, despite the victory.
After that came the reeling and overrated Chargers, who simply gave the game away at the end as is their MO. If Philip Rivers doesn't fumble a snap he's taken 5,000 times in the last year, the Chargers win.
Well, the Chiefs were exposed as frauds earlier this season, got people's hopes up during a four-game win streak that was a smokescreen and were exposed again as frauds the last two weeks.
The New England Patriots were also reeling and in danger of their first three-game losing streak since 2003. However, they remembered who they were, got their offense rolling against a stingy Jets D and stomped the Green & White 37-16.
The Patriots, despite having the worst-ranked defense in the NFL, make plays when it counts and force turnovers. Although Tom Brady has turned the ball over more this season than usual—way more than usual—the Patriots still boast a plus-three turnover differential, score close to 30 PPG and routinely put up 450 yards of offense.
The Patriots are simply too much for the overmatched Chiefs, and will send them home with their third straight humiliating defeat on Monday night in Week 11.
Conclusion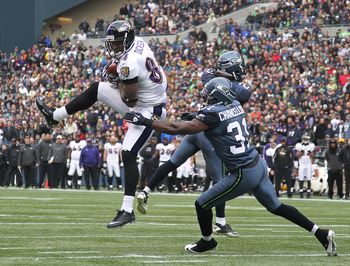 The Seahawks, among others, showed us that nothing is certain in the NFL on Sunday
Otto Greule Jr/Getty Images
While nothing in life is guaranteed, I feel confident that these five games will go as I've predicted.
Then again, knowing the NFL ,the Bucs will probably hand the Pack their first loss and New England will give up 50 to the anemic Chiefs offense.
That's what makes the NFL so fun; you just never know. But sometimes, you can be fairly certain.
In these five cases, I am.
Keep Reading