NFL Week 10 Predictions: Difficult Decisions Made Easy
November 11, 2011
Jim Rogash/Getty Images
Unfortunately, karma reared it's ugly head in Week 9 dealing me my worst week of picks in two years.  Of course in the first week I decide to publish my selections, every borderline pick went the other way and I finished 21-21 overall. 
Down to the wire battles like the ones in Foxboro and Glendale, however, are worth a couple of losses in my book.  After all, you can't complain about good football!
On a more positive note, an overall winning percentage of 63 percent for the season only indicates that things are bound to balance themselves out, and what better time than now. 
Week 10 features many difficult matchups, and this includes an astounding nine games with a spread of three points or fewer.  The second week in a row featuring a top rivalry (NE vs. NY) should not be one to disappoint. 
Look no further than the insights below to guide you in the right direction for a week that will separate the contenders from pretenders.
And with that we're off!
Oakland Raiders (+7) @ San Diego Chargers (O/U = 48)
In the first Thursday matchup of the year, the dysfunctional Raiders travel to San Diego to face off against a Charger team sporting a three-game losing streak.  Take away an errant overtime fumble in Week 8, and two early pick-sixes in Week 9 against the Pack and SD could be in a completely different position entering this game.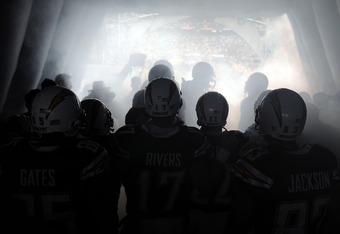 Harry How/Getty Images
I'm betting that every man on that team is well aware of that fact, and will come out with vigor on Thursday Night to ensure they don't let another one slip through their fingers. This is NORVEmber after all.
Straight: San Diego
Spread: San Diego
O/U: Under
Arizona Cardinals (+14) @ Philadelphia Eagles (O/U = 46.5)
Kevin Kolb will likely be missing from the Cards lineup for the second straight week as they head to the city of brotherly love to face off against the Eagles in Week 10. 
Philadelphia picked up yet another loss on Monday Night, and have all but sealed their fate as a non-playoff team in a year where their squad had more hype than any other before the season started.  Fortunately for them, a backfield featuring a depleted Beanie Wells along with the inexperienced John Skelton at QB will not be able to expose their lowly run defense, and they will gain back a little decency in a rout of AZ.
Straight: Philadelphia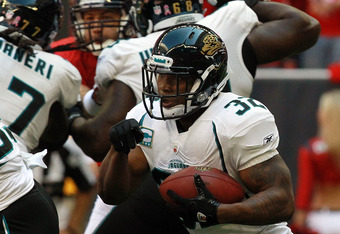 Ronald Martinez/Getty Images
Spread: Philadelphia
O/U: Over
Jacksonville Jaguars (-3) @ Indianapolis Colts (O/U = 38)
The Jags meet Indy for this one in a matchup of NFL weaklings.  MJD is basically all Jacksonville has to hang their hat on this season on either side of the ball, but that will likely be all it takes to muster up a victory against the Colts. 
The Indy team is lacking leadership, intensity, skill, and most importantly, wins without Peyton Manning this season. Judging from one lackluster performance after another, it's hard to see any W's in their future.  This week gives them one of the best opportunities they will see against a below average team at home, but it's hard to have faith that they will be able capitalize. 
At this point, Jim Caldwell should be counting the days that he remains employed for the organization.
Straight: Jacksonville
Spread: Jacksonville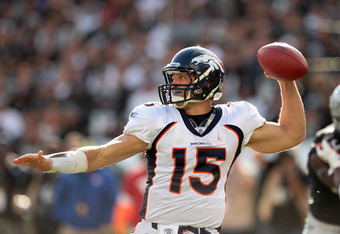 Ezra Shaw/Getty Images
O/U: Under
Denver Broncos (+3) @ Kansas City Chiefs (O/U = 41.5)
The Tim Tebow story continued down it's roller-coaster-like path last week as the prodigal son, and apparent favorite of John Elway, posted big numbers in a victory over Oakland following a dismal showing against Detroit in Week 8. 
This week Denver draws the Chiefs in what should be an interesting game of back and forth teams.  Both have shown the ability to look both awful and promising this season, which makes this one tough to call.  I'm leaning toward a late field goal by KC to eek out a victory against the Broncos—only because they are at home.
Straight: Kansas City

Spread: Denver
O/U: Over
Pittsburgh Steelers (-3) @ Cincinnati Bengals (O/U = 41.5)
Before the season began I don't think you'd have found many people who believed this would be a matchup of a first place Bengals team versus a third place Steelers group, but lo and behold that is exactly the case this weekend when Pittsburgh makes the short trip to Paul Brown Stadium to face the surprise Cinci squad.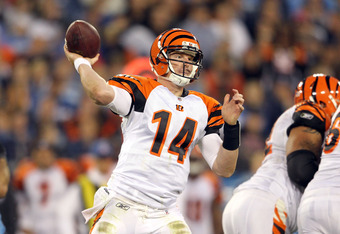 Andy Lyons/Getty Images
The rookie redhead Dalton (who for some reason continues to ride below the radar), has his team on a five-game win streak heading into this one, and is in good fortune. The Steelers last two opponents, the Patriots and Ravens, have surely taken their toll on the black and yellow. 
While it's tough to imagine the youthful offense of the Bengals having their way against the veteran leadership on the Steelers side, they may have enough to pull out a shocker. A string of mediocre opponents leading into this one could give them the edge in the stamina department.  Tough to call, but I'll take the experience in another close one.
Straight: Pittsburgh
Spread: Cincinnati
O/U: Under
Buffalo Bills (+5.5) @ Dallas Cowboys (O/U = 48)
After a disappointing showing against the Jets at home in Week 9, the Bills will be looking for some redemption against a Cowboy squad. Dallas has found renewed life on the ground, thanks to rookie DeMarco Murray. 
The Bills have done well against the run this year, which will put some pressure on Tony Romo to make plays and, let's face it, that's definitely not music to and Dallas fans' ears.  Buffalo has looked very strong at times this season, and I think their balanced offensive attack will keep the boys on their heels just enough to squeak one out on the road in a slugfest.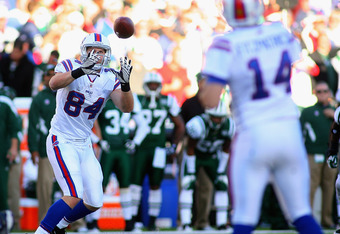 Rick Stewart/Getty Images
Straight: Buffalo
Spread: Buffalo
O/U: Over
New Orleans Saints (-1) @ Atlanta Falcons (O/U = 50)
In one of the most intriguing matchups of the week, two perennial NFC South powerhouses face off in Atlanta.  New Orleans has been hard to gauge, to say the least, after they followed a 55-point rout of the Colts in Week 7 with a shocking defeat at the hands of the undermanned Rams in Week 8. 
After barely holding on against Tampa Bay in Week 9, I still have some questions as to whether the Saints will be able to hold on to their current first place status in the division.  Everyone knows the Falcons are next to unbeatable at home (except when GB is in town), and I see them coming away with the win to steal the division lead away from Brees and company. 
Whatever the outcome, this game is a must-watch.
Straight: Atlanta
Spread: Atlanta
O/U: Over
St. Louis Rams (+2.5) @ Cleveland Browns (O/U = 37.5)
Just when it looked like the Rams might be on to something—they were poised win their second straight last week against the Cardinals—the Special Teams group decided they would essentially give the game away in back to back plays. 
Patrick Peterson's runback in OT for the victory was both thrilling and impressive, but he never makes it in for six if the Rams can man up and make a stinking tackle. He never even touches the ball if the field goal unit blocks somebody on the last play of regulation. 
I'm betting Steve Spagnuolo gave this team the week from Hell after that embarrassing giveaway, and they will be ready to come out against the hapless Browns and earn that second W that they should have gotten last week.
Straight: St. Louis
Spread: St. Louis
O/U: Under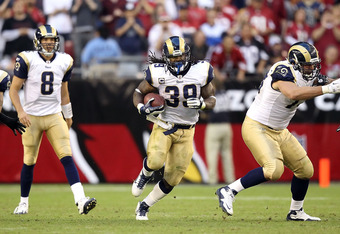 Christian Petersen/Getty Images
Washington Redskins (+3.5) @ Miami Dolphins (O/U = 37.5)
In Stinker of the Week part two (see Jac vs. Indy above), the Redskins make their way to Miami to face the Dolphins, who are fresh off their first win of the season. 
Really, the only difference between the Phins' Week 9 victory and most of the rest of their games is they actually played until the final whistle blew, instead of getting throttled in the fourth quarter and giving it away. 
Now that they have the winning taste in their mouths, and the weak Redskins in their sights, I think they pull this one out at home for the fans (if there are any) who still have some love for them. 
After catching 14 passes out of the backfield last week, we can probably expect Roy Helu Jr. to get just a handful of touches, while Ryan Torain gets the bulk of the action.  If you are thinking that makes absolutely no sense, then you are correct.  Welcome to Shenanigans, boys and girls.
Straight: Miami

Spread: Miami

O/U: Under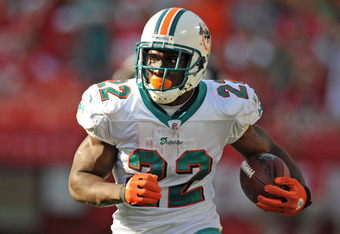 Peter Aiken/Getty Images

Tennessee Titans (+3) @ Carolina Panthers (O/U = 46)
The Titans meet the rejuvenated Panthers who are coming off a bye week in this one, and unless the Tennessee defense really picks it up I expect Cam Newton to break them down in both the passing and rushing game. He will lead Carolina to their third victory. 
Note that five of this Panther team's six losses have been by seven points or fewer. It's fair to think that as Newton continues to mature and grow throughout the season, he will find a way to pull out those close games, rather than come up just short.  The Titans ground game has been dead last in the league up until this point, leaving many to ask questions about whether or not CJ2K's holdout was really a big waste of time and money.  With the performances he has put out since his return, it would be hard to argue against those folks.
Straight: Carolina
Spread: Carolina
O/U: Over
Houston Texans (-3) @ Tampa Bay Buccaneers (O/U = 45.5)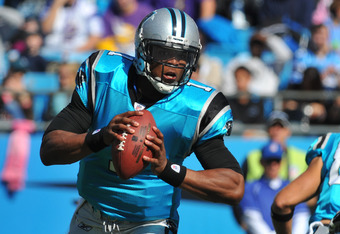 Al Messerschmidt/Getty Images
The Texans face the Bucs in Tampa for this Week 9 matchup, and look to continue to roll on both sides of the football.  They are ranked second in rushing yards, and fourth in stopping the opponents run across the league. 
That being said, their pass defense has arguably been even more impressive.  They have found a way to win games handily without the presence of one of the league's top-tier receivers in Andre Johnson. Although it is still up in the air whether he will return this week or not, it clearly doesn't matter: This Houston team is definitely for real. 
Tampa has yet to find their groove offensively, and that is not likely to happen this week with such a stingy bunch lined up against them.  Like many of the Texans games this season, they get ahead early and never look back.
Straight: Houston
Spread: Houston
O/U: Under
Baltimore Ravens (-7) @ Seattle Seahawks (O/U = 41)
Baltimore makes the trip to the west coast to face Seattle in Week 10 to see if they can keep some momentum, after sealing the season sweep versus the rival Steelers on Sunday night.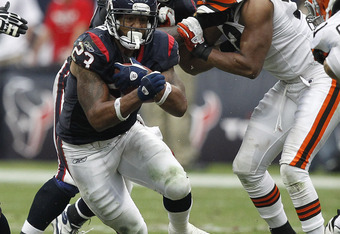 Bob Levey/Getty Images
After stumbling a bit in the beginning of the year, they seem to have gotten their act together as of late, and the iffy Seahawk offense shouldn't have much to say against the likes of Ray Lewis and Ed Reed in this one. 
Don't be surprised to see single digits for Seattle when this one is through—their offense isn't quite up to par with the always formidable Ravens D.
Straight: Baltimore
Spread: Baltimore
O/U: Under
Detroit Lions (+2.5) @ Chicago Beears (O/U = 46.5)
In a matchup of the "other guys" in the NFC North, the Lions travel to Soldier Field for this Week 10 matchup against the Bears.  Chicago proved that they are a force to be reckoned with on Monday Night Football. They sneaked past the Eagles to earn their fifth win of the season. 
Detroit looks to come back from their bye week on a positive note and maintain their grasp on the second-place spot in the division by pressuring Cutler with a strong defensive front.  This is one of the oldest matchups in the NFL, but with a new twist on things: The Lions have finally re-emerged as a contender after over a decade in obscurity.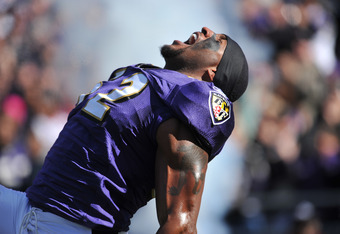 Larry French/Getty Images
The rest in Week 9 should give Motown just enough to get past the Bears in a hard fought battle.
Straight: Detroit
Spread: Detroit
O/U: Over
New York Giants (+3.5) @ San Francisco 49ers (O/U = 42.5)
Eli and the Giants surprised a lot of people with a comeback victory in Week 9 against the Patriots, and they find themselves matched up with another good team this week in the 49ers, who have taken the league by surprise this season en route to a 7-1 record. 
After facing a couple of weak opponents in their past two games, San Fran will have to come out ready to play in this one. The Giants appear to have hit their stride, and definitely don't want to lose the momentum gained through their last victory. 
This one will come down to the wire, but in the end the combination of a staunch SF run D, matched up against the surprisingly ineffective ground game of the Giants, will allow them to pull out the win.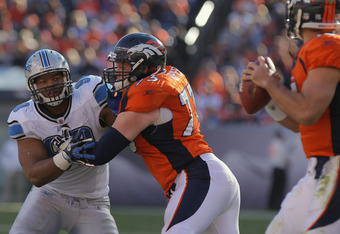 Doug Pensinger/Getty Images
Straight: San Francisco
Spread: New York
O/U: Under
New England Patriots (+1.5) @ New York Jets (O/U = 47.5)
One of the most entertaining rivalries over the past couple of seasons is resurrected in Week 10 as the Patriots travel to the Meadowlands to face Rex Ryan's Jets.  Each team took home a lopsided victory to split the season series last year, and there will definitely be no love lost in this knockdown, drag out contest that will determine first place in the crowded AFC East. 
After seeing the frustration of Tom Brady and the rest of the NE team in last week's late loss to the Giants, I think the Patriots will come into this one focused and ready to steal one from the Jets at their own place. 
However, if the Patriot backfield fails to produce, and Wes Welker gets stranded on Revis Island, then NY could walk away victorious.
Straight: New England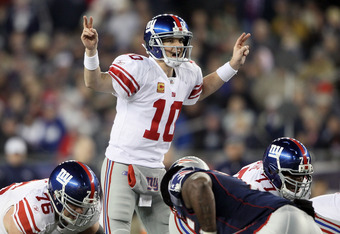 Elsa/Getty Images
Spread: New England
O/U: Over
Minnesota Vikings (+13.5) @ Green Bay Packers (O/U = 51)
Monday Night Football features the second NFC North matchup of the week as the Vikings come off the bye to face a red hot Green Bay group who have looked nearly invincible on the offensive side of the ball. 
They almost let Philip Rivers and the Chargers come back last week in a poor second-half defensive exhibition, but Christian Ponder is no Rivers, and not even powerhouse Adrian Peterson can muster enough points to stay competitive with Rodgers and his endless array of targets. 
It's hard to pick against the Pack the way they have looked this season, and it would be foolish to start now.  The defending Super Bowl Champs will put on a show for the national audience in prime time and runaway with this one.
Straight: Green Bay
Spread: Green Bay
O/U: Over

Lots of tough games to call this week, but that only means one thing: one hell of a weekend of football!  So sit back, grab some grub, crack a brew (or a soda) and enjoy what is sure to be a slew of entertaining, competitive action.  
This is when the going gets tough, and the tough get going.