Andrew Luck: 5 Most Intriguing Teams That Could Land His Draft Rights
November 8, 2011
Craig Mitchelldyer/Getty Images
I am one of the biggest quarterback prospect snobs you will ever find. Most years I would not touch drafting a quarterback in the first round of the NFL draft with a ten foot pole let alone at the first pick overall. Fans and front offices with bad quarterback situations often get desperate and make ill thought out reaches at the position. With that said it has to take a special quarterback prospect to make me swoon. Andrew Luck from Stanford is the best quarterback prospect I have ever seen. That title used to belong to Peyton Manning when he was at Tennessee, and as a disclaimer I am too young to remember John Elway at Stanford. Unfortunately for me, I am just old enough to remember John Elway ripping my heart out as a very young Browns fan. So since Andrew Luck is better than sliced bread, I thought I would take a look at the five most interesting teams that at some point could control the rights to the number one pick in the upcoming 2012 NFL draft.
5. St. Louis Rams - Currently the Rams only have one win. That puts them right on the door step of having the first overall pick in the draft. That is not what makes them the fifth most interesting team in this scenario though. The intriguing part is that the Rams drafted Sam Bradford first overall just two years ago. Many people felt then that he was a franchise quarterback. The majority of those people still feel that way. However, Andrew Luck is a far superior prospect than Sam Bradford ever was. If given the option do the Rams trade the rights to Luck for a king's ransom and build around Sam Bradford. Or do they trade Sam Bradford for a lesser haul and start over with Andrew Luck as the new franchise quarterback? I would love to hear from Rams fans who read this on which option they would prefer.
4. Carolina Panthers - Currently the Panthers only have two wins. If they lose out they certainly would be a likely candidate for the first overall pick in the draft. This is basically the same scenario as the Rams except that it involves Cam Newton instead of Sam Bradford. Newton was drafted first overall just one year ago as opposed to two years ago like Bradford. Newton also has a lot more fans and pundits that believe in him as well. That is what would make it juicier if the Carolina Panthers had the top pick this draft in back to back years. Andrew Luck is a better prospect than Newton, and he would have been drafted first overall had he come out after last year. If given the option do the Panthers trade the rights to Luck for a king's ransom and build a defense in Carolina, or do they trade Cam Newton for an lesser king's ransom and build around Andrew Luck instead? I would love to hear from Panthers fans who read this on which option they would prefer.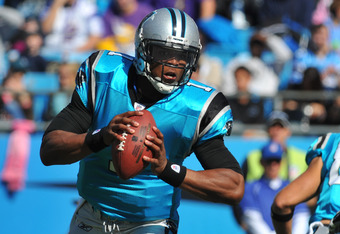 Al Messerschmidt/Getty Images
3. Denver Broncos - Currently the Broncos have three wins. That makes them a very unlikely candidate to get the top overall pick by finishing with the worst record. However, they are one of the teams I feel might be prepared to offer a king's ransom for the right to draft Andrew Luck. In 1983 the Baltimore Colts drafted Stanford quarterback John Elway. He threatened to play full time with the New York Yankees organization, since he was a star baseball player as well, if the Colts did not trade his draft rights. Could history be repeating itself nearly 30 years later? The now Indianapolis Colts currently are in pole position to pick first overall in the 2012 draft. They currently have Peyton Manning locked up contractually. The Colts might want Andrew Luck to sit the bench while Peyton is still under contract, but that might not sit well with Luck. Elway now the executive vice president of football operations could orchestrate a trade to bring Luck from the Colts to the Broncos. The irony factor would be through the roof. What makes things even juicier is that some Broncos fans still believe in Tim Tebow despite his flaws. This trade could be like throwing gasoline on an already raging bonfire of quarterback controversy in Denver. I would love to hear from Broncos fans who read this on if they would be open to trading for Luck's rights, and how much they would be willing to give up.
2. Indianapolis Colts - Currently the Colts have zero wins. If they truly want to "Suck for Luck" his rights are theirs. Apparently it has been decried by the football gods that once in a generation quarterback talents have to be drafted by the Colts. First Elway, then Peyton Manning and now potentially Andrew Luck. The odds are preposterous it would have played out that way. The Colts would never have been in this position if not for Peyton Manning's neck surgery and subsequent slow recovery. Opinion is split on whether or not Manning even returns to play football again. If Manning decides he is done, the Colts taking Andrew Luck in a no brainer decision. The intrigue comes into play if Manning comes back late this season, and proves to be the Manning of old. He could have 3 to 4 years of playing left in his body at a Super Bowl level if his neck is healthy. The team has some holes besides Peyton Manning, but trading the rights to Andrew Luck could fill those holes and then some. Under no circumstances can the Colts draft Luck and sit him on the bench. They need to capitalize on each and every year that Peyton Manning has left in the tank. Using a first round draft pick that would not see the field for several years would be completely foolish. The other option is trading Peyton Manning and building around Andrew Luck instead. It seems sacrilegious to even suggest trading Peyton Manning. Even with a questionable health record, he could still garner a decent return. The intrigue in Indianapolis this offseason could be epic. I would love to hear from Colts fans who read this on how they would like this offseason to play out if they end up with the first pick in the draft and they believe Peyton's career is not over.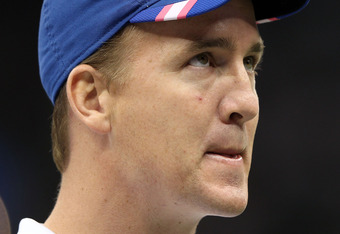 Jamie Squire/Getty Images
1. Cleveland Browns - Currently the Browns have three wins. They are not going to end up with the first pick by having the worst overall record. However, they are the leading candidate in the NFL to give the Godfather offer to land Andrew Luck if either the Rams, Panthers, Colts or some other unnamed teams with a recent first round quarterback ends up with the first pick in the draft. The Browns were rumored to have offered a Rickey Williamsesque trade package to nab Sam Bradford two years ago. For those unfamiliar with the Ricky Williams trade, the New Orleans Saints and Mike Ditka traded their 1st, 3rd, 4th, 5th, 6th, and 7th round picks in 1999 as well as their 1st and 3rd round picks in 2000 for the rights to Ricky Williams. It might seem crazy but the Saints actually came out ahead in that trade with the Washington Redskins. The only pick that panned out for the Redskins was La'Var Arrington. You could make a really good argument that Ricky Williams has had a better career than Arrington. On the flip side of lopsided trades, the Dallas Cowboys traded Herschel Walker to the Minnesota Vikings for a haul so large it helped them win three Super Bowls in the 1990s.
Cleveland has not won a major championship of any kind since 1964 when the Browns won the NFL Championship. That is pre-Super Bowl. There have been a number of reasons the city of Cleveland has not won a championship for 47 years and counting. One of the main reasons is that if we did not have bad luck we would not have any luck at all. That is why you give the Godfather offer for Andrew Luck. Cleveland becomes more and more title hungry as those titleless years pile up. LeBron James stabbing us in the back only made things more dire. You need a grandiose move to turn the fortunes of the sports world within Cleveland. If Andrew Luck delivered a Super Bowl win in Cleveland he would become a god in the state of Ohio (outside of Cincinnati). After LeBron's departure the fans need a star of Andrew Luck's caliber more than ever. The key to all this was the monster trade last year with the Atlanta Falcons that laid the groundwork for the Godfather Andrew Luck offer. The Falcons traded their 2011 1st, 2nd and 4th rounders as well as their 2012 1st and 4th rounders for the rights to the 6th overall pick (WR Julio Jones). That 2011 1st rounder was low and it was anticipated that the 2012 1st rounder would be low as well. It is important to point that out before suggesting what it would take to nab the rights to draft Andrew Luck. This is what I would offer (and also approximately what I think it would take to get the pick); 2012 1st rounder (approximately 10th overall), 2012 Atlanta Falcons 1st rounder (approximately in the mid to low 20s), 2012 2nd rounder, 2012 Atlanta Falcons 4th rounder, 2012 6th rounder AND the Browns 2013 1st rounder. In total that is THREE 1st rounders, a 2nd rounder, a 4th rounder and a 6th rounder. Essentially it is saying that Andrew Luck is worth the difference of an extra 1st rounder and 6th rounder minus a 4th rounder. That seems about right.
For any Browns fan crying that the Browns would be giving up too much considering the holes still on the team I say this; franchise quarterbacks of Andrew Luck's caliber come around once in a generation or perhaps a lifetime. You cannot put a price on that. Also consider this. The quarterback situation that has been an issue for years is officially taken care of for the next 10 plus years. The Browns would also still have their 3rd, 4th, 5th and 7th round picks in 2012 to try and fill holes as well. They also would have every pick except their 1st rounder in the 2013 draft. I think there could be some wiggle room in the offer I proposed. For example, if the Browns could shift the 2nd rounder from 2012 to 2013 it could be huge. The Browns are the most intriguing team because they have more ammunition for a trade than any team out there that needs a quarterback. They have not won a title since 1964 which was so long ago it pre-exists the Super Bowl, and most importantly, the sports community of Cleveland needs some Luck for once. This could be the seminal moment in Cleveland sports history that the fans of those teams so very much deserve.