Week 10 Fantasy Football Rankings: Listing the 5 Riskiest Players
November 7, 2011
Nick Laham/Getty Images
Life is all about taking risks. Are you going to eat that fast food when your cholesterol is off the charts?  Are you going to bet all of your money on black at the roulette table when you should be saving it?  Are you going to marry a Kardashian when she won't take your last name or give you the fair market value for appearing on her reality show?    
Fantasy football is about taking risks, too, but only so many. At this point of the season, you would rather go with sure things in your starting lineup rather than risky players. The last thing you can afford when you're battling it out for a playoff spot is one of your guys putting up a JaMarcus Russell-sized zero because of an injury, because he lost his job or because he never saw the ball.
Here are the five riskiest players to use in fantasy lineups down the stretch, including this week. If you have to use one or more of these fellows in your lineup, you are going to need a cabinet full of ulcer medication to combat the stomach pain your constant worrying will bring on.

1. Ahmad Bradshaw, New York Giants

Bradshaw owners have ridden in this rodeo before. Bradshaw injured this same right foot that he has broken now a couple years ago, and his owners never knew when he would play, how much he would play, how long he could go and how effective he would be.
Now Bradshaw could be week-to-week drama from here on out. He might play next week. He might have surgery and miss several weeks. Your guess is as good as the amazing Kreskin's at this juncture. And when this is the No. 2 or No. 3 running back on your fantasy squad, we are talking about, it is a major problem.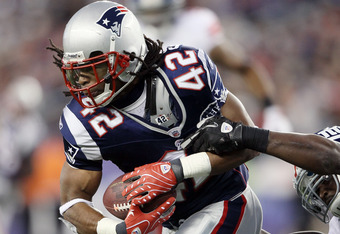 Elsa/Getty Images
Brandon Jacobs will not be helping matters, either. The Giants' fans booing seems to have lit a fire under his tail. Bradshaw was breaking away from the 50-50 playing time split with Jacobs and solidifying himself as the lead back before his injury. Now, when Bradshaw returns, he will probably be back to sharing the carries evenly with Jacobs, especially if the coaching staff wants to reduce Bradshaw's workload because of his foul foot. 

2. BenJarvis Green-Ellis, New England Patriots

The Law Firm's fantasy value is directly tied to what his case load is each week, and this is why his numbers are as inconsistent as Mitt Romney's thoughts on global warming.
If New England's game plan is to run the ball early and often, as the Pats did versus the New York Jets in Week 5, then Green-Ellis is a fantasy jackpot and will rack up 100 yards and a touchdown or two.
But in those games where Bill Belichick and his coaching gurus decide the offense should be spread out in four-and-five receiver sets all game long so Tom Brady can throw the ball 40 times, Green-Ellis plays the role of innocent bystander and saddles his fantasy owners with single-digit scores.
Green-Ellis has had games this season where he carried the ball 27, 17 and 16 times. Then he has had games against Miami and Pittsburgh where he carried the ball seven and five times respectively. His touch total is harder to predict than the winner of the World Series of Poker.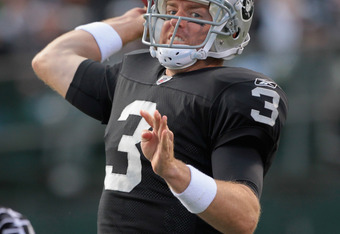 Ezra Shaw/Getty Images
If you never know how much Green-Ellis will figure in New England's game plans, it always make him a risky play. He is also battling a toe injury as well, so that just adds to the risk.   

3. Ryan Mathews, San Diego Chargers

Mathews brings more questions to the table than Brenda Leigh Johnson has when she interrogates a suspect on The Closer, the main ones being:
1. Will Mathews play, because he is as perpetually hurt as Peyton Hillis?
2. If Mathews plays, how much will Mike Tolbert cut into his carries?  That battering bowling ball is just as talented in his own way as Mathews is and deserves his fair share of touches. 
3. If Mathews plays and is the main running option, will Norv Turner, Philip Rivers and Co. just abandon the run anyway and ignore Mathews like he is the crazy uncle at the holiday party?
When Mathews is 100 percent and on his game, he is one talented runner. But fantasy owners do not see that side of Mathews every week. We have seen it a lot more this year than during his rookie year, that's for sure, but I am not sure I would wholeheartedly trust him in a big fantasy spot if money and a fantasy playoff berth were on the line. 

4. Carson Palmer, Oakland Raiders

When will Palmer shake off the rest of his layoff rust?  Fantasy owners knew it would take a little time for Palmer to round into form considering he had not seen any NFL action since Adele's "21" album came out, but they cannot wait forever for him to throw like he did in 2005.
Granted, Palmer is improving. He did not throw two interceptions for touchdowns against Denver this past weekend. He did get picked off three times, however, and he barely completed over half of his passes. So this is progress, sort of.   
Palmer did throw for 332 yards and three touchdowns to go along with that trio of turnovers, though, hence why he is not rated higher here. I think he is moving in the right direction and learning more about Oakland's system and his new receivers every day. And for every dying quail he tosses into double coverage, he throws two passes that make you believe he is remembering how to play football.  
But can you honestly trust Palmer over other quarterbacks on your fantasy roster right now?  Four of his next five games are on the road, and franchise tailback Darren McFadden is battling an injury. I don't think I would be benching Matthew Stafford, Tony Romo or Cam Newton for Palmer quite yet.   

5. Darrius-Heyward Bey, Oakland Raiders

Someone get Geraldo Rivera on the horn, because he needs to get to the bottom of the story as to why Heyward-Bey barely played in Oakland's loss this weekend against Denver.
DHB had emerged as Oakland's go-to guy—finally—over the last month, racking up 385 receiving yards over a four-game stretch while making Jason Campbell look like George Blanda at times. 
So with Palmer taking over at quarterback, silly fantasy owners thought Heyward-Bey would really turn up the fantasy heat. But against Denver, he had no catches, was targeted only once and barely got on the field. Meanwhile, 87-year-old T.J. Houshmandzadeh stopped being the punch line of an annoying ESPN commercial and was more of a factor than Heyward-Bey after joining the team a week ago.
Who knows what really happened?  Knowing the Raiders the truth will never come out. But for fantasy owners who thought they were OK at receiver with Heyward-Bey having a breakout campaign, they are going to have to think again. Heyward-Bey is no lock to start anymore, let alone produce.